jammer's overlord
Staff member
TEAM LGK
Joined

May 10, 2012
Messages

12,768
LGKash:

$450.00

Game Day Thread
Game #67/82 -- 03/11/23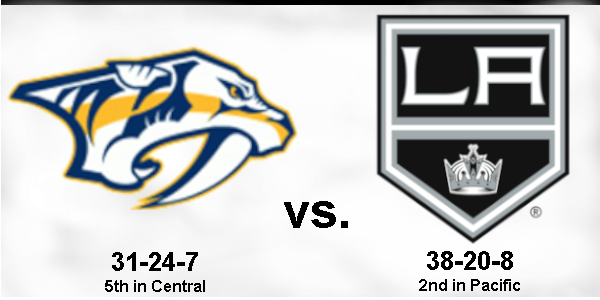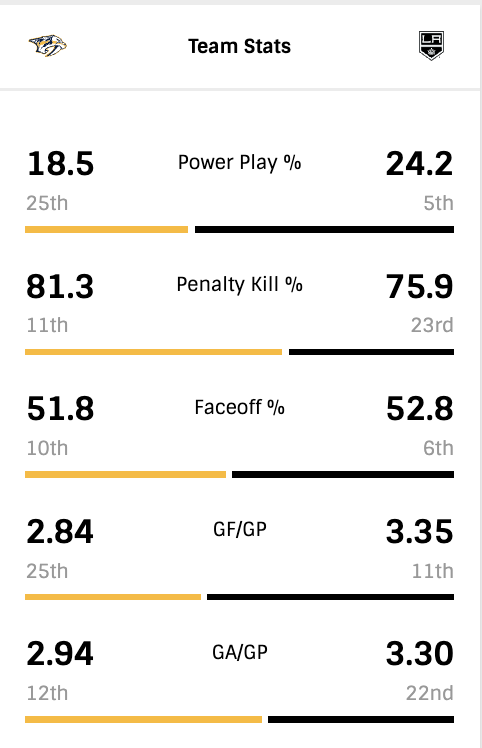 Nashville Predators vs. Los Angeles Kings
at

| Los Angeles, CA
Zippy Paws Night (free dog toy giveaway)
Indian Cultural Celebration Night
Previous Meeting
01/21/23 — Kings 3,
Predators 5
10/18/22 —
Kings 4
, Predators 3

TV:

BSW



Radio: LA Kings iHeartRadio app
Please remember,
DO NOT
post links to Live Game Streams in the GDT or anywhere else on LGK
Check out articles on LA Kings Insider Here
Anze Kopitar, Adrian Kempe, & Todd McLellan (video) 3/9 Post Game Quotes
Watch Anze Kopitar's Post Game Interview Here
Adrian Kempe on tonight's win over Colorado
It was a good win, I thought it was a character win. We played a solid 60 minutes, a few too many minutes in the penalty box, but I think we were the better team.
Kempe on
He's been playing at that same level for 17 years. The puck is going in a little bit more for us right now and maybe that's the thing that shows up a little bit more, but he shows up every day and does the same things. The puck is going in a little bit more right now for myself and the line as well, so that's a good confidence booster and something we'd like to keep going.
Kempe on the momentum swing a goal early in a period, or right after conceding, can bring
It's huge. When the other team scores, it's a big momentum change when we can get a goal back right away. It was huge, Phil got a big one there for the team, we were all pumped up on the bench, so that was those huge. It shows that all four lines can play against anyone.
Kempe on the confidence level of the group right now, winners of five straight
It's up there for sure. I think we definitely feel like we can play with the best teams and I think we showed up and really showed that we can play with these teams that have made it far in the playoffs. The character was really good, even though maybe power play and PK wasn't really there, I felt like our 5-on-5 game has been really good lately, it's been winning us games. If we can get all of the puzzle pieces together here, we're going to have a good stretch.

Todd McLellan on what he liked most from the group about tonight's win
I thought we were resilient. Everybody found a way to contribute, we played with a high level of pace, which you have to against this team and got outstanding goaltending when we needed it. We had some timely scoring and as we leave here, we're happy with the group as a whole, not just two or three players, but the whole group.
McLellan on scoring right after conceding and scoring so quickly to start the third period
Yeah, that's huge, because you're back on your heels a little bit, they've got some energy, we're in their building and the fans are behind them. To quiet things down a little bit was a benefit to us quickly in that third period.
McLellan on Anze Kopitar's high level of play right now and if his consistency almost takes him for granted
That's probably fair to say, we probably take him for granted, we just keep calling his name and he goes out and does it. I know there's a lot of talk about the goals he's scoring and the offense that he's putting up, but it has never come at the cost of what he really does well. He takes care of the group, the team, he does things right all the time.
McLellan on getting immediate contributions from Gavrikov, Korpisalo and MacEwen
It doesn't surprise us, they're very good hockey players. They pick things up quickly in practice, it's probably the area that I've noticed it the most. Believe it or not, this might sound strange, but you don't have to go to the board to explain drills, they watch it once and they've got it. That gives us a pretty good sense of their ability to read and react to things around them.​

Subject To Change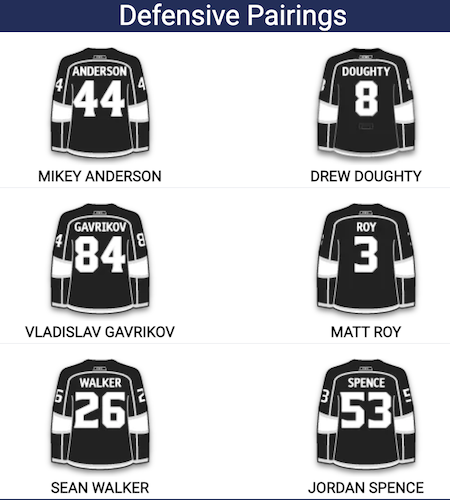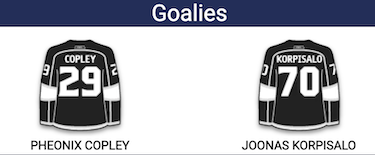 Kings Injuries
Sean Durzi (D2D)
Kevin Fiala
___________________________________
___________________________________________
Predators Probable Lineup
courtesy of dailyfaceoff.com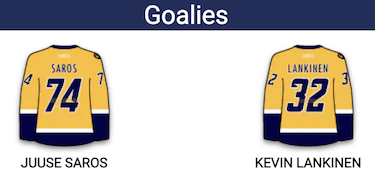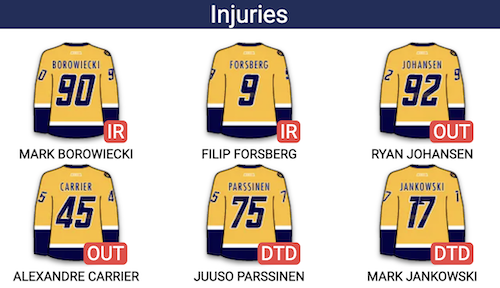 NO Former Kings
___________________________________________
____________________________________________
GOALIE STATS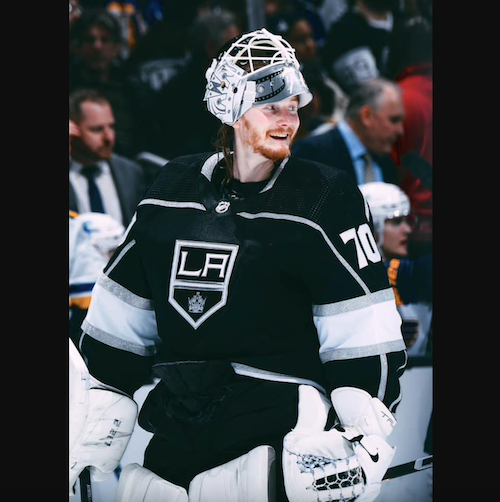 PLAYER STATS
Click Here For More Stats & Rosters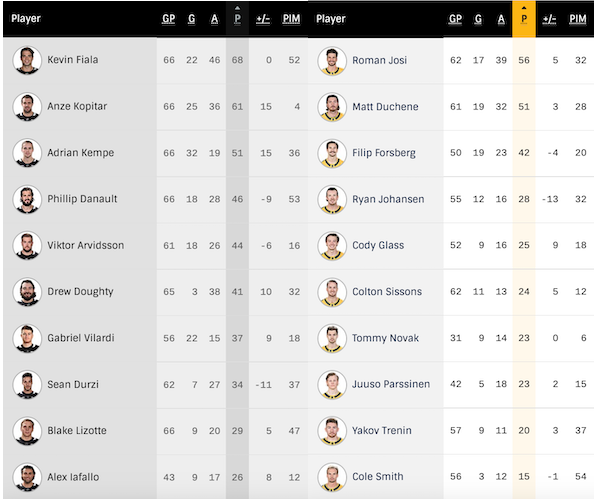 WESTERN CONFERENCE STANDINGS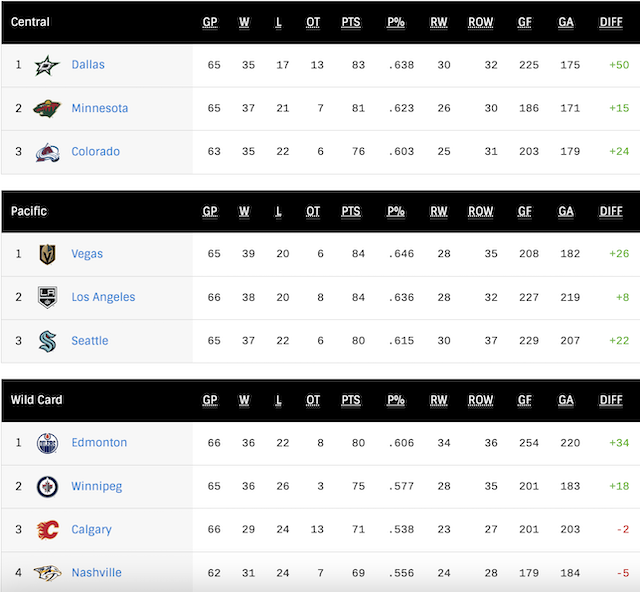 Tonight's Poll Question:
Just 1 question again tonight - Since no one got it right the other night, we'll go with Who is going to score the Game Winning Goal?
You can take FOUR guesses PER TEAM (So 8 guesses max)
Previous Game's Winners
Congratulations to the following posters who correctly guessed the Avs Dmen would get only 2 points and/or those of you who guessed the game winning goal within +/-2 mins of 0:24 of the 3rd

Avs D (1 point):
JayWells24
srm1105
CIrvine
VegasHockey
randdog
forum gold
hihocarp
Rusty
DRice
AngelEyes
Helvetica
kingsmen93
JETS GARAGE
beady eye
empire
Bill Hicks
LeftyKing
Kurisu
Cross Traffic
pray4mojo
Shackleford
hornman
sonnyboy11
kingrussell
18:24 2nd to 2:24 third (1 point):
KingzLA
AngelEyes
TooCool
Poll Win Totals
King Of The Mountain
with

52

points:
VegasHockey
47 Points
LeftyKing
srm1105
46 Points
Rusty
sonnyboy11
45 Points
Kurisu
44 Points
hornman
43 Points
AngelEyes
42 Points
John a90
41 Points
Bill Hicks
40 Points
pray4mojo
39 Points
DRGinLBC
DRice
randdog
38 Points
forum gold
37 Points
beady eye
36 Points
CIrvine
Helvetica
Liz4LA
SirJW
TooCool
35 Points
34 Points
Chateau Bow Wow
33 Points
jammer 06
32 Points
31 Points
Nyssa42
30 Points
29 Points
28 Points
notbob
27 Points
dannybuoy1
empire
JETS GARAGE
Rogie-Vachon
26 Points
Clif
25 Points
hihocarp
24 Points
KHenry14
23 Points
Sevenhole
22 Points
JayWells24
21 Points
kingsmen93
20 Points
19 Points
waynet
18 Points
kingrussell
RoS
17 Points
Dr. Tran
Shackleford
16 Points
15 Points
Byron
14 Points
Cross Traffic
13 Points
12 Points
11 Points
Busted Chops
10 Points
kopinator
9 Points
Dirtweazle
8 Points
7 Points
6 Points
beedee
5 Points
4 Points
Dexter
3 Points
HTK
salami
STONE
2 Points
05/29/93
jneol67
PuckMaster
SaltyPuck
1 Point
HiFi
Ice24
KingzLA
mugs
RagBone
Rinkrat
twistedwrister
***Get, Give, & Bet your karma in geogirl's KARMA BETTING THREAD HERE***
________________________________________________
​
Last edited: