jammer's overlord
Staff member
TEAM LGK
Joined

May 10, 2012
Messages

12,809
LGKash:

$450.00

Game Day Thread
Game #65/82 -- 3/22/22
Nashville Predators vs. Los Angeles Kings
at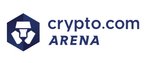 | Los Angeles, CA
Pride Night
Giveaway: Pride Hat
Previous Meetings
01/06/22 –
Predators 4
, Kings 2
10/19//21 – Kings 1,
Predators 2

TV:

**ESPN+ & Hulu Only**



Radio: LA Kings iHeartRadio app
Please remember,
DO NOT
post links to Live Game Streams in the GDT or anywhere else on LGK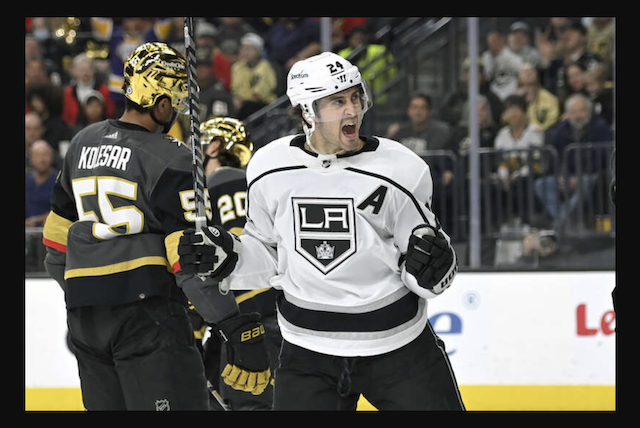 Check out articles on LA Kings Insider Here
Phillip Danault & Todd MacLellan 3/19/22 Post Game Quotes
Phillip Danault
On what he felt was the biggest difference today
Little details, I think that was the biggest difference. We're not giving up much, but the chances we're giving are way too big and they took advantage of it. I thought we played a decent game, but those mistakes, we have to make sure they're not as big as they were.
On building momentum in the second period, but giving up the shorthanded goal
Yeah, obviously that was good momentum for them. Like I said, we've got to be a little sharper and that's those little details again, that was a big chance for them, breakaway on the PK. We've got to find a way to eliminate that and play more as a team, be a little bit tighter defensively. Cal was outstanding for us. It wasn't a 5-1 game, it just ended up that way.
On if those smaller details are emphasized that much more with players out
Yeah, but they're missing players too, it's no excuse. We've got good players and whoever plays, it doesn't matter who, has to buy into the system. It shouldn't be that hard to buy in and any player in the league can eliminate those big mistakes. We've got to find a way to do that and we should be fine.
On if he and Trevor Moore take any more onus on themselves with others injured
Yeah, me and Moorsey talk all the time about how we want to step up for the team, that's for sure. I think everyone wants to step up and obviously we lost today, but we get back at it next game.
On the importance of rest of the next two days, off of an extremely hectic stretch of games
Big rest for us. We've got to step back a little bit, look at what we can do better and get a good practice in us as a team, work on the system. It's going to be huge for us.

Todd McLellan
On if tonight's game was one that came down to "moments" that went the other way
Self-infliction, tough way to go out. Their power-play goal, primary focus in a meeting of ours. Their shorthanded goal, unacceptable. You take those two moments out and you have a chance at least. Empty net goal and I didn't like how we finished the game with some players, it was their chance to close it out and they didn't get it done, but self-inflicted.
On building momentum in the second, but losing some with the shorthanded goal against
In the first period, we couldn't connect the dots at all, our passing was horrendous. Very clumsy with the puck, whether it was passing or receiving and when we settled down in the second, I thought we started to play a little bit. Certainly, the shorthanded goal took some wind out of us, but even then, in the third we pushed. You can't gift wrap two goals for a team like that.
On the quantity versus quality of chances both ways
At the end of the night, you can look at the shots on goal, but that's not going to be indicative of the game. Chances were probably somewhat even at the end of the night and they were able to finish theirs and we didn't. We did have some loose pucks in and around the paint, we had a couple of scramble moments and we had some looks at the net that we didn't bear down or finish. I thought the pucks that came from out near the blueline were up high and into his hands, so he was either punching pucks away with his blocker or catching them with his glove to get another whistle and settle things down. We didn't create a ton of offense there.
On the impact of Danault and Moore
Well, you look at our goal, it was constant pressure from those two, three, Arty was involved in it. Just when the opposition thinks they're going to breakout and settle things down, they're there again. It's a good pair to watch, especially for the younger players right now, it's a hard league to play in right now, it really is and our team hasn't experienced that. Regardless of who's in the lineup and who isn't, this is a great opportunity for our veterans to be reminded how hard it is and our newcomers, or our kids, to experience it. It's a different league than it was a month ago or in November, and certainly in October.
On the importance of rest of the next two days, off of an extremely hectic stretch of games
It's been a long time since we had two days. We'll rest tomorrow and we'll practice on Monday, we haven't had a good practice in a long time, so we need to clean some things up and then it's right back at it. It's that way for the remainder of the season. If you're not learning verbally or through your eyeballs, you're probably not going to get a lot of reps in practice to get better. We need players that are able to grab concepts and put them into play without really feeling them.

​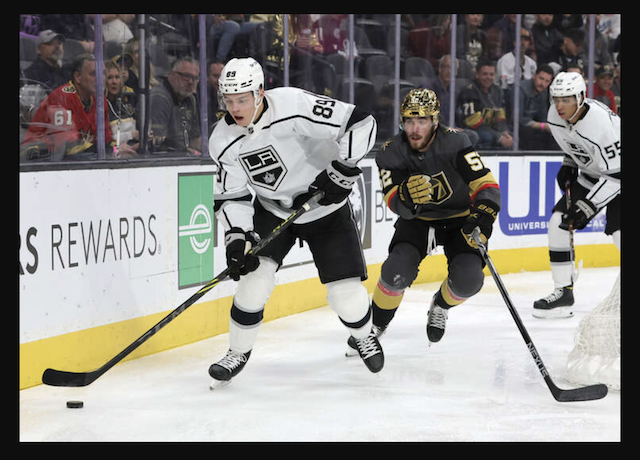 Subject To Change
FORWARDS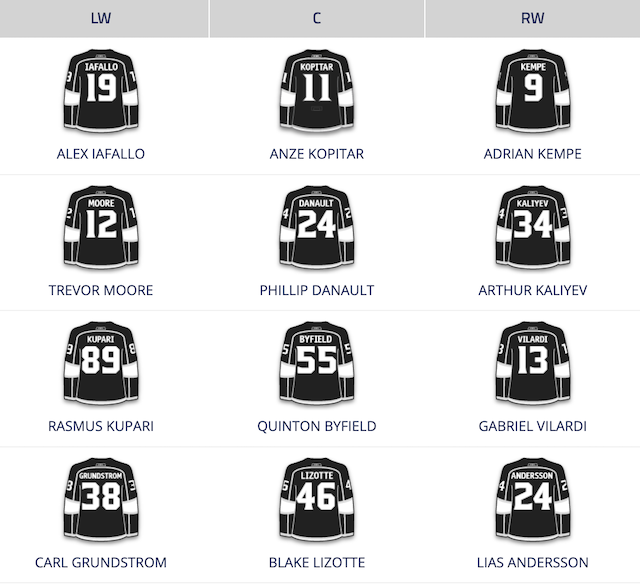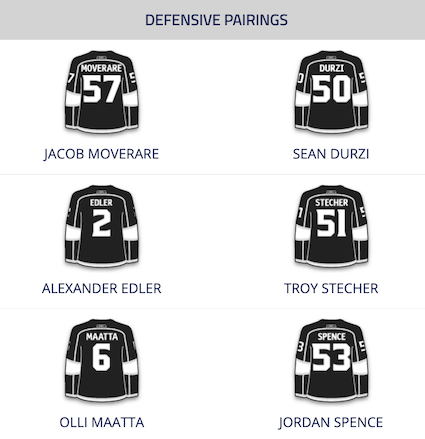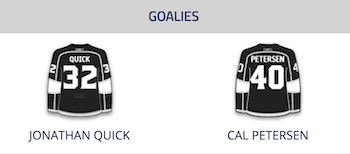 Kings Injuries
Viktor Arvidsson (IR)
MIkey Anderson (LTIR)
Andreas Athanasiou (IR)
Tobias Bjornfot (DtD)
Dustin Brown (IR)
Drew Doughty (IR)
Brendan Lemieux (IR)
Matt Roy (IR)
Sean Walker (LTIR)
__________________________________________________
__________________________________________________
Predators Probable Lineup
courtesy of dailyfaceoff.com
FORWARDS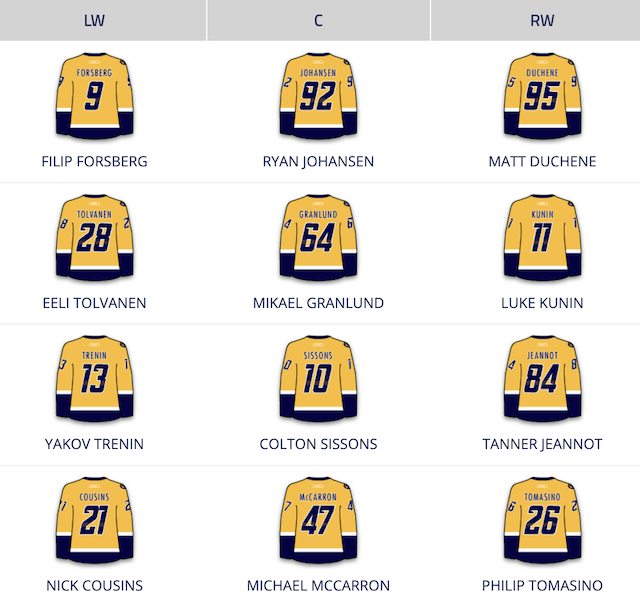 Former King
Matt Luff

________________________________________________
_________________________________________________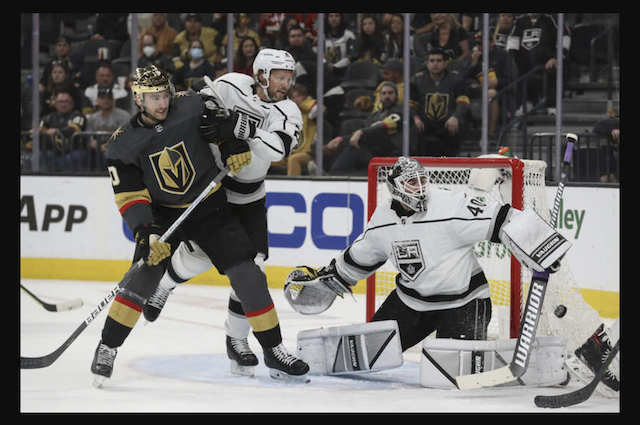 GOALIE STATS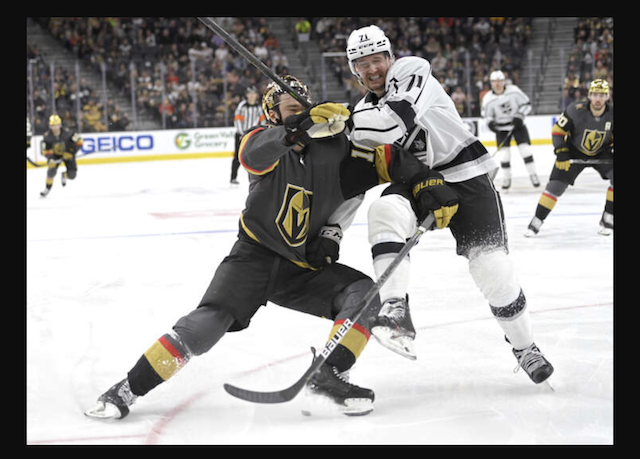 PLAYER STATS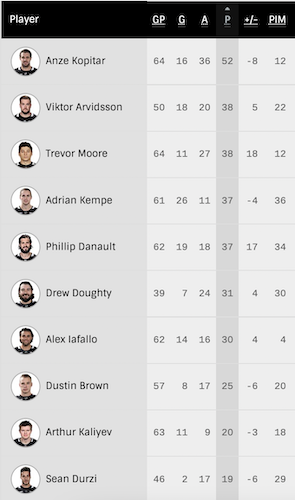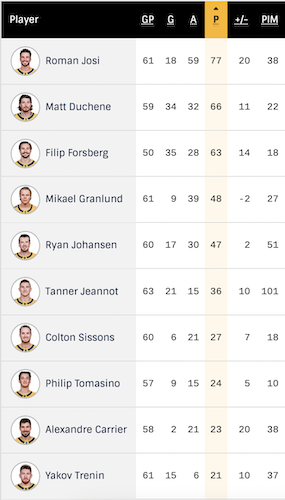 WESTERN CONFERENCE WILD CARD STANDINGS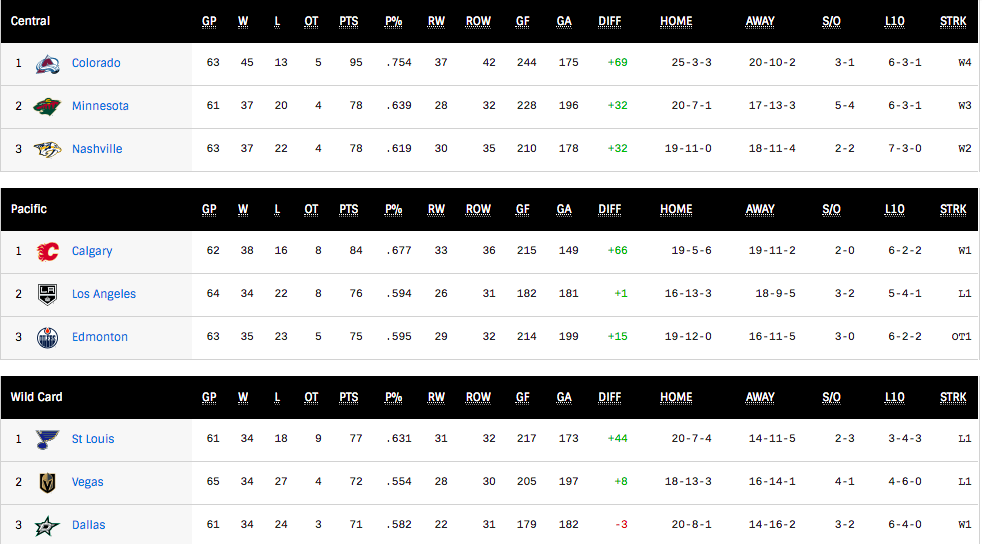 Tonight's Poll Question:
Note: I will be attending LA Kings Fantasy Camp Weds-Sat, so the poll questions for Thurs & Sat will be lame and I won't be adding up the totals…..I'll be drinking beer & trying to get sleep.
Part 1 - The Predators are first in the league for penalty minutes per game. The Kings are 28th. How many TOTAL PENALTY MINUTES will be awarded to BOTH teams in tonight's game?
You can take 2 guesses.
+/- 2:00 = 1 point, dead on = 2 points

and, since there will be some sort of freakish penalty incident and no one will be correct, let's do an easy 2nd question:

Part 2 - In which period of tonight's game will the Game Winning Goal be scored? (1, 2, 3, OT, SO)
ONE GUESS ONLY on Part 2
Previous Game's Winners
Congratulations to the following posters who correctly guessed that players wearing #29 or higher would combine for 4 points in the previous game:
Kurisu
Dr. Tran
Rogie-Vachon
Rusty
JayWells24
kingrussell
VegasHockey
danybuoy1
Clif
Shackleford
AngelEyes
sonnyboy11
LeftyKing
John a90
Helvetica
Liz4LA
CIrvine
hokiecat
hornman
Nyssa42
Bill Hicks
Reg or Rog?
Poll Win Totals
King Of The Mountain
with

48

points:
srm1105
42 Points
Reg or Rog?
41 Points
40 Points
John a90
39 Points
LeftyKing
Liz4LA
VegasHockey
38 Points
AngelEyes
Kurisu
Sonnyboy11
37 Points
Rusty
36 Points
Chateau Bow Wow
35 Points
DRice
34 Points
Bill Hicks
Helvetica
hornman
pray4mojo
33 Points
notbob
32 Points
hokiecat
jammer06
31 Points
Dr. Tran
30 Points
JayWells24
kingrussell
Nyssa42
29 Points
Busted Chops
28 Points
27 Points
KHenry14
26 Points
25 Points
Byron
dannybuoy1
24 Points
STONE
23 Points
SirJW
22 Points
CIrvine
empire
Shackleford
21 Points
20 Points
Rogie-Vachon
19 Points
Sevenhole
18 Points
JETS GARAGE
TooCool
17 Points
Clif
forum gold
16 Points
randdog
15 Points
cokingsfan
14 Points
13 Points
Dirtweazle
DRGinLBC
PuckMaster
12 Points
11 Points
Greg33
kopinator
10 Points
beady eye
beedee
9 Points
8 Points
7 Points
MaxwellSmart
6 Points
Joe Laviguer
kingsmen93
5 Points
waynet
4 Points
3 Points
2 Points
Ice24
rinkrat
1 Point
lurker
MBreeden
RoS
Salami
Stormy2213
***Bet your karma in geogirl's KARMA BETTING THREAD HERE***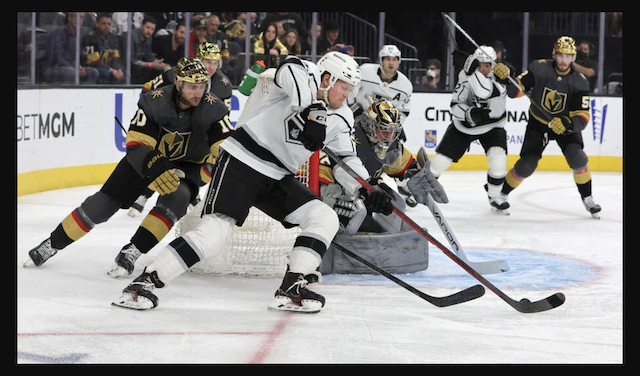 ________________________________________________
Photos courtesy of NHL.com/Getty Images​
Last edited: