jammer's overlord
Staff member
TEAM LGK
Joined

May 10, 2012
Messages

12,794
LGKash:

$450.00

Game Day Thread
Game #46/82 -- 01/14/23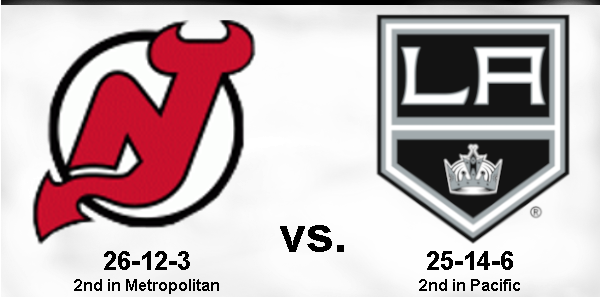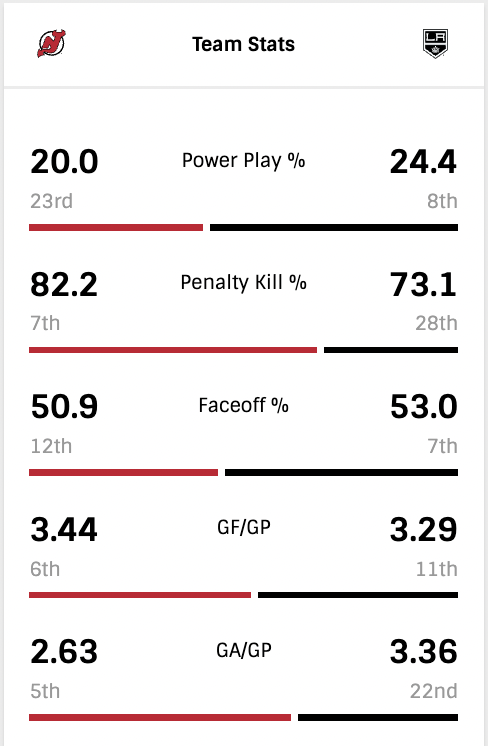 New Jersey Devils vs. Los Angeles Kings
at

| Los Angeles, CA
Last Season's Meetings
01/23/22 -
Kings 3
, Devils 2
11/05/21 - Devils 2,
Kings 3
(OT)

TV:

BSW



Radio: LA Kings iHeartRadio app
Please remember,
DO NOT
post links to Live Game Streams in the GDT or anywhere else on LGK
Check out articles on LA Kings Insider Here
Quinton Byfield & Todd McLellan 1/11 Post Game Quotes


Quinton Byfield on getting rewarded for his play as of late
Yeah, you know as I said this morning as well, the chances were there, it was just kind of bearing down. I got a tip goal today, those are definitely nice to get, it was a nice shot by Mikey and I just tried to get a stick on it, those feel good.
Byfield on what he saw on Kempe's goal, on which he picked up the primary assist
Kopi had the puck, he was curling and I tried to curl to the far side with speed and just give him an option. He gave me the pass and I saw I think it was Karlsson stepping up on me and I just wanted to beat him wide, I knew I had a step there. I didn't really have an angle to shoot and there weren't any bodies in front yet, so I took it around the net. Then I saw Kopi and Juice, just tried to put it out in front and see if one of them could get it.
Byfield on the evolutions in his game as of late
I've been playing hard, just trying to get a little bit more physical, I think that's been my game lately. Just being kind of a defensive presence as well, getting back, breaking up passes, blocking shots, just doing all the little things right and I got rewarded tonight.
Byfield on the team finding a way tonight on a difficult night
I think we kept playing and got back in the game. We had the foot down a few times and we kind of just let off a little bit and they kept clawing their way back in. There were a couple of good shifts we put forward there, some real nice plays on the goals and we ended up winning the game.
Byfield on if he cares about playing at center versus on the wing
If I can play on the top line with those guys, I'll play anywhere. If I can just get minutes with those guys and get a lot of opportunities, I'll take it anywhere it comes.

Todd McLellan on finding a way to win on a night when the Kings didn't have their best game
It wasn't our finest game, obviously. I didn't think that we had the details or the commitment to winning that was needed. Right off the bat we did, but when it didn't go our way we kind of got away from it. Extended shift length in the second period, I think we had 16 or 17 of the skaters all at almost 50 seconds or more, that didn't happen in the past two weeks. There were some areas of the game I thought we cheated a little bit and we clearly need to have a practice or two, which we will get. But, when you're not playing your best, it's nice to find a way to win. I think a couple of years ago, we wouldn't have won that game when we were not playing our best. We're probably down by two and maybe looking for some moral victories. Now, we can truly evaluate and admit when we're not the best and then try and fix it.
McLellan on seeing Quinton Byfield get rewarded tonight
It was good to see him get rewarded around the net, maybe that'll give him some offensive confidence. He's had some looks, likely since going up on the wing and it hasn't gone in for him and you could sense a bit of frustration for him. So, as a young player, having that relief come maybe we'll see more of that and he made a nice play on the goal. It was a good night offensively for him.
McLellan on having organizational depth to overcome injuries to key forwards
What I like about our team right now is the balance. We've got three pretty good forwards that are watching, unfortunately one was sick tonight in Arvy and the other two are injured, but when they come back, we have internal competition up front and we have balance. I've talked about this before, if you're the opposing coach, are you picking Phil's line, Kopi's line and all sudden that leaves our leading goalscorer and our leading scorer for somebody else to play against. It's worked well for a couple of weeks and we'd like to see it continue.
McLellan on what makes Jaret Anderson-Dolan the right choice to move up tonight

Trusting, he's become a trusting player. I think he feels good, you'd have to ask him but I think he feels good in a certain role and accepting certain responsibilities. I think he feels it when he gets rewarded and gets to be put out in a checking situation. There's penalty-kill time for him that may be coming, but I think he's transformed his mindset into being a valuable, trusting player. Just like all the kids that enter the league, they think they've got to be scorers. It happens for some, others make real good careers playing 10 or 15 years, scoring 10 a year and being trusted.
McLellan on Sean Walker hitting 200 games and his progression back this season
Coaching Walks is easy because he shows up and wants to get better. He just doesn't show up because practice is at 11, put his time and leaves at 12. He shows up, wants to get better, he's a committed player that's proud, so some nights when he doesn't play, he's feisty there, which is a real good sign too. Think of what he's been through and how far he's come. His play from the first, call it 7,8,9 games until now, significantly better, but he needed that time. He needed to experience things to get his game going again but he's played well.
​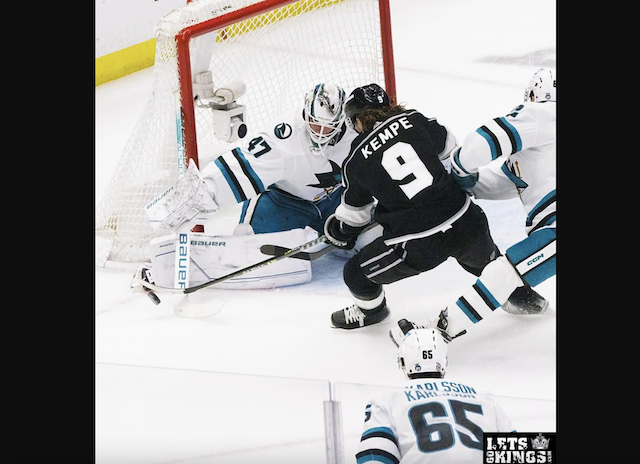 Subject To Change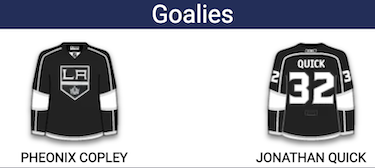 Kings Injuries
Arthur Kaliyev (IR)
Trevor Moore (IR)
___________________________________
___________________________________________
Devils Probable Lineup
courtesy of dailyfaceoff.com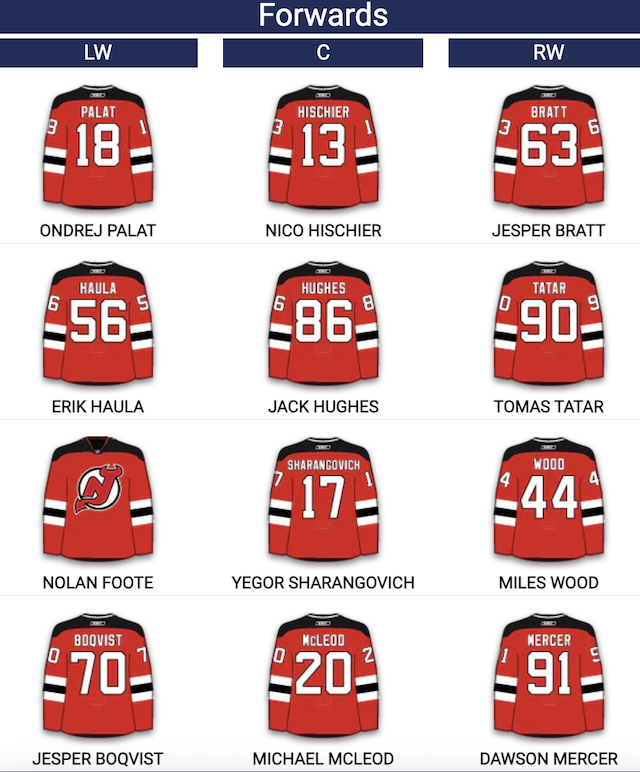 Former King
Jonathan Bernier (IR)

____________________________________________
____________________________________________
GOALIE STATS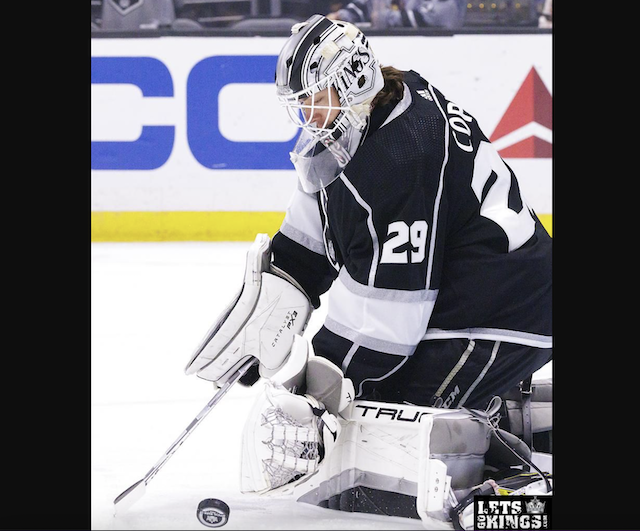 PLAYER STATS
Click Here For More Stats & Rosters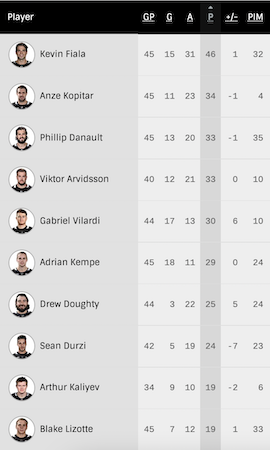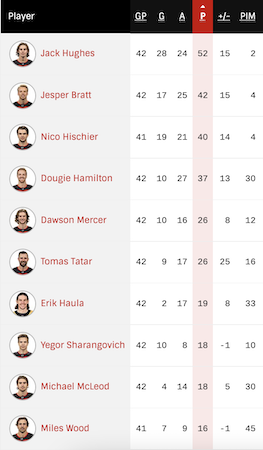 PACIFIC DIVISION STANDINGS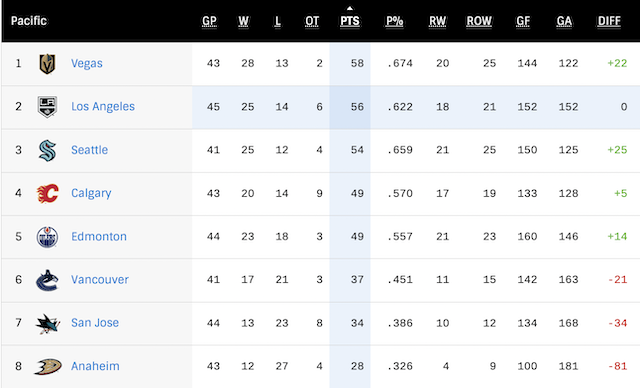 Tonight's Poll Question:
Part 1 - At what time of the game will the Game Winning Goal be scored?
You can take 3 guesses
use the min:sec of the_(1,2,3,OT)__period format. You can also choose SO

+/- 1:00 = 1 point, +/- :30 = 2 points, +/-:10 = 3 points
SO correct guess = 1 point

Part 2 - Which Devils player is going to score the FIRST Devils goal of the game?

You can take 4 guesses - one can be "they'll get shut out"

Previous Game's Winners
Congratulations to the following posters who correctly guessed a goal differential of 1 and/or the final score of 4-3:

Both (2 Points):
CIrvine
Rogie-Vachon
1 Goal diff (1 Point):
DRice
LeftyKing
kingrussell
Poll Win Totals
King Of The Mountain
with

36

points:
VegasHockey
32 Points
Rusty
31 Points
Kurisu
LeftyKing
30 Points
Bill Hicks
randdog
29 Points
28 Points
beady eye
DRGinLBC
hornman
sonnyboy11
srm1105
27 Points
John a90
Liz4LA
26 Points
DRice
SirJW
25 Points
Helvetica
pray4mojo
24 Points
AngelEyes
Clif
forum gold
23 Points
22 Points
Nyssa42
TooCool
21 Points
20 Points
Chateau Bow Wow
19 Points
empire
jammer 06
18 Points
hihocarp
RoS
17 Points
CIrvine
Sevenhole
16 Points
JETS GARAGE
15 Points
Dr. Tran
KHenry14
Rogie-Vachon
14 Points
13 Points
dannybuoy1
notbob
waynet
12 Points
11 Points
kingsmen93
10 Points
Busted Chops
kingrussell
Shackleford
9 Points
Dirtweazle
kopinator
8 Points
Byron
7 Points
6 Points
beedee
JayWells24
5 Points
4 Points
3 Points
Cross Traffic
Dexter
HTK
salami
STONE
2 Points
05/29/93
PuckMaster
1 Point
RagBone
Rinkrat
***Get, Give, & Bet your karma in geogirl's KARMA BETTING THREAD HERE***
photos courtesy of RinkRat & NHL.com
________________________________________________
​
Last edited: