jammer's overlord
Staff member
TEAM LGK
Joined

May 10, 2012
Messages

13,105
LGKash:

$1,350.00

Game Day Thread
Game #14/82
11/11/23
7:30pm Pacific on BSW

Philadelphia Flyers vs. Los Angeles Kings
Crypto.com Arena | Los Angeles, CA
SALUTE TO SERVICE NIGHT HONORING VETERANS

Previous Meeting
11/04/23 -- Kings 5, Flyers 0
**Game Time 7:30pm**

TV
:
**BSW**
Radio:
LA Kings iHeartRadio app
Please remember, DO NOT post links to Live Game Streams in the GDT or anywhere else on LGK
Check Out More Articles & Video on LA Kings Insider Here
Todd McLellan 11/09/23 Post-Game Quotes:
​
Todd McLellan
On the Kings sharpness tonight and his thoughts on tonight's game
A night where I didn't think we were real sharp and I don't know if that's back-to-back or just a little lethargic, whatever it might be. They're the number-one faceoff team in the league and we must have iced the puck six, seven times. Usually we break out clean and that kept us on the ice a long time. After the second period, we had 10 guys with almost over a minute shifts. It wasn't because we were in our end a lot, it was because we iced the puck a lot. Just not sharp enough to get two points tonight.
On if the Kings have shown an ability to get results without the desired level of sharpness
I'd like to think so. I'd like to think that on nights where you're a little bit sloppy…you're not going to be at your best for 82 games, there's going to be your best game and your worst game in 82, it doesn't matter if you win or lose them. I don't know where this one will fit in, but you have to find ways to scratch and claw points out of those nights and at least we got one tonight. I'm sure everybody, if they were honest with you tonight, probably said we weren't sharp enough to complete some things, both with and without the puck defensively.
On what he liked from tonight's game
I liked that we were resilient. I thought our penalty kill did a really good job again, it's done that for a while. I liked Lizzo's line, I thought they gave us a large amount of energy and real good minutes again. There's some individuals that had good nights, Kempe, I don't know what he had, eight, nine shots on goal again. Your leading scorer, if he's generating that much, that's a real good sign. I have to think about the game a little bit to really get into specifics but there were some good things.
On having too many turnovers tonight and where he felt they came from the most
Neutral zone turnovers but it's a good question because turnovers – we think that we have it and we're skating and then we flip a pass on, it doesn't work, they come back the other way, that's an obvious turnover. But, turnovers, Lizzo's line got scored on, we ice the puck, they got Crosby's line out and not that Lizzo can't play against them, but Crosby's pretty good in the faceoff circle, we lose and never get out of our end. To me, that's a turnover. I bet you that happened six, seven times in the first two periods alone. So, we weren't nearly as sharp as we needed to be and that's a turnover in my mind.
On his current confidence in goaltender Pheonix Copley
We've seen him do it over and over again. He's played what [10] periods for us this year and we're going to lose confidence in him? Not a chance. He's a good goaltender, our guys believe in him and it's hard when you haven't played for a while. We played back-to-back he got the [crappy] end of the of the schedule, but that's the way it goes. Would he like to have one back? Yeah, but we'd also like to have the shorthanded goal back and that's on the team.
On getting consistent production from the big guns, led by Kempe and Kopitar
Well, there's a pecking order on your team too and it sorts itself out. The coach can't sit there and just put everybody in the right seat, they sort themselves out as the year goes on and that's happening, but there's always competition within. Kopi and Juice and those guys are sorting it out, they're producing and scoring, but I still think it's the team as a whole that's going to give us a chance at any success. It won't be any one individual or two, it will be the team as a whole.

Subject to Change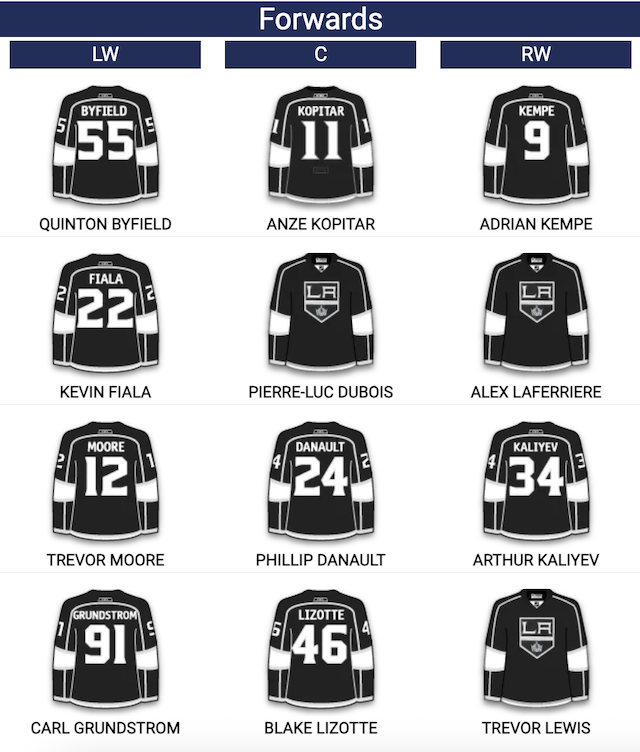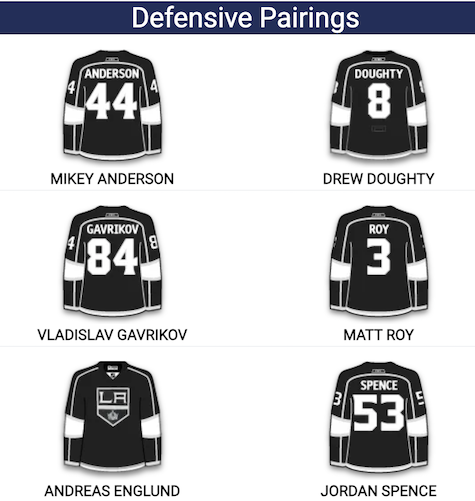 FLYERS PROBABLE LINEUP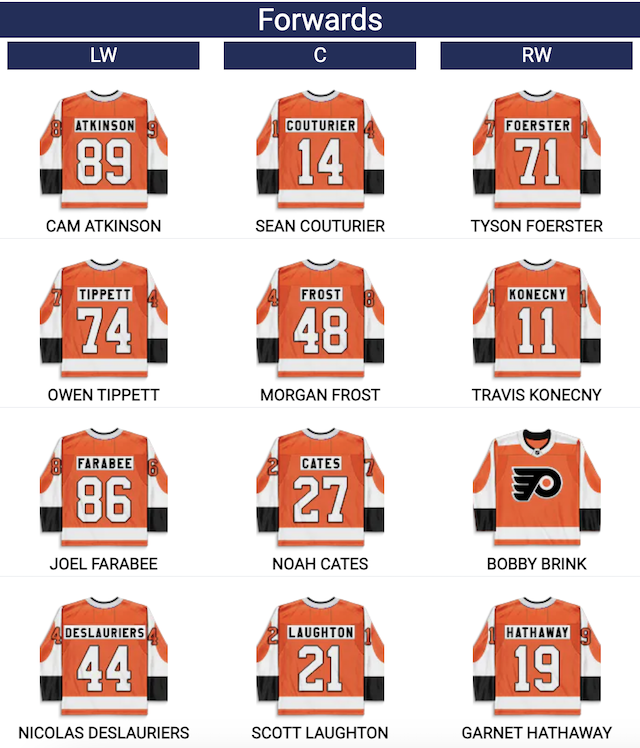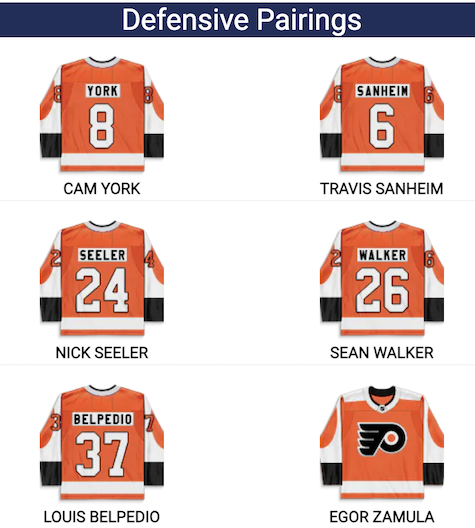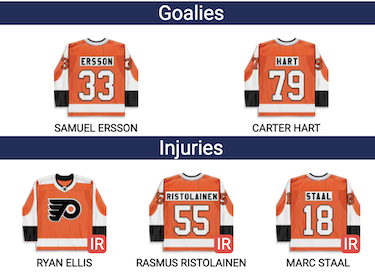 Former Kings
Nicolas Deslauriers (2009 Draft Pick)

Cal Peterson

Sean Walker

_______________________________________________________________________
PACIFIC DIVISION STANDINGS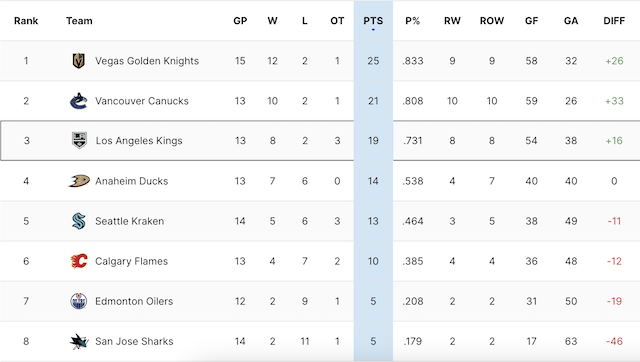 *VBookie BETTING THREAD HERE*
**Tonight's Poll Question**
Part 1 - How many POINTS will be scored by ALL FORWARDS on both teams tonight?
You can take 3 guesses for Part 1
Part 2 - Who will score the GAME WINNING GOAL tonight?
You can take 3 for guesses PER TEAM (6 total) for part 2
Take your best guesses in your post below -
the only Prize is the glory of seeing your name in the next GDT if you get it right.
PREVIOUS GAME'S WINNERS
Congratulations to the following posters who correctly guessed 4 goals by the winning club and/or 1 goal differential between the teams:
Both (2 Points):
DRGinLBC
KernCoKingFan
CIrvine
Rusty
mugs
SaltyPuck
KHenry14
rfischer
randdog
rinkrat
Nyssa42
empire
4 goals (1 Point):
VCRW
JayWells24
katydid213
beady eye
VegasHockey
waynet
notbob
Jerram
symbology
hornman
Liz4LA
Clif
STONE
1 Goal differential (1 Point):
Dr. Tran
Rogie-Vachon
jammer06
Byron
sonnyboy11
Shackleford
Kurisu
SirJW
beedee
TooCool
dannybuoy1
Kings of the Mountain with 9 points - Byron & SirJW
8 points = Dr Tran, Rusty
7 points = clif, DRGinLBC, notbob, Salty Puck
6 points = Chateau Bow Wow, CIrvine, Liz4LA, Nyssa42, pray4mojo, Randdog, Rinkrat
5 points = Angel Eyes, beady eye, empire, forum gold, hornman, jammer06, JayWells24, Jerram, katydid213, Kuriso, mugs, Shackleford, TooCool, VegasHockey
4 points = dannybuoy1, Dexter, DRice, KernCoKingsFan, KHenry14, Sevenhole, VCRW
3 points = Cross Traffic, Guinevere, Madness20721, puckoff, Rogie-Vachon, sonnyboy11, waynet
​
Last edited: