jammer's overlord
Staff member
TEAM LGK
Joined

May 10, 2012
Messages

12,814
LGKash:

$450.00
***Playoffs GAME 7 LA Kings @ Edmonton Oilers GDT 5/14/22 7:00pm on BSSC & ESPN***

PLAYOFFS Game Day Thread
Playoffs Round 1, Game #7 -- 5/14/22
TONIGHT?S GAME IS ON BALLY SPORTS SOCAL & ESPN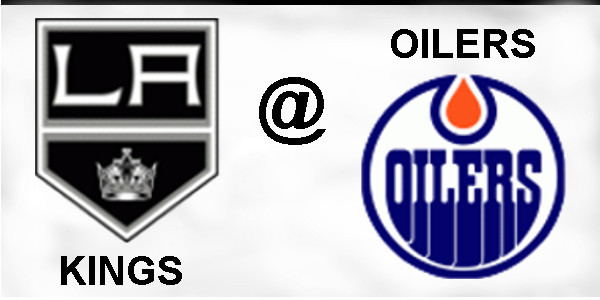 Los Angeles Kings @ Edmonton Oilers
Rogers Place | Edmonton, AB
SERIES TIED 3-3
Round 1 Scores
05/12/22 -
Oilers 4
, Kings 2
05/10/22 -
Kings 5
, Oilers 4 (OT)
05/08/22 - Oilers 0,
Kings 4
05/06/22 -
Oilers 8
, Kings 2
05/04/22 - Kings 0,
Oilers 6
05/02/22 -
Kings 4
, Oilers 3
Playoff Series Stats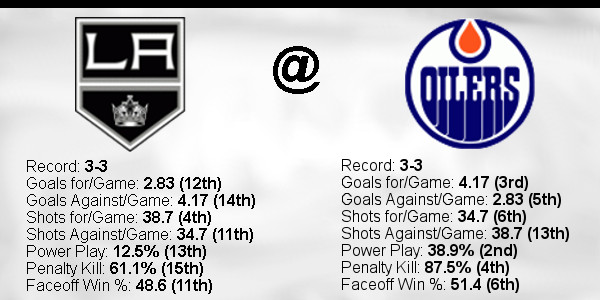 TV:

**BSSC & ESPN**



Radio: LA Kings iHeartRadio app
Please remember,
DO NOT
post links to Live Game Streams in the GDT or anywhere else on LGK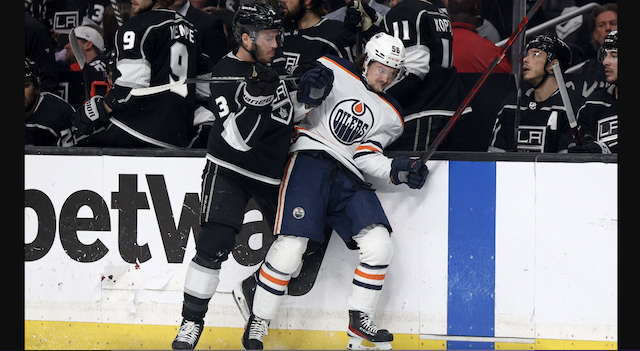 Check out articles on LA Kings Insider Here
Matt Roy (video), Anze Kopitar & Todd MacLellan 5/12 Post Game Quotes
Link to Matt Roy Post-Game Video
https://twitter.com/i/status/1524985049334132742
Anze Kopitar
On what he feels the Kings need to do better heading into Game 7
Just be a little bit more resilient. I think maybe the thought of ending the series kind of creeped into our mind and we started off a little tentative. Credit to them, they obviously had a good start, but just spend more time in the offensive zone and send more pucks to the net.
On why he thinks the team was a bit tentative to start the game
I mean, the older guys haven?t been there in a few years and we have a few guys that haven?t experienced this at all. It?s natural, but if you told us that we had to win one game to advance, we?d certainly take the opportunity. It?s not all that bad, we?re going to fly up there tomorrow and get ready for Game 7.
On the differences between closing out a series, versus another game
Somebody a few years ago said that usually the fourth game is the toughest one to win, I?m pretty sure you know who that is. Obviously there?s something to it. We would have liked to close it out, but it didn?t happen and we?ve got to move on, look ahead to Saturday.
On the pushback with a power-play goal late in the second period
Yeah, it?s the playoffs, it?s going to be tight. We were down 2-0, it didn?t phase us too much. We knew we needed to get one on the power play at some point, so that was big and then obviously tied it up pretty early in the third. We just couldn?t push it over the line.
On if there?s anything that needs to be said to the younger players for a Game 7
I think the younger guys have done a really good job of stepping into roles the whole season, certainly this series. I think, as of right now, they know what it takes and I?m not worried about that at all.

Todd McLellan
On the notion of Edmonton flipping the scripts tonight with a good start and puck possession
Well, they?re a pretty good hockey club, they?re allowed to play to their best and I thought they got to a level that they weren?t at in Edmonton, which is fine. I thought we responded well throughout the night. This reminded me a lot of Game 1, where it was pretty even back and forth, there wasn?t anything lopsided about the game. Our quarterback-receiver connection wasn?t where it needed to be, it was erratic, and obviously when we went to pass, the passer was not real clean and the receiver sometimes wasn?t handling the puck real well. When you do that, we go back to Games 2 and 3 when we didn?t pass the puck well. We?re not a real good offensive juggernaut when that happens and it was a big part of the game tonight.
On if there are any ?young players? at this stage in the season
I think there?s logic to that, but there?s also experience under duress that some of them haven?t experienced. Obviously Kopi, Phil Danault, Brown, the big four that are here and some that have played a lot of playoff games, they get the moments, the mood swings if you will. The younger players, sometimes they adapt really quick to it, sometimes it?s a bit overwhelming for them, but they have to experience it, it?s a different monster.
On special teams building momentum late in the second period
I think that special teams in this series haven?t won or lost games, per say, but they?ve created momentum a lot, for different teams, in different situations. I thought that did it for us tonight, the special teams.
On how he felt the group handled McDavid and Draisaitl tonight as a pair
I thought we were fine, we had to double-team them, we knew that was going to happen, whether it was Phil or Kopi, for the most part they were on the ice. I look at the goals that they were involved in, the wraparound a real good play by Connor early in the game, so psychologically, they got what they wanted. Then, a huge error on our behalf on the winning goal, it?s preventable, it?s avoidable, but we made it, it?s why we play the game. Somebody?s going to make mistakes and the other team is going to capitalize. When you?ve got those offensive weapons that they have, you?ve got to minimize them.
On reestablishing and focusing the team ahead of Game 7
We were that today, so we?ve had a dress rehearsal. We?ll be that again two days from now and we have enough experience, guys that have been through this before. Again, I talked about pressure this morning, we like this situation. If somebody said hey, the LA Kings against the Edmonton Oilers, go play for one game, we?re not particularly happy with how we got to it tonight, but we can?t do anything about that now, so let?s look ahead. We?ve won there before and we can win there again.
​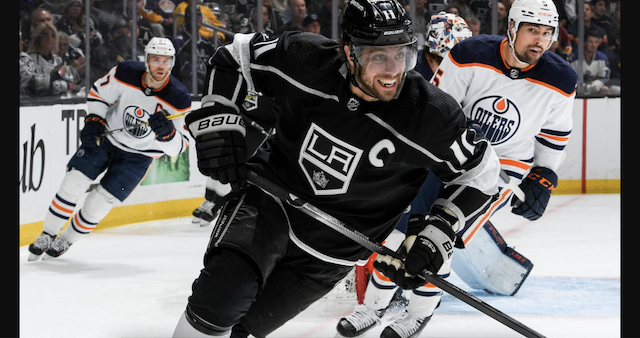 Subject To Change
FORWARDS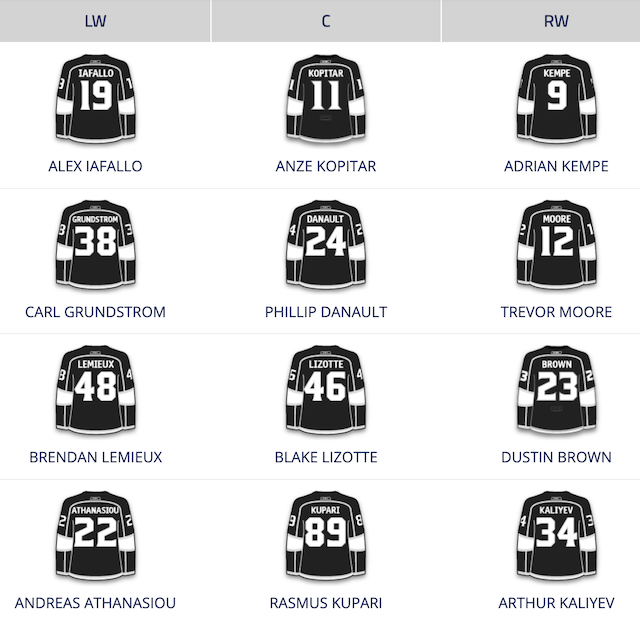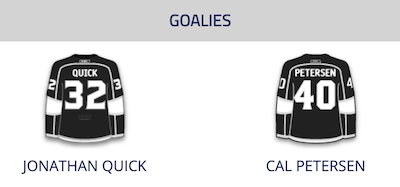 Kings Injuries
Viktor Arvidsson
Drew Doughty (IR)
Sean Walker (LTIR)
__________________________________________________
__________________________________________________
Oilers Probable Lineup
courtesy of dailyfaceoff.com
FORWARDS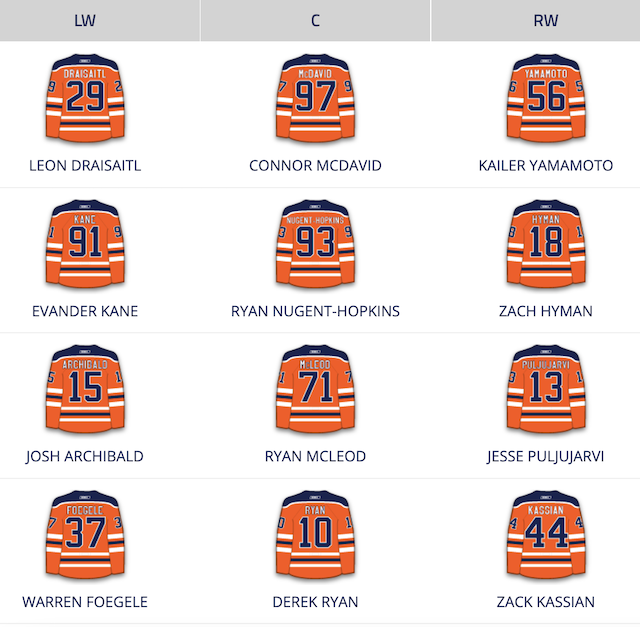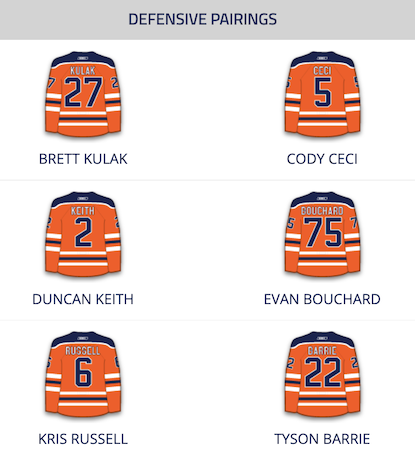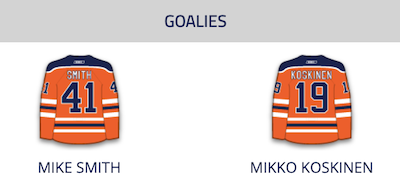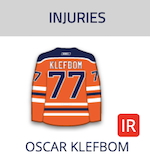 NO Former Kings
________________________________________________
_________________________________________________
GOALIE STATS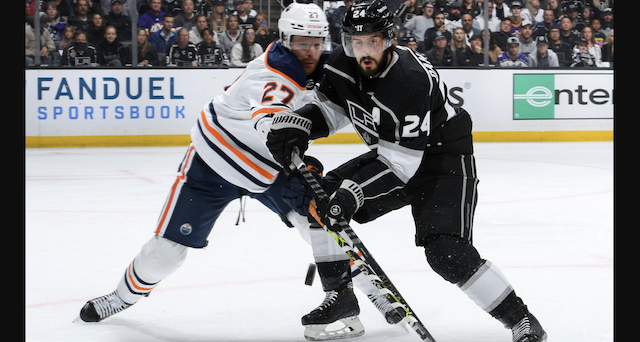 PLAYER STATS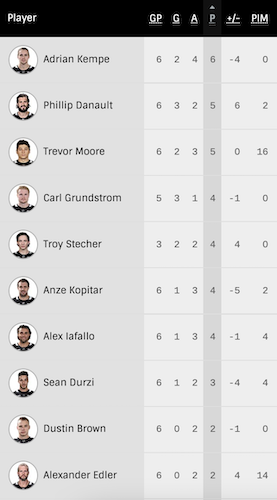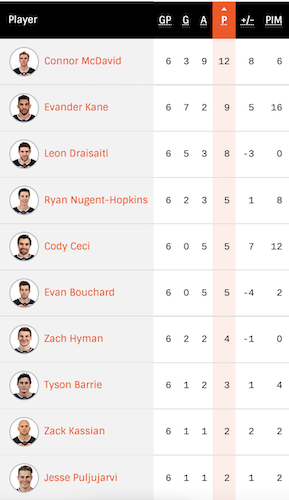 ***Bet your karma in geogirl?s KARMA BETTING THREAD HERE***
There are also betting threads for all the other series in Home Ice
________________________________________________
​