jammer's overlord
Staff member
TEAM LGK
Joined

May 10, 2012
Messages

12,814
LGKash:

$450.00

PLAYOFFS Game Day Thread
Playoffs Round 1, Game #2 -- 5/2/22
TONIGHT?S GAME IS ON BALLY SPORTS SOCAL (not West) & ESPN2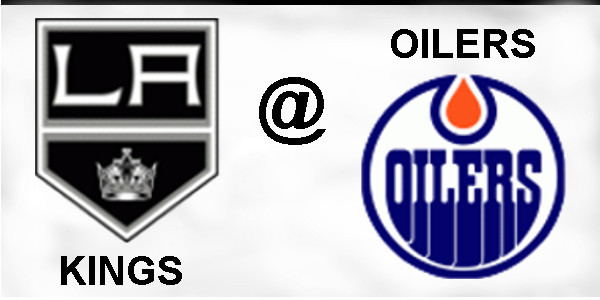 Los Angeles Kings @ Edmonton Oilers
Rogers Place | Edmonton, AB
KINGS LEAD SERIES 1-0
Regular Season Meetings
04/07/22 -
Oilers 3
, Kings 2
03/30/22 - Kings 3,
Oilers 4
(OT)
02/15/22 -
Oilers 5
, Kings 2
12/05/21 -
Kings 5
, Oilers 1
Regular Season Stats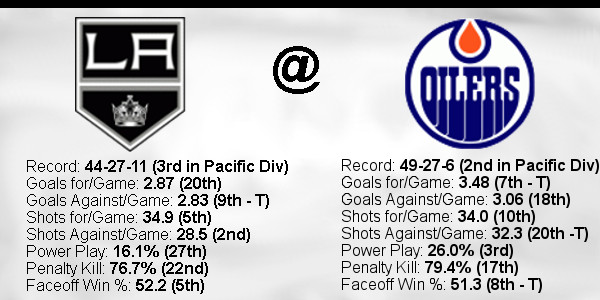 These start times are for the pregame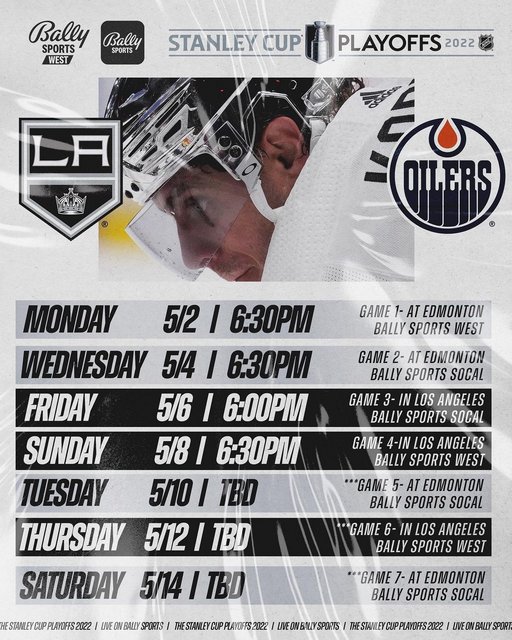 TV:

**BSSC & ESPN2**



Radio: LA Kings iHeartRadio app
Please remember,
DO NOT
post links to Live Game Streams in the GDT or anywhere else on LGK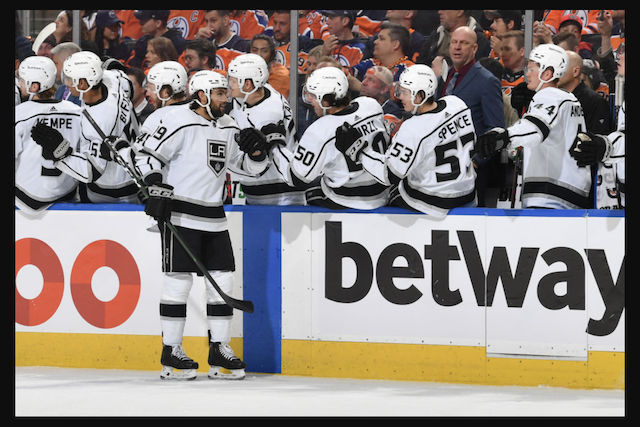 Check out articles on LA Kings Insider Here
Phillip Danault, Trevor Moore, & Todd MacLellan 5/2/22 Post Game Quotes
Link to Phillip Danault Post-Game Video
https://twitter.com/i/status/1521359729141895168
Trevor Moore
On how the group handled the momentum swings in the Game 1 win
Yeah, I thought we did a good job, how we have all year, leaning on our leadership. We know those guys are going to have pushes, they have two of the best players in the world, it?s going to be that way and they?re going to have their moments but I thought Quickie made huge saves when we needed them. We did a good job.
On what was said in the room between the second and third periods
Like I said, I think the leaders who have been here before, and Todd, came in and said hey, if we told you 3-3 coming into today, in a tough road building, we would have taken that. I think that we were calm and did what we needed to do to execute.
On the butterflies playing his first playoff game in a few years
Nervous energy, you?re more excited than anything, but you?re just anxious to get out there. You just want to get it started and get that first shift under your belt. That?s the way you do it for sure.
On playing against Edmonton?s top players more often than not
It?s an exciting opportunity. It?s going to be tough, like I said, those guys are amazing hockey players. Just being able to be called on for that job, it?s a big task, but it?s definitely an honor.
On handling the outside noise painting the Kings as an underdog in this series
We don?t care, we just kind of focus on what we?re doing and we believe in our group. We believe in our leadership, our coaching and everything that we do.

Todd McLellan
On his favorite things from the Game 1 victory
I thought we did the things that we needed to do, for the most part. We?ve used the word identity a lot during the year and we played to that again. It?s what gives us a chance. We checked fairly well, made some mistakes, went to the penalty box a little bit too much for anybody?s liking, especially against that type of power play, but for the most part we were able to check. We got excellent goaltending, as we expected, and we?re opportunistic. If anybody?s been watching us for the last 3-4 months, as some of you have, that?s how we play. We played in our skin, we played to our identity and we were just a carbon copy of how we?ve done it.
On seeing players step into new roles tonight and produce
I?ve been with teams where the injury thing at this time of the year would really throw you for a loop. You lose Viktor Arvidsson, we?re not loaded with 20-goal scorers and he?s a critical offensive and defensive piece to our team, a big part of that line. We?ve been through this so much this season, I really thought it was just another day at the office for us. Somebody falls out of the lineup and somebody steps in and we try to get it done. I think that the resiliency has come through that from Game 5 when we lost Drew to Game 6 when we lost Walks. We haven?t played with our whole lineup all season and we?ve been able to find ways.
On getting the matchups against McDavid and Draisaitl
It?s tougher, but let?s face it, for 75 percent of the game 29 or 97 and 24 or 11 are on the ice. The other 25 percent is unpredictable for both Jay and myself. It will be that way in LA and it will be that way in Edmonton, that?s why it?s such a great game, you don?t get to have everything you want. Others have to find a way to get the job done, both offensively and defensively, on our team and I can imagine Jay is probably saying the same thing. I can?t speak for him, but that?s just the way the game goes. You?re never going to get everything you want, but we have trained the players to deal with those situations and they should be able to handle them.
On Danault not needing to sacrifice offense tonight for defense
In my opinion, my mind, offense is a big part of his defending now. It?s not just jump on the ice and sit back, when you?re attacking the other team?s goaltender, it?s the best defense you can have. It?s honorable for him to say that, but we want him to keep pushing offensively, because that does help the defensive game.
On the group of players who played their first playoff game tonight
What?s that saying about the duck, he looks calm above the water, but underneath the legs are just flapping away. I?m sure there was some of that, but our guys did a good job of starting well. The veterans, the first two lines out that went out to start the game set the tone and settled everybody down. Now, the kids come out, they start to play on the third and fourth lines, they felt a little more comfortable. Leadership was real important, opportunity to play in these games is exactly what we wanted. We?ve talked about this ad nauseum already, about gaining experience as we go for that up and coming group. They?re getting it. Maybe they don?t get 15 minutes a night, but they?re involved in everything that happens on the bench, on the ice, in the game. That?s valuable.​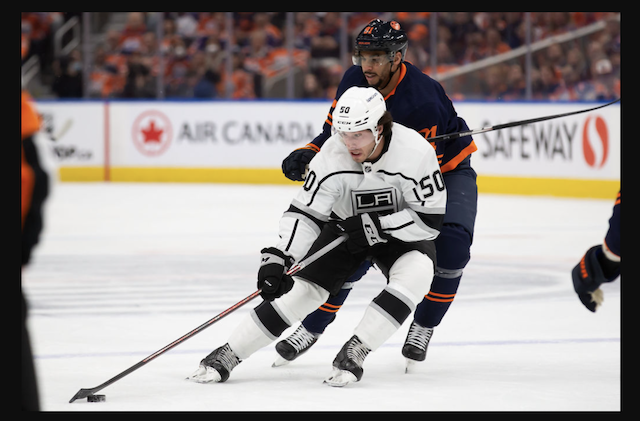 Subject To Change
FORWARDS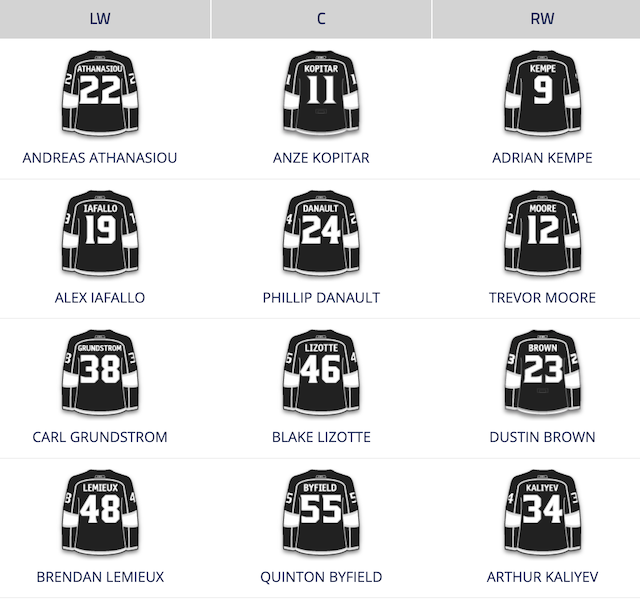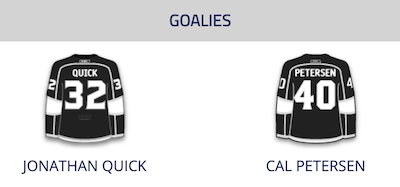 Kings Injuries
Drew Doughty (IR)
Sean Walker (LTIR)
__________________________________________________
__________________________________________________
Oilers Probable Lineup
courtesy of dailyfaceoff.com
FORWARDS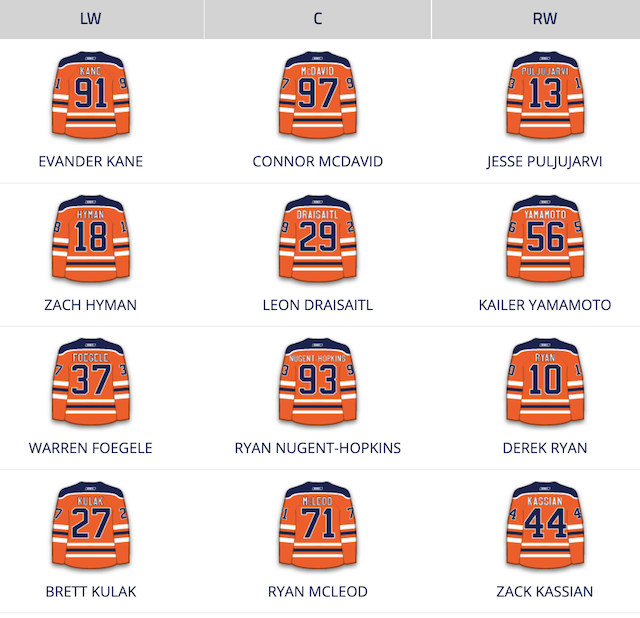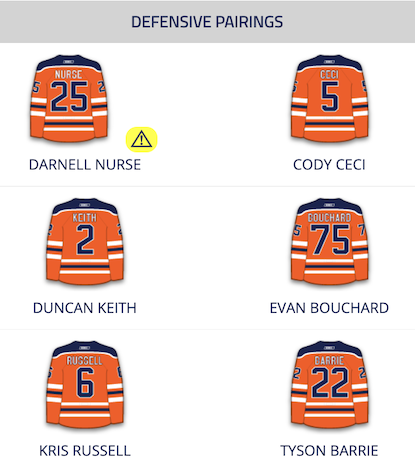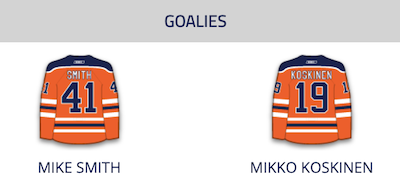 NO Former Kings
________________________________________________
_________________________________________________
GOALIE STATS

PLAYER STATS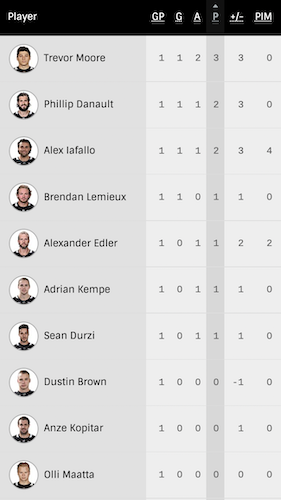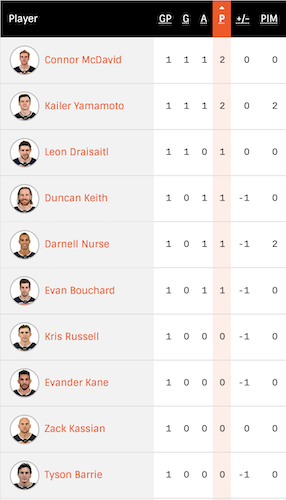 WESTERN CONFERENCE WILD CARD STANDINGS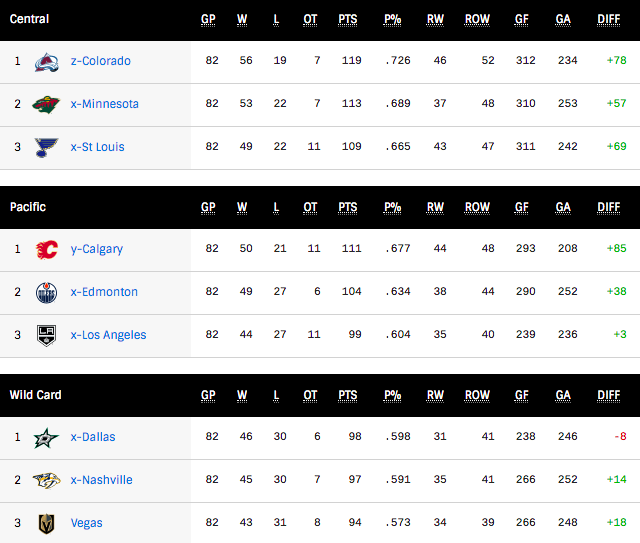 ***Bet your karma in geogirl?s KARMA BETTING THREAD HERE***
There are also betting threads for all the other series in Home Ice
________________________________________________
​