jammer's overlord
Staff member
TEAM LGK
Joined

May 10, 2012
Messages

12,842
LGKash:

$550.00

Game Day Thread
Game #34/82 -- 12/17/22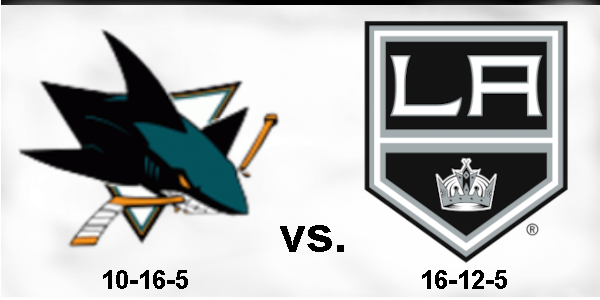 San Jose Sharks vs. Los Angeles Kings
at

| Los Angeles, CA Season Ticket Member Appreciation Night
Reverse Retro Jerseys

Tonight's Giveaway - Adrian Kempe Reverse Retro Bobblehead



TOY DRIVE

- bring a new, unwrapped toy & get raffle tickets for prizes! Previous Meeting

11/25/22 -

Kings 5

, Sharks 2

TV:

BSW



Radio: LA Kings iHeartRadio app
Please remember,
DO NOT
post links to Live Game Streams in the GDT or anywhere else on LGK
Check out articles on LA Kings Insider Here
Trevor Moore, Pheonix Copley, & Todd McLellan 12/15 Post Game Quotes

Trevor Moore on a big team win over Boston
Great effort by the guys tonight, we battled the whole way. Copper stood on his head, Juice with two big goals, that's a good team win.
Moore on the penalty kill and areas he feels it improved tonight
We talked about it yesterday, we maybe tweaked a couple of things. We want to be more aggressive, give their best players a little bit less time, block shots, all of that kind of stuff.
Moore on getting the shootout winner tonight
Yeah, it's nice when the other guy didn't score [first], you can just go out there and try and win it, that was good. It's very nice, it's a good feeling for sure.

Pheonix Copley on making the saves he needed to tonight, to keep the team in the game
I'm just trying to make the saves, not overthink it and trust myself. Whatever is going to happen, happens.
Copley on the grind of the group tonight to claw back from 2-0 down
Yeah, that's huge. We could have easily packed it in, down by two, everyone knows these guys are good at home. To be able to push through and keep working until you're able to find a way, that's huge. These are the kinds of wins that you can build on, this is huge for us.
Copley on what he liked from the PK tonight
I mean, they're blocking a lot of shots, so that's huge from my standpoint. When I did leave rebounds, getting those cleared out was another big thing. We talked a lot about the PK, we wanted to be better tonight and it played a bit part in getting a win.

Todd McLellan on a "bring your own guts" type of comeback and victory tonight
I think it was that way from the beginning. There wasn't a single individual happy with what happened in Buffalo the other night night, yet as I said, it was a confusing game. I thought the third period in Buffalo, we didn't show the resolve that we showed tonight, so it was a good opportunity for us to answer and reveal the character that I think is in that locker room. To fight back, we even had to fight back in the shootout when we were down. Not an easy building to do it in, not an easy way to end a trip, a long trip, but we're pleased with it.
McLellan on what he liked about the team's response to going down 2-0
You can't open it up against this team. You start playing run and gun, they're very talented. The penalty kill was obviously much better and the goaltender was a big part of that, he made some incredible saves when they had some open nets and he gave us a chance to crawl back in. The powerplay, which didn't do very much or wasn't full of momentum much of the night, was able to get it done at the end. Proud of the guys the way they responded.
McLellan on the timly contributions on special teams tonight
We had to play them even on special teams or we wouldn't have a chance. We had to wait until the end of the game to basically get it, but we needed it, just to guarantee the one point, and then the penalty kill on the carryover was huge. Momentum swings our way, sometimes it can frustrate the other group, I'm not sure if that happened, they're a pretty stable veteran group, I don't think they get rattled easily, but it can happen.
McLellan on if Pheonix Copley has given the team what it's needed since he was recalled
I would say that. You know, he had the period in Buffalo where we weren't very good in front of him, that was a complete team debacle if you want to call it that. But, everything else he's done, all the minutes he's played have been pretty solid. He's giving us a sense of confidence right now.
McLellan on moving Kempe up with Kopitar and Fiala in the third and getting the results
We weren't creating a lot of offense and that'd be two games in a row – actually, in Buffalo we created a lot – we just weren't getting anything done and the game was getting thin as far as minutes left. We just thought we needed to do something and it ended up working out for us.

​

Subject To Change
FORWARDS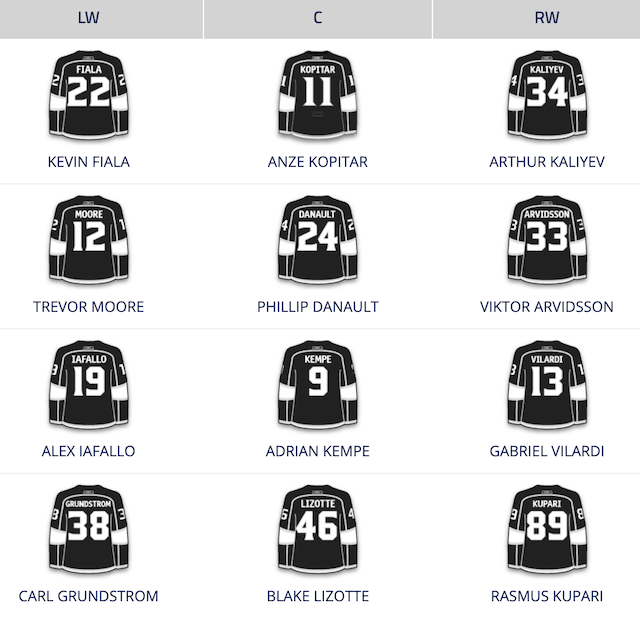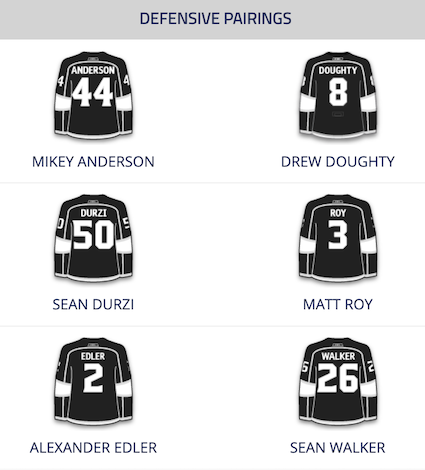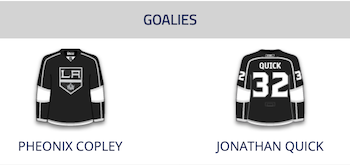 Kings Injuries
Brendan Lemieux (IR)
___________________________________
___________________________________________
Sharks Probable Lineup
courtesy of dailyfaceoff.com
FORWARDS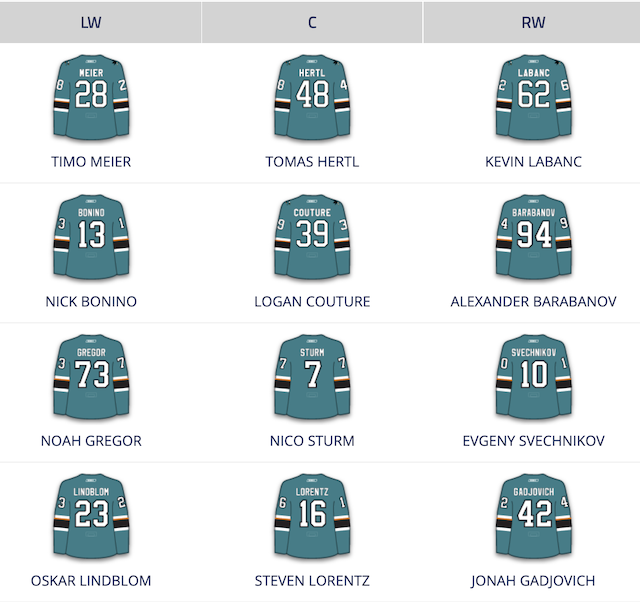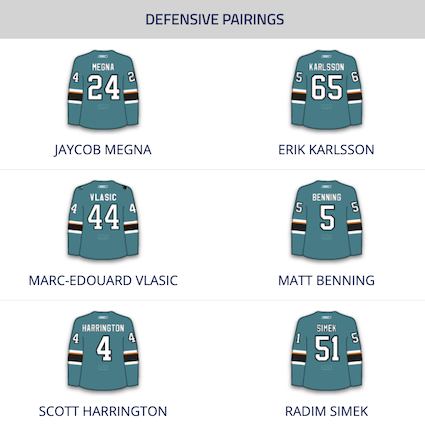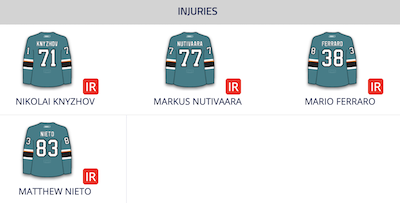 NO Former Kings
____________________________________________
____________________________________________
GOALIE STATS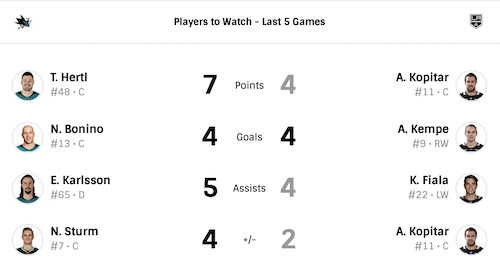 PLAYER STATS
Click Here For More Stats & Rosters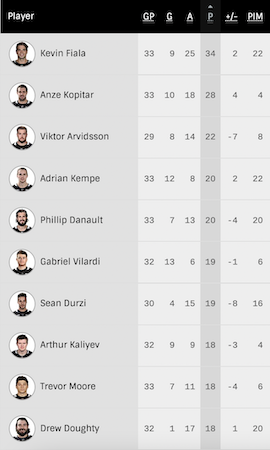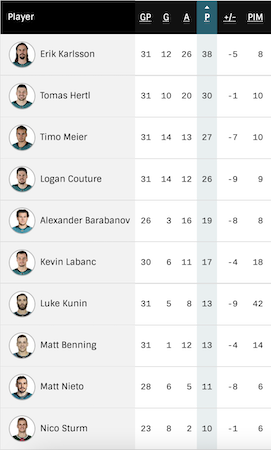 PACIFIC DIVISION STANDINGS
Tonight's Poll Question:
Part 1 - The Sharks are 3rd overall on the PK. The Kings are 28th. How many total goals will be scored on the PP tonight's game?

ONE GUESS ONLY

Part 2 - Who is going to score the game winning goal?
You can take 6 guesses - split them up between the teams however you'd like, but you

MUST PICK AT LEAST 1 PLAYER FROM EACH TEAM

(you can't pick all 6 from 1 team)
Take your best guesses in your post below.
The only prize is the glory of seeing your name in the next GDT if you get it right.
Previous Game's Winners
Following Game 32's points fest, no one managed to guess the 1st goal time for the Bruins or the Kings within +/- 1:00 in Game 33.
Poll Win Totals
King Of The Mountain
with

25

points:
VegasHockey
24 Points
Kurisu
LeftyKing
srm1105
23 Points
22 Points
DRGinLBC
21 Points
beady eye
Bill Hicks
Liz4LA
20 Points
hornman
randdog
Rusty
19 Points
John a90
SirJW
sonnyboy11
18 Points
AngelEyes
forum gold
RoS
17 Points
Helvetica
16 Points
Clif
pray4mojo
15 Points
14 Points
Chateau Bow Wow
Drice
empire
TooCool
13 Points
jammer 06
Nyssa42
12 Points
KHenry14
Sevenhole
11 Points
hihocarp
10 Points
dannybuoy1
JETS GARAGE
waynet
9 Points
CIrvine
8 Points
Busted Chops
Dr. Tran
kingsmen93
kopinator
notbob
Rogie-Vachon
7 Points
6 Points
beedee
5 Points
Byron
kingrussell
4 Points
Shackleford
3 Points
HTK
salami
STONE
2 Points
05/29/93
Dexter
Dirtweazle
JayWells24
PuckMaster
1 Point
Rinkrat
***Get, Give, & Bet your karma in geogirl's KARMA BETTING THREAD HERE***
________________________________________________
​
Last edited: