Joined

Sep 25, 2008
Messages

15,478
LGKash:

$500.00
Sean Durzi is clearly a talking point for this season. He's both whipping boy and possibly the main driver of all the offensive stats that are keeping Todd playing him as the top PP quarterback and pushing his time to the top when Doughty was out. His contract is incredibly valuable for both the kings this season and next along with being an amazing value in NHL marketplace. He's also only 24 years old which is still actually young and for a defenseman not named Makar a pretty usual age for a top 4 defenseman to begin asserting themselves in the NHL.
Not everyone loves Dom's model, and I admit it's overvaluing offense compared to the increased scoring that's happened over the few years. However it's a great visualization of single player values and what the rest of the league also values. Sean's player card is here: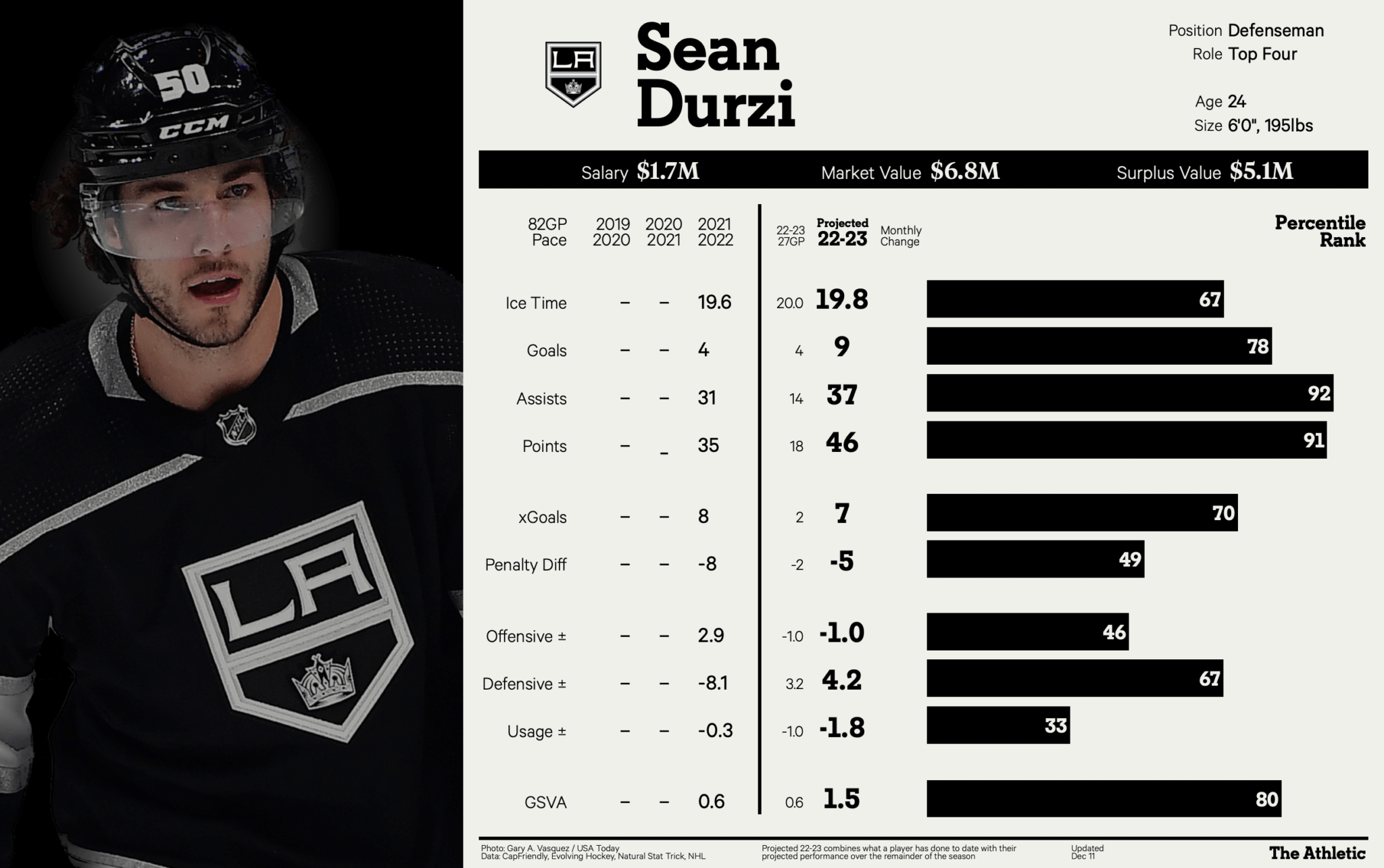 The main stats to note, the market value for Durzi projects as a 6.8 million dollar contract, and that in terms of points generation/gsva he's in the top 20% of the league. Anyone looking at that gaffe from the knights game that wants to hold onto that moment as the defining characterization of Durzi as a player for the rest of his career is probably going to be amazed at how many contracts and money he's going to earn. The other notes about Durzi that are interesting can be found at both Hockey Reference and Natural Stat trick
https://www.hockey-reference.com/players/d/durzise01.html
https://www.naturalstattrick.com/pl...&sit=all&stdoi=oi&rate=n&v=p&playerid=8480434
I know the eyeball people only see the negatives in a player but the fancy stats are also useful for many things, both of these say that when Durzi is on the ice good things happen. I know it doesn't seem like that when the team's been fishing the puck out of their net at an ungodly rate this season but believe it or not with Durzi on the ice at 5v5 they've actually been outscored by only 1 goal. On a team with a goal differential of -12 that means he's not the biggest problem (for reference, Matt Roy and Philip Danault are both -4). On the Power play Durzi's unit has been on the ice for 14 of the 26 goals the team has scored. This has been his biggest asset to the team by far. The other amazing thing? As a penalty killer Durzi has been on ice for only 12 of the 32 goals this squad has given up (for reference Matt Roy has been caught out 17 times, on a per 60 basis Durzi is allowing goals at a slower rate too).
To this point anyone looking at Roy vs Durzi in a vacuum of if you had to pick between the two of them to be on the right hand side (knowing there's Doughty now and Clarke as the future) can make a lot of arguments for either. Lets not pretend there isn't a salary cap, Durzi is going to get paid in this league. Roy is getting paid what he's going to get paid. Defensively they bring a similar value, Durzi is simply more valuable due to the offense he brings. For reference Doughty's player value is worth 9 million per year, simply put this season he's still way better than everyone else on our defense by a mile.
Now knowing that Durzi is going to get paid, and that he was acquired via trade, and knowing that he's got a great number for this year and next year (will be RFA when coming up as well) it seems like a no brainer that he's our trade chit for the LHD that we really need. That view however is tunnel vision, there is an alternative that does need consideration. This mythical LHD unicorn for the left hand side is typically pied in the sky as Jacob Chychrun who at 4.6 million for the next two seasons solves all the problems. I encourage those of you salivating about that concept to review Deans quote about the best players on bad teams. The alternative is utilizing Durzi's RFA status in conjunction with Clarke's elc status to keep that payday from killing the kings. Finding a defensively responsible LHD with that bit of Matt Greene in him is infinitely easier and cheaper to acquire than the unicorns. For anyone that doubts it look no further than Edlers acquisition and cap cost.
The fact that the kings haven't pulled a trigger either way probably has the most to do with they really want to see what they have in Toby. Walker can be left to the side for the moment, sadly he will probably be a change of scenery pleasant surprise for someone next year when his knee is finally closer to full strength.
In terms of trade value, Durzi can probably pull a first from someone. With other assets a roster player (cap math would be the limiting factor). In terms of value to this team he's driving a top tier PP, being employed on the PK out of necessity and tilting the ice in the kings favor at 5v5 for 1.7 million this year and next and will remain cost controlled as an RFA. The point is that he has more value to this team today and in the near term future than probably anyone other than Mikey pending how his contract talks go next year. When you have one of those things you don't facepalm and demand they trade him because you'd rather watch a hockey game with no goals in it. That is a matter of style, not of value. With as patient as Blake has been about this he is in a strong position which ever way he goes, but if he does trade Durzi he better get a hell of a return because he's absolutely worth it.