jammer's overlord
Staff member
TEAM LGK
Joined

May 10, 2012
Messages

12,814
LGKash:

$450.00

Game Day Thread
Game #68/82 -- 3/28/22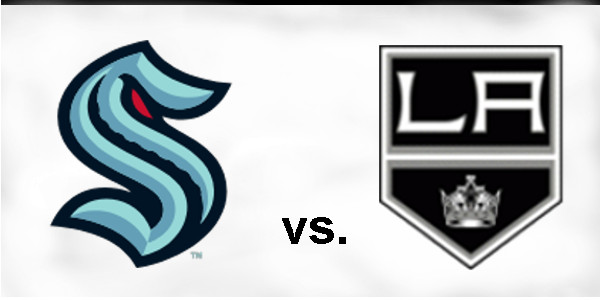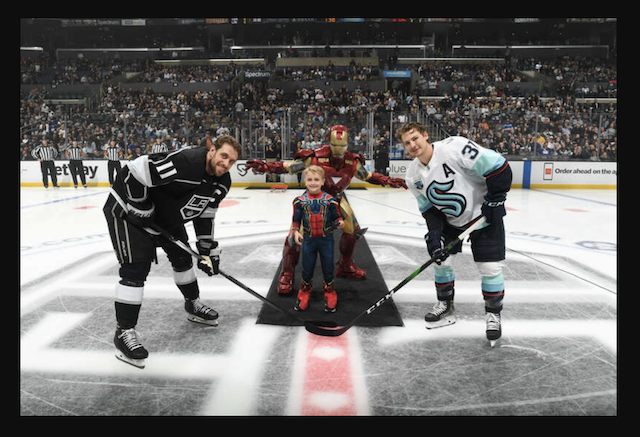 Seattle Kraken vs. Los Angeles Kings
at

| Los Angeles, CA
Todd MacLellan's 1,000th Game as Head Coach
Previous Meeting
03/26/22 - Kraken 2,
Kings 4
01/15/22 -
Kings 3
, Kraken 1

TV:

**BSW**



Radio: LA Kings iHeartRadio app
Please remember,
DO NOT
post links to Live Game Streams in the GDT or anywhere else on LGK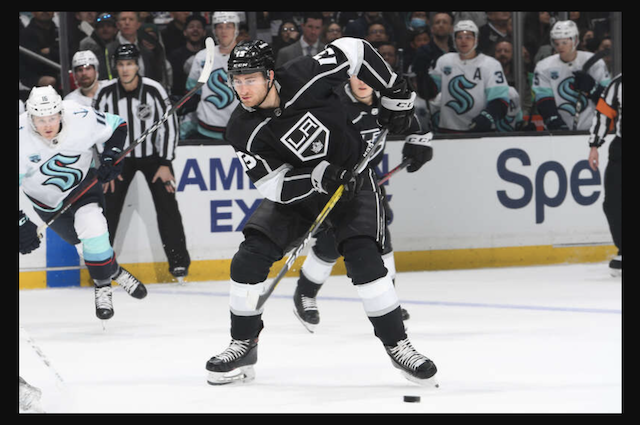 Check out articles on LA Kings Insider Here
Jordan Spence (video), Gabe Vilardi & Todd MacLellan 3/26/22 Post Game Quotes
Link to Jordan Spence Video
https://twitter.com/i/status/1507956330048507907
Gabe Vilardi
On what he felt the Kings did better tonight than against Chicago
I thought we played well in the neutral zone, we made them dump it a lot and that's our gameplan, our system. I think in the second period, we had a tough time breaking out and they hemmed us in for a few shifts. I thought we played well as a team.
On the play leading up to his goal
That was great by [Kupari], I actually didn't see what happened, I just saw that the puck came out and I was coming off the bench. I saw Olli there and that we had a 2-on-1 against [their defender]. He made a great play to me and my job was easy.
On getting rewarded with a goal tonight, and his progression to his recall
Yeah, there were certain things in my game back in October that I wasn't doing very well, specifically it was the defense. I think I've improved on that. Playing on the wing, I've played it before, I played it in my draft year, it was a bit of an adjustment, but it was nice to score for sure. I feel like my defensive game has improved, but at the same time, I still do want to contribute offensively. Nice to see one go in for me.
On getting rewarded with a goal tonight
I think it's huge, especially in the d-zone, being a winger, you want to make the right plays coming out. I think that's my game, honestly, playing the puck down low, I think I'm good at creating space for myself, drawing two guys in and finding the open guy. I think that's huge for my game, personally.
Todd McLellan
On the satisfaction of being on the other side of "meaningful games"
There is, it's called progress. There is satisfaction in that, but it doesn't end, we've still got to grow and move the needle forward. I keep hearing the term meaningful games later in the year. Whether that came from people in this room, people in our room, phone calls, friends, whatever, it's a common term that's used in sport and we're doing that right now. It's a great thing for our team. Kopi, Quickie, I guess Kempe [and Iafallo], have playoff experience as a King. I think we're gaining that right now. This is the playoffs for us and we've shown signs of growth during it. It's going to have to continue for whatever we have left.
On power-play goals in three straight games
I think Phil has made a difference there. We start with the puck, Phil or Kopi, one of the two, is always hot in the faceoff circle so we start with the puck. We seem to be able to retrieve it better and keep plays alive, I think we're a little harder, heavier in and around the net and that's where Phil is positioned. Because of that, we're able to get the puck there and as a result, we're scoring on some of the garbage that we weren't earlier in the year.
On having a better connection between defensemen and forwards than on Thursday
Much better today. We looked more like we normally do, coming out of our zone, checking. We're never going to be mistake free, there's still things that we can do better, but they're a difficult team to play against. They grind, they get on top of you quickly, they're good along the wood, they get to the net. They tested us in a lot of different areas, and we passed the test tonight, but we've got to do it again in two nights
.
On the little plays that led to success tonight
Lots of, we call them shares, 3, 4 foot plays, not long plays but simple little plays that have to be made. I thought we stayed over the top of bouncing pucks, we might as well have played with a tennis ball tonight out there, it was horrendous, for both teams. Early in the game, I think we were reaching a little bit, we stayed over bouncing pucks, those are all little things that make a difference at the end of the night. That and simple plays, getting to the net, screens, tips, it all adds up and it takes 60 minutes of that.
​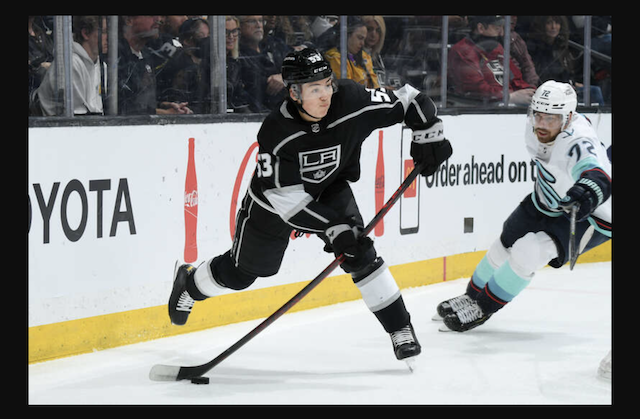 Subject To Change
FORWARDS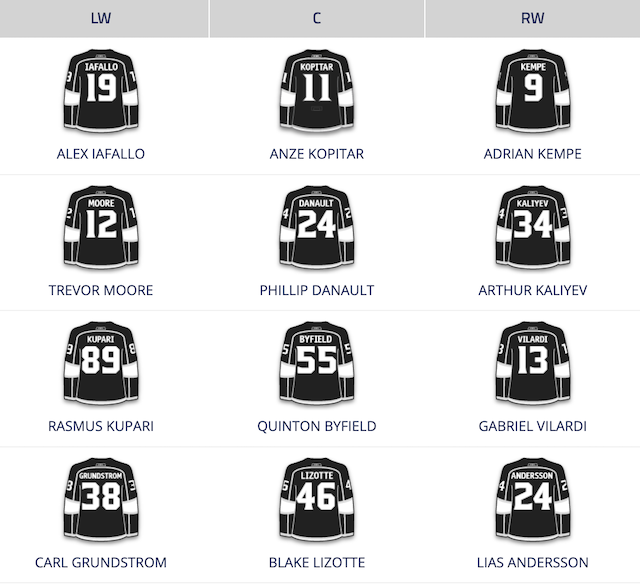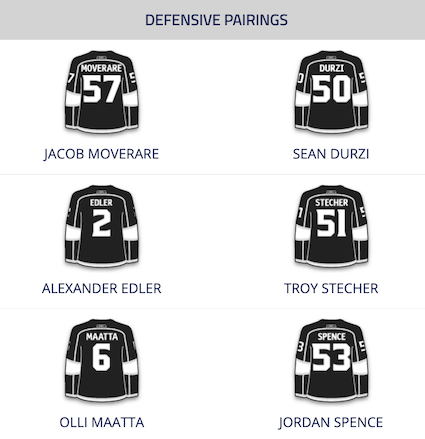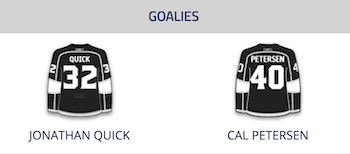 Kings Injuries
Mikey Anderson (LTIR)
Andreas Athanasiou (IR)
Dustin Brown (IR)
Drew Doughty (IR)
Brendan Lemieux (IR)
Matt Roy (IR)
Sean Walker (LTIR)
__________________________________________________
__________________________________________________
Kraken Probable Lineup
courtesy of dailyfaceoff.com
FORWARDS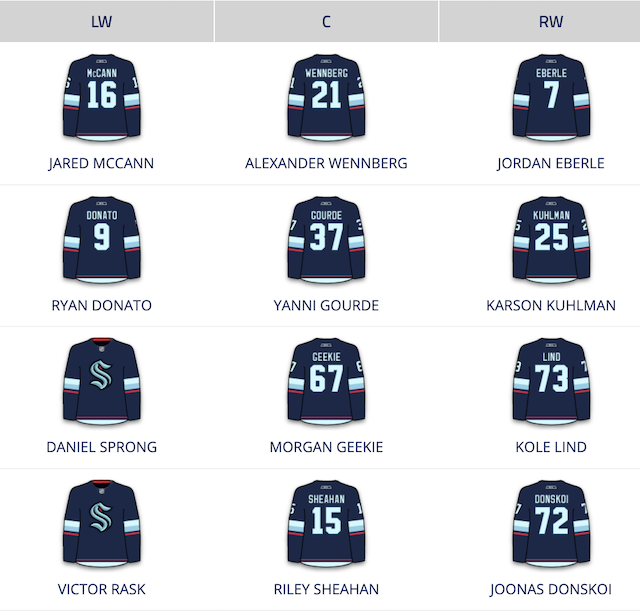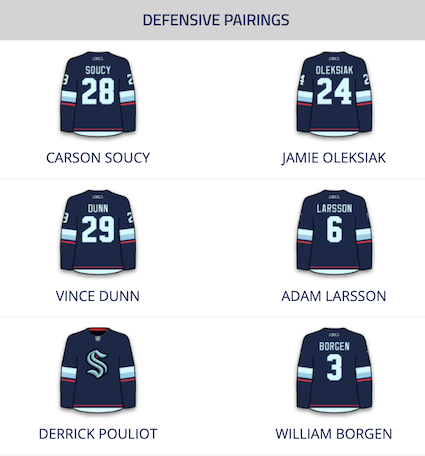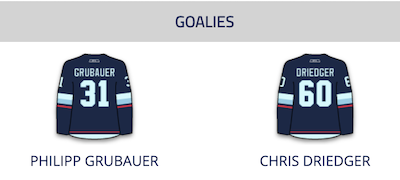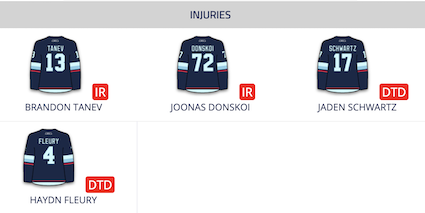 NO Former Kings
________________________________________________
_________________________________________________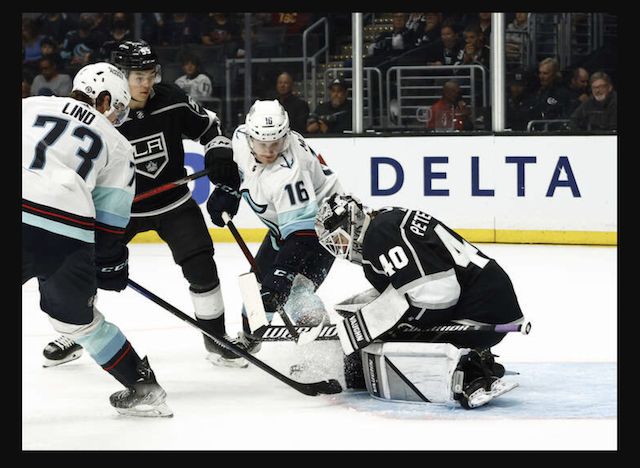 GOALIE STATS

PLAYER STATS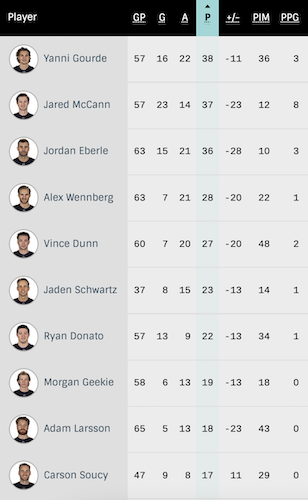 WESTERN CONFERENCE WILD CARD STANDINGS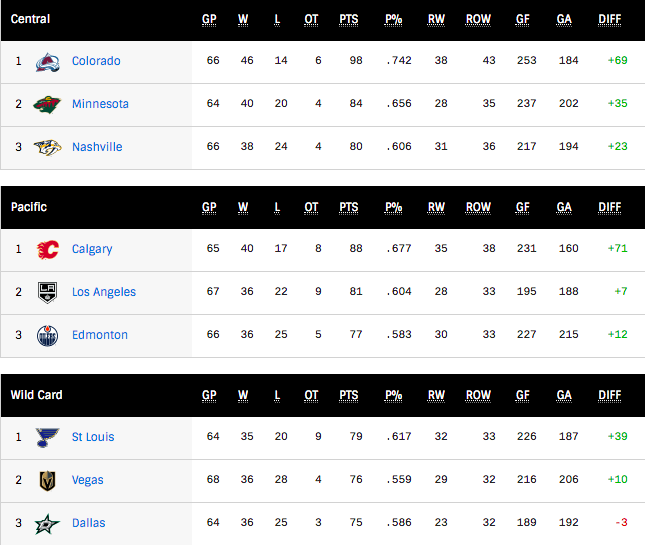 Tonight's Poll Question:
In Saturday's game vs. the Kraken, the first penalty was not taken until 13:18 of the 2nd period. At what time will the FIRST PENALTY be called (against either team) in tonight's game?

You can take 2 guesses
+/- 2:00 = 1 point, +/- :30 = 2 point
Previous Game's Winners
No winners from last game because it's a 2-game question
Poll Win Totals
***NOT UPDATED***
King Of The Mountain
with

49

points:
srm1105
43 Points
Reg or Rog?
41 Points
40 Points
AngelEyes
John a90
LeftyKing
39 Points
Kurisu
Liz4LA
Sonnyboy11
VegasHockey
38 Points
Rusty
37 Points
Chateau Bow Wow
36 Points
35 Points
DRice
34 Points
Bill Hicks
Helvetica
hornman
jammer06
pray4mojo
33 Points
hokiecat
notbob
32 Points
Nyssa42
31 Points
Dr. Tran
30 Points
JayWells24
kingrussell
29 Points
Busted Chops
28 Points
27 Points
dannybuoy1
KHenry14
26 Points
25 Points
Byron
24 Points
SirJW
STONE
23 Points
Shackleford
22 Points
CIrvine
empire
21 Points
Rogie-Vachon
Sevenhole
20 Points
19 Points
forum gold
18 Points
JETS GARAGE
TooCool
17 Points
Clif
16 Points
randdog
15 Points
cokingsfan
14 Points
DRGinLBC
13 Points
Dirtweazle
PuckMaster
12 Points
11 Points
beedee
Greg33
kopinator
10 Points
beady eye
9 Points
8 Points
7 Points
MaxwellSmart
6 Points
Joe Laviguer
kingsmen93
5 Points
waynet
4 Points
3 Points
2 Points
Ice24
rinkrat
1 Point
lurker
MBreeden
RoS
Salami
Stormy2213
***Bet your karma in geogirl's KARMA BETTING THREAD HERE***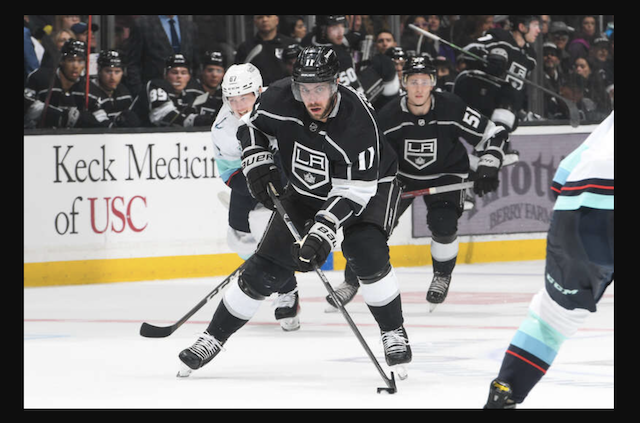 ________________________________________________
Photos courtesy of NHL.com/Getty Images​
Last edited: