jammer's overlord
Staff member
TEAM LGK
Joined

May 10, 2012
Messages

12,842
LGKash:

$550.00

Game Day Thread
Game #2/82 -- 10/13/22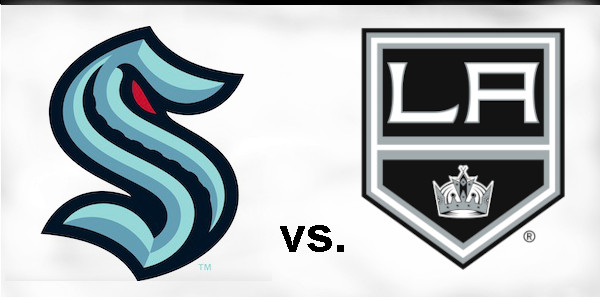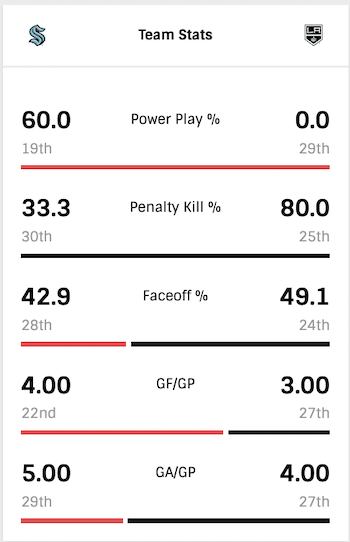 Seattle Kraken vs. Los Angeles Kings
at

| Los Angeles, CA
Last Season's Meetings
04/27/22 -
Kings 5
, Kraken 3
03/28/22 -
Kraken 6
, Kings 1
03/26/22 - Kraken 2,
Kings 4
01/15/22 -
Kings 3
, Kraken 1

TV:

**BSW**



Radio: LA Kings iHeartRadio app
Please remember,
DO NOT
post links to Live Game Streams in the GDT or anywhere else on LGK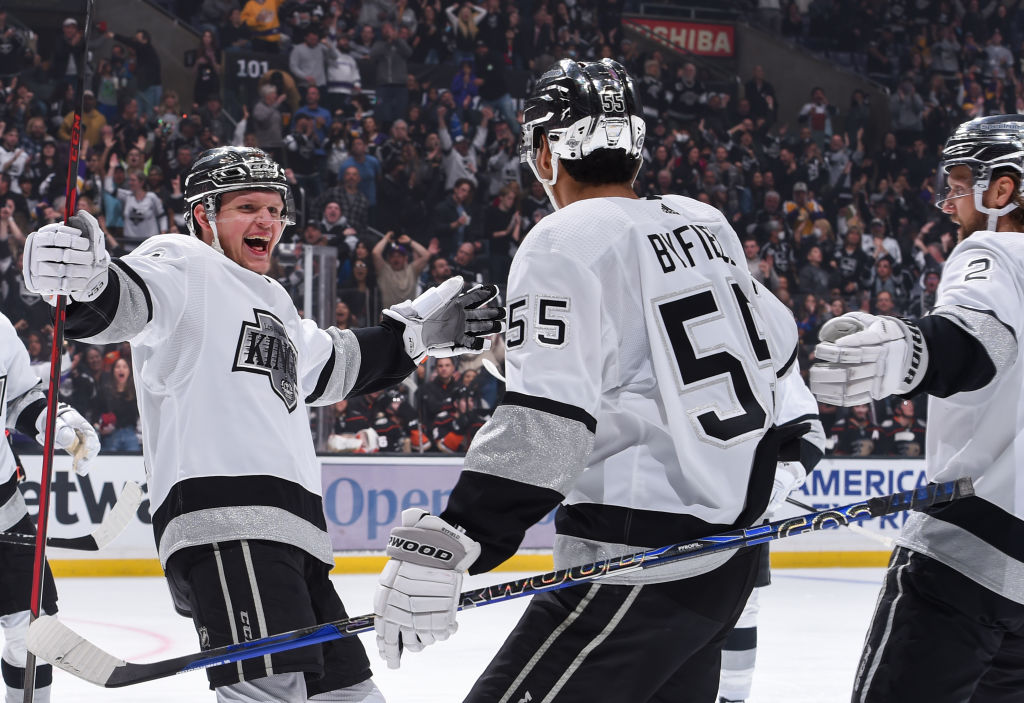 Check out articles on LA Kings Insider Here
Anze Kopitar & Todd MacLellan 10/11 Post Game Quotes
Anze Kopitar on the takeaways from tonight's game, and his positive takeaways

It's certainly a loss that's tough to swallow right now, because there were a couple of goals that were clearly off of our mistakes. Positives were that we scored a power-play goal, we battled back a couple of times, especially in the third. I'm sure we're going to look at some stuff to improve on and keep building on it.
Kopitar on if he feels like the team was ready coming out of preseason play
Yeah, I think so. For the most part, the d-pairings, the lines were intact throughout the preseason, not swapping around too much. There's certainly some chemistry, but like I said, there's always room for improvement and that's what we're going to do.
Kopitar on cleaning up the self-inflicted goals against tonight
Yeah, we'll correct that for sure. You can chalk it up to a first game and all of that, but the bottom line is that we just can't afford to lose a game like that, especially with the amount of mistakes that we made.
Kopitar on the confidence that Jonathan Quick instills when the team is down by a goal
A ton. He's proven it for 15 years, so it's certainly something that we've talked about before and I'm sure we're going to talk about again moving forward.

Todd McLellan on the most disappointing takeaway from tonight, and the goals conceded
Well, the end result [was the most disappointing thing], because we were still in it at the end of the night, so losing a game that we got an outstanding effort by our goaltender and we still had a chance to win, still had a chance on point, really. Obviously the focus is going to be on the play at the end, which makes no sense, it's hard to defend it, but our team gave up 51 shots on goal tonight. When you look at the night, the first goal against was just terrible game management, coming out of the penalty box and not being aware. The second one is at the back end of a power play, you have to rewind the video a little bit, we were on the power play and we negated it with the offensive zone penalty, so terrible game management there. Third one, an actual power-play goal and the fourth one was just stupidity. A lot of it is self-inflicted but you also have to give them credit. They put a lot of pressure on us and they created a lot of turnovers and a lot of pressure on our net, so we've got work to do.
McLellan on the game management mistakes the group made this evening
We've preached and preached about it, but sometimes you've got to get hit pretty hard with a 2?4 and maybe this was it. If you look at some of the penalties we've taken throughout exhibition season, I think I mentioned it a few times, we were penalized more away from our net than we were near our net and what I mean by that is neutral zone and offensive zone. Maybe it's not important yet, I don't know, but it'll cost us eventually and it did tonight. Then, it's simple game management things. Knowing where the puck is coming out of the penalty box on a line change you've got to be aware of that. Missing the net on that play. The end, a set breakout that we work on all the time, you've got numerous options. That is all game management, that's getting engaged and ready to go. Their team did a better job of it than we did tonight.
McLellan on Gabe Vilardi's progress and strides he's taken
The camp was pretty open. We had an idea of what the roster was going to look like and then there was going to be a competition for some remaining spots, as well as spots in the lineup and on the powerplay. What he's done is he's come in and won ice time and he's earned the opportunity to be in key situations and he continued to play. I thought he was one of our better players again tonight. Self satisfaction and individual growth is great and we need that from Gabe and we're proud of him, I think he's going to continue to do those things. As we drive home tonight, we're not going to be too concerned about number 13.
McLellan on if there was any connective thread between penalties in preseason and tonight
We can tell them that you just don't turn the light switch on when the season starts but sometimes you have to live it a little bit and we mentioned it virtually every game in the preseason. Starting in San Jose, we were shorthand five times in the first period. We brought it up and we brought it up and when you're in one-goal games, those moments cost you both offensively and defensively and it did tonight.​

Subject To Change
FORWARDS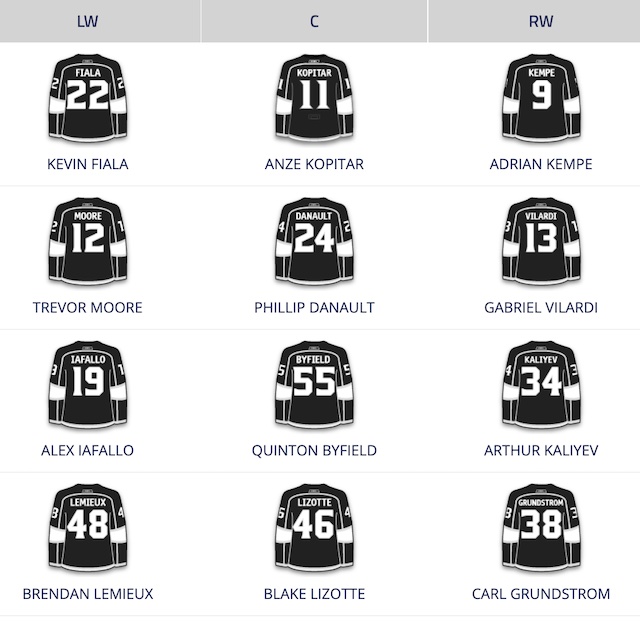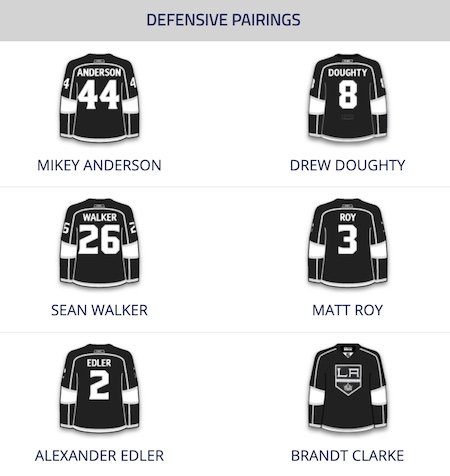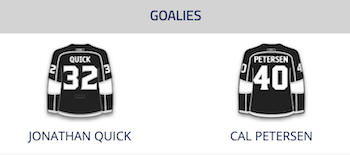 No Kings Injuries
__________________________________________________
__________________________________________________
Kraken Probable Lineup
courtesy of dailyfaceoff.com
FORWARDS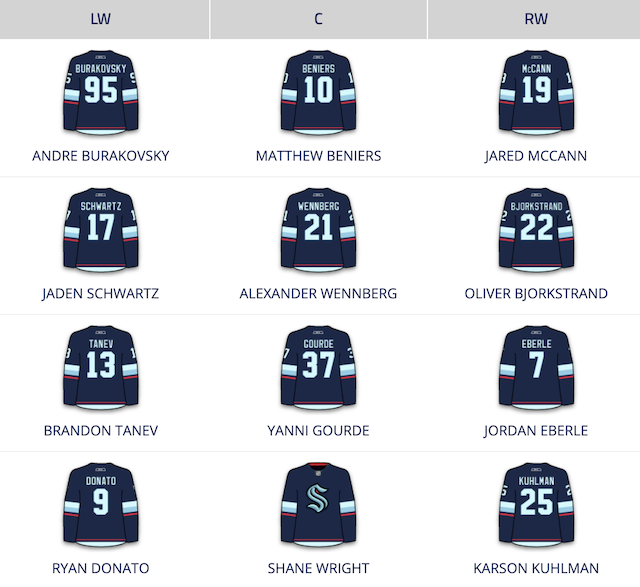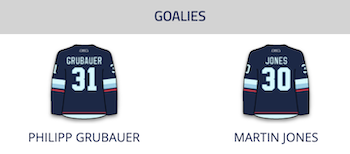 Former Kings
Martin Jones
________________________________________________
_________________________________________________
GOALIE STATS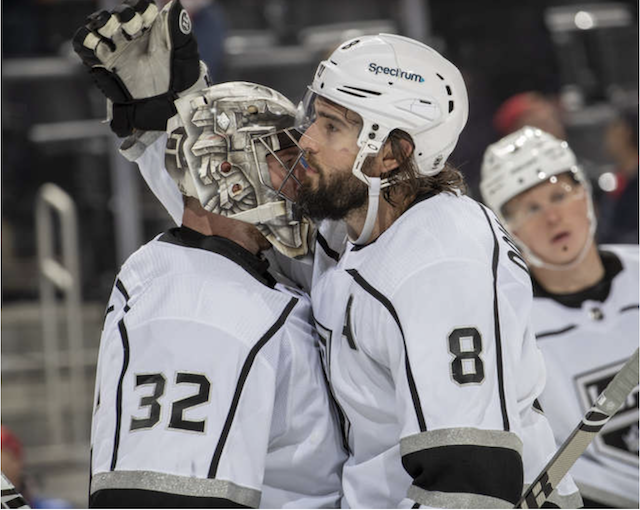 PLAYER STATS
Click Here For Stats & Rosters
PACIFIC DIVISION STANDINGS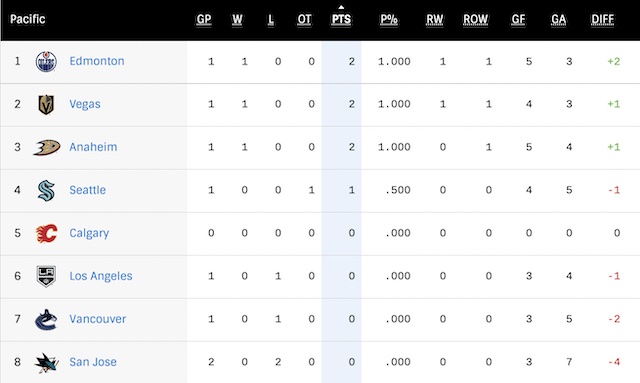 Tonight's Poll Question:
Part 1 - How many SAVES will the KINGS GOALIE make in tonight's game?
You can take 2 guesses
Dead on guess = 2 points, +/- 2 = 1 point

Part 2 - How many SHOTS ON GOAL will the KINGS get in tonight's game?
You can take 2 guesses
Dead on guess = 2 points, +/- 2 = 1 point

Take your best guesses in your post below.
The only prize is the glory of seeing your name in the next GDT if you get it right.
Previous Game's Winners
Congratulations to the following posters who correctly guessed the first goal by Vilardi and/or that Kessel would take the games first penalty. Special shout out to [MENTION=23677]RoS[/MENTION] who was our only poster to get Kessel (and Vilardi):
Both (2 Points):
RoS
Vilardi (1 Point):
DRGinLBC
VegasHockey
PuckMaster
05/29/93
TooCool
kopinator
empire
forum gold
Kurisu
hornman
John a 90
Bill Hicks
AngelEyes
HTK
***Bet your karma in geogirl's KARMA BETTING THREAD HERE***
________________________________________________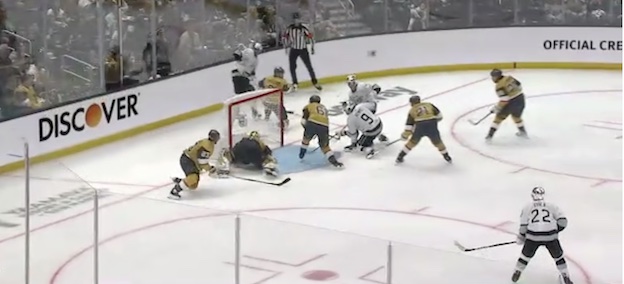 Last edited: