jammer's overlord
Staff member
TEAM LGK
Joined

May 10, 2012
Messages

12,849
LGKash:

$550.00

Game Day Thread
Game #25/82 -- 11/29/22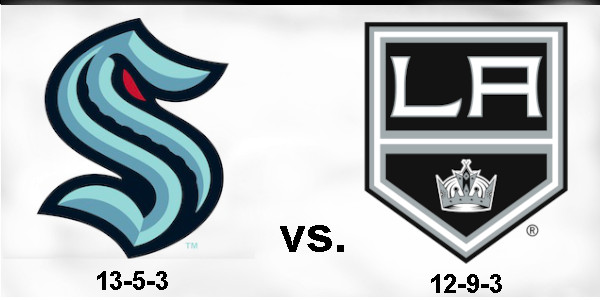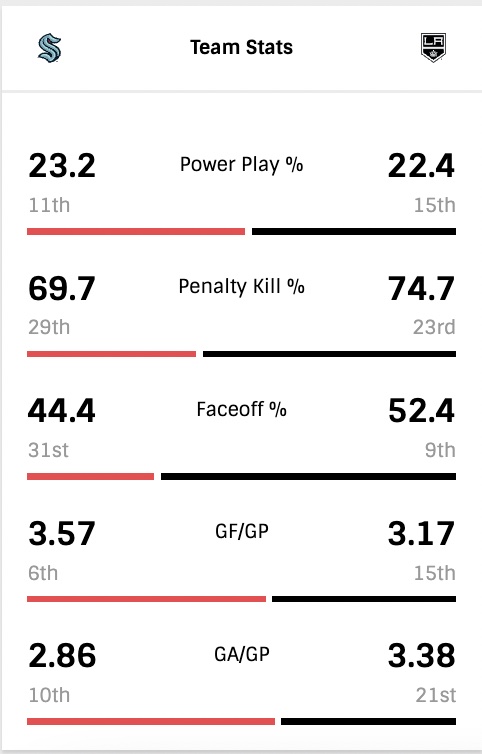 Seattle Kraken vs. Los Angeles Kings
at

| Los Angeles, CA
We Are All Kings Night - Celebrating the Kings Care Foundation
Previous Meetings
11/19/22 - Kings 2,
Kraken 3
10/13/22 -
Kraken 4,
Kings 1

TV:

BSW



Radio: LA Kings iHeartRadio app
Please remember,
DO NOT
post links to Live Game Streams in the GDT or anywhere else on LGK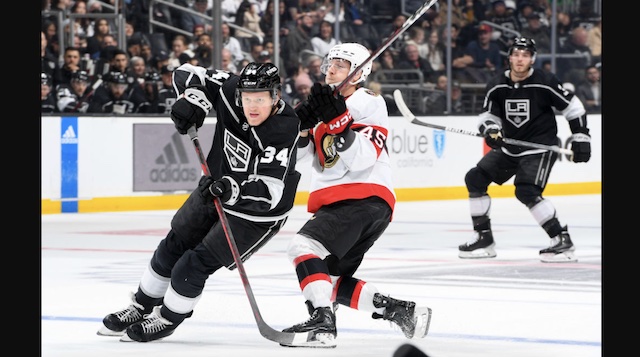 Check out articles on LA Kings Insider Here
Arthur Kaliyev & Todd McLellan 11/27 Post Game Quotes
Arthur Kaliyev
 on what he felt was clicking so well with his power-play unit tonight
Retrieving pucks, we did a really good job of that after getting shots. We started the power play and we didn't convert on those shots, but we got it back and we made something out of it. Great plays by Arvy, Phil, everyone.
Kaliyev
 on if he felt his goal late in the second gave the team some momentum heading into the third
Yeah, I think it did. The third period was far more defensive, not much was given up
Kaliyev
 on using his shot this season and if he feels more comfortable in doing so
Yeah, I think so. Reading off what other players are doing and finding the lane to shoot. Yeah, I feel more confident doing that.

Todd McLellan
 on if he felt the power play gave the team some life tonight
We needed something, because we sure didn't start the game very well. Power play obviously gave us some life, it gave us a chance to crawl back into the game. For as poorly as we were playing, it didn't get away on us, so that was a good thing, but the power play did do a real good job of allowing us to find our game as the night went on.
McLellan
 on the need to change the game between the first and second periods tonight
Between the first and second, we had to have a little talk about how we were playing. We had to change our game, it wasn't working and I thought we adapted. We took it up a notch in the second, certainly a notch again in the third and got it to overtime.
McLellan
 on what he felt went wrong in the first period
Our passing was atrocious, but our thought process into where we were setting the pucks and passing was even worse. So, you combine that with those two things together and we were making it fairly easy on them. They have some structure, in a system that you can't be stubborn and play through and you've got to play behind it a little bit. I thought we did that in the second and third.
McLellan
 on the importance of puck retrievals on the power play tonight
It's hard to beat penalty kills when they're in position. You look at the goal that we gave up tonight, we were just out of position a little bit, but it comes off a scramble play or a retrieval and that's a big part of a power play. Again, Jimmy Hiller has been doing some really good things with our power play and the tree is starting to bear some fruit, if you will. Guys have to continue, but unless there's a real strong work ethic to it, it doesn't matter who you bring in or what he's trying to do with the group. Our power play has had some good work ethic lately and it's getting rewarded.
McLellan
 on Arthur Kaliyev and his willingness to use his shot on the power play
Teams that have that element of a shot from there, that can score from distance or just powered by goaltender, you have to respect it and it can open up space for other players. If you don't have it, they can cheat. They don't have to worry so much about that side. I think you only have to look at number eight in Washington to see how that works. I'm not saying that Arthur is Ovechkin by no means, maybe later on his career he'll get there, but they both have that element of a shot from that spot. Obviously different hands, but you have to respect it and opens up ice for others.​

Subject To Change
FORWARDS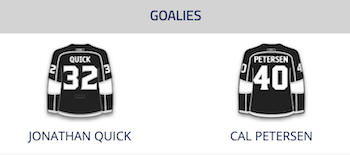 Kings Injuries
Alex Iafallo (LTIR)
Brendan Lemieux (IR)
Gabriel Vilardi
___________________________________________
___________________________________________
Kraken Probable Lineup
courtesy of dailyfaceoff.com
FORWARDS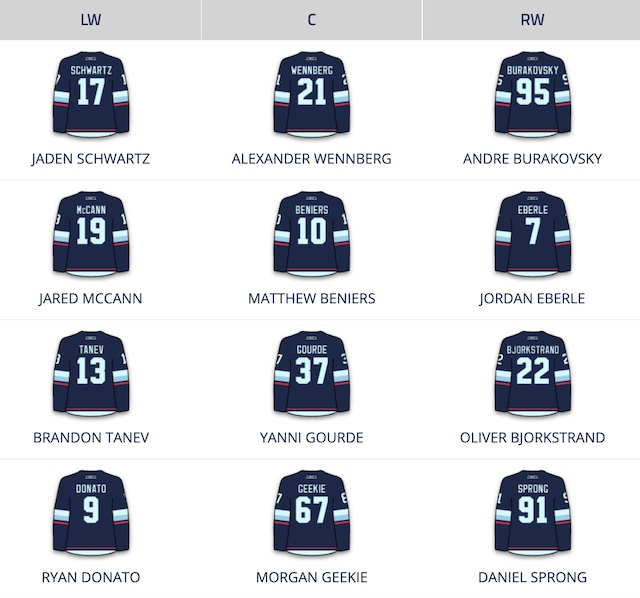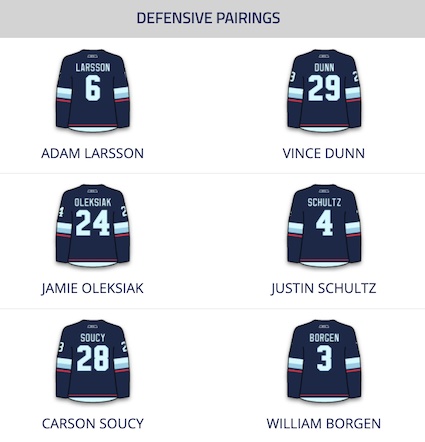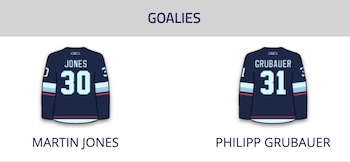 Former King
Martin Jones
____________________________________________
____________________________________________
GOALIE STATS

PLAYER STATS
Click Here For More Stats & Rosters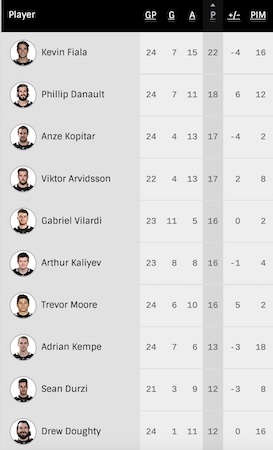 PACIFIC DIVISION STANDINGS
Tonight's Poll Question:
Part 1 - How many total points will be scored by all players who have ever won a Stanley Cup in tonight's game?
Kings: Doughty, Kopitar, Quick
Kraken: Burakovsky, Dunn, Gourde, Grubauer, M Jones, Schultz, Schwartz

You can take 2 guesses for Part 1

Part 2 - Who is going to score the Game Winning Goal?

You can take 6 guesses - split them up between the teams however you'd like, but you

MUST PICK AT LEAST 1 PLAYER FROM EACH TEAM

(you can't pick all 6 from 1 team)

Take your best guesses in your post below.
The only prize is the glory of seeing your name in the next GDT if you get it right.
Previous Game's Winners
Congratulations to the following posters who correctly guessed a shot differential of 12 or within +/- 2:

Dead on (2 points):
beady eye
Within +/-2 (1 point):
kingsmen93
nyssa42
Rogie-Vachon
TooCool
Poll Win Totals
King Of The Mountain
with

18

points:
LeftyKing
17 Points
beady eye
DRGinLBC
hornman
RoS
16 Points
John a90
VegasHockey
15 Points
AngelEyes
Bill Hicks
Kurisu
srm1105
14 Points
Clif
Liz4LA
13 Points
forum gold
12 Points
Helvetica
Rusty
SirJW
11 Points
randdog
TooCool
10 Points
Nyssa42
9 Points
empire
Sevenhole
sonnyboy11
8 Points
Chateau Bow Wow
dannybuoy1
JETS GARAGE
7 Points
Drice
kopinator
6 Points
beedee
CIrvine
Dr. Tran
jammer 06
KHenry14
pray4mojo
Rogie-Vachon
waynet
5 Points
Busted Chops
hihocarp
kingsmen93
4 Points
kingrussell
notbob
3 Points
Byron
HTK
salami
STONE
2 Points
05/29/93
Dexter
Dirtweazle
PuckMaster
1 Point
Rinkrat
***Get, Give, & Bet your karma in geogirl's KARMA BETTING THREAD HERE***
________________________________________________
​
Last edited: