jammer's overlord
Staff member
TEAM LGK
Joined

May 10, 2012
Messages

13,085
LGKash:

$1,350.00

Game Day Thread
Game #16/82
11/18/23
7:30pm Pacific on KCAL Ch9

St. Louis Blues vs. Los Angeles Kings
Crypto.com Arena | Los Angeles, CA
Tonight's Giveaway:
KEVIN FIALA BOBBLEHEAD
(Full Arena)
Holiday Food Drive
- Bring non-perishable foods & get raffle tickets to win stuff (game tickets?)
you donate the food outside before you go in, FYI.
Last Season's Meetings
03/26/23 -- Blues 6, Kings 7
03/04/23 -- Blues 2, Kings 4
10/31/22 -- Kings 5, Blues 1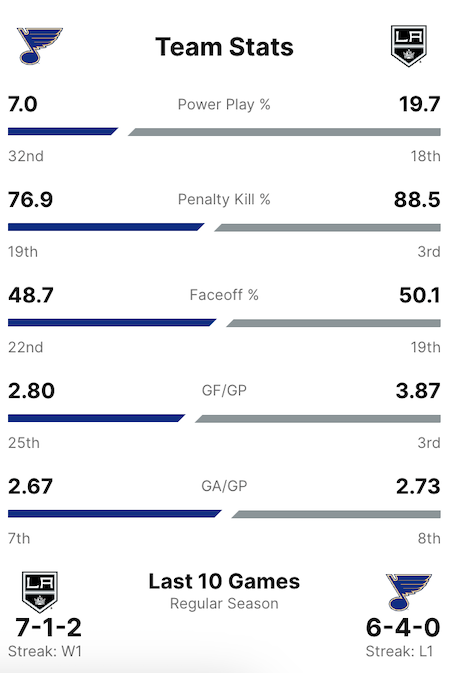 **Game Time 7:30pm**

TV
:
**KCAL Ch9 in SoCal**
Radio:
LA Kings iHeartRadio app
Please remember, DO NOT post links to Live Game Streams in the GDT or anywhere else on LGK


Check Out More Articles & Video on LA Kings Insider Here
Cam Talbot & Todd McLellan 11/16/23 Post-Game Quotes:
​
Cam Talbot
On what he felt the difference in tonight's game was for the Kings
Special teams. Power play gets us a big one in the second there and that turns out to be the winner, but if not for our PK, that could have been a different game. We got caught out there, that's a pretty elite unit over there and they had control of the puck quite a bit. We bent, but we didn't break and got some big blocks, big clears when we needed them and battled until the end.
On the dedication of the team in blocking shots in front of him tonight
Yeah, unbelievable. I mean, they gave me a chance to pretty much see every puck and they kept them to the outside for the most part. When they do that, I'm able to control the rebound, help us out and not play in our end too much. So, like I said, other than the power play, I thought that we did a heck of a job 5-on-5 in eliminating their chances and a big two points at home
On an improved performance from the group as a whole, coming off Saturday's loss to Philadelphia
You can see that we were a little bit crisper tonight, we were coming out of our zone a little bit better. The other night, it seemed like we were a little bit scrambley and trying to make too many long plays, cross-ice plays are getting knocked down. Tonight, we were more direct, got the puck deep and went to work. When we're doing that, that's where we're at our best and you can see we were sharper tonight.
Todd McLellan
On his overall impressions from tonight's victory
I thought our shift length and our commitment to the battles, to shot blocking was significantly better than it was last week and it showed up in the game. I thought we played an aggressive game, third period got on our heels a little bit, but that was due in large part to the continuous penalties. Our penalty kill was outstanding. Usually when you find a way to end up on the positive side of the special teams, you have a real good chance of winning the game.
On a strong performance from the Fiala – Danault – Moore line
Their first shift was really important for them. They got a lot of confidence and energy from that, obviously scoring, but I thought they were, how to I put this, a true line. They played all over the rink, not just offensively minded. Tonight, they played a solid game both ways and that made them dangerous the whole night. Really happy for Kev, he had an outstanding game I thought Phil played one of his better games lately and they look like they were dangerous.
On a difference-making performance from Fiala specifically
I think so, yeah. I think I said this to the media before, Kevin is, I don't know if he's our leading scorer now, but he's right up here at the top and we're 15 or 18 percent into the season. By the end of the year, he's going to be way up there, we're going to be really happy with us offensively. Tonight, you saw the energy and the drive and the battles and the commitment. If we get that all the time, we have on hell of a player and it's there. He's been a little bit frustrated and we're trying to help him but I was proud of him tonight. He made some really good plays and responded well.
On the Kings commitment to shot blocking in tonight's win
We did block a lot of shots. A lot of those came in penalty-kill situations that may not be the true block, where you get full body like Kempe had in the last few seconds, but just a nick on the stick, something to throw the other team off a bit, we had a lot of that, and then Talbs fought through traffic too. We did a real good job of net play, it was one of our goals at both ends.
On handling the momentum swings in a game against a team that plays in a variety of ways
The momentum swings in the game are important. I think sometimes we forget that team went the Stanley Cup Finals. They understand that, they have some agitators on their team, so you've got to figure out what you're going to do in those situations, how are you going to handle it but I thought we did a real good job in those moments. Both teams had pushes, both teams handled it well, pretty evenly played night.

Subject to Change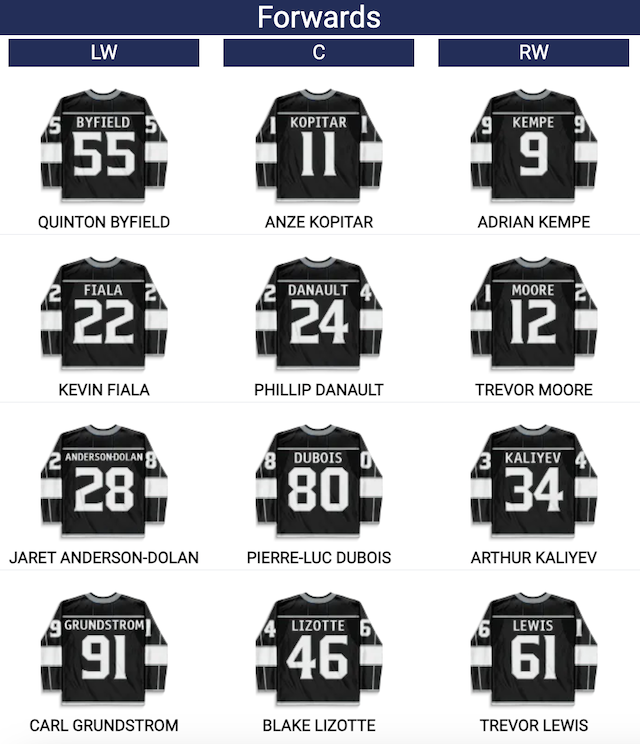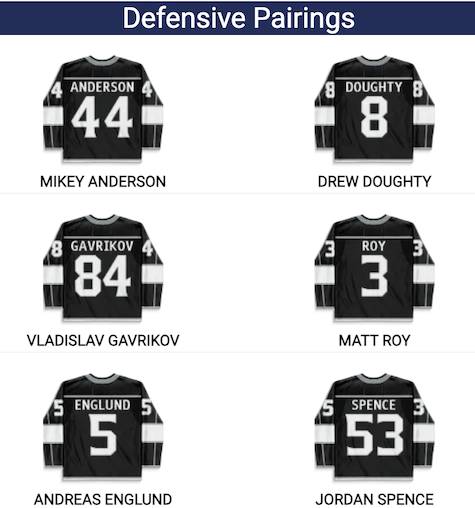 BLUES PROBABLE LINEUP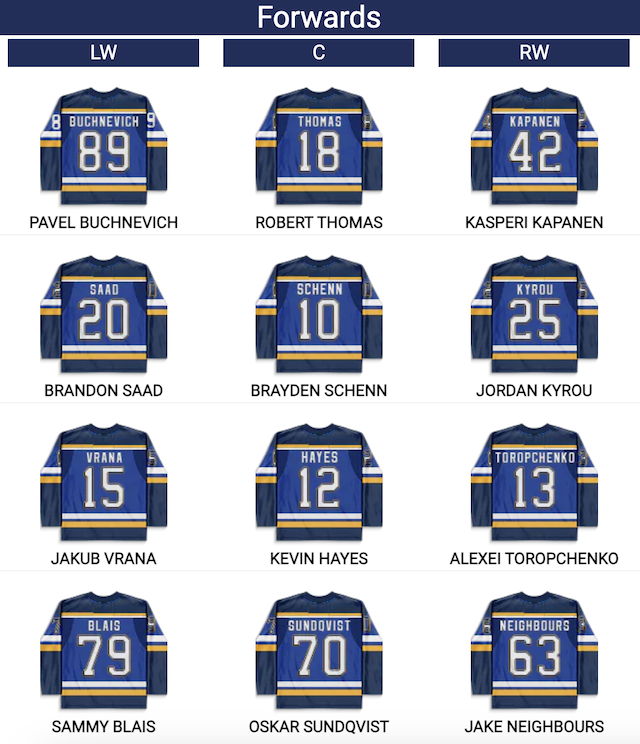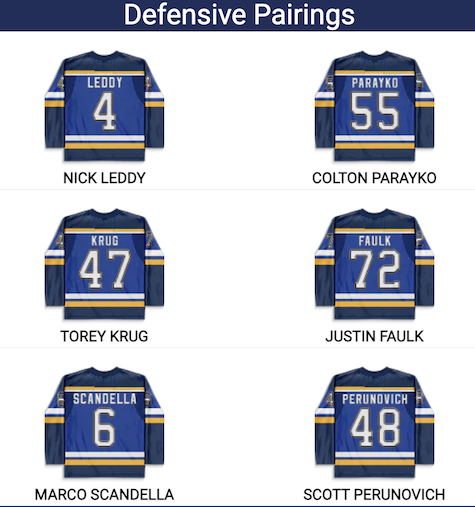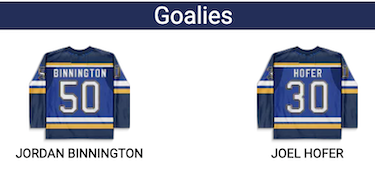 Former King
Brayden Schenn


_____________________________________________________________________________________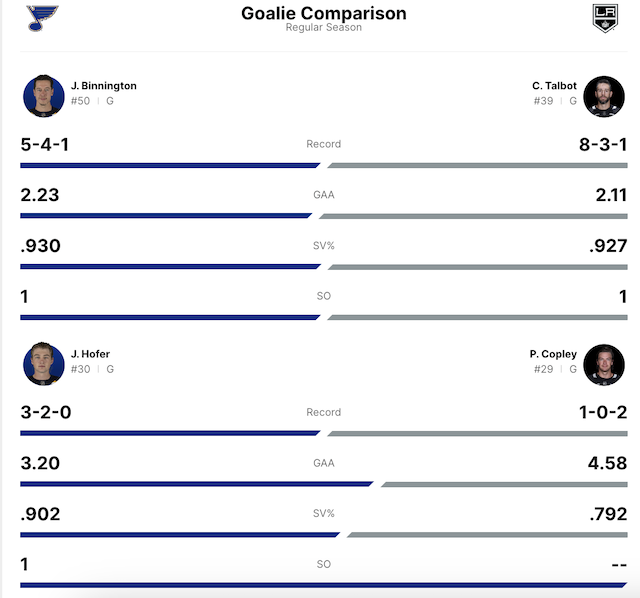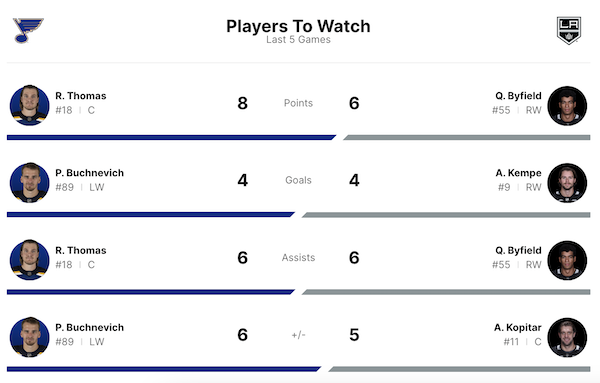 PACIFIC DIVISION STANDINGS


*VBookie BETTING THREAD HERE*

**Tonight's Poll Question**

The Blues just lost to the Sharks on Thursday despite a season-high 45 SOG

Part 1 - How many total SHOTS ON GOAL will be accrued by both teams combined tonight?
(Kings 32.9 avg, Blues 29.5 avg)
You can take TWO guesses for Part 1
+/-2 = 1 point, +/-1 = 2 points, dead on = 3 points

Bonus Point Question - How many total points will Kevin Fiala get on his bobblehead night?
You can take just ONE guess for Part 2
Take your best guesses in your post below


the only Prize is the glory of seeing your name in the next GDT if you get it right.



PREVIOUS GAME'S WINNERS
Congratulations to the following posters who correctly guessed there would be just 1 power play goal, or that the final score would be 2-1:

2 points (both parts correct):

VegasHockey

1PPG (1 Point):

CIrvine

DRGinLBC

DRice

beedee

Cross Traffic

beadyeye

notbob

waynet

Liz4LA

hornman

2-1 final (1 Point):

jammer06

madness20721

Kings of the Mountain with 9 points - Byron, Dr Tran, Rusty, & SirJW

8 points = CIrvine, DRGinLBC, Liz4LA, notbob, Salty Puck, VegasHockey

7 points = Chateau Bow Wow, clif

6 points = Angel Eyes, beady eye, forum gold, hornman, jammer06, JayWells24, Jerram, katydid213, Nyssa42, pray4mojo, Randdog, Rinkrat

5 points = Cross Traffic, DRice, empire, Kurisu, mugs, Shackleford, TooCool

4 points = dannybuoy1, Dexter, Guinevere, hihocarp, KernCoKingsFan, KHenry14, Madness20721, puckoff, Sevenhole, sonnyboy11, VCRW, waynet

3 points = beedee, Rogie-Vachon

2 points = Bill Hicks, Busted Chops, cokingsfan, Ragbone, rfischer, symbology

1 point = PuckMaster, STONE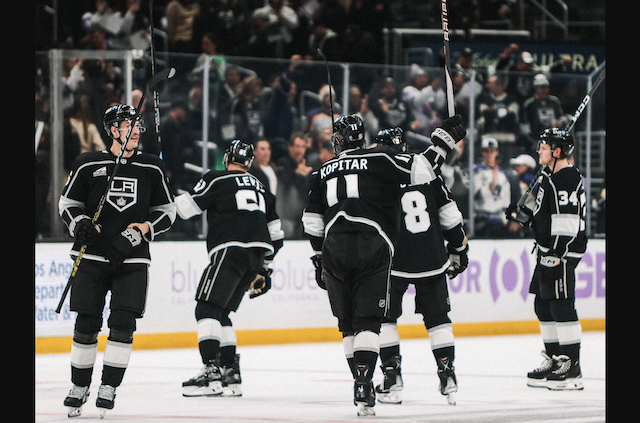 ​
Last edited: