jammer's overlord
Staff member
TEAM LGK
Joined

May 10, 2012
Messages

12,788
LGKash:

$450.00

Game Day Thread
Game #71/82 -- 03/20/23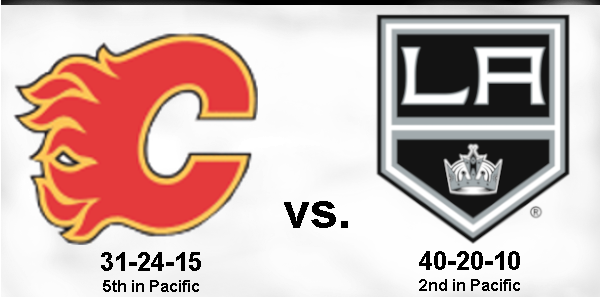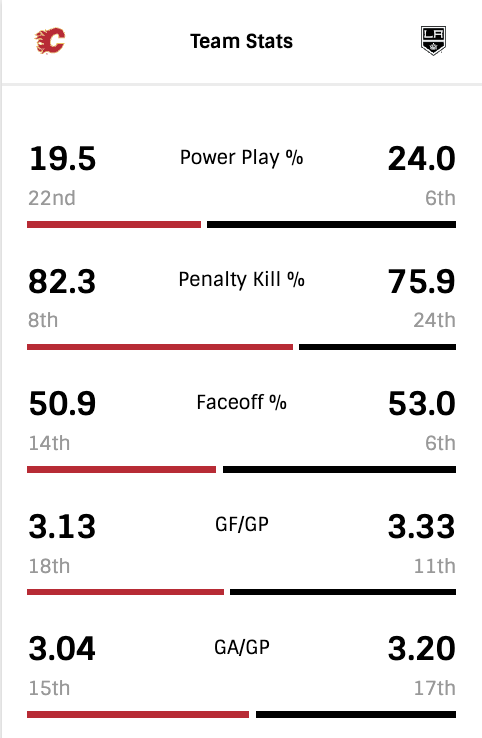 Calgary Flames vs. Los Angeles Kings
at

| Los Angeles, CA
Previous Meetings
12/22/22 — Flames 3,
Kings 4
11/14/22 — Kings 5,
Flames 6

TV:

BSW



Radio: LA Kings iHeartRadio app
Please remember,
DO NOT
post links to Live Game Streams in the GDT or anywhere else on LGK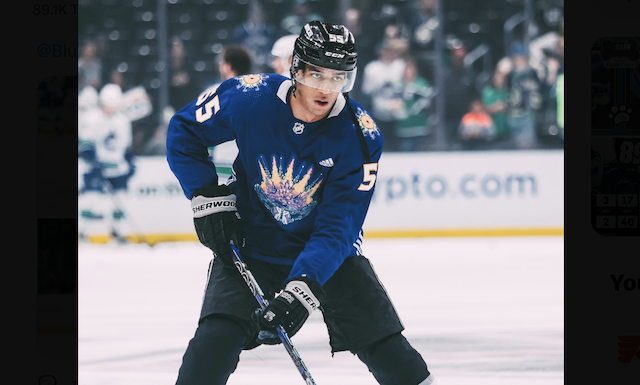 Check out articles on LA Kings Insider Here
Alex Edler (video), Jordan Spence, & Todd McLellan 3/18 Post Game Quotes
Watch Alex Edler's Post Game Interview Here
Jordan Spence
 on the team's defensive performance tonight
Yeah, I think we did pretty well, for 60 minutes I thought we were pretty solid, honestly. It was unfortunate that they scored on the power play, but besides that, I thought we did well on the defensive side. Obviously, we had a lot of chances and we're got to bury those.
Spence
 on the play of his pairing with Alex Edler
I thought we had a pretty solid game. It was pretty cool seeing Eddie score that goal and for us, we just want to be a reliable d-pair. Today, I thought I thought we did pretty well. Obviously there are some things that we can do better, but overall I thought we were pretty solid.
Spence
 on the things he's focused on, while out of the lineup, to stay game ready
You never know when you're going to be in the lineup, so for me, I just want to be ready, get my foot speed going. Practice like you play, that's a quote that goes a long way back to when I was a little kid. For me, I just want to work hard and when I get the chance I want to perform well on the ice.
Spence
 on jumping onto the power play, without a ton of familiarity with that group
Chemistry is really important, especially on the power play, but I think the unit that I was on, they were there with open arms and I was pretty comfortable with them, just because last year I played with them and got to experience a little bit on the second unit. Today, I thought we had some chances, we couldn't bury them, but hopefully, next game we can.

Todd McLellan on if tonight was simply a hot goaltender, or if there were things the Kings didn't do to win
I think first we have to tip our hat to him, he played a hell of a game. That's the type of game that they needed, I think, as the night wore on. We had a ton of chances, the goaltender made a lot of saves and I don't want to say we didn't bear down, because we put a lot of effort in to try and score, it just didn't go our way. They're a lethal team on the power play, we gave them one chance and it was in our net, which is disappointing because I think we can handle that situation a little bit better. In any case, we lost the special teams situation, same thing as I said the other day against Nashville – power play, penalty kill, penalty shot and overtime.
McLellan on if he felt the team offered the same level of defensive performance as on the rest of the point streak
Absolutely. They've got some pretty dynamic players and I don't know what we kept them to, six or seven shots after a couple of periods, and only 10 in the third. Defensively, we did the things we wanted to do. I think we'd like to have the first goal back, just the way we played it in the neutral zone, I think it hit Edler and changed direction a little bit. On the second one, like I said, we lost the special teams battle, I wasn't impressed with our power play again.
McLellan on the team sticking to the process, despite not getting the offensive breakthrough
We weren't whining on the bench because we were cheating for offense or anything, we got our offensive chances by doing it right. There are some things we can work on in the offensive zone a little bit but it wasn't "pinch and no cover because we're cheating". The chances we got were well-executed chances and we were pretty solid in our end. Usually when a coach is saying that, he's leaving quite pleased and the team has won but sometimes these things happen.
McLellan on the challenge of a game like this for Korpisalo to play in
I think it can be tough and that's just the play part of it, there's the whistles and the TV timeouts and you can be sitting there for quite a while. You're watching the other end too and that goaltender is in it consistently, minute after minute, so it can be a tough thing, but that's part of the makeup of a goaltender is to be able to stick with it in those situations. I thought Korpi was good and made some good saves when he had to.
McLellan on if the power play is missing Sean Durzi and Kevin Fiala right now
Well, there's no doubt about it, they're important pieces and they're creative, they're effective, they're dynamic, both of them in their own way. Each of them belongs to a unit, so all of a sudden both units are affected and others are trying to fill in and they're doing a good job. Right now it's looking for something when we should just be playing it and we'll fix it.
McLellan on Jordan Spence's performance tonight, checking back into the lineup
It's hard and it's going to be hard for him because he's going to be in and out right now, but when he gets a chance, he's got to go. He made some really good plays. I think there was a series of one or two plays that he probably would like to handle the puck a little bit better, he turned one over in the third period that became very dangerous but I think the puck was rolling on him and made it difficult for him. He was fine.
McLellan on the team's play in overtime
We didn't do anything with it, but we had it right off the bat and we couldn't establish any type of possession game with space, you need space once you get possession. I think we got it in and Kempe came up the boards, we almost ran into each other and turned it over, then that ate up a couple of minutes. I don't know, there was probably only maybe three shots in all of overtime too, so it wasn't one of those barnburners that go back and forth, it was ugly to say the least.


​

Subject To Change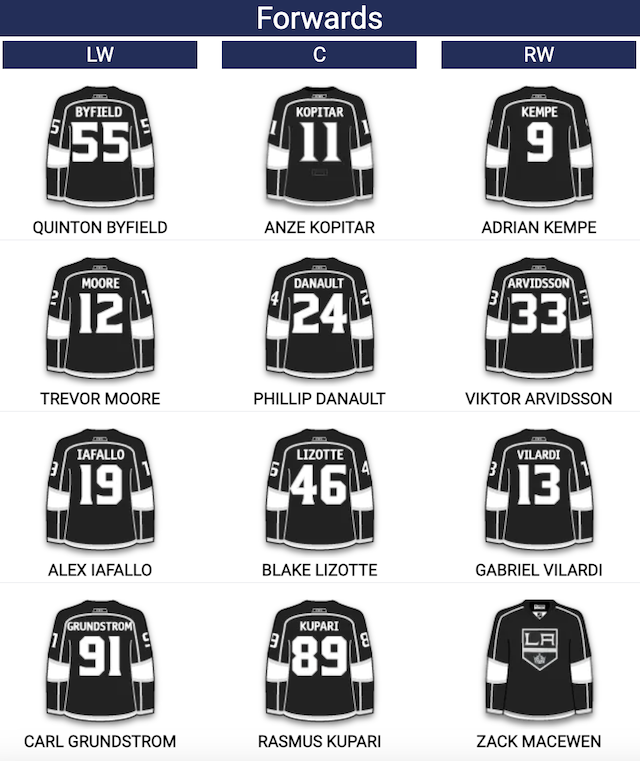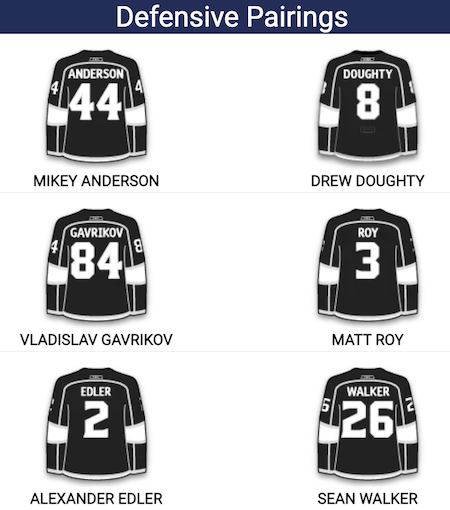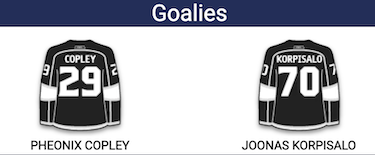 Kings Injuries
Sean Durzi (D2D)
Kevin Fiala
___________________________________
___________________________________________
Flames Probable Lineup
courtesy of dailyfaceoff.com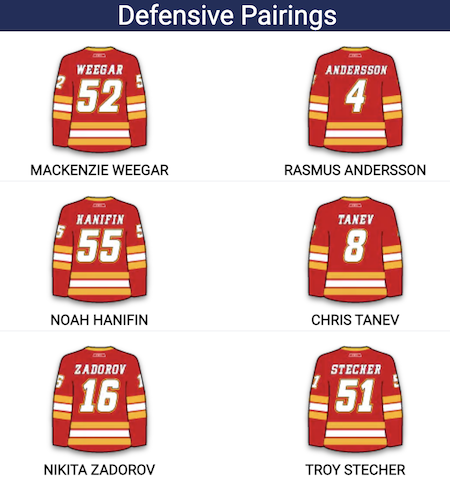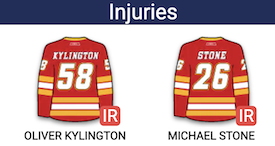 ]Former Kings
Trevor Lewis

Milan Lucic

Troy Stecher

Tyler Toffoli

Darryl Sutter (Head Coach)
Jason Labarbera (Goaltending Coach)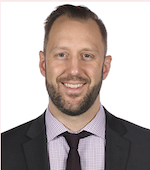 ___________________________________________
____________________________________________
GOALIE STATS

PLAYER STATS
Click Here For More Stats & Rosters

WESTERN CONFERENCE STANDINGS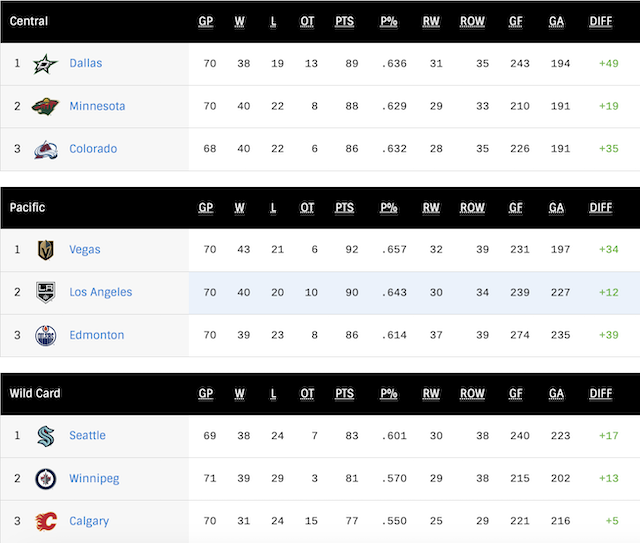 Tonight's Poll Question:
Part 1 - Both of our previous meetings with the Flames have resulted in a 1-goal differential. What will be the GOAL DIFFERENTIAL in tonight's game?
(doesn't matter which team wins or loses, just the number)
You can only take ONE guess

Part 2 - Who is going to score the LAST GOAL of the game? - doesn't matter if it's the game-winner, just the last goal before the Kings' 4-day break.
You can take up to 8 guesses - split them up however you like, but you can't choose more than 6 from one team (so, at least 2 have to be from the other team if you choose 8 players)

Previous Game's Winners
Congratulations to the following posters who correctly guessed the final score would, of course, be 3-2:
Kurisu
Rogie-Vachon
SirJW
Chateau Bow Wow
beady eye
forum gold
randdog
Rusty
DRice
srm1105
jammer06
VegasHockey
Shackleford
waynet
John a90
AngelEyes
Liz4LA
Nyssa42
Poll Win Totals
King Of The Mountain
with

56

points:
VegasHockey
52 Points
srm1105
51 Points
50 Points
Kurisu
Rusty
49 Points
LeftyKing
48 Points
sonnyboy11
47 Points
AngelEyes
46 Points
DRice
hornman
45 Points
44 Points
Bill Hicks
John a90
43 Points
randdog
42 Points
forum gold
pray4mojo
41 Points
beady eye
40 Points
Chateau Bow Wow
DRGinLBC
39 Points
Helvetica
jammer 06
SirJW
38 Points
CIrvine
Liz4LA
TooCool
37 Points
36 Points
35 Points
34 Points
33 Points
Nyssa42
32 Points
31 Points
30 Points
hihocarp
Rogie-Vachon
29 Points
dannybuoy1
JETS GARAGE
notbob
28 Points
empire
27 Points
26 Points
Clif
25 Points
KHenry14
24 Points
JayWells24
23 Points
kingsmen93
Sevenhole
22 Points
21 Points
kingrussell
20 Points
waynet
19 Points
Dr. Tran
Shackleford
18 Points
RoS
17 Points
Byron
16 Points
Cross Traffic
15 Points
14 Points
13 Points
12 Points
11 Points
Busted Chops
10 Points
kopinator
9 Points
Dirtweazle
8 Points
beedee
7 Points
6 Points
5 Points
Dexter
4 Points
3 Points
HTK
salami
STONE
2 Points
05/29/93
jneol67
KingzLA
PuckMaster
SaltyPuck
1 Point
cokingsfan
HiFi
Ice24
Joe Laviguer
mugs
puckoff
RagBone
Rinkrat
twistedwrister
***Get, Give, & Bet your karma in geogirl's KARMA BETTING THREAD HERE***
________________________________________________
​
Last edited: