jammer's overlord
Staff member
TEAM LGK
Joined

May 10, 2012
Messages

12,809
LGKash:

$450.00
***Chicago Blackhawks vs. LA Kings EARLY START GDT 3/24/22 7:00pm on ESPN+ & Hulu***

Game Day Thread
Game #66/82 -- 3/24/22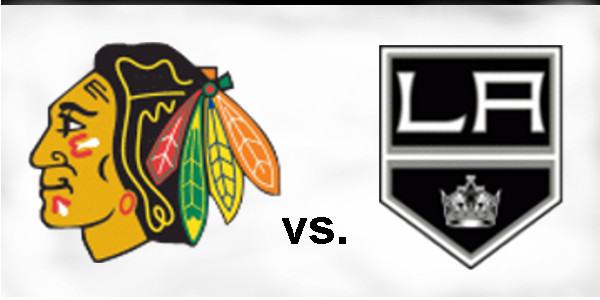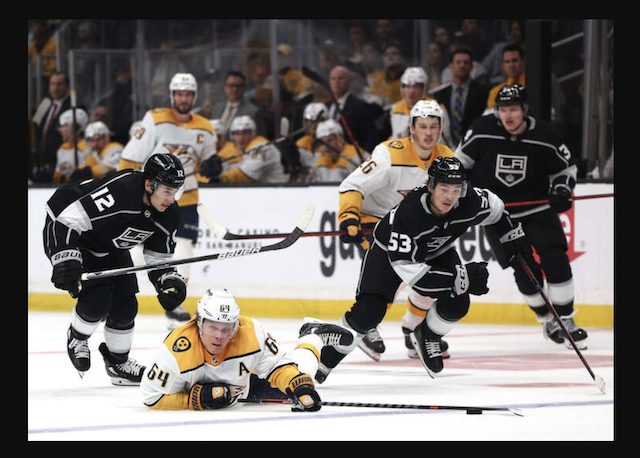 Chicago Blackhawks vs. Los Angeles Kings
at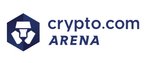 | Los Angeles, CA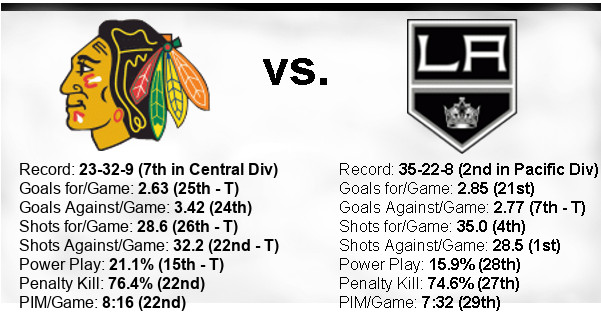 **Game Time 7:00pm ? EARLY START**
​

TV:

**ESPN+ & Hulu Only**



Radio: LA Kings iHeartRadio app
Please remember,
DO NOT
post links to Live Game Streams in the GDT or anywhere else on LGK
Check out articles on LA Kings Insider Here
Quinton Byfield, Trevor Moore, & Todd MacLellan 3/22/22 Post Game Quotes
Quinton Byfield
On his first two-goal game at the NHL level
I?m happy, definitely. I think, playing with Koops and Gabe, they have a lot of skill. Gabe found me earlier on in the game and I didn?t get to bury that one, but Koops found me later on and I got it. I had to bury that one and I?m happy I got it.
On the budding chemistry between himself and Kupari
I think growing with a line takes a little bit. We?re both young players, he usually plays center as well, same as me, so we never really got to play together. It definitely took a little bit, but he played a great game, he was moving his feet and I was just trying to get available.
On the confidence of getting two goals tonight and moving forward
It helps quite a bit, I don?t know how long the drought?s been, but definitely a few games. Just being able to score and having that feeling of knowing that I can score and I can beat goaltenders in the NHL is definitely a confidence booster for me.
On the level of pressure and expectation he puts on himself
They?re definitely high. I like to have a lot of confidence in myself, but pressure definitely comes with where I was slotted. There?s a lot of eyes on you. I just want to produce and help the team as much as I can and I try to keep away as best as I can from looking at that stuff. I just go out there and try to perform at my best.

Trevor Moore
On winning a game by five goals
Yeah, [that?s nice] for sure. I was looking at our goal differential before the game and it?s kind of weird that we were just +1. It was nice to get a couple more goals tonight and make it a little bit easier.
On his shorthanded goal and Blake Lizotte?s play
He did literally everything on that play. He went hashmark to hashmark, held that guy on his hip and then the D just jumped over to him. Great play by Lizzo??he does those kinds of things all the time. He?s a super important player for us, he can do literally anything asked of him.
On the team?s ability to bounce back from losses this season
I think our leadership is second to none in the league, we have great guys in there. Quickie stood on his head tonight, as he always does. Our structure took care of us, we believe a lot in it and the young guys, coming up from Ontario, they did a great job.
On the power play tonight
Obviously it?s a nemesis for us, we know we?ve got to get better at it. Todd told us before the game to buckle up, that this was a team that was going to test our physicality. I think that power play and penalty kill, you?ve got to compete all the time and I think that we were ready tonight.
On Phillip Danault?s leadership and the two of them stepping up with others out
It?s awesome. Phil is a great leader who does it right, all the time, everywhere he is. I?m just trying to do what he does, keep pushing and trying to lead a little bit on the team is great.

Todd McLellan
On if he feels tonight was a complete, 60-minute effort
I would, yupp. Without explanation, it was. It was a good start, [Nashville] played last night in Anaheim, got them back-to-back and we had a real good push, a good start. Special teams were alert and everybody was important, all four lines contributed, and all six D.
On getting physicality throughout the lineup tonight
It was, and physical play comes in a lot of different forms. It?s not just hitting somebody, it?s taking a hit, body positioning, it?s net play, faceoffs, blocking a shot. Phil blocked a shot, Kopi blocked a shot, that?s physical play. We got a lot of that from a lot of people. The kid line was challenged to bring more physicality into their game, they?re big and strong and I thought we saw that from all three. Kopi?s line was poked a little bit and they performed really well tonight. Good sign for all of us.
On what he liked from Rasmus Kupari?s game tonight
Direct, straight lines, played with an edge. He won a lot of races to the puck and then when he got there, he won a lot of battles. He played with authority, he really asserted himself tonight and he wasn?t taking a backseat to anything. Good for him.
On the turnaround of the power play tonight
I thought we aggressively hunted the puck. We adjusted a few things on entries and breakouts, and we aggressively hunted the puck, we were able to sustain some time in the offensive zone. The puck got to the right guy and he shot it and we?ve encouraged him to do that many, many times, it?s the best asset he has. If he bypasses on that and looks at doing something else, he?s probably diminishing his effectiveness, and obviously we?re talking about Kaliyev. Had some patience and a great shot.
On the goalie pull with more than seven minutes left
We talked on the bench before that, there was a timeout, they gathered, we had a pretty good idea that something was coming. A lot of teams are doing that now. If you lose 4-1 or 5-1, what?s the difference? You have a chance to come back, faceoff?s in their offensive zone and their best players are rested. We were prepared for it.
​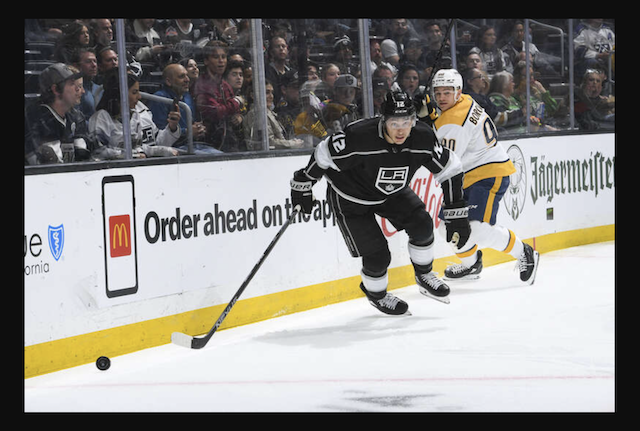 Subject To Change
FORWARDS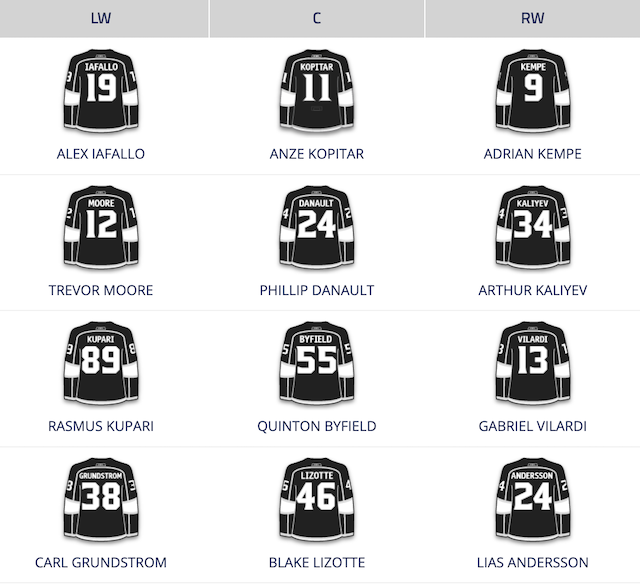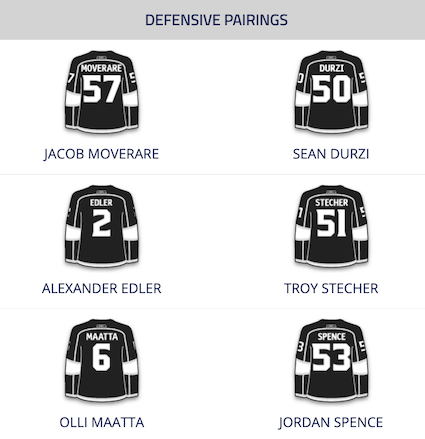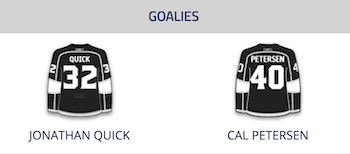 Kings Injuries
Viktor Arvidsson (IR)
MIkey Anderson (LTIR)
Andreas Athanasiou (IR)
Tobias Bjornfot (DtD)
Dustin Brown (IR)
Drew Doughty (IR)
Brendan Lemieux (IR)
Matt Roy (IR)
Sean Walker (LTIR)
__________________________________________________
__________________________________________________
Blackhawks Probable Lineup
courtesy of dailyfaceoff.com
FORWARDS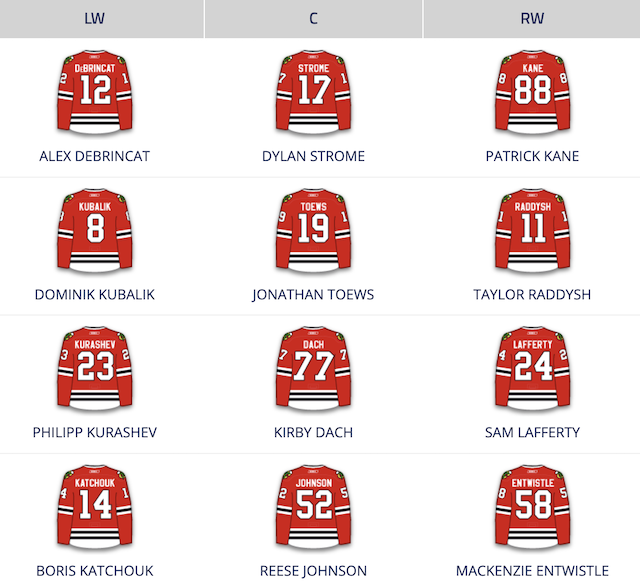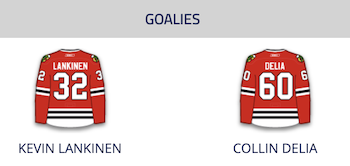 NO Former Kings
________________________________________________
_________________________________________________
GOALIE STATS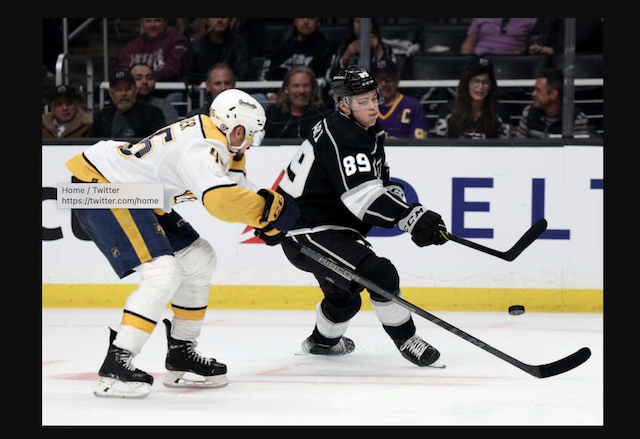 PLAYER STATS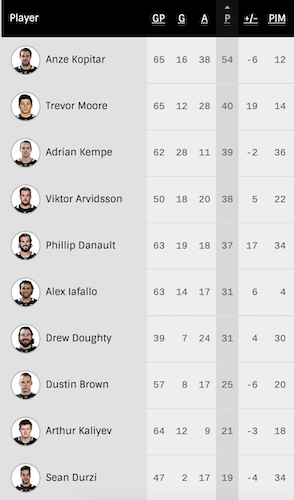 WESTERN CONFERENCE WILD CARD STANDINGS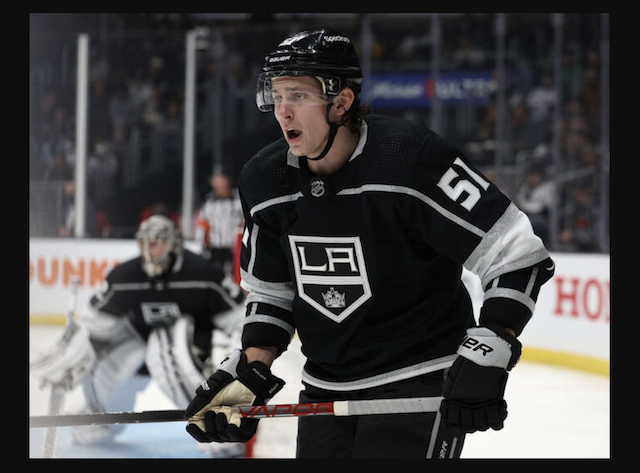 Tonight?s Poll Question:
Part 1 - Which player is going to score the Game Winning Goal?
You can take 4 guesses per team (8 total, but only 4 per team)

and, let?s try this again:

Part 2 - In which period of tonight?s game will the Game Winning Goal be scored? (1, 2, 3, OT, SO)
ONE GUESS ONLY on Part 2
Previous Game?s Winners
Congratulations to the following posters who were within +/- 2 minutes of 18 total PIM or guessed the GWG would be awarded in the 1st Period:
16-20 PIM (1 point)
Rusty
DRGinLBC
srm1105
beedee
Rogie-Vachon
sonnyboy11
SirJW
LeftyKing
Shackleford
Chateau Bow Wow
hokiecat
Reg or Rog?
18 Total PIM (2 points)
jammer06
AngelEyes
dannybuoy1
forum gold
Nyssa42
Sevenhole
1st Period (1 point):
Kurisu
Poll Win Totals
King Of The Mountain
with

49

points:
srm1105
43 Points
Reg or Rog?
41 Points
40 Points
AngelEyes
John a90
LeftyKing
39 Points
Kurisu
Liz4LA
Sonnyboy11
VegasHockey
38 Points
Rusty
37 Points
Chateau Bow Wow
36 Points
35 Points
DRice
34 Points
Bill Hicks
Helvetica
hornman
jammer06
pray4mojo
33 Points
hokiecat
notbob
32 Points
Nyssa42
31 Points
Dr. Tran
30 Points
JayWells24
kingrussell
29 Points
Busted Chops
28 Points
27 Points
dannybuoy1
KHenry14
26 Points
25 Points
Byron
24 Points
SirJW
STONE
23 Points
Shackleford
22 Points
CIrvine
empire
21 Points
Rogie-Vachon
Sevenhole
20 Points
19 Points
forum gold
18 Points
JETS GARAGE
TooCool
17 Points
Clif
16 Points
randdog
15 Points
cokingsfan
14 Points
DRGinLBC
13 Points
Dirtweazle
PuckMaster
12 Points
11 Points
beedee
Greg33
kopinator
10 Points
beady eye
9 Points
8 Points
7 Points
MaxwellSmart
6 Points
Joe Laviguer
kingsmen93
5 Points
waynet
4 Points
3 Points
2 Points
Ice24
rinkrat
1 Point
lurker
MBreeden
RoS
Salami
Stormy2213
***Bet your karma in geogirl?s KARMA BETTING THREAD HERE***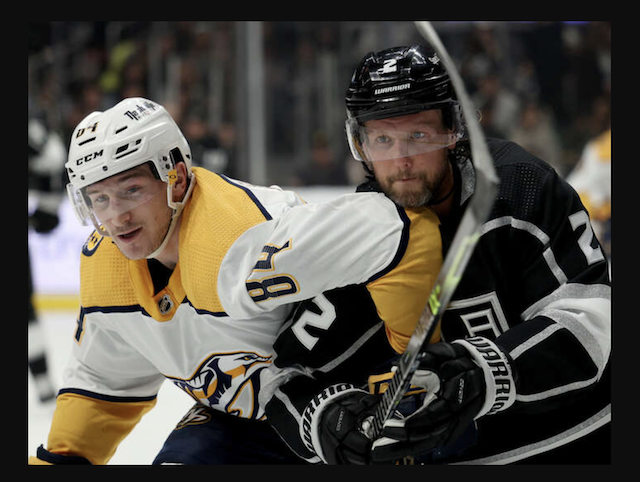 ________________________________________________
Photos courtesy of NHL.com/Getty Images​