jammer's overlord
Staff member
TEAM LGK
Joined

May 10, 2012
Messages

12,848
LGKash:

$550.00

Game Day Thread
Game #69/82 -- 03/16/23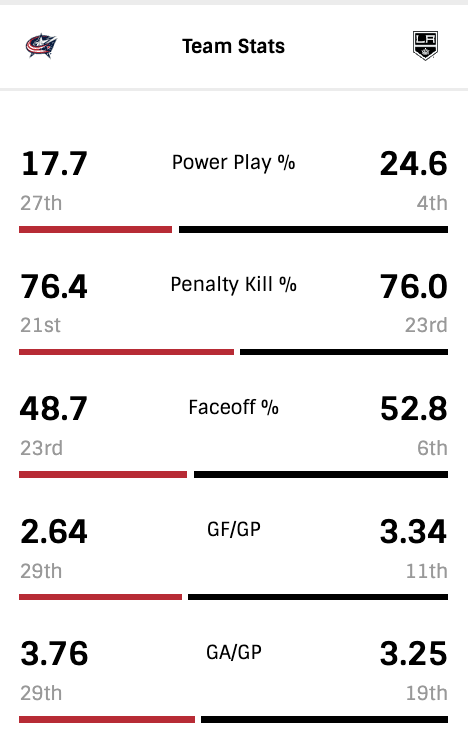 Columbus Blue Jackets vs. Los Angeles Kings
at

| Los Angeles, CA
St. Patrick's Day &
Irish Heritage Night
Previous Meeting
12/11/22 —
Blue Jackets 6
, Kings 5

TV:

BSW



Radio: LA Kings iHeartRadio app
Please remember,
DO NOT
post links to Live Game Streams in the GDT or anywhere else on LGK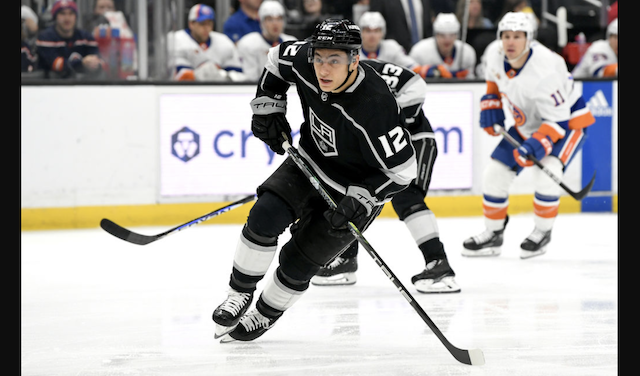 Check out articles on LA Kings Insider Here
Viktor Arvidsson (video), Trevor Moore, & Todd McLellan 3/14 Post Game Quotes
Watch Viktor Arvidsson's Post Game Interview Here
Trevor Moore on the relief and joy he showed after scoring his goal in the second period
For sure, you've just got to take it day-by-day, but it weighs on you when you don't get one for a while and then getting hurt being out for a long time, it feels like maybe you'll never score again. Just to be able to get one and know that you can still do it is a nice feeling.
Moore on if this time coming back was easier than the first
Yeah, I was able to skate and keep my legs this time, which has been positive. Last time, I had that week and a half over the All-Star break, which was good, but I couldn't practice with the team. This time has been better for sure.
Moore on seeing improvements on the power play this season
It's huge. Last year we relied on our 5-on-5 game and we still have to rely on it, we still have to be a better 5-on-5 team, but now we have the added boost of having really good special teams. I think it's been great.
Moore on getting contributions from throughout the lineup tonight
I think we have to play that way if we want to go deep. If you look at teams who do go deep, it's not one or two lines, you need everybody. It's all six defensemen and it's all four lines.

Todd McLellan on if he saw the things the team practiced show up on the power play tonight
Yeah, and let's face it, we didn't reinvent the power play, we just got a little sharper and a little faster. I'm not even sure how we really do it, we try and convince the players that they're just a fraction slower than what they were in the past. Whether it's done through video or conversation, today they moved the puck a little bit quicker. Pretty good penalty kill on that squad, so to score two, we're fortunate.
McLellan on seeing connectivity improve between the first and second periods
We talked about it between periods. We were, I thought, excellent below the goal line to the hashmarks on our breakouts, we were connected there, it was the next play and often that's on your forwards for just getting casual or sloppy. We fixed it and the guys did a good job in the second and third. They had a pretty good idea of how we were going to play the game and they forechecked well against it, so we really had to work exceptionally hard just to get out of our end, but the guys did a good job of it.
McLellan on seeing Trevor Moore score that goal, after all the work he's put in
I think the look on his face was joy and happiness, of course, but a lot of relief too. Just to give you an idea of how important he is to to our team and to our group, everybody's really happy for him. You know, we always get excited for for a goal, but that was a special goal, it's one that's been coming for a while.
McLellan on finding four goals tonight against a top-tier goaltender and a structured team
We talked about being direct and maybe releasing the shot before we really had to. Take Walker's shot [on Lizotte's goal], for example, had he waited just a fraction longer for all the traffic to get there. Then, there are some things that we needed to do in and around the net, they box out really well, so you've got to find a way to stay in a goaltender's eyes, but get loose and it's not easy. We did a bit of work on that in practice yesterday and I thought it paid off.
McLellan on the concept of stats and if he'd like more national hype around his team
We're fine where we are. Here's what I know, stats can work for or against you based on the day you pick them. So, you can pick January 27 and if you go to the 25th, there are four teams with more points. We do the same thing with the power play, when we want them confident, we go back to the two goals we scored and hey, we're 2-for-20 instead of 0-for-18. It's just about us doing what we do, day after day after day, rinse and repeat. Simple.​

Subject To Change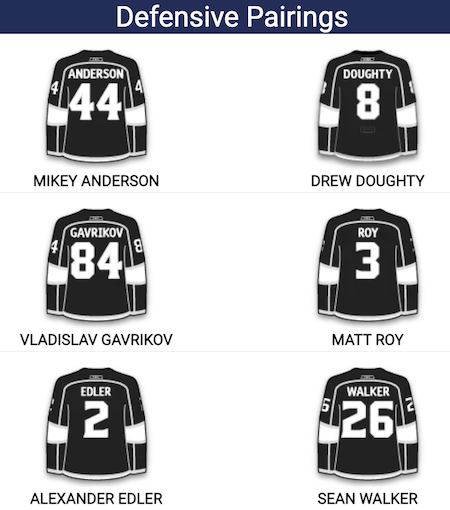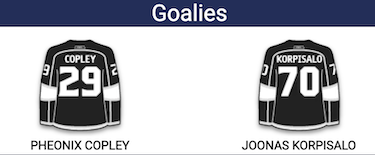 Kings Injuries
Sean Durzi (D2D)
Kevin Fiala
___________________________________
___________________________________________
Blue Jackets Probable Lineup
courtesy of dailyfaceoff.com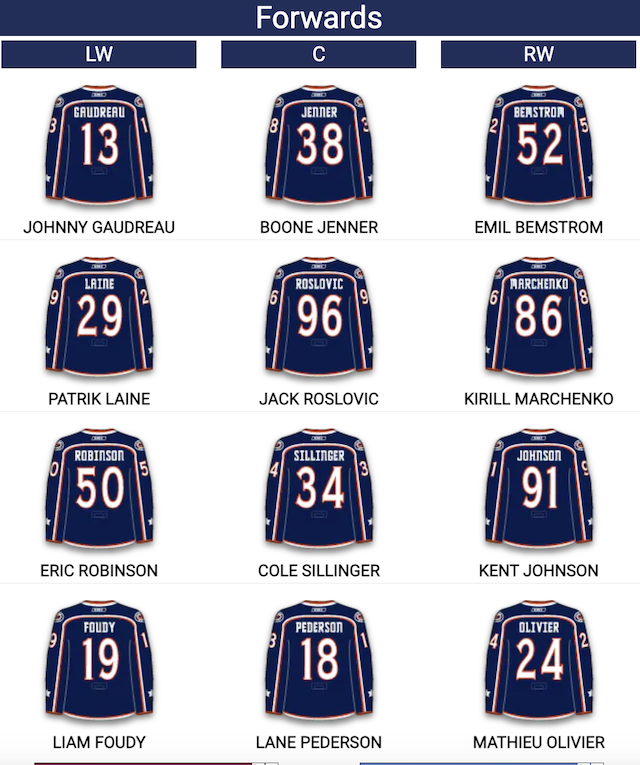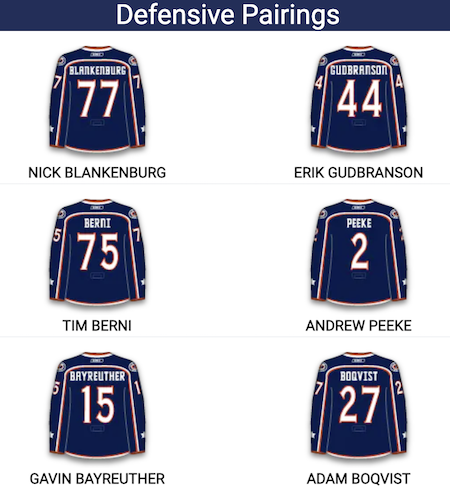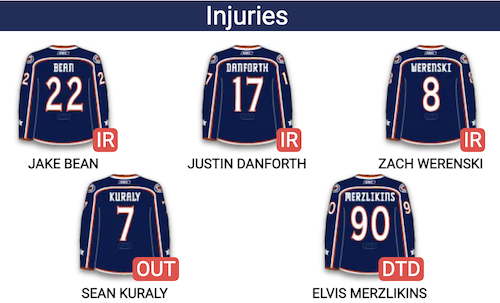 NO Former Kings
___________________________________________
____________________________________________
GOALIE STATS


PLAYER STATS
Click Here For More Stats & Rosters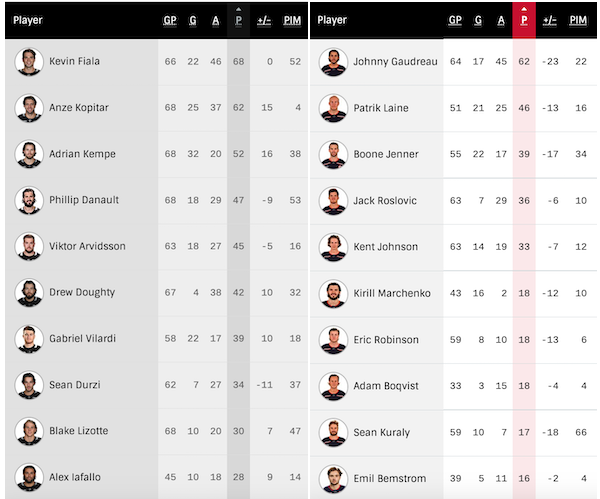 WESTERN CONFERENCE STANDINGS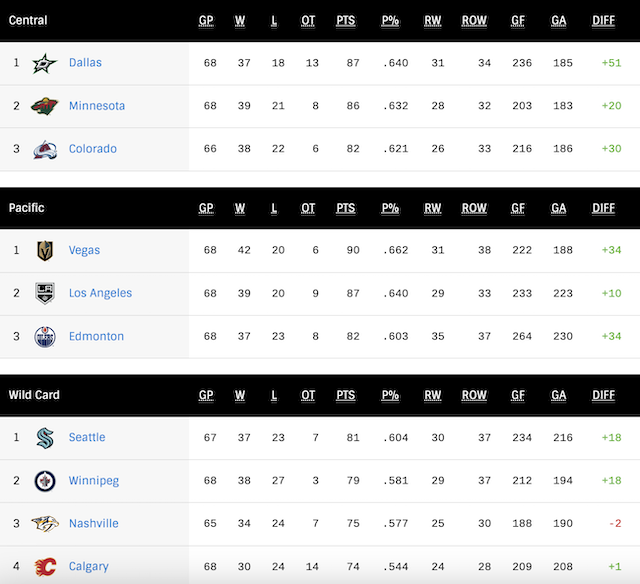 Tonight's Poll Question:
Part 1 - How many SAVES will the Kings goalie have in tonight's game?
You can take 2 guesses - only correct guesses will get a point

Part 2 - How many points will Gavrikov get against his former team?
ONE GUESS ONLY
Previous Game's Winners
Congratulations to the following posters who correctly guessed the GWG would be a PP goal and/or got within +/-2 of 44 hits combined in the game. And Special Congrats to hihocarp for getting 4 points, AND thanks to Vegas Hockey for finally giving others a chance to catch up:

Power Play (1 Point):
jammer06
Byron
randdog
dannybuoy1
Bill Hicks
sonnyboy11
empire
hihocarp
Chateau Bow Wow
Nyssa42
44 Hits (3 points):
DRice
hihocarp
43-45 Hits (2 points):
jammer06
Helvetica
AngelEyes
Chateau Bow Wow
42-46 Hits (1 point):
kingsmen93
beady eye
srm1105
Kurisu
kingrussell
Poll Win Totals
King Of The Mountain
with

53

points:
VegasHockey
49 Points
srm1105
48 Points
LeftyKing
sonnyboy11
47 Points
Kurisu
Rusty
46 Points
AngelEyes
45 Points
hornman
44 Points
43 Points
Bill Hicks
DRice
John a90
42 Points
41 Points
pray4mojo
randdog
40 Points
39 Points
beady eye
DRGinLBC
forum gold
Helvetica
38 Points
Chateau Bow Wow
37 Points
CIrvine
jammer 06
Liz4LA
SirJW
TooCool
36 Points
35 Points
34 Points
33 Points
32 Points
Nyssa42
31 Points
30 Points
hihocarp
29 Points
dannybuoy1
28 Points
empire
notbob
Rogie-Vachon
27 Points
JETS GARAGE
26 Points
Clif
25 Points
24 Points
KHenry14
23 Points
JayWells24
Sevenhole
22 Points
kingsmen93
21 Points
20 Points
kingrussell
19 Points
waynet
18 Points
Dr. Tran
RoS
Shackleford
17 Points
Byron
16 Points
15 Points
Cross Traffic
14 Points
13 Points
12 Points
11 Points
Busted Chops
10 Points
kopinator
9 Points
Dirtweazle
8 Points
7 Points
6 Points
beedee
5 Points
4 Points
Dexter
3 Points
HTK
salami
STONE
2 Points
05/29/93
jneol67
KingzLA
PuckMaster
SaltyPuck
1 Point
cokingsfan
HiFi
Ice24
Joe Laviguer
mugs
puckoff
RagBone
Rinkrat
twistedwrister
***Get, Give, & Bet your karma in geogirl's KARMA BETTING THREAD HERE***
________________________________________________
​
Last edited: