jammer's overlord
Staff member
TEAM LGK
Joined

May 10, 2012
Messages

12,842
LGKash:

$550.00

Game Day Thread
Game #47/82 -- 01/19/23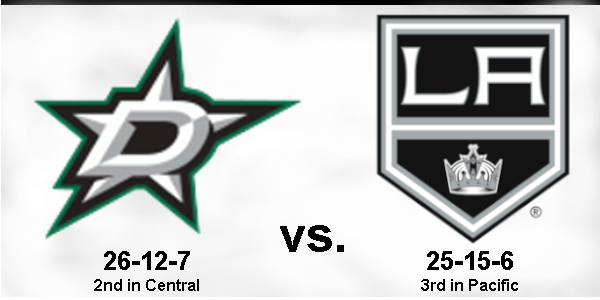 Dallas Stars vs. Los Angeles Kings
at

| Los Angeles, CA
Filipino Heritage Night
Previous Meetings
01/03/23 - Stars 2,
Kings 3
11/01/22 - Kings 2,
Stars 5

TV:

BSW



Radio: LA Kings iHeartRadio app
Please remember,
DO NOT
post links to Live Game Streams in the GDT or anywhere else on LGK
Check out articles on LA Kings Insider Here
Adrian Kempe & Todd McLellan 1/14 Post Game Quotes


Adrian Kempe on the disappointments in tonight's defeat
It was disappointing in a different way, I don't think it was disappointing that we didn't show up tonight and play good enough, I think it was disappointing that we didn't score on our chances. I think the power play was good, we didn't get enough 5-on-5, I guess, and that's a different type of frustration tonight.
Kempe on the difficulty of getting scored on right after tying the game
A little bit, I think sometimes it's felt like all season we've been pretty good at responding, even when we give up a goal. We scored two on the power play tonight, so that was good for the confidence and obviously it's a little frustrating when they score right after. It was a lucky bounce and we've got to learn from that and keep going.
Kempe on what he feels is clicking right now with his power-play unit
We're moving the puck well, I think, the breakout's been good, everybody's playing, it doesn't matter where they end up. I think we're moving and shooting a lot more and I think when we prescout teams, we take the information and do it in the games. Tonight, I think we did a good job, we could have had another one too. It's something we can build on.

Todd McLellan on his overall assessment of tonight's game
I didn't think we got enough from everybody in the lineup tonight. Some of it, the fourth line didn't get to play a lot, just the way the game rolled out, but I thought Phil Danault's line didn't have their best night. Arvy was coming off being sick, they didn't have a lot of pop in their legs, usually they're controlling play and you end up a little bit short in those situations. For Phil's line, how many times have they played well and carried everybody else, so on nights when you when you don't have a couple of guys, others have to pick it up. We had three breakaways, JAD had a breakaway, Kevin had a breakaway and got pulled down and we had a penalty shot, one of them's got to go in. So, the offensive part of the game has to be there as well as the defensive part.
McLellan on the play of Jonathan Quick tonight and if there is concern
Well, I think we have to look at goals that were scored, we took a bad penalty on the first one, then a bad pinch, no cover 2-on-1 on the second one. Third one, I'm sure he'd like to have back, the fourth one we kicked into our own net, so I don't know how much of it you can put on the goaltender. At the other end of the rink, our power play was effective, some of our best chances we didn't make their goaltender work. We were a little too cute, maybe with a shot, high, wide, especially in the first and second periods.
McLellan on if there were sustained stretches tonight he liked
I liked the first period, I thought the first period was really good. I liked basically all of our power plays, I liked most of our penalty kill. I thought the third period, they showed why they're the team they are right now, they were able to get the lead and clamp it down. We had a tough time coming through the neutral zone, but I think that's what it feels like when we have the lead. Good teams do that and they did it.
McLellan on if he felt the third goal against was a deflator, coming shortly after Kopitar's goal
Yeah, we had a spell there where we were giving stuff up real quick and we cleaned that up significantly, in my opinion. 82 games, there's going to be nights where it comes back to haunt you and tonight was one of them.
McLellan on Quick managing a different workload than perhaps he's used to
Careers begin a certain way and then they evolve as you go. Jonathan is a really important part of our team, he's a hell of a goaltender, he's a competitive individual that means a lot to our group. He makes us better in practice, he makes us better in a game and when Copper's playing the way he is, he's going to get the majority of the starts, he's hot right now. We're going to continue to run him and Quickie has to be able to adjust to that. He will, he can and he'll be just fine.
McLellan on the organization being beyond moral victories from a game like this
We're past the moral victories. If that still exists in and around here, we've done something sorely wrong and that includes individuals. I don't care if you're young and just drafted or if you're an old player that's well established, moral victories don't do us any good anymore. That was two or three years ago. We're now here to play to win and when we don't win, we're not happy.

​

Subject To Change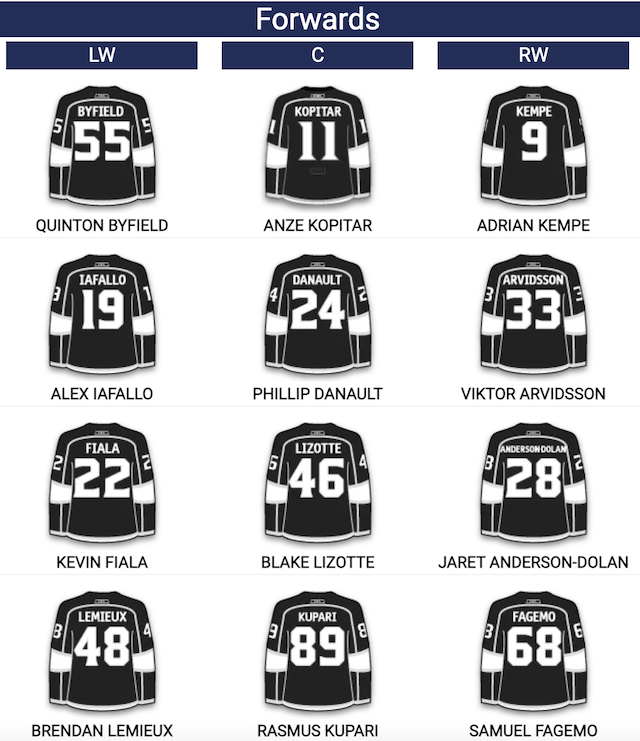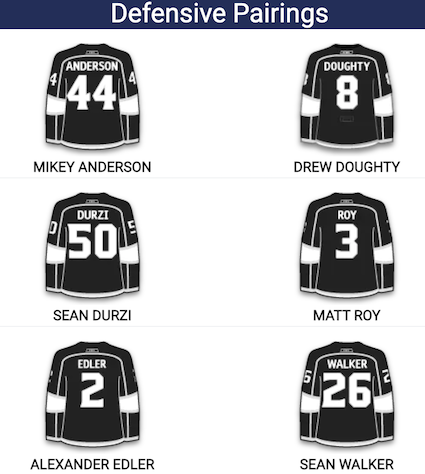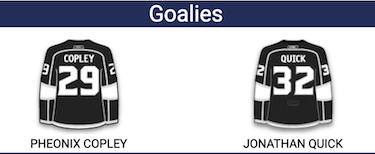 Kings Injuries
Carl Grundstrom
Arthur Kaliyev (IR)
Trevor Moore (IR)
Gabriel Vilardi (D2D)
___________________________________
___________________________________________
Stars Probable Lineup
courtesy of dailyfaceoff.com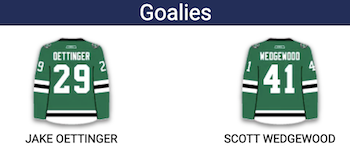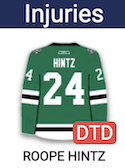 Former King
Colin Miller (draft pick)

____________________________________________
____________________________________________
GOALIE STATS

PLAYER STATS
Click Here For More Stats & Rosters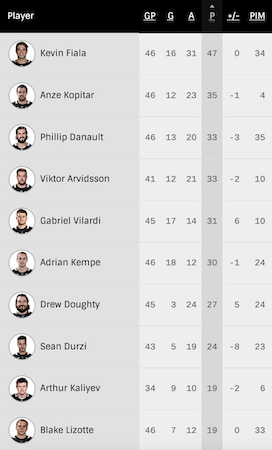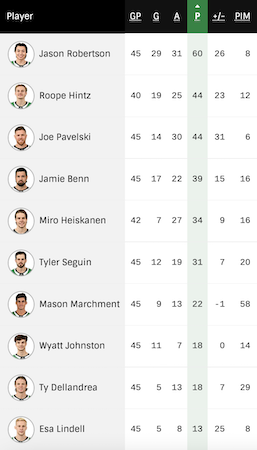 PACIFIC DIVISION STANDINGS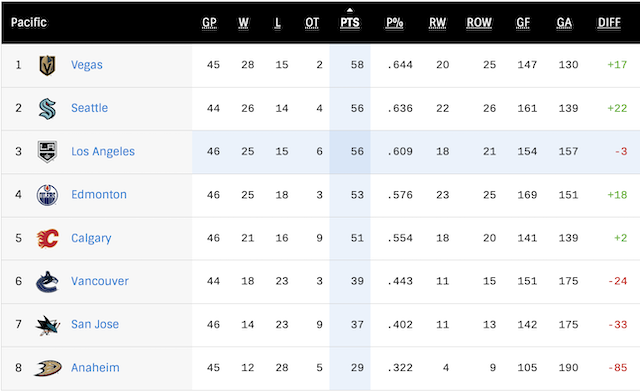 Tonight's Poll Question:
Just one question for tonight - How many total points will be scored by all players who have played at least 850 NHL games?

You can take 3 guesses

Benn (993), Pavelski (1213), Seguin (870), Suter (1325)
Kopitar (1256), Doughty (1059), Edler (1006) (and, wow…Quickie is at 736!)


Previous Game's Winners
Congratulations to the following posters who correctly guessed that Tatar would score the first goal, and to CIrvine who was the only poster to get 3 points for guessing the GWG would be scored within +/- 1min of 7:40 of the 2nd period AND guessing Tatar!

7:10-8:10 (2 points):
CIrvine
Tatar (1 point):
Kurisu
VegasHockey
pray4mojo
AngelEyes
SirJW
forum gold
Shackelford
sonnyboy11
srm1105
CIrvine
John a90
dannybuoy1
waynet
Poll Win Totals
King Of The Mountain
with

37

points:
VegasHockey
32 Points
Kurisu
Rusty
31 Points
LeftyKing
30 Points
Bill Hicks
randdog
29 Points
sonnyboy11
srm1105
28 Points
beady eye
DRGinLBC
hornman
John a90
27 Points
Liz4LA
SirJW
26 Points
DRice
pray4mojo
25 Points
AngelEyes
forum gold
Helvetica
24 Points
Clif
23 Points
22 Points
Nyssa42
TooCool
21 Points
20 Points
Chateau Bow Wow
CIrvine
19 Points
empire
jammer 06
18 Points
hihocarp
RoS
17 Points
Sevenhole
16 Points
JETS GARAGE
15 Points
Dr. Tran
KHenry14
Rogie-Vachon
14 Points
dannybuoy1
waynet
13 Points
notbob
12 Points
11 Points
kingsmen93
Shackleford
10 Points
Busted Chops
kingrussell
9 Points
Dirtweazle
kopinator
8 Points
Byron
7 Points
6 Points
beedee
JayWells24
5 Points
4 Points
3 Points
Cross Traffic
Dexter
HTK
salami
STONE
2 Points
05/29/93
PuckMaster
1 Point
RagBone
Rinkrat
***Get, Give, & Bet your karma in geogirl's KARMA BETTING THREAD HERE***
________________________________________________
​
Last edited: