jammer's overlord
Staff member
TEAM LGK
Joined

May 10, 2012
Messages

12,848
LGKash:

$550.00

Game Day Thread
Game #74/82 -- 03/28/23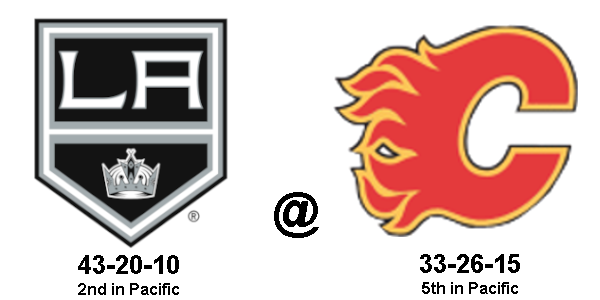 Los Angeles Kings @ Calgary Flames
Scotiabank Saddledome | Calgary, AB
PRIDE NIGHT
Previous Meetings
03/20/23 — Flames 2,
Kings 8
12/22/22 — Flames 3,
Kings 4
11/14/22 — Kings 5,
Flames 6

TV:

BSW



Radio: LA Kings iHeartRadio app
Please remember,
DO NOT
post links to Live Game Streams in the GDT or anywhere else on LGK
Check out articles on LA Kings Insider Here
Viktor Arvidsson (video), Adrian Kempe, Sean Durzi & Todd McLellan 3/26 Post Game Quotes
Watch Viktor Arvidsson's Post Game Interview Here
Adrian Kempe on the changes in the game between the first and second period
I don't think we played badly, but there was no talk in the d-zone and stuff like that. We were trying to be a little bit too fancy, we still had a lot of puck possession, a lot of o-zone time, but there was no communication out there after we were up 5-1. It wasn't good enough, but it was a good lesson for us and we came out with the win, so that was big.
Kempe on exceeding last season's goal total with his 36th of the season
It feels good that I can deliver, when I'm playing on the first line that's something you've got to do. It's pretty easy to play with the guy next to me, he usually feeds me a lot of pucks and it's on me to put it in the net. It's been like that all year and I'm happy that I could live up to expectations.
Kempe on the team's win streak

Over the last couple of weeks, we feel like our game is there. It's not going to be perfect every period, that showed up tonight, but we've played really well over the last couple of weeks. We took that a little bit for granted in the second period, but I think we showed that we can not play our best game and still beat teams. That was a good character win.

Sean Durzi on getting back into the lineup for the first time since his injury
Yeah, I mean it feels good, a good mood getting back in the groove with the guys and it was nice having a nice routine again. It felt good.
Durzi on what he felt was clicking with his power-play unit tonight
We were laughing before, we're back together, we knew we were hot at the beginning of the season and throughout the year a little bit, but I mean we've just got good chemistry, skilled players making skilled plays. I thought for a lot of guys, the execution was there and we knew it had to be tonight. I'm proud of the guys.
Durzi on the group being able to close out a game like that in the third period
I mean, you've seen it over the last little bit, here of holding leads and playing well as a team. Obviously there are a ton of things we've got to clean up, these games aren't going to happen the rest of the way I don't think, it's going to be tight the rest of the year and we've got to be able to close it out a little better than we did tonight. That's something we want to clean up. Proud of the effort, two points is two points and this time of the year, you need everything you can get, so happy with that, but obviously a lot of things we can clean up.

Todd McLellan on what he felt changed between the first period and the final 40 minutes
We weren't playing our game, obviously. We got a little bit cute, a little bit fancy, didn't go after them hard. They know what works and what doesn't work, had to remind them of that a little bit, but it wasn't yelling and screaming. It was just reminders of things that we needed to do better. It got a little bit better in the third, but I thought we let that game get away on us and it wasn't our best work
McLellan on winning the special teams battle and getting four on the power play
Well, special team, we got dinged up from two on the penalty kill, so we were 0-for-2 there, but the powerplay did a really good job. You've got to win in different ways, even when you're not playing your best, which was evident tonight and the power play came through.
McLellan on if he felt tonight was different than the high-scoring games early in the season
Yeah, I think it is. I think we were able to get to a young goaltender and it came real fast. Nothing ever comes easy in this league, but the powerplay was clicking, everything felt good. Then, we played like it felt good instead of playing our game and that's when it changed. I don't think it's like the other games where we gave up five or six a night. We had an off night and I think we can dial it back in, we're going to need to.
McLellan on his evaluations of Durzi and Fiala in their first games back from injury
I thought they both looked good. Durz played his game, he had good vision, power play looked sharper, he moved pucks out of his zone, didn't get himself into a lot of defensive trouble. I thought Kev looked dynamic. He was good on his edges, he made great passing plays with Arvy and Phil, that line was likely our most dangerous and it was really good to see both of them back in the lineup.
McLellan on Viktor Arvidsson's game right now
He's a hell of a player. We see the shot, the skating, the tenacity night after night, but there's a lot of other things that go into that. His competitiveness on the bench and his discussion that he has with his linemates, him setting things up powerplay wise. He's into it and it rubs off on others.
McLellan on if being able to win games in different ways is a good sign going into the playoffs
Well, this streak here at home was one I believe was in a certain way up until tonight. We checked well, we defended well, we had some timely scoring, we had great goaltending. Tonight, some of those things got away on us but we still found a way to win. I don't think that game that we played or brought to the rink tonight, in the last 50 minutes of the game will get us a lot of wins in the playoffs, but the other games in the homestand will give us a chance.​

Subject To Change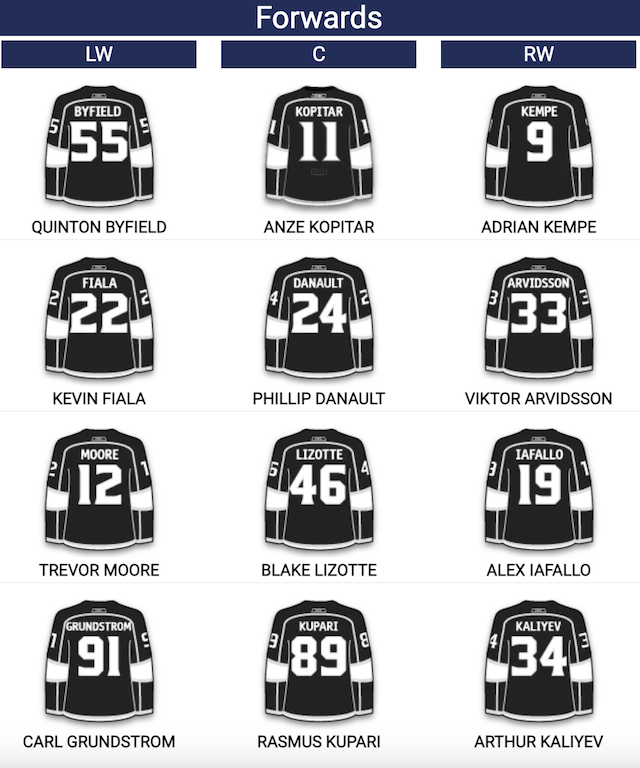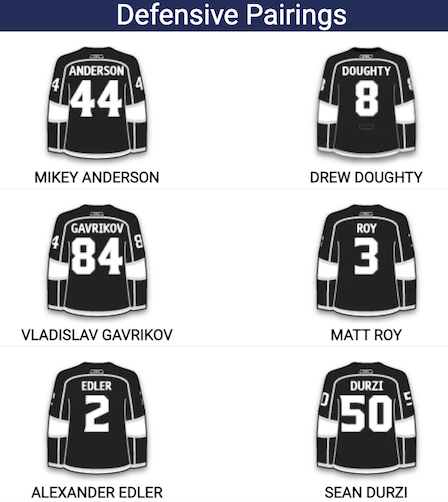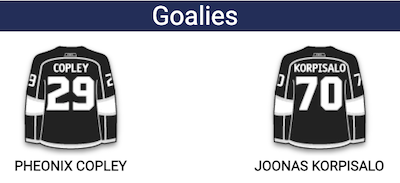 Kings Injuries
Gabe Vilardi (D2D)
___________________________________
___________________________________________
Flames Probable Lineup
courtesy of dailyfaceoff.com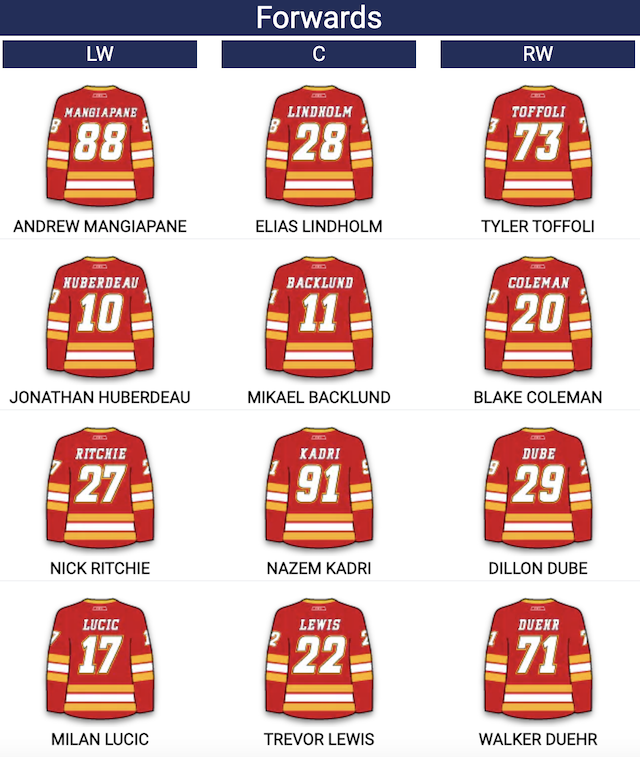 Former Kings
Trevor Lewis

Milan Lucic

Troy Stecher

Tyler Toffoli

Darryl Sutter (Head Coach)
Jason Labarbera (Goaltending Coach)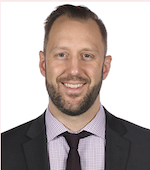 ___________________________________________
____________________________________________
GOALIE STATS


PLAYER STATS
Click Here For More Stats & Rosters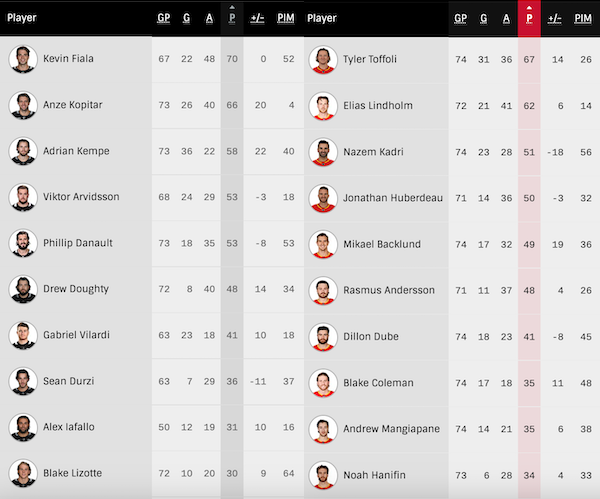 WESTERN CONFERENCE STANDINGS
Tonight's Poll Question:
Just 1 question tonight: How many TOTAL POINTS will be scored by ALL FORMER KINGS currently on the Flames in tonight's game?
You can take 3 guesses

Previous Game's Winners
3/25 vs Jets Winners
Congratulations to the following posters who correctly guessed the Kings would combine for 11 goals in 2 games, or that Arvidsson would lead the team in points over the two games with 5:

11 Goals (1 point)
kingsmen93
Arvidsson (1 point)
Dr. Tran
Chateau Bow Wow
Rusty
jammer06
dannybuoy1
John a90
DRGinLBC
srm1105
AngelEyes
forum gold
Bill Hicks
3/26 vs. Blues Winners

Congratulations to the following posters who correctly guessed the game winning goal would be scored in the 3rd and/or that Drew Doughty would get the GWG

Both (2 points)
CIrvine
Shackleford
TooCool
GWG 3rd (1 point)
LeftyKing
jammer06
sonnyboy11
srm1105
randdog
kingsmen93
SirJW
beady eye
Doughty GWG (1 Point):
Dr. Tran
kingrussell
Chateau Bow Wow
Nyssa42
Liz4LA
Poll Win Totals
King Of The Mountain
with

56

points:
VegasHockey
54 Points
srm1105
53 Points
52 Points
51 Points
Rusty
50 Points
Kurisu
LeftyKing
49 Points
sonnyboy11
48 Points
AngelEyes
47 Points
46 Points
Bill Hicks
DRice
hornman
45 Points
John a90
44 Points
forum gold
randdog
43 Points
42 Points
beady eye
Chateau Bow Wow
pray4mojo
41 Points
DRGinLBC
jammer 06
40 Points
CIrvine
Liz4LA
SirJW
TooCool
39 Points
Helvetica
38 Points
37 Points
36 Points
35 Points
34 Points
Nyssa42
33 Points
32 Points
31 Points
30 Points
dannybuoy1
hihocarp
Rogie-Vachon
29 Points
JETS GARAGE
notbob
28 Points
empire
27 Points
26 Points
Clif
25 Points
KHenry14
kingsmen93
24 Points
JayWells24
23 Points
Sevenhole
22 Points
kingrussell
21 Points
Dr. Tran
Shackleford
20 Points
waynet
19 Points
18 Points
RoS
17 Points
Byron
16 Points
Cross Traffic
15 Points
14 Points
13 Points
12 Points
11 Points
Busted Chops
10 Points
kopinator
9 Points
Dirtweazle
8 Points
beedee
7 Points
6 Points
5 Points
Dexter
4 Points
3 Points
HTK
salami
STONE
2 Points
05/29/93
jneol67
KingzLA
PuckMaster
SaltyPuck
1 Point
cokingsfan
HiFi
Ice24
Joe Laviguer
mugs
puckoff
RagBone
Rinkrat
twistedwrister
***Get, Give, & Bet your karma in geogirl's KARMA BETTING THREAD HERE***
________________________________________________
​
Last edited: