jammer's overlord
Staff member
TEAM LGK
Joined

May 10, 2012
Messages

12,809
LGKash:

$450.00

Game Day Thread
Game #18/82 -- 11/14/22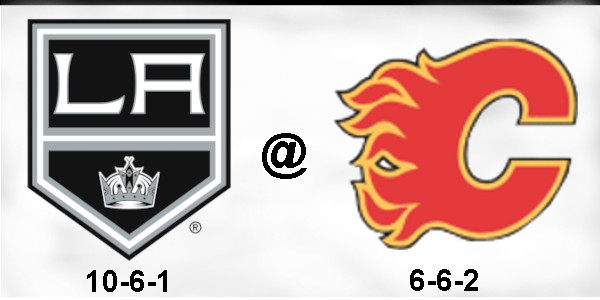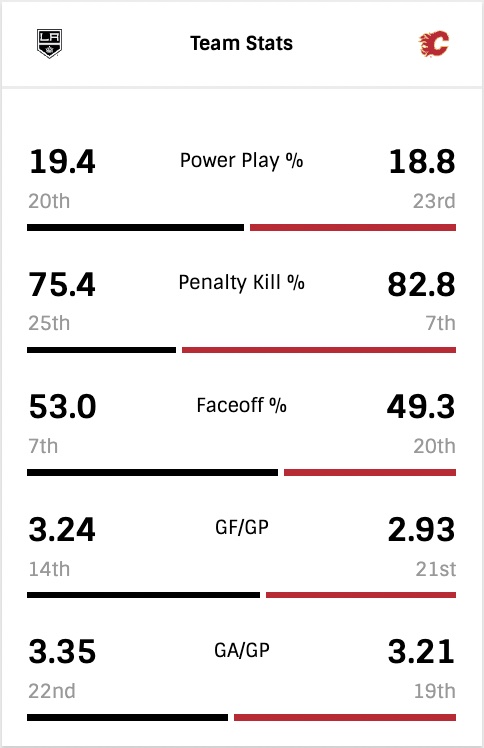 Los Angeles Kings @ Calgary Flames
Scotiabank Saddledome | Calgary, AB[/B]
Last Season's Meetings
04/04/22 -
Flames 3
, Kings 2
03/31/22 -
Kings 3
, Flames 2 (SO)
12/02/21 -
Flames 3
, Kings 2
**Game Time 5:30pm Pacific**
​

TV:

**BSW**



Radio: LA Kings iHeartRadio app
Please remember,
DO NOT
post links to Live Game Streams in the GDT or anywhere else on LGK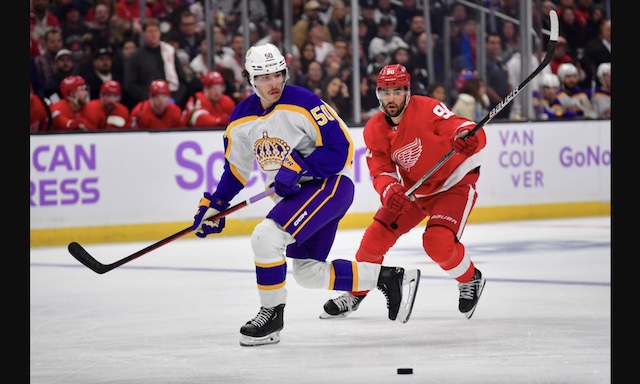 Check out articles on LA Kings Insider Here
Sean Durzi & Todd McLellan 11/12 Post Game Quotes
Sean Durzi
 on seeing improvements to the power play tonight
Yeah, I mean right off the bat, the top unit did a great job moving the puck. You saw Dewy on the outside make a really nice seam pass, obviously a fortunate bounce for Kevin and I'm sure he'll gladly take those but either way it was going back door to Kopi who was going to tap it in. Good play all around and getting the puck movement from them and us.
Durzi
 on the shooting mentality shown by the Kings on the PP
Yeah, you make the pass when the pass is there and when I see traffic and see guys making a good play in front, whether it's a screen or a tip or something like that, I get the puck to them. I thought I had a couple of good opportunities to shoot, obviously the first one I slipped back door and it was a great pass by Phil, off a rebound from Arty. Shooting the puck is the only way to score really, you sometimes get fortunate bounces, but that's how you've got to score. Shoot the puck, get good bounces, getting it back and obviously fortunate to get them in the net.
Durzi
 on improvements to his own game, specifically with playing on the left
It's good, really good, a lot better. To have Yawns working with me every single day with reps in practice, morning skate just working on the left side, collecting pucks on my backhand and making clears. Whether it's working in the shooting room after practice, it's really just getting comfortable and being dangerous from that side. I think it's a really good tool that I've now added to my game and every single game I'm more comfortable and I'm learning. Whether I can be a shooter off that side, a passer, the deception, it's completely different from the right side, my edges and all that. I'm adding it to my game and obviously I'm going to continue to get better but from the beginning of the season, I think it's gone a long way.

Todd McLellan
 on a 4-0-0 homestand
It was a good homestand and I thought our road trip set us up for that. We played a really good game in St. Louis, we got spanked in Dallas and learned a lesson and we probably deserved better in Chicago, so it gave us some momentum coming home. If you look at the goals against on the homestand, even tonight there wasn't an even-strength goal, it was two power plays and a 6-on-5. A power-play goal last game and then a shutout, so we haven't given up much at 5-on-5, which we're happy about. A few things to clean up, but good teams play with detail all the time, over and over again, they don't let it slip. That's what we're pushing to be.
McLellan
 on if he's happy with improvements made to end the "run and gun" style
Yeah I am, but you know what, we're coaches, we whine about everything. We just won four games at home and we're trying to fix something already, maybe we've got to smarten up a little bit and relax, but that's what we do. There are parts of our game that are really good right now, there are other parts that we can improve on. I thought we should have had control of the third period better than we did today, started right off the bat, we weren't sure if we wanted to play cute or if we wanted to play direct. We tried the cute way and we went to the penalty box, gives them the chance to pull their goalie, I don't think they're pulling him at 4-1. We didn't need to be in that situation, but we were.
McLellan
 on seeing the work put into the power play show up in tonight's game
Yeah I think it did. It wasn't dramatic, there weren't wholesale changes, it was just certain tweaks and competitive situations. We thought we had to get better in them and we saw that tonight.
McLellan
 on the growth in Sean Durzi's game and his growing comfort level on the left side
I wouldn't say it's getting easier, because it's a hard task, but he's getting more accustomed to it. He's learning, or maybe he's learned already, when those pressure points come and how to react to them. If you haven't played on your off side, that's all brand new and some of the situations he's been caught in, you don't see him caught in those spots as much any more. Repetition, practice and playing, he's doing a really good job.
McLellan
 on Anze Kopitar's ability to calm a game down at the end
You can pretty much count on him to do that. He's been our best faceoff guy, we want him in those situations. He's calm and he's so strong, when it's time to defend he gets it done. Really good teams, these guys won championships because they sacrificed, they gave up offense, they did what other teams didn't want to do in the past and we still have some of that room. Drew, Quickie and Kopi, they have to give and give so that the team can win and they did that in the past and we want them to keep doing that. Kopi did that tonight 6-on-5, he didn't cheat anywhere and that's a really good quality that those three have and we want them to promote that.
​

Subject To Change
FORWARDS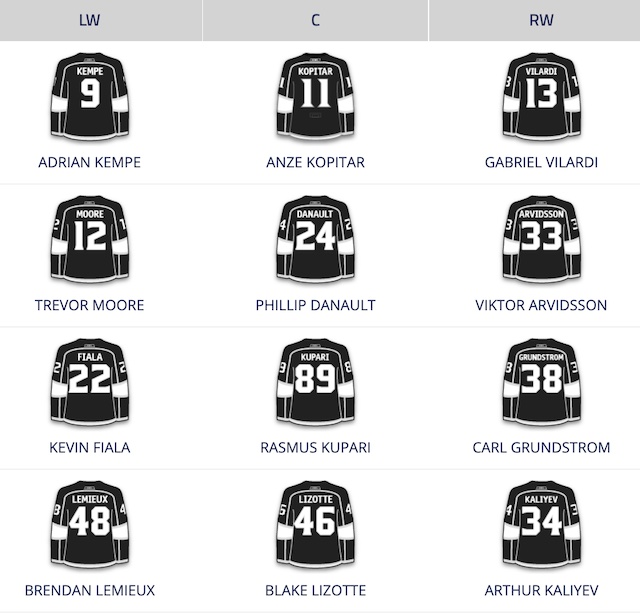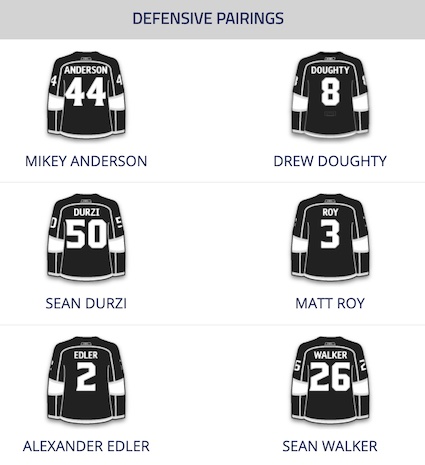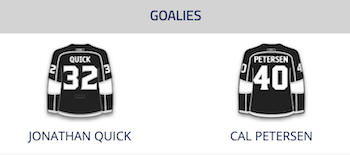 Kings Injuries
Alex Iafallo (LTIR)
Brendan Lemieux (IR)
___________________________________________
___________________________________________
Flames Probable Lineup
courtesy of dailyfaceoff.com
FORWARDS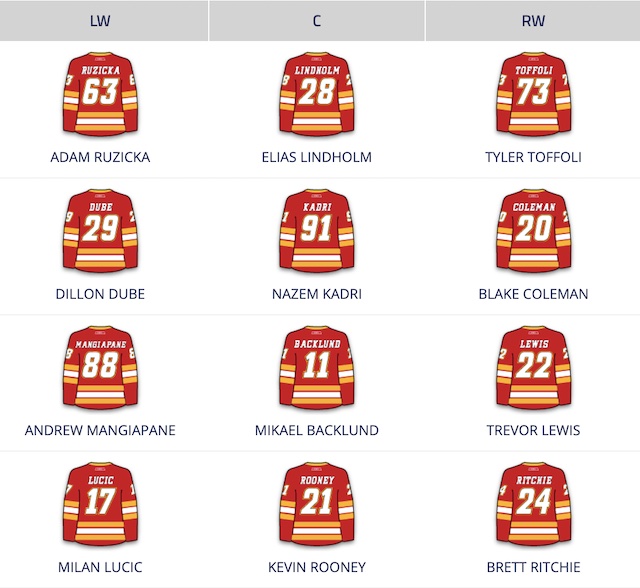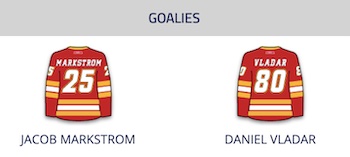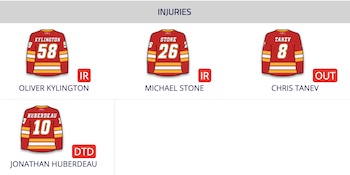 Former Kings
Trevor Lewis

Milan Lucic

Tyler Toffoli

____________________________________________
____________________________________________
GOALIE STATS


PLAYER STATS
Click Here For More Stats & Rosters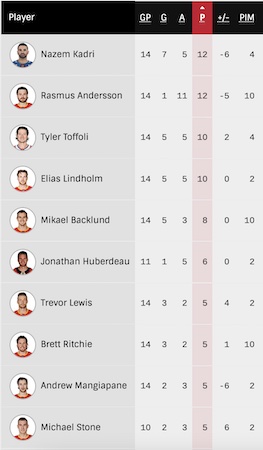 PACIFIC DIVISION STANDINGS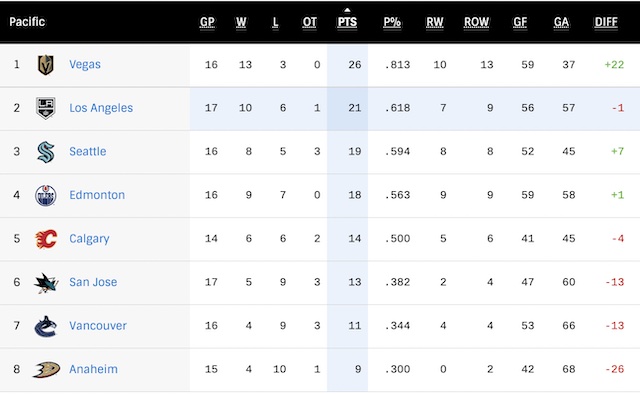 Tonight's Poll Question:
The Kings and Flames played 3 games that ended in a 3-2 score last season
Part 1 - What will be the final score for tonight's game? (doesn't matter which teams, just the final score)
You can take 3 guesses for part 1

Part 2 - How Many TOTAL POINTS will be scored by FORMER KINGS Lewis, Lucic, and Toffoli in tonight's game?
You can take 2 guesses for this part

Take your best guesses in your post below.
The only prize is the glory of seeing your name in the next GDT if you get it right.
Previous Game's Winners
Congratulations to the following posters who correctly guessed the goal totals of the 1st, 2nd or 3rd periods (3,2,2) in the previous game:
* = 2 point winner

All Three (3 points) :

randdog
forum gold
AngelEyes
First period, 3 (1 point):
Busted Chops
DRGinLBC*
kingrussell*
SirJW*
Second period, 2 (1 point):
Kurisu*
srm1105
empire
TooCool
RoS*
Liz4LA
hihocarp
SirJW*
beady eye*
Third period, 2 (1 point):
Kurisu*
jammer06
John a90
Helvetica
hornman
beady eye
Sevenhole
VegasHockey
Bill Hicks
DRGinLBC*
kingrussell*
Dirtweazle
RoS*
Clif
Kingsmen93
sonnyboy11
Poll Win Totals
King Of The Mountain
with

16

points:
LeftyKing
15 Points
hornman
RoS
VegasHockey
14 Points
AngelEyes
13 Points
Clif
DRGinLBC
John a90
12 Points
Kurisu
Liz4LA
srm1105
11 Points
beady eye
Bill Hicks
forum gold
Rusty
10 Points
randdog
9 Points
Helvetica
8 Points
SirJW
TooCool
7 Points
JETS GARAGE
sonnyboy11
6 Points
beedee
Chateau Bow Wow
dannybuoy1
KHenry14
kopinator
Sevenhole
5 Points
CIrvine
Dr. Tran
Drice
empire
pray4mojo
4 Points
Busted Chops
jammer 06
3 Points
hihocarp
HTK
kingrussell
kingsmen93
Nyssa42
Rogie-Vachon
salami
waynet
2 Points
05/29/93
Byron
Dexter
notbob
PuckMaster
STONE
1 Point
Dirtweazle
Rinkrat
***Get, Give, & Bet your karma in geogirl's KARMA BETTING THREAD HERE***
________________________________________________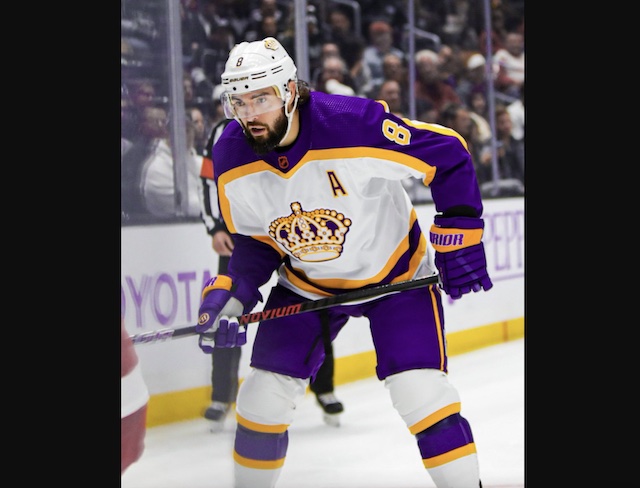 Last edited: