jammer's overlord
Staff member
TEAM LGK
Joined

May 10, 2012
Messages

12,830
LGKash:

$550.00

Game Day Thread
Game #13/82 -- 11/03/22
**5:30pm START**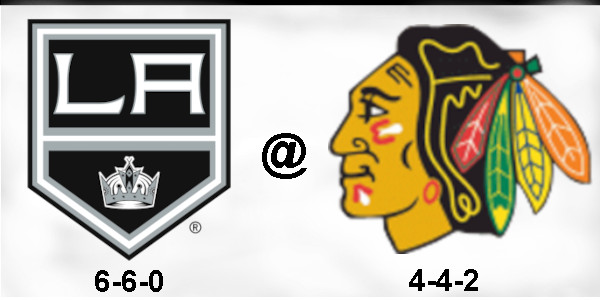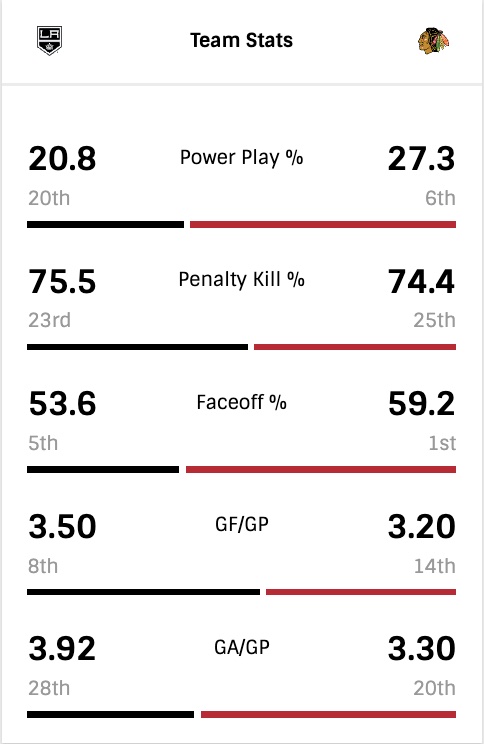 Los Angeles Kings @ Chicago Blackhawks
United Center | Chicago, IL
Hockey Fights Cancer Night
Tonight?s Giveaway: Hockey Fights Cancer Scarf, presented by CIBC
Last Season?s Meetings
04/21/22 - Blackhawks 1,
Kings 4
04/12/22 -
Kings 5
, Blackhawks 2
03/24/22 -
Blackhawks 4
, Kings 3 (OT)
**Game Time 5:30pm Pacific**
​

TV:

**BSW**



Radio: LA Kings iHeartRadio app
Please remember,
DO NOT
post links to Live Game Streams in the GDT or anywhere else on LGK
Check out articles on LA Kings Insider Here
Phillip Danault & Todd McLellan 11/1 Post Game Quotes
Phillip Danault
 on taking penalties early tonight and how it set the team back
It definitely got us in trouble right away. We can?t do that because we knew they were fresh, they had two days off and we definitely have to be better and more careful with that. Yeah, they definitely cost us the game.
Danault
 on what was lacking on the second half of a back-to-back 
execution
They were playing better and faster than us and also the penalties got us, lots of penalties. We couldn?t find a way to get it done and the whole game was like that.
Danault
 on the disappointment tonight, coming off big wins over Toronto and St. Louis
Yeah, especially because we know how good we can play and how good we can be as a team. We want to improve every game and on a back to back, it?s always a great opportunity to steal some points. Obviously a disappointing ending tonight.

Todd McLellan 
on the start to the game tonight, and managing things early on
Put it this way, the start wasn?t what we wanted and if you don?t have any legs, you better have your brains and we didn?t have either. That makes it real tough night, so that?s going to lead to penalties and the penalty kill did not get it done. We had it our tape numerous times to clear and it didn?t come out. With that type of firepower and that type of power play, it?s going to end up in your net, so that?s obviously a concern in tonight?s game. More concerning for me is the back to back and not being able to manage it real well with the mental part of the game. Anticipating where pucks are going to go, covering in the right situations. We didn?t do a good job of managing that.
McLellan 
on what was missing on the second half of a back-to-back tonight
You know, you have to give Dallas credit they knew that we were playing back to back. I?m sure they weren?t happy with their last performance but they really skated well. They were much quicker, much cleaner than we were and they forced us to play long. We wasted a lot of energy chasing them all over the place. What energy we had and what hockey sense we were willing to use was wasted quite early by chasing them all over the place.
McLellan 
on if he felt things had maybe calmed down when the Kings tied the game at one
Well, we got a chance our goaltender played well in the first period. We talked about it, we?re down one but we?re still in the game so we?ve got to be thankful for that. I thought when we came out in the second, we got back to probably what we were supposed to be, created a few opportunities, scored on the powerplay but the three goals bang, bang, bang really put a dagger in us. Those are preventable but not tonight.
McLellan 
on the decision to go with 11 forwards and 7 defensemen tonight
Well, we decided to go 11 and 7, we wanted to play that. We wanted to get Clarkie into a game and we thought it would be good idea.

​

Subject To Change
FORWARDS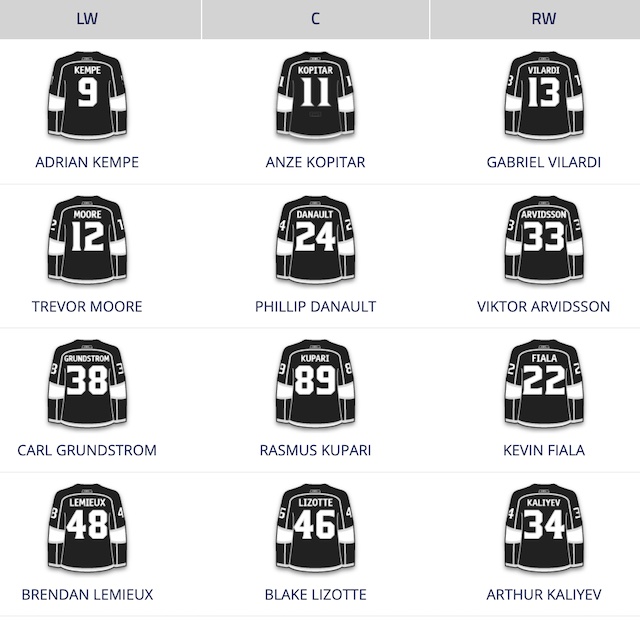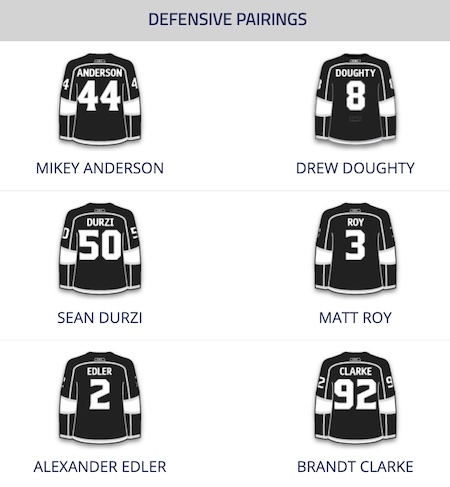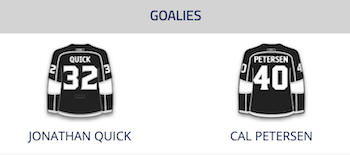 Kings Injuries
Alex Iafallo (LTIR)
Quinton Byfield (illness)
___________________________________________
___________________________________________
Blackhawks Probable Lineup
courtesy of dailyfaceoff.com
FORWARDS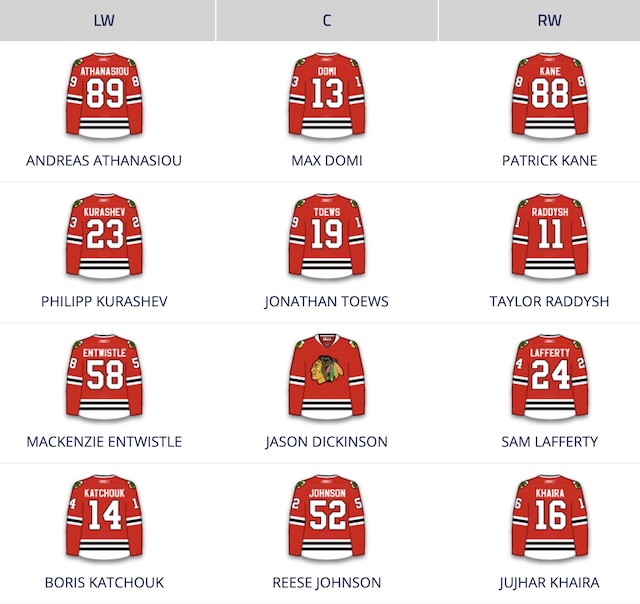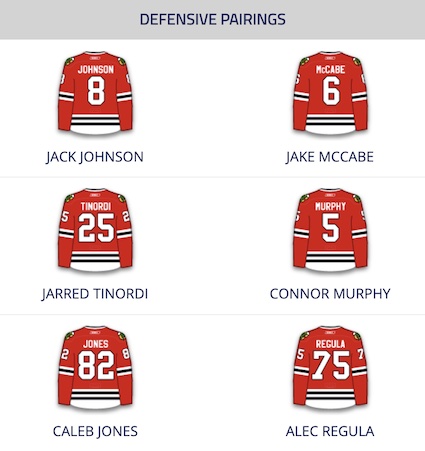 Former Kings
Andreas Athanasiou

Jack Johnson

____________________________________________
____________________________________________
GOALIE STATS

PLAYER STATS
Click Here For More Stats & Rosters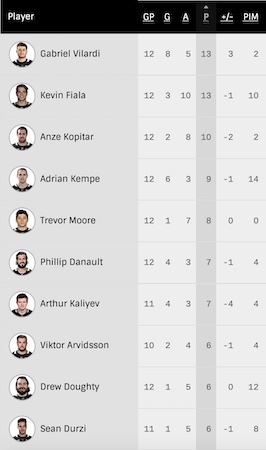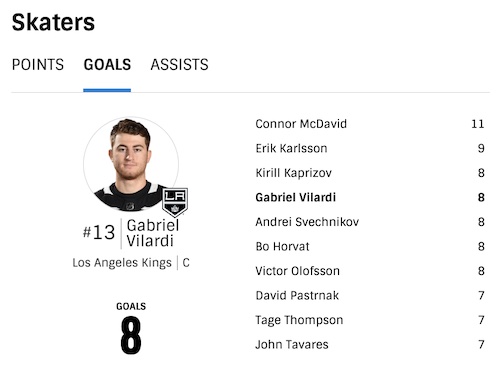 PACIFIC DIVISION STANDINGS
Tonight?s Poll Question:
How many total points will be scored by ALL PLAYERS who also played on either the Hawks or Kings during their Cup winning seasons - even if they were not on the team when a Cup was won? (so, that?s Kane, Toews, Jack Johnson, Kopi, Doughty, Quick)
You can take 3 guesses
Take your best guesses in your post below.
The only prize is the glory of seeing your name in the next GDT if you get it right.
Previous Game?s Winners
Congratulations to the following posters who correctly guessed within +/-3 of 32 shots on goal and/or came up with a 2 game goal total of 7:

7 Total Goals (1 point):
Clif
DRGinLBC
Helvetica
Rusty
John a90
DRice
empire
LeftyKing
forum gold
RoS
pray4mojo
Sevenhole
JETS GARAGE
Liz4LA
Dr. Tran
KHenry14
29,35 SOG (1 Point)
Helvetica
forum gold
SirJW
beedee
waynet
30, 31, 33, 34 SOG (2 points)
HTK
Clif
kopinator
DRGinLBC
srm1105
Sonnyboy11
randdog
LeftyKing
KHenry14
Kurisu
Bill Hicks
Rusty
Liz4LA
hornman
hihocarp
32 SOG (3 Points):
Chateau Bow Wow
AngelEyes
John a90
beady eye
RoS
JETS GARAGE
Poll Win Totals
***NOT COMPLETELY UPDATED****
King Of The Mountain
with

12

points:
Clif
RoS
11 Points
John a90
10 Points
DRGinLBC
hornman
Liz4LA
Rusty
VegasHockey
8 Points
LeftyKing
7 Points
Kurisu
6 Points
AngelEyes
Bill Hicks
Helvetica
srm1105
5 Points
beady eye
dannybuoy1
forum gold
4 Points
CIrvine
Sevenhole
3 Points
Chateau Bow Wow
Dr. Tran
empire
jammer 06
kopinator
pray4mojo
randdog
SirJW
sonnyboy11
TooCool
2 Points
05/29/93
beedee
Busted Chops
Dexter
Drice
JETS GARAGE
KHenry14
kingsmen93
notbob
Nyssa42
salami
waynet
1 Point
Byron
HTK
kingrussell
PuckMaster
Rinkrat
Rogie-Vachon
STONE
***Get, Give, & Bet your karma in geogirl?s KARMA BETTING THREAD HERE***
________________________________________________
​