jammer's overlord
Staff member
TEAM LGK
Joined

May 10, 2012
Messages

12,849
LGKash:

$550.00

Game Day Thread
Game #75/82 -- 4/12/22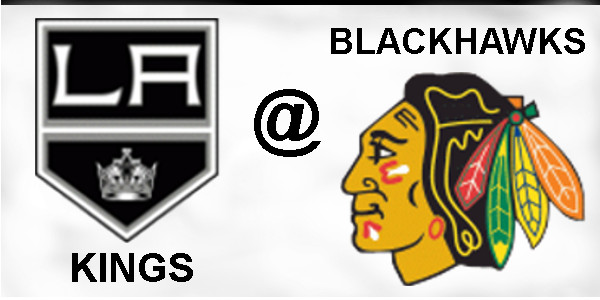 Los Angeles Kings @ Chicago Blackhawks
United Center | Chicago, IL
Pride Night
Previous Meetings
03/24/22 -
Blackhawks 4
, Kings 3 (SO)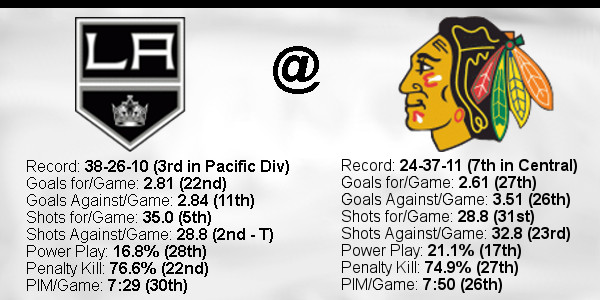 TV:

**KCOP Ch 13**



Radio: LA Kings iHeartRadio app
Please remember,
DO NOT
post links to Live Game Streams in the GDT or anywhere else on LGK
Check out articles on LA Kings Insider Here
Todd MacLellan & Phillip Danault (video) 4/7/22 Post Game Quotes
Link to Phillip Danault Video
​​https://twitter.com/i/status/1513305573072248835

Todd McLellan
On the areas of the game that the Kings try to focus on when things start to snowball
[Structure and leadership], but our identity, we've talked a lot about that over the last month and a half, ever since we ran into this injury rash. Our identity and our structure are supposed to take care of us, but it's not right now. We're supposed to be a team that checks well and defends, we didn't do that tonight, to a man.
On reinforcing calmness to players who haven't played in a game like that before
Young and old, it's not just the kids. They are obviously experiencing something like that for the first time, the older players have been around, but you go back to simplicity, basics, preventing outnumbered rushes, being good around your net, winning faceoffs. All of those areas we gave up a goal tonight. You score a power-play goal, you score a shorthanded goal, you get a 3-0 lead on the road, there's no reason why you're not in it at the end of the night and we weren't. Really disappointing.
On the goals conceded and their impact on the game
We shoot the first one in our own net, but we can recover from that. We had a real good early penalty kill, didn't want to be shorthanded a minute into the game, but it worked out for us, we got the shortie. The penalty kill was going well and we shot it in our own net. It's the second one that really hurt. Miscommunication, net front, two D on the same player and not widening out and a hell of a shot. I thought the turnover on the third [goal], I think Toby turned it over, that's the one that really hurt, because we can settle things down, we just had a break and that third one hurt. Fourth one off the faceoff, again coverages, forwards going out to the point and it was Toby again that needed to step up and he didn't get it done. Those hurt and we didn't recover from it.
On Blake Lizotte's return tonight
I thought, out of all the guys we brought back into the lineup, it's three now, Edler came back in and wound up going back out, but of the three that were in the lineup, I thought he probably did the best job of coming back in, but he's had the shortest term of [injured] time. He's a pretty trusting player, we protected him a little on the penalty kill early in the game, I think he had 10, 11 minutes. I thought he's done a real good job, seems to be getting better as time goes on as well.
On the shorthanded goal, both tonight and over the last stretch of games
Well, they should be big, as I mentioned earlier, you score a shortie to start with and you get one on the power play five seconds in, probably not a lot of games that teams are losing in the National Hockey League when that happens. But, when you don't check well, you don't breakout well, when you're not good around your net, when your details erode, a team like Minnesota and some of the other upper-echelon teams can punish you and they did that.
On if he is hopeful to have Alex Edler back against Chicago on Tuesday
We're sure hoping so. We've got eight games left. We'll do anything to get anybody healthy, it's as simple as that. I can keep answering these injury questions, when will guys be back, when you see them on the ice, that's when they're going to be back. I can't rush it by answering questions, the trainers can't rush it, it's just mother nature dictates the healing process. When they're ready, they're ready, but when they're ready physically, they're not always ready to play, but we're running out of time.

​

Subject To Change
FORWARDS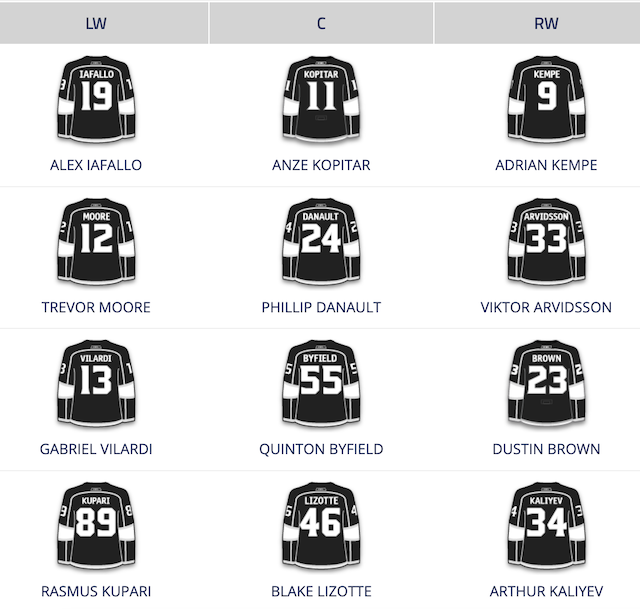 Kings Injuries
Mikey Anderson (LTIR)
Andreas Athanasiou (IR)
Drew Doughty (IR)
Sean Walker (LTIR)
__________________________________________________
__________________________________________________
Blackhawks Probable Lineup
courtesy of dailyfaceoff.com
FORWARDS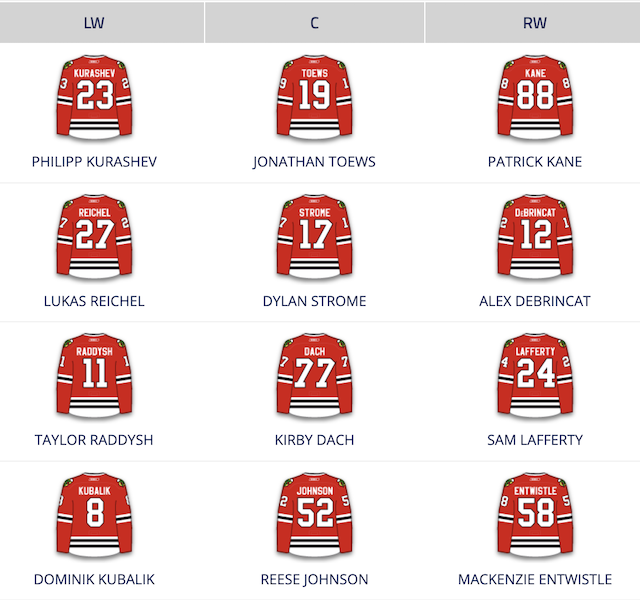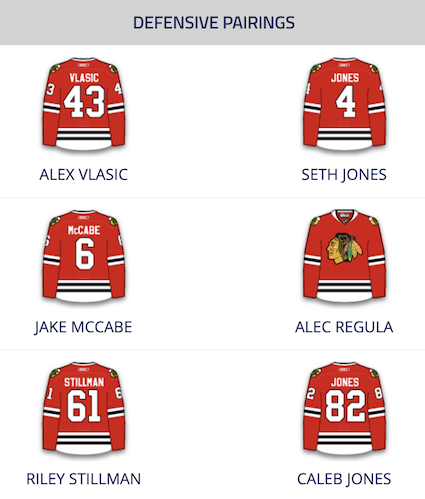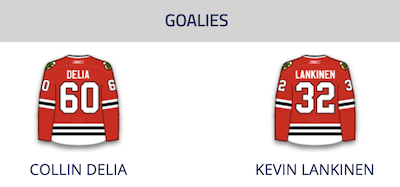 NO Former Kings
________________________________________________
_________________________________________________
GOALIE STATS

PLAYER STATS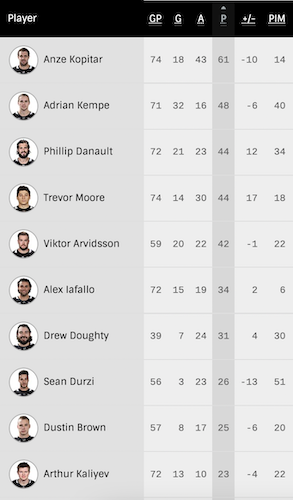 WESTERN CONFERENCE WILD CARD STANDINGS
Tonight's Poll Question:
5:30pm start on KCOP Ch13
Part 1 - who is going to score the first goal for the Kings?
Part 2 - who is going to score the first goal for the Blackhawks?

You can take 4 guesses per team. 1 point for each correct answer.

Previous Game's Winners
Congratulations to the following posters for correctly guessing both teams would tally 3 goals in the 2nd period and 1 goal in the 3rd period in the previous game. Nobody guessed 5 goals total in the first: (* = 2 point winner)
Second Period 3 goals (1 point):
Dr. Tran
LeftyKing
sonnyboy11*
Helvetica
forum gold*
Chateau Bow Wow
Bill Hicks
Shackleford
Nyssa42*
1 goal in the third (1 point):
Kurisu
DRice
STONE
jammer06
hihocarp
DRGinLBC
sonnyboy11
Rusty
pray4mojo
forum gold
hokiecat
VegasHockey
Rogie-Vachon
Liz4LA
Nyssa42
Poll Win Totals
King Of The Mountain
with

51

points:
srm1105
50 Points
VegasHockey
47 Points
AngelEyes
LeftyKing
Liz4LA
sonnyboy11
46 Points
John a90
45 Points
44 Points
Reg or Rog?
43 Points
Bill Hicks
DRice
Kurisu
42 Points
pray4mojo
41 Points
hokiecat
40 Points
Chateau Bow Wow
jammer06
Rusty
39 Points
38 Points
Helvetica
hornman
Nyssa42
37 Points
36 Points
Dr. Tran
35 Points
notbob
34 Points
Busted Chops
JayWells24
33 Points
Shackleford
32 Points
KHenry14
kingrussell
Rogie-Vachon
31 Points
30 Points
29 Points
Byron
dannybuoy1
28 Points
27 Points
forum gold
SirJW
STONE
26 Points
CIrvine
empire
25 Points
24 Points
23 Points
Sevenhole
22 Points
21 Points
20 Points
Clif
randdog
19 Points
DRGinLBC
JETS GARAGE
TooCool
18 Points
17 Points
16 Points
cokingsfan
15 Points
14 Points
13 Points
beedee
Dirtweazle
PuckMaster
12 Points
11 Points
Greg33
kopinator
10 Points
beady eye
9 Points
kingsmen93
8 Points
7 Points
MaxwellSmart
6 Points
Joe Laviguer
5 Points
waynet
4 Points
3 Points
hihocarp
2 Points
Ice24
rinkrat
1 Point
Ecktore
lurker
MBreeden
Ragbone
RoS
Salami
Stormy2213
***Bet your karma in geogirl's KARMA BETTING THREAD HERE***
________________________________________________
Sorry there are no photos - something is wrong with the NHL website - no pics available​
Last edited: