jammer's overlord
Staff member
TEAM LGK
Joined

May 10, 2012
Messages

12,768
LGKash:

$450.00

Game Day Thread
Game #4/82 -- 10/17/22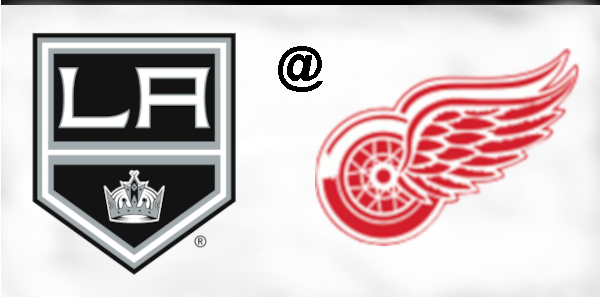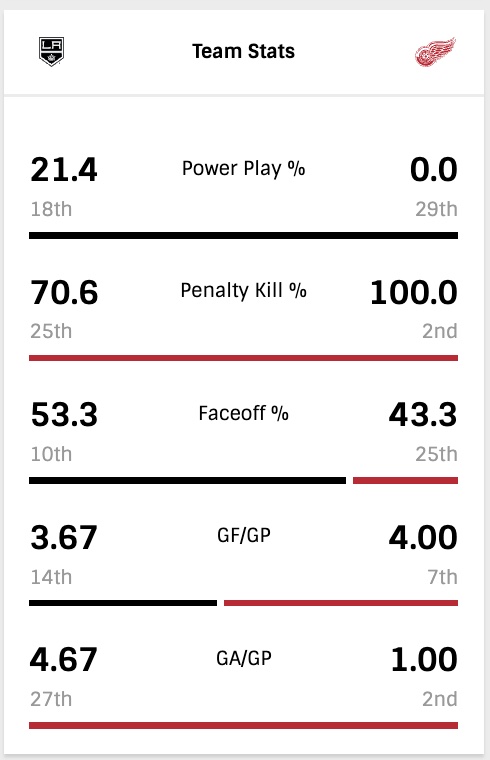 LA Kings @ Detroit Red Wings
Little Caesars Arena | Detroit, MI
Last Season's Meetings
02/02/22 –
Kings 5
, Red Wings 3
01/08/22 – Red Wings 0,
Kings 4
**Game Time 4:00pm Pacific**
​

TV:

**BSW**



Radio: LA Kings iHeartRadio app
Please remember,
DO NOT
post links to Live Game Streams in the GDT or anywhere else on LGK
Check out articles on LA Kings Insider Here
Adrian Kempe & Todd MacLellan 10/15 Post Game Quotes
Adrian Kempe on a different sort of game tonight, but getting the win
Yeah, offensively it was a good game for us, especially after the first couple games when we didn't really feel like we had enough offense going, so that was a step in the right direction. On the other side of the puck, I think we still have some things we've got to improve, but I think we deserved the win tonight. If it was 1-0 of 7-6, it doesn't matter right now, this was a huge first win and we got better in all three zones. Good thing and a good win for the team.
Kempe on the power play clicking as it did tonight
Yeah, for sure, and I think we showed a lot of that in preseason. In the first couple of games, I feel like you're trying to get back into everything, you're a little nervous when you get out there. It felt good out there tonight, I thought both units looked good. Somethings we can keep building on.
Kempe on getting the response goals the team did tonight
Yeah, huge, I mean that's momentum. The way you can get that back, it's huge. I think we invited them, including myself, too many penalties tonight, so that's something we've got to improve still. PK did a good job at the end, in the third, which is huge. We're all excited about the game.
Kempe on Kevin Fiala tonight and the play of his line
Yeah, we had some more looks, we've played a couple of games together now, we're trying to figure each other out through the first couple of games. When you start to figure it out, you know where each other is on the ice. We had some good chances so far in the first three games and we got a couple of good ones tonight.

Todd McLellan on the first win of the season and a 7-6 game
I think if you told us we were going to score seven goals, I'd have been jumping for joy. It's the giving up six that isn't the ideal recipe and that's a really hard game to explain. I'm not sure that we're going to give six goals up and win a game again this year, so that's the negative side of it. The positive is we found ways to score seven. Strange night, maybe that's what we needed to get a win and find a way. Rest and get ready for Detroit.
McLellan on the team having more of a shooting mentality tonight
Yeah, we were, but really, there wasn't a lot of volume both ways. The shots weren't 50 to 49 or anything like that, it just seemed to be going in the net, didn't matter what happened. Whether it bounced or went straight in, it was an odd night for both teams in their zones. I thought both teams did a real good job of penalty killing, yet gave up power-play goals. For a lot of years in the league, this one's tough to explain.
McLellan on the strong performance from the power play in tonight's win
We saw more from our power play tonight than we did in the first two games. We had a lot of changes, we've got new people in new places, we've got some new thoughts and ideas of how it wants to work. It's going to be a work in progress, but you can see little snippets of things that are starting to happen and that's a positive sign. Penalty kill, again, the best penalty killer we can have is not being in the box, I think we're short six times from the beginning of the second period on. That's a terrible recipe for success and we've got to find out a way to solve that and the penalty kill can do a better job.
McLellan on getting response goals twice tonight within a minute of conceding
Important, very important, especially on the road. You can feel the momentum starting to go their way and to come back and have your key players execute and score in those situations is important. Just when the opposition is creeping back into the game and they get nailed with another one, that can do wonders for us. It buys us time to regroup and get our legs underneath us again.
McLellan on the thought of "get us that big save" down the stretch, and a weird game for goaltenders
I would say that, I would say probably both teams were thinking the same thing. Get us the save and we'll get you a goal. Obviously that was the way the night was going and we did give up six, I'm not sure that we can pin them all on Cal Petersen. So, what's important for him is he got a win, he's got some confidence as far as winning goes, and the team got that, but it's pretty evident we have to clean some things up.​

Subject To Change
FORWARDS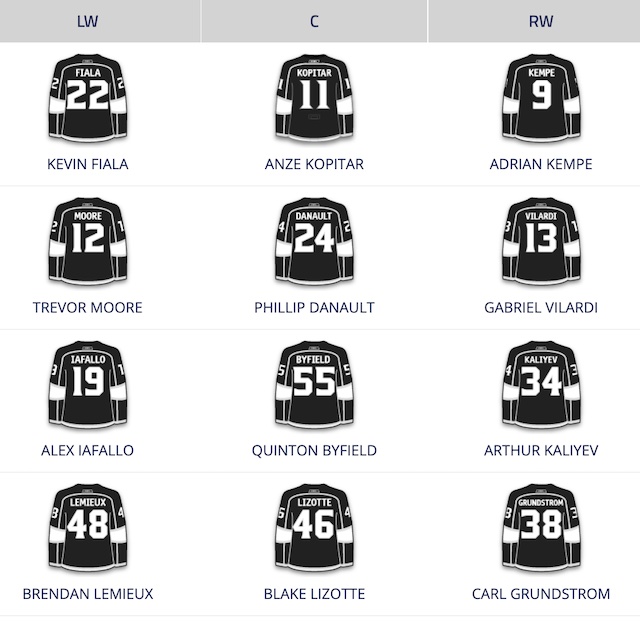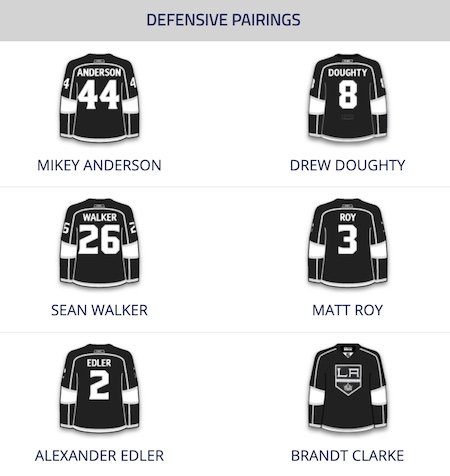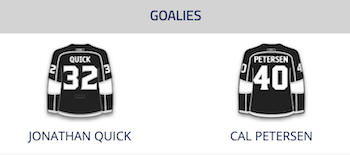 No Kings Injuries
___________________________________________
___________________________________________
Red Wings Probable Lineup
courtesy of dailyfaceoff.com
FORWARDS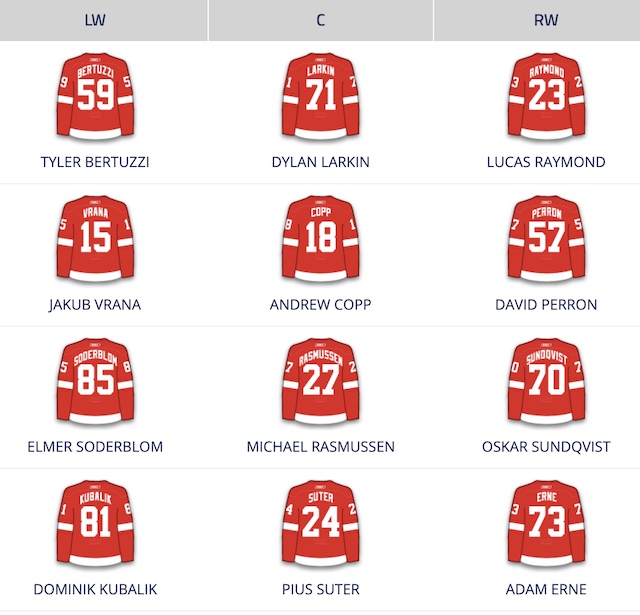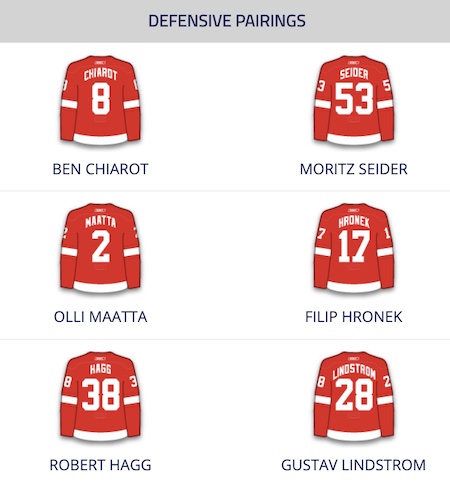 Former King
Olli Maatta

____________________________________________
____________________________________________
GOALIE STATS

PLAYER STATS
Click Here For More Stats & Rosters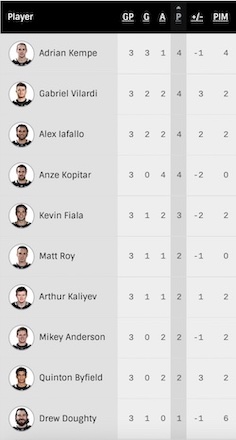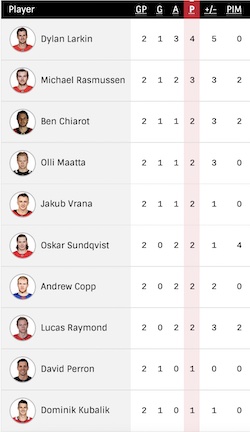 PACIFIC DIVISION STANDINGS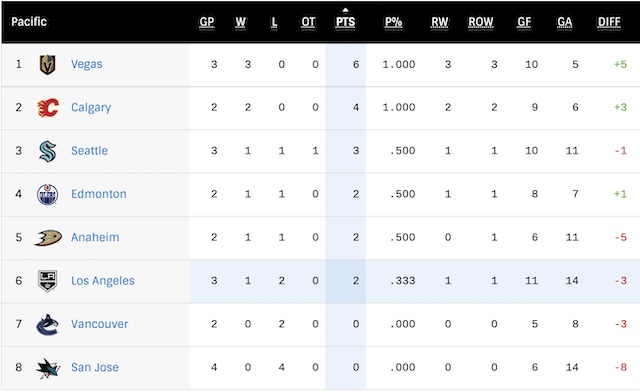 Tonight's Poll Question:
The Red Wings PP is bottom of the league at 0.00% in 9 attempts, and their PK is 100% (on 8 penalties). How many SPECIAL TEAMS GOALS (power play OR shorties) will be scored in tonight's game?
You can take 2 guesses
Take your best guesses in your post below.
The only prize is the glory of seeing your name in the next GDT if you get it right.
Previous Game's Winners
Congratulations to the following posters who correctly guessed the first road goal for the Kings would be scored by Kempe. Nobody guessed 10 total points for the D-men:
DRice
notbob
Kurisu
Chateau Bow Wow
RoS
Clif
srm1105
Helvetica
AngelEyes
forum gold
waynet
Rusty
LeftyKing
empire
John a90
salami
Dannybuoy1
randdog
rinkrat
Sevenhole
Liz4LA
Poll Win Totals
King Of The Mountain
with

4

points:
RoS
2 Points
AngelEyes
Bill Hicks
empire
forum gold
John a90
Kurisu
Liz4LA
Nyssa42
Rusty
salami
VegasHockey
1 Point
05/29/93
beady eye
beedee
Chateau Bow Wow
Clif
dannybuoy1
DRGinLBC
Drice
Helvetica
hornman
HTK
kopinator
LeftyKing
PuckMaster
randdog
Rinkrat
Sevenhole
srm1105
TooCool
waynet
***Bet your karma in geogirl's KARMA BETTING THREAD HERE***
________________________________________________​
Last edited: