jammer's overlord
Staff member
TEAM LGK
Joined

May 10, 2012
Messages

12,809
LGKash:

$450.00

Game Day Thread
Game #19/82 -- 11/16/22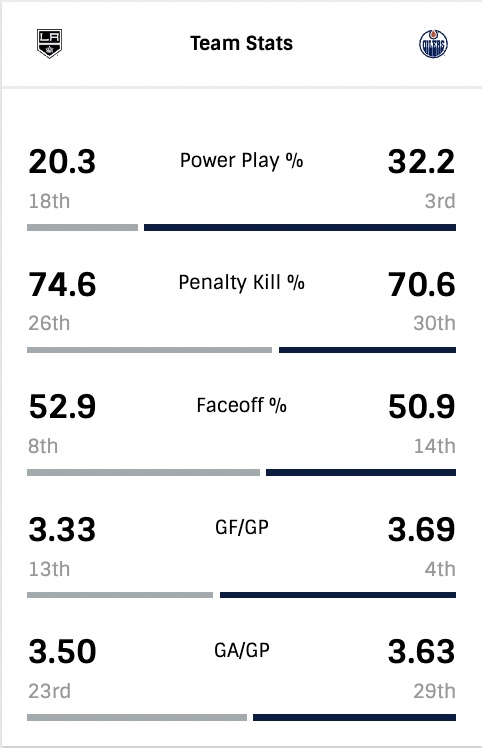 Los Angeles Kings @ Edmonton Oilers
Rogers Place | Edmonton, AB
Last Season's Meetings
Playoffs Round 1 Scores
05/14/22 - Kings 0,
Oilers 2
05/12/22 -
Oilers 4
, Kings 2
05/10/22 -
Kings 5
, Oilers 4 (OT)
05/08/22 - Oilers 0,
Kings 4
05/06/22 -
Oilers 8
, Kings 2
05/04/22 - Kings 0,
Oilers 6
05/02/22 -
Kings 4
, Oilers 3
Regular Season Scores
04/07/22 -
Oilers 3
, Kings 2
03/30/22 - Kings 3,
Oilers 4
(SO)
02/15/22 -
Oilers 5
, Kings 2
12/05/21 -
Kings 5
, Oilers 1
**Game Time 7:00pm Pacific on TNT**
​

TV:

**TNT**



Radio: LA Kings iHeartRadio app
Please remember,
DO NOT
post links to Live Game Streams in the GDT or anywhere else on LGK
Check out articles on LA Kings Insider Here
Phillip Danault & Todd McLellan 11/14 Post Game Quotes
Phillip Danault
 on the disappointment defensively in tonight's game
Yeah, I think we played one of our worst games defensively, we gave up too many rushes. We did that to ourselves and lost the game in the first period. We weren't sharp enough mentally.
Danault
 on a specific area of the game he felt was lacking defensively
It was mistakes that they capitalized on. They're good team and that's what they do all the time, they capitalize on mistakes like that to try and frustrate other teams just like we do.
Danault
 on the character shown to fight back the way they did in the third
A lot of character, obviously we wanted to get better and get back to our game as fast as possible, so we didn't weigh too much on the next game. Obviously it was really close, but a lot of character from our team, big time.
Danault
 on what he feels needs to change heading into Edmonton on Wednesday
Our start has got to be better, defensively we have to be better, move the puck quicker, we have to get open. All-around game, I think. We put this game behind us and we'll keep that third period in mind, we were better than they were [in that period].

Todd McLellan
 on the takeaways from tonight's defeat
Well, we played some pretty shoddy hockey today and despite getting the lead, we weren't real sharp, it showed up in a lot of different areas. We had guys miss line changes, passes through the neutral zone, we had an icing call with two seconds left, missed faceoff coverages. To me, I think the physical part of the game was potentially there early, but the mental part didn't exist at all. Then you get a little desperate, it starts going away but it's too little too late. You can pick any one of the probably 20 moments during the game and eliminate it, it may give us a better chance but we still weren't good.
McLellan
 on the disappointment in odd-man goals against, after fairing well in that area at home
Yepp, that's a simple answer. Can't even really elaborate there, yes.
McLellan
 on what the message was during the timeout in the second period
Just get back to work.
McLellan
 on the resilience shown to be within a terrific save late in the game of overtime, despite the "shoddy" performance
I'm going to answer the obvious, it's good, we didn't roll over and we didn't quit, but the fact that we were in that situation was pretty unique. We were a shot away from at least getting a point on that night, the goaltender made a real good save, but again, I don't think we should lose sight of how this game evolved. Just because we fought back and made it 6-5, there are a lot of things that we have to fix.
​

Subject To Change
FORWARDS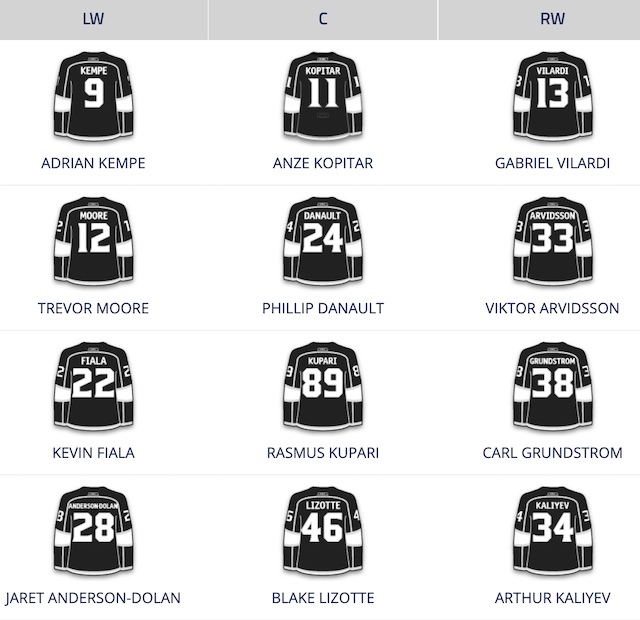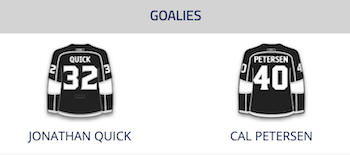 Kings Injuries
Alex Iafallo (LTIR)
Brendan Lemieux (IR)
___________________________________________
___________________________________________
Oilers Probable Lineup
courtesy of dailyfaceoff.com
FORWARDS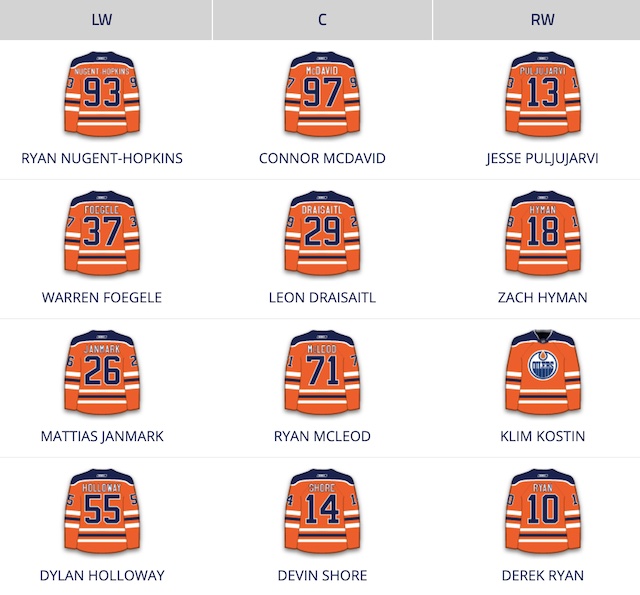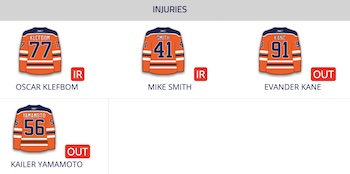 Former Kings
Jack Campbell

____________________________________________
____________________________________________
GOALIE STATS

PLAYER STATS
Click Here For More Stats & Rosters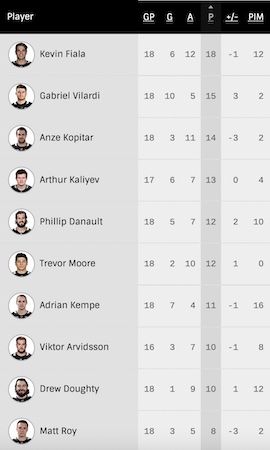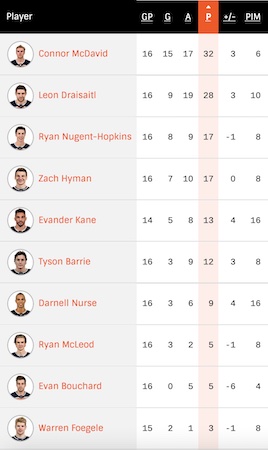 PACIFIC DIVISION STANDINGS
Tonight's Poll Question:
Both the Kings and Oilers are averaging 32 shots per game and stand in 11th & 12th place in the league for Shots per Game. How many TOTAL SHOTS ON GOAL will there be in tonight's game by BOTH TEAMS?

You can take 2 guesses

+/- 2 = 1 point, +/-1 = 2 points, dead on = 3 points

Take your best guesses in your post below.
The only prize is the glory of seeing your name in the next GDT if you get it right.
Previous Game's Winners
Congratulations to the following posters who correctly guessed the former Kings would combine for 4 points. Nobody guessed a final of 6-5:

4 points (1 point)
:
Rogie-Vachon
Nyssa42
Poll Win Totals
King Of The Mountain
with

16

points:
LeftyKing
15 Points
hornman
RoS
VegasHockey
14 Points
AngelEyes
13 Points
Clif
DRGinLBC
John a90
12 Points
Kurisu
Liz4LA
srm1105
11 Points
beady eye
Bill Hicks
forum gold
Rusty
10 Points
randdog
9 Points
Helvetica
8 Points
SirJW
TooCool
7 Points
JETS GARAGE
sonnyboy11
6 Points
beedee
Chateau Bow Wow
dannybuoy1
KHenry14
kopinator
Sevenhole
5 Points
CIrvine
Dr. Tran
Drice
empire
pray4mojo
4 Points
Busted Chops
jammer 06
Nyssa42
Rogie-Vachon
3 Points
hihocarp
HTK
kingrussell
kingsmen93
salami
waynet
2 Points
05/29/93
Byron
Dexter
notbob
PuckMaster
STONE
1 Point
Dirtweazle
Rinkrat
***Get, Give, & Bet your karma in geogirl's KARMA BETTING THREAD HERE***
________________________________________________
​