jammer's overlord
Staff member
TEAM LGK
Joined

May 10, 2012
Messages

12,830
LGKash:

$550.00

Game Day Thread
Game #58/82 -- 02/21/23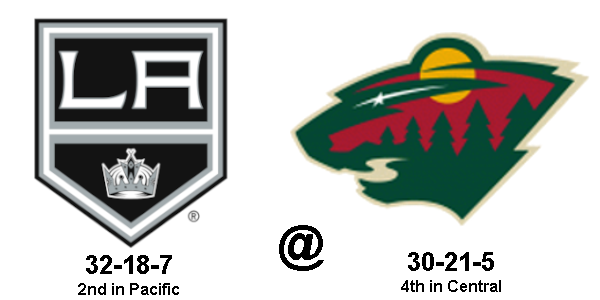 Los Angeles Kings @ Minnesota Wild
Xcel Energy Center | St. Paul, MN
Previous Meetings
11/08/22 - Wild 0,
Kings 1
10/15/22 -
Kings 7
, Wild 6

TV:

BSW



Radio: LA Kings iHeartRadio app
Please remember,
DO NOT
post links to Live Game Streams in the GDT or anywhere else on LGK
Check out articles on LA Kings Insider Here
Phillip Danault, Matt Roy & Todd McLellan 2/18 Post Game Quotes
Phillip Danault on things going downhill after the 5-1 lead
I think it's obviously a big trap, when you take the lead by that much in the first period, on a back-to-back as well, so you can let down a little bit, your guard, and we got caught again. Big character win, we didn't comeback, but a big shootout win, Quickie stood up in the shootout. It was a big win for us.
Danault on what he felt the team focused on to reach overtime after it got to 5-5
It's going to happen for the rest of season too, maybe not a 5-1 lead, but in playoffs. At 5-5, we just got back to our game, which is doing the little details and playing on our toes instead of backing up. Using the excuse that we played yesterday, we didn't want that. Big two points.
Danault on getting Trevor Moore back and his reintegration onto the line
Yeah, I mean, it's going to happen, it's a long season and Mooresy was out for two months, it's hard sometimes to come back in the game, plus everyone's pushing for playoffs. The pace is really fast, it's never easy to come back off an injury, whoever you are, it's going to be hard. He's going to get there, I'm not worried about it at all and as a line, we've got to get back to it.

Matt Roy on the game tonight and how things changed from the first period to the second
It's tough, I thought we had a great first period and that's a team that sticks around and they play to their identity. Credit to them for that. I thought we could have done a better job of shutting it down early, unfortunately we didn't, we took some penalties and they capitalized on those. We were fortunate enough to hang on tonight with the shootout win.
Roy on getting his eighth goal of the season and contributing more offensively
It's something that I've always wanted to do, I want to contribute offensively and I think this year I'm jumping in the play more and picking my spots better. That, along with my teammates and my d-partner Durzi and everyone making their own plays. I guess I'm just getting the bounces and finding the luck this year.

Todd McLellan on the team taking its foot off the gas after leading 5-1
Apparently, for the LA Kings, it's a problem because we were standing here, I don't know, five days ago when we played against Buffalo and I told you I wasn't real happy with some things. Those were the things that we just saw again. So to me, it just goes to show that we've got a lot of work to do. The championship quality or caliber teams don't do that. It's pretty simple. We can talk about structure and players and depth with forwards and the ability to score on the power play, all that type of stuff, but one of the big factors in winning when it all comes down to it is being able to play with a lead. Our team has to improve immensely in that area.
McLellan on how you work on improving in that area when it's a game-specific problem that you can't practice
We talk about it, you can't practice it, the only opportunity you get is in games. We talked about the Buffalo finish the other day, in that situation we're taking penalties with a lead, we're loose. This lead tonight happened fast, it happened bang, bang, bang one after another and then from that point on, we got extremely casual. I'm not sure how we replicate that in practice, it has to come from within the locker room and it didn't tonight.
McLellan on if he feels the team plays differently in front of Quick than they do in front of Copley
No, I don't think so, I don't believe that we do. There's no intent to play differently. We went out and got him a 5-1 lead and if we were ever motivated and wanted to shut it down, it should have been tonight. So in tonight's case, I don't think it has anything [to do with that], in fact I think Quickie perhaps stole us a win in the second period, we were out-chanced I don't know what it was 9-1, 9-2.
McLellan on if he saw anything better when the game got to 5-5, or if the team hung on into overtime
I don't know if we were hanging on, we were playing, but nothing that triggered the turn or anything like that. We had put together probably two good shifts in a row, which hadn't happened in 40 minutes, and then we got on the power play and obviously our power play is something that we believe in right now, so guys got excited again. Then, in overtime, we had the other power play.
McLellan on if he leans on the team's leaders more in situations like this
Yeah, but we keep going to Kopi and Drew, Kopi and Drew and Quickie because they've been here for a long time and won championships, rightfully so. There's another level and another layer in there that has to step up. It used to be Kopi, Drew, Quickie and Brownie. Brownie isn't here anymore, so somebody else step up and get it done. I heard a lot of guys saying the right things. I didn't see a lot of guys doing the right things.

​

Subject To Change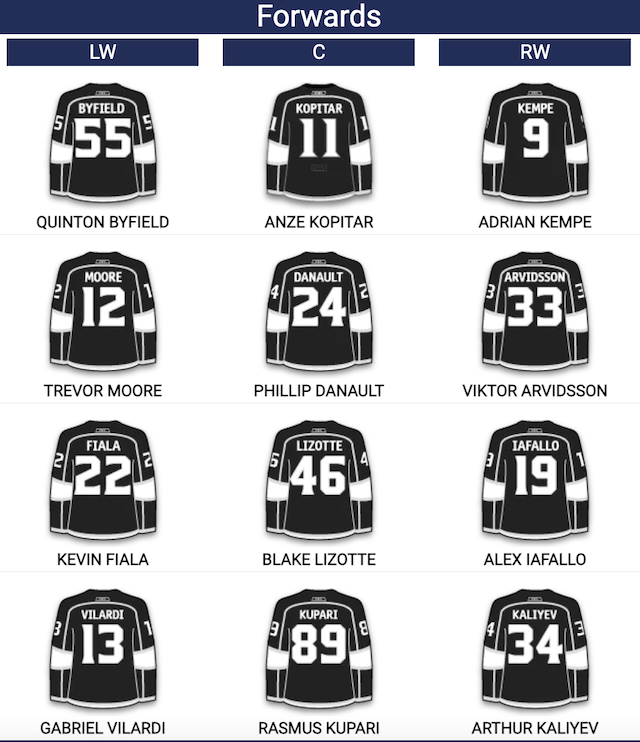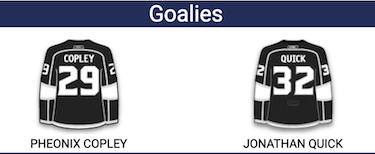 Kings Injuries
Carl Grundstrom (IR)
___________________________________
___________________________________________
Wild Probable Lineup
courtesy of dailyfaceoff.com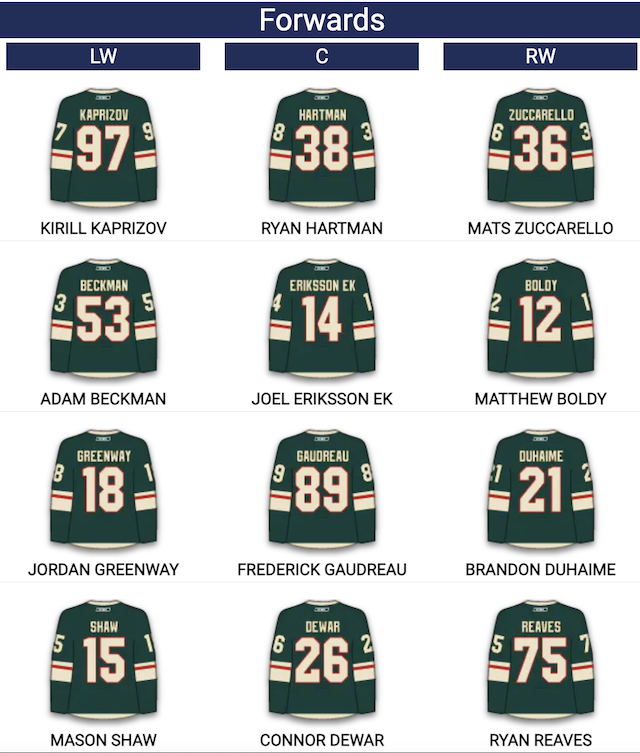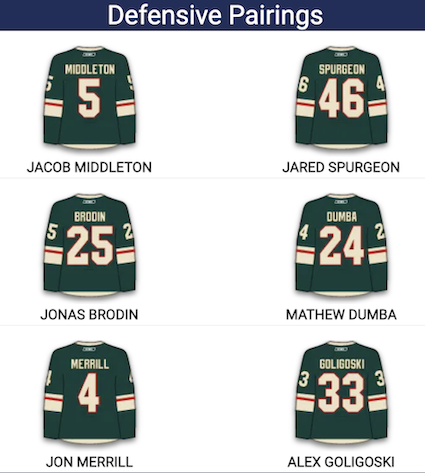 Former Kings Draft Pick
Jacob Middleton

____________________________________________
____________________________________________
GOALIE STATS


PLAYER STATS
Click Here For More Stats & Rosters[/COLOR][/B]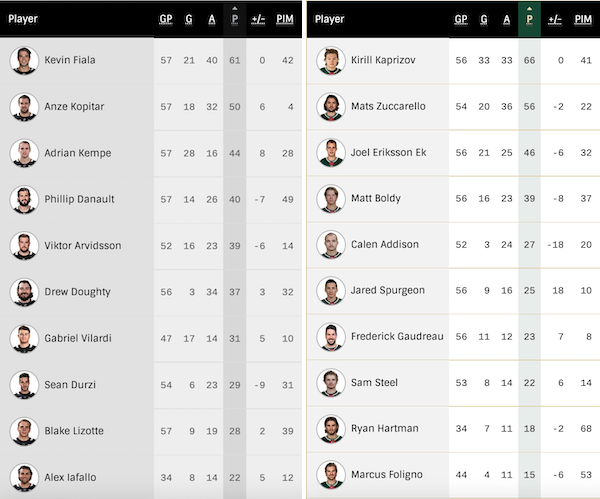 WESTERN CONFERENCE STANDINGS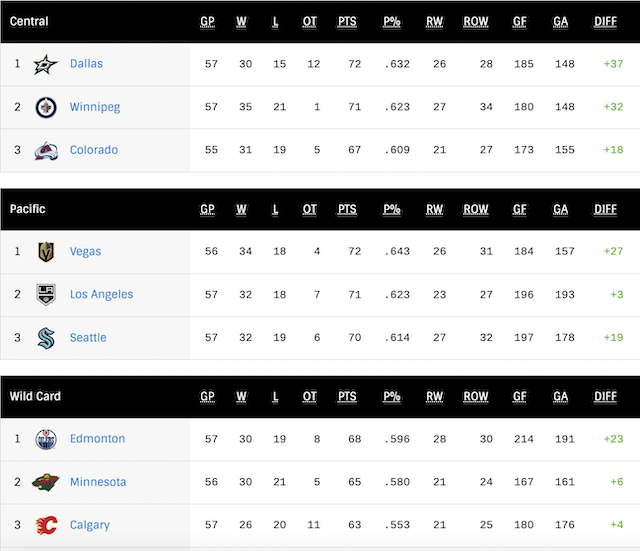 Tonight's Poll Question:

Part 1 - How many total goals will be scored in the FIRST period of tonight's game?

Part 2 - How many total goals will be scored in the THIRD period of tonight's game?

only ONE guess for each part


Previous Game's Winners
Congratulations to the following posters who correctly guessed the teams would combine for 2PPG, and/or 1 goal in the 2nd period:

Both (2 points):
DRice
forum gold
dannybuoy1
John a90
Sevenhole
TooCool
2 PPG (1 Point):
LeftyKing
randdog
AngelEyes
srm1105
Shackelford
sonnyboy11
KHenry14
SirJW
Cross Traffic
Clif
JayWells24
hornman
Bill Hicks
Liz4LA
beady eye
hihocarp
1 Goal in 2nd period (1 point):
Byron
notbob
waynet
Poll Win Totals
King Of The Mountain
with

43

points:
VegasHockey
40 Points
sonnyboy11
39 Points
Kurisu
LeftyKing
srm1105
38 Points
hornman
Rusty
37 Points
Bill Hicks
John a90
36 Points
randdog
35 Points
34 Points
AngelEyes
pray4mojo
33 Points
DRice
forum gold
32 Points
DRGinLBC
31 Points
beady eye
Liz4LA
SirJW
TooCool
30 Points
CIrvine
Helvetica
29 Points
28 Points
Nyssa42
27 Points
jammer 06
26 Points
25 Points
Clif
24 Points
Chateau Bow Wow
23 Points
Rogie-Vachon
Sevenhole
22 Points
dannybuoy1
KHenry14
21 Points
empire
hihocarp
JETS GARAGE
notbob
20 Points
19 Points
waynet
18 Points
RoS
17 Points
16 Points
Dr. Tran
kingsmen93
15 Points
JayWells24
kingrussell
14 Points
Shackleford
13 Points
12 Points
11 Points
Busted Chops
Byron
Cross Traffic
10 Points
kopinator
9 Points
Dirtweazle
8 Points
7 Points
6 Points
beedee
5 Points
4 Points
3 Points
Dexter
HTK
salami
STONE
2 Points
05/29/93
PuckMaster
1 Point
Ice24
RagBone
Rinkrat
***Get, Give, & Bet your karma in geogirl's KARMA BETTING THREAD HERE***
________________________________________________
​
Last edited: