jammer's overlord
Staff member
TEAM LGK
Joined

May 10, 2012
Messages

12,849
LGKash:

$550.00

Game Day Thread
Game #28/82 -- 12/06/22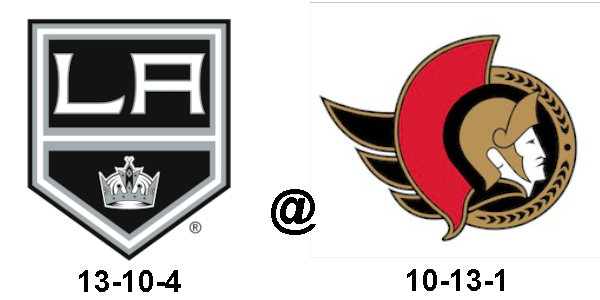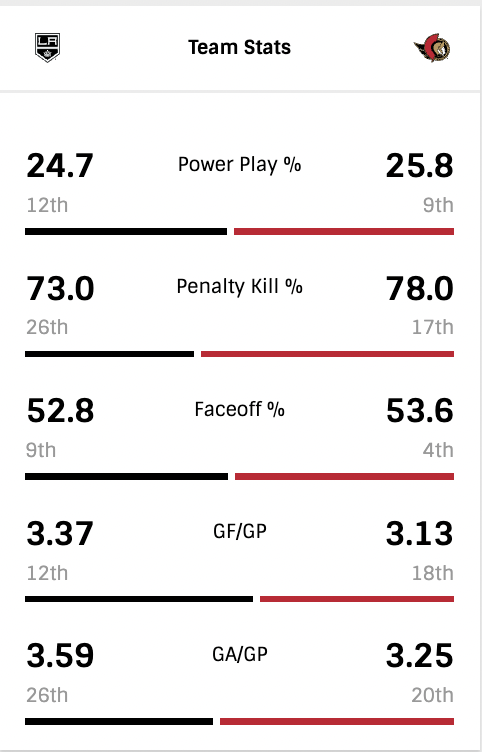 Los Angeles Kings @ Ottawa Senators
Canadian Tire Centre | Ottawa, ON
Indigenous Cultural Appreciation Night
Join us as we celebrate Indigenous culture with special performances and an artisan market.
Previous Meeting
11/27/22 -
Senators 3,
Kings 2 (OT)

TV:

BSW



Radio: LA Kings iHeartRadio app
Please remember,
DO NOT
post links to Live Game Streams in the GDT or anywhere else on LGK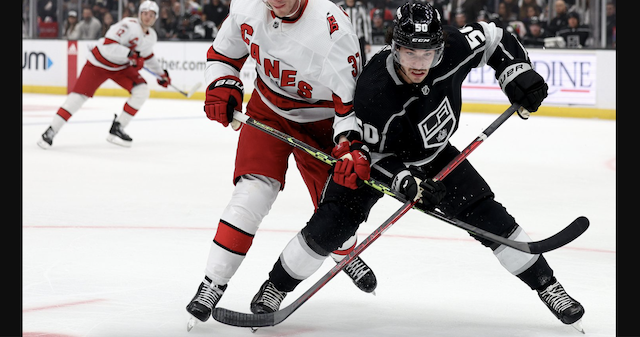 Check out articles on LA Kings Insider Here
Sean Durzi & Todd McLellan 12/3 Post Game Quotes
Samuel Fagemo Video Interview
Sean Durzi
 on what Carolina did well tonight that made life difficult on the Kings
They came out, they worked hard and they got one on the power play there. I thought they played aggressively and they played to their game. That's how it goes.
Durzi
 on if he feels tonight was a bit of a slump for the team
A few bounces here and there and it's a different game, but obviously we have a lot better and that just comes to accountability. That's something we'll look at and we'll be better for.
Todd McLellan
 on his balance between credit to Carolina and disappointment in the Kings game
They're tough team to play against. They play at a high pace, both with and without the puck, which makes it hard in all three zones. I thought we were prepared for it, it took us a little while to figure it out, but when you fall behind with that type of pressure it's tough to come back. We were hurt tonight by long plays, stuff leaving their end and getting skated. Again, we knew that was going to be part of their game but they still executed. When we had those opportunities, we didn't quite finish on them, so as a result you end up with the result we got.
McLellan
 on not burying chances early and how costly that is against this opponent
First of all, they defend real well and they limit opportunities, chances and shots on net. I thought the first period, we were slow and what I mean by that is we weren't skating slow, but our decision to attack at the right time was slow. As we released a shot or a pass, there was always a stick on it and it would get deflected away, we'd be frustrated and away we go. As the game wore on, we got better in that area, but it was obviously too late.
McLellan
 on Samuel Fagemo's play and his first career NHL Goal
Felt bad for him on the one that he had earlier when he hit the post, it was that close, but anytime a young player comes up and gets his first goal it's exciting for not only him but for a lot of people in his world. His parents and friends and girlfriend and everybody that's helped him get to the NHL, it's kind of an "I've arrived" marker, that and that first lap when you play your first game. So, Sammy's arrived, I thought he had a good, strong game tonight. Great to see our bench, we're losing but they're really excited for him, it's a sign of a good, close team
McLellan
 on his thoughts on the team's checking efforts since the 9-8 loss to Seattle
Since then, obviously that night checking wasn't even in the dictionary for both teams, it was that kind of game. None of us were happy, we threw that one out the window, we looked at it a bit but against [Arizona] we checked pretty well. Tonight, we had some good checking moments. The ones that got away on us ended up in the net and it wasn't the goaltender's issue, it was ours and they're a pretty talented team, they don't need many. The ones that got away on them, we came close but not close enough.
McLellan
 on if he got the energy he was looking for from line adjustments in the third period
I think we did, yeah. I thought we got more pace through the middle, a little more speed and against this team, it's a necessity. [Reporter: Is splitting up Kopitar and Kempe something that would be considered moving forward?] There's potential, but it wasn't separating, it was exactly what [reporter] asked, trying to get more speed through the middle than we had in the first few periods.
McLellan
 on Alex Edler's status tonight
Alex was, I'd like to say a healthy scratch, but Alex wasn't going to play tonight, we were going to give him a little bit of a rest but from what I understand he wasn't feeling real good either. Let's not confuse that though, we were going to pull him out so that he could get rest. [Reporter: Is that the plan with Edler, a day off here and there?] We're a third into the season and yeah, we originally planned at the beginning of the year to consider it in back-to-back game situations. Because of injuries, or his own injury, he's had to sit out or play in situations where we didn't anticipate it. He's given us some really good games and he's a big part of our team. We miss him when he's not in the lineup.

​

Subject To Change
FORWARDS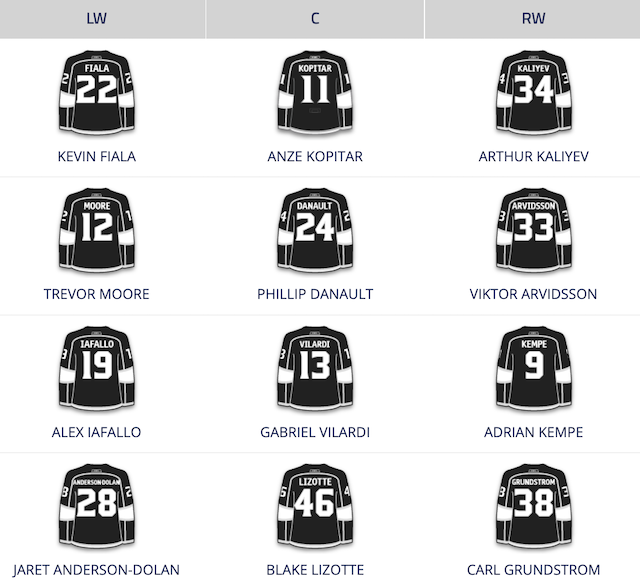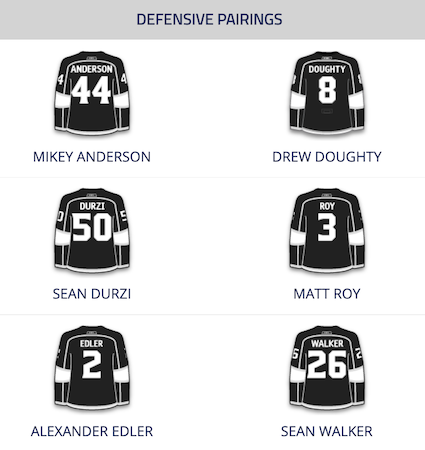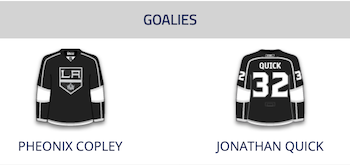 Kings Injuries
Brendan Lemieux (IR)
___________________________________________
___________________________________________
Senators Probable Lineup
courtesy of dailyfaceoff.com
FORWARDS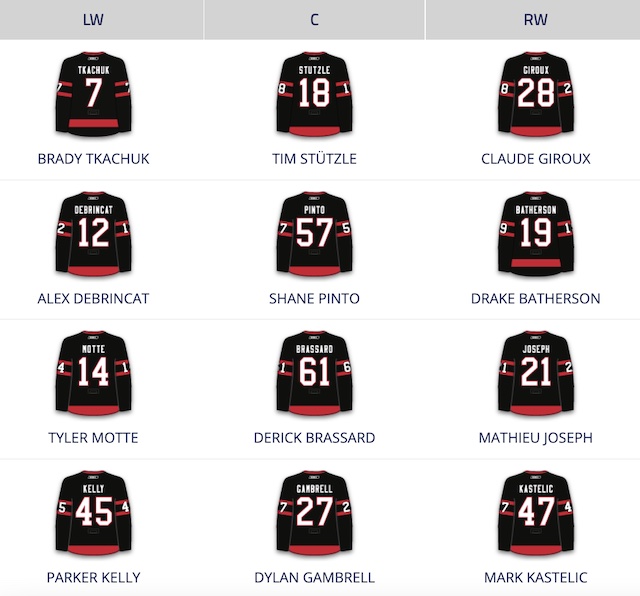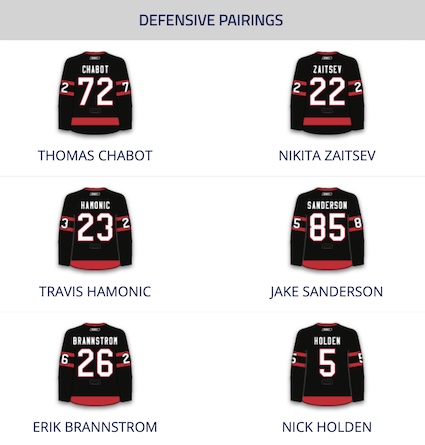 NO Former Kings
____________________________________________
____________________________________________
GOALIE STATS


PLAYER STATS
Click Here For More Stats & Rosters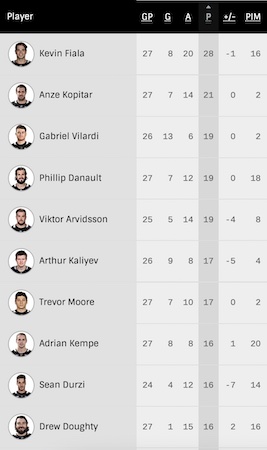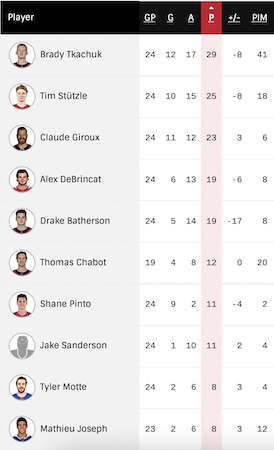 PACIFIC DIVISION STANDINGS
Tonight's Poll Question:
3 Part Question - ONE GUESS PER PART

1. How many total goals will be scored in the 1st period?
2. How many total goals will be scored in the 2nd period?
3. How many total goals will be scored in the 3rd period?

One Guess Per Period - 3 possible points
Take your best guesses in your post below.
The only prize is the glory of seeing your name in the next GDT if you get it right.
Previous Game's Winners
Congratulations to the following posters who correctly guessed there would be 2ppg's and/or were within +/-1 min of 7:46 of man advantage time per the gamesheet:

2PPG (1 point):
Kurisu
DRice
RoS
srm1105
KHenry14
sonnyboy11
CIrvine
SirJW
beady eye
hihocarp
randdog
VegasHockey
Bill Hicks
pray4mojo
Rusty
hornman
7:36-7:56 (3 points):
hihocarp
randdog
7:16-8:16 (2 points):
Kurisu
srm1105
sonnyboy11
waynet
6:46-8:46 (1 point):
pray4mojo
Rusty
TooCool
notbob
Clif
Liz4LA
kingsmen93
Poll Win Totals
King Of The Mountain
with

20

points:
LeftyKing
19 Points
beady eye
hornman
srm1105
18 Points
DRGinLBC
Kurisu
RoS
17 Points
Bill Hicks
Liz4LA
VegasHockey
16 Points
AngelEyes
John a90
randdog
Rusty
15 Points
Clif
SirJW
14 Points
forum gold
13 Points
Helvetica
sonnyboy11
12 Points
TooCool
11 Points
10 Points
empire
hihocarp
Nyssa42
pray4mojo
9 Points
Chateau Bow Wow
Drice
JETS GARAGE
Sevenhole
8 Points
dannybuoy1
KHenry14
waynet
7 Points
CIrvine
jammer 06
kopinator
notbob
6 Points
beedee
Dr. Tran
kingsmen93
Rogie-Vachon
5 Points
Busted Chops
kingrussell
4 Points
3 Points
Byron
HTK
salami
STONE
2 Points
05/29/93
Dexter
Dirtweazle
PuckMaster
1 Point
Rinkrat
***Get, Give, & Bet your karma in geogirl's KARMA BETTING THREAD HERE***
________________________________________________
​
Last edited: