jammer's overlord
Staff member
TEAM LGK
Joined

May 10, 2012
Messages

12,815
LGKash:

$450.00
***LA Kings @ Seattle Kraken GDT 04/01/23 7:00pm on >>BSW *note change*<<***

Game Day Thread
Game #76/82 -- 04/01/23
Los Angeles Kings @ Seattle Kraken
Climate Pledge Arena | Seattle, WA
Tonight's Giveaway: Hoist The Colors Hand Flag
Previous Meetings
11/29/22 —
Kraken 9
, Kings 8
11/19/22 — Kings 2,
Kraken 3
10/13/22 —
Kraken 4
, Kings 1
**Game Time 7:00pm on BSW**
​

TV:***BSW***

Radio: LA Kings iHeartRadio app
Please remember,
DO NOT
post links to Live Game Streams in the GDT or anywhere else on LGK
Check out articles on LA Kings Insider Here
Alex Iafallo (video), Alex Edler, Matt Roy & Todd McLellan 3/30 Post Game Quotes
Watch Alex Iafallo's Post Game Interview Here
Alex Edler on the battle and competitive nature in tonight's game
Yeah, it was a tight game. I thought both goalies played really well.
Edler on the adjustments you have to make when you go down to five defensemen
You just have to keep it simple and keep your shifts short.
Edler on pushing through the injuries the Kings have right now
It's never good when you have guys injured, when you have played like that injured, but it's part of it. That's how it happens sometimes and we still have a lot of players to go in. That's what we've got to do.

Matt Roy on his takeaways after a hard-fought game
It felt like a playoff game out there. I think both teams kind of approached it the same way, it was a hard-fought game. I think we had a lot of chances, we need to bear down on a few of them and hopefully it will be a different game.
Roy on if he felt the group as a whole got the looks they wanted throughout the game
Yeah, I think maybe a little slow start, they came out with some energy and I think we weathered the storm. I thought the second and third were pretty good and we just couldn't cash in with a goal.
Roy on if you have to make any adjustments when down to five defensemen
I think you've just got to focus on the details a little more. I think you need to focus on your shift length, just maybe not pushing things harder than you would normally. You don't start jumping up too much, offensively, you kind of have to pick your spots. Other than that, you need to just go out there and play like any other game.
Roy on the team's overall play at the defensive end of the rink
I thought we played, as a team, pretty well. Everyone was playing their positions well and we didn't give them too much, I don't think. Hopefully next week, it'll be a different result.

Todd McLellan on his general takeaways from the 60 minutes tonight
It was a hell of a game. Both teams played really hard, it came down to a bounce or a break or two and they were able to score. We had some real good looks, ran into a hot goaltender and didn't quite get over the goalline, but I thought it was a heck of a night.
McLellan on how the planning changes when down to five defensemen
Trent Yawney did a really good job of working five defenseman through for 59 minutes and they did a hell of a job. They're not an easy team to defend against, the forwards helped them out a lot and the goaltender made saves when he needed to. Again, it was a heck of a game and it could have went either way.
McLellan on the play of the five defensemen in Anderson's absence
Well, it puts a lot of pressure on five defenseman and it takes pairs out of their normal rotation, but I think we're fine in that situation. You wouldn't want to get into double or triple overtime in that situation but each of the five handled their minutes really well, they defended well, got off when they could and got fresh guys out.
McLellan on playing without injured players at this time of the season
We have some now, we'll have some a week from now, we'll have some two months from now. There's nothing we can do. If there's one team that's prepared for that, it's ours, we went through the whole season last year. So, next guy up, let's go.
​

Subject To Change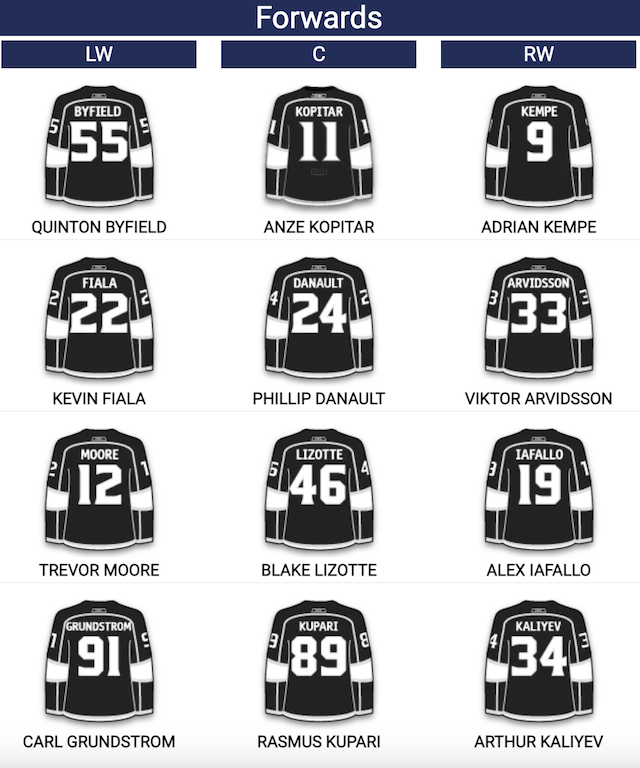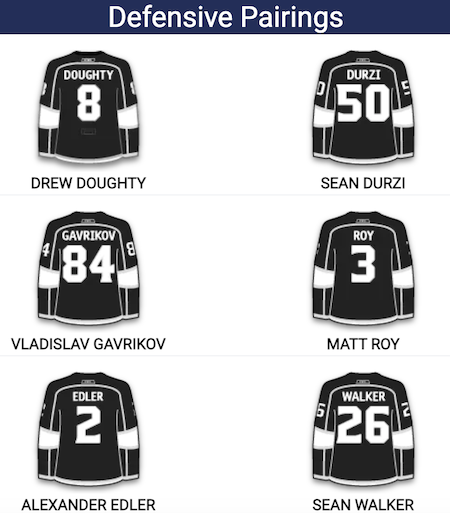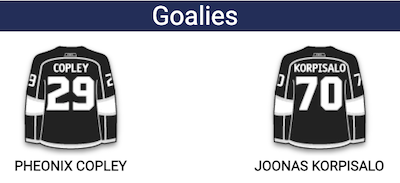 Kings Injuries
Mikey Anderson
Kevin Fiala
Gabe Vilardi (D2D)
___________________________________
___________________________________________
Kraken Probable Lineup
courtesy of dailyfaceoff.com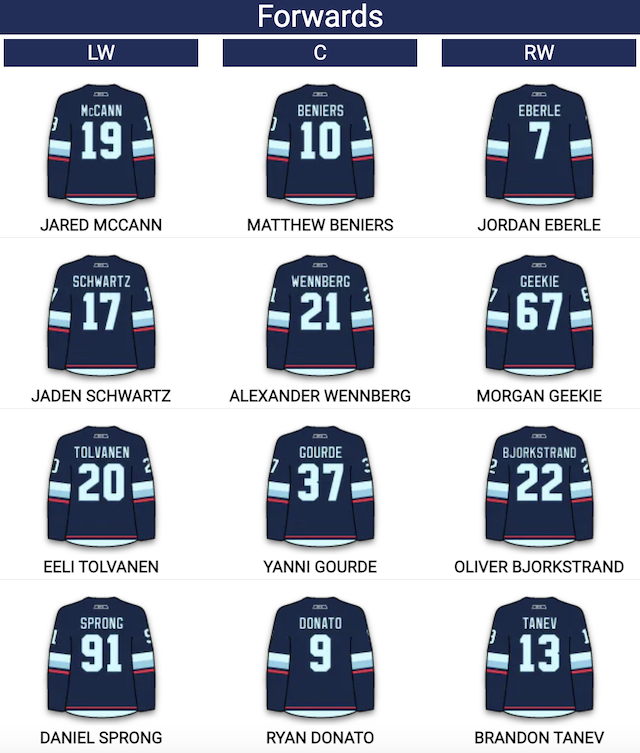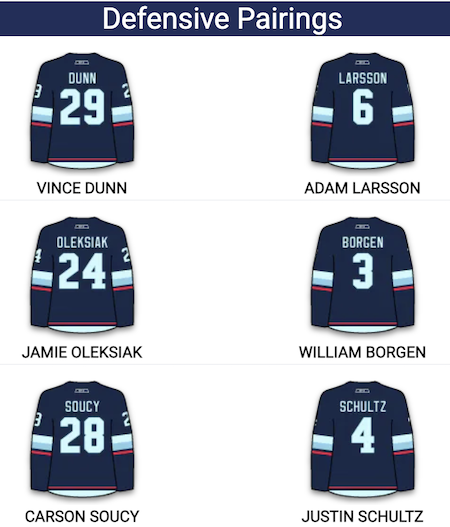 Former King
Martin Jones
___________________________________________
____________________________________________
GOALIE STATS


PLAYER STATS
Click Here For More Stats & Rosters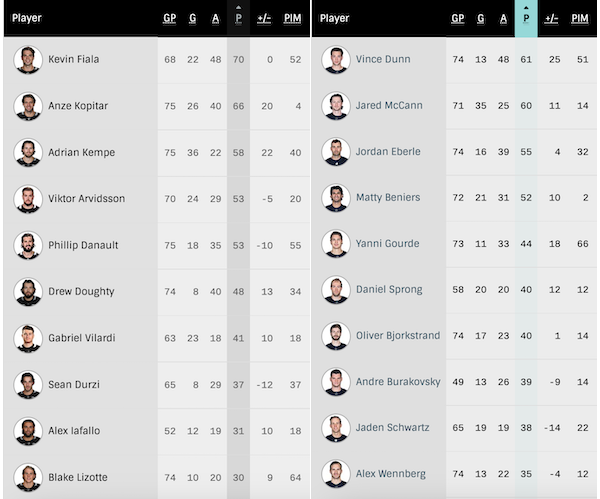 WESTERN CONFERENCE STANDINGS
Tonight's Poll Question:
Part 1 - How many SAVES will the Kings goalie make tonight?

Part 2 - How many SAVES will the Kraken goalie make tonight?

Only ONE guess per part.
+/-2 = 1 point, +/-1 = 2 points, Dead On = 3 points
(so 6 total points available!)
Previous Game's Winners
no winners for last game until after Tuesday's game
Poll Win Totals
King Of The Mountain
with

57

points:
VegasHockey
55 Points
srm1105
51 Points
Kurisu
LeftyKing
Rusty
50 Points
sonnyboy11
49 Points
AngelEyes
48 Points
47 Points
Bill Hicks
hornman
46 Points
DRice
John a90
45 Points
randdog
44 Points
forum gold
43 Points
Chateau Bow Wow
pray4mojo
42 Points
beady eye
DRGinLBC
41 Points
CIrvine
jammer 06
Liz4LA
SirJW
TooCool
40 Points
Helvetica
39 Points
38 Points
37 Points
36 Points
35 Points
34 Points
Nyssa42
33 Points
32 Points
31 Points
dannybuoy1
hihocarp
Rogie-Vachon
30 Points
JETS GARAGE
notbob
29 Points
28 Points
empire
27 Points
26 Points
Clif
KHenry14
kingsmen93
25 Points
JayWells24
24 Points
23 Points
Sevenhole
22 Points
kingrussell
Shackleford
21 Points
Dr. Tran
20 Points
waynet
19 Points
18 Points
Byron
RoS
17 Points
Cross Traffic
16 Points
15 Points
14 Points
13 Points
12 Points
11 Points
Busted Chops
10 Points
kopinator
9 Points
beedee
Dirtweazle
8 Points
7 Points
6 Points
5 Points
Dexter
4 Points
3 Points
HTK
salami
STONE
2 Points
05/29/93
jneol67
Joe Laviguer
KingzLA
PuckMaster
puckoff
SaltyPuck
1 Point
cokingsfan
HiFi
Ice24
mugs
RagBone
Rinkrat
twistedwrister
***Get, Give, & Bet your karma in geogirl's KARMA BETTING THREAD HERE***
________________________________________________
​
Last edited: