jammer's overlord
Staff member
TEAM LGK
Joined

May 10, 2012
Messages

12,842
LGKash:

$550.00
***Playoffs Rd 1, GM 6 GDT - Oilers vs. Kings 4/29/23 >>7:00pm<< on BSSC & TBS***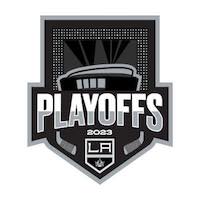 PLAYOFFS Game Day Thread
Round 1, Game 6
4/29/23
TONIGHT'S GAME IS ON BALLY SPORTS SOCAL & TBS
at 7:00pm Pacific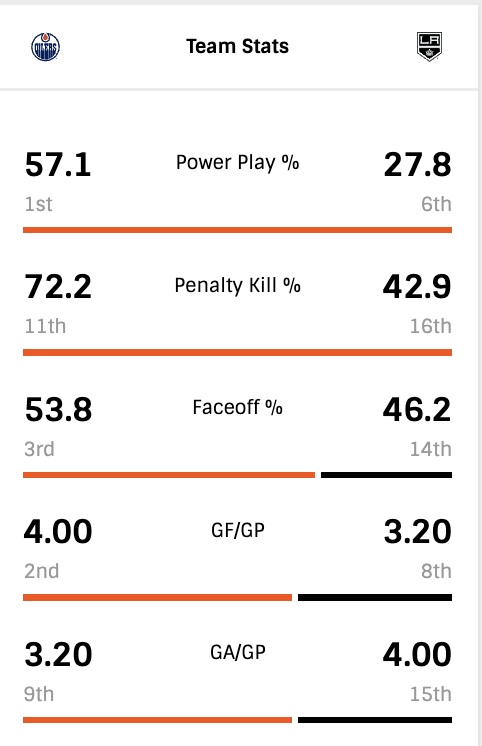 Edmonton Oilers vs. Los Angeles Kings
at

| Los Angeles, CA
Fan Fest Starts at 4:00pm at LA Live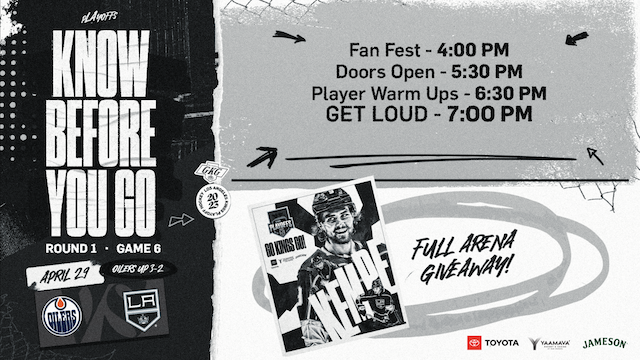 OILERS LEAD SERIES 3-2
Previous Meetings
04/25/23 — Kings 3,
Oilers 6
04/23/23 —
Oilers 5
, Kings 4 (OT)
04/21/23 — Oilers 2,
Kings 3
(OT)
04/19/23 — Kings 2,
Oilers 4
04/17/23 —
Kings 4
, Oilers 3 (OT)

TV:

**BALLY SPORTS SOCAL & TBS**



Radio: LA Kings iHeartRadio app
Please remember,
DO NOT
post links to Live Game Streams in the GDT or anywhere else on LGK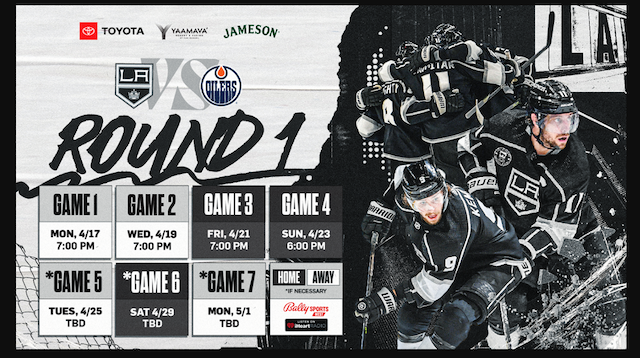 Check out articles on LA Kings Insider Here
Anze Kopitar, Adrian Kempe, Sean Walker & Todd McLellan (video) 4/25 Post Game Quotes
WatchTodd McLellan's Post Game Interview Here

Anze Kopitar on the message coming out of tonight, heading into Game 6
Certainly not the game we wanted to play tonight. You know the result, it is what it is now, but we're still going home, obviously down 3-2, but we are going to play a lot better than that.
Kopitar on getting to the first intermission 3-2 and the feeling in the game at that point
Yeah, a couple of errant plays and a penalty that we certainly didn't need and they were able to score a couple goals. Coming in at 3-2, we felt like it was anybody's game.
Kopitar on what the Kings can do better to halt Edmonton's momentum when they start to roll
I just think we've got to play more assertive, right from the start of the game. It's the start that we didn't want tonight and didn't need tonight. More desperate and a lot more assertive.

Adrian Kempe on his assessment of what went wrong tonight
We've got to clean up some stuff from tonight. I think our play in our own zone wasn't good from the start. [We have to] try to stay out of the box as much as we can, it's a big factor, they got two tonight on the power play, so that was a big factor as well. Other than that, I think we've got to keep playing aggressive. I haven't really thought about the game too much right now, but we'll go back and look at it tomorrow and then see what we can do better.
Kempe on how the group tried to make in-game adjustments to change the game's momentum
It's been going back and forth all series. I think the energy was still there, I think we responded pretty well after the first couple of goals in the first period and obviously then when they got another one on the power play, the momentum changes and goes back to their side. It's tough to go back and forth that way, but I think overall we're not happy with the game tonight.
Kempe on showing more aggression when Edmonton turns over shifts in the offensive zone
Yeah, I think so. I mean, they're a good team, they have some really skilled players, so it's hard when they have it, but I think we showed last game when we played our best, that we can be aggressive and we can turn pucks over and go the other way. That's something that we have to continue to do, but it wasn't there enough tonight.

Sean Walker on making his postseason debut tonight
Yeah, it's great [personally], obviously it would have been nice to be with the guys last year, with the injury and all I couldn't, but I was happy to get in there. Hopefully, next game I can contribute a little more to helping the team get a win.
Walker on the jump in intensity from his last game in the regular season to tonight's Game 5
Yeah, it was obviously pretty intense, pretty big game. Coming into a building like this, the intensity is pretty high playing against a team like that, pretty tight-checking, pretty physical. I felt like I handled it well, me and Durz played pretty well I thought, we read well off each other, but, obviously we've got to be better.
Walker on how he can rely on his skating ability to match the high pace of the game
Yeah, for sure. I think there were some times tonight when I was trying to keep it a little too simple. I haven't played for four games, so just trying to be a little bit simple. Going into next game, make some more plays and hopefully have a better outcome.
​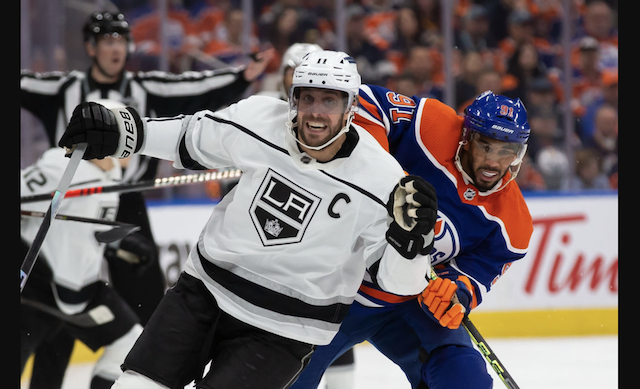 Subject To Change
FORWARDS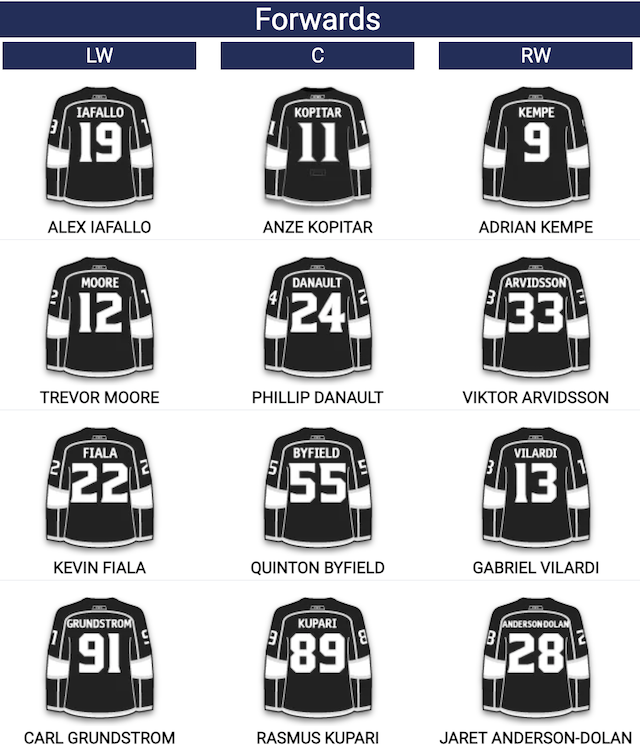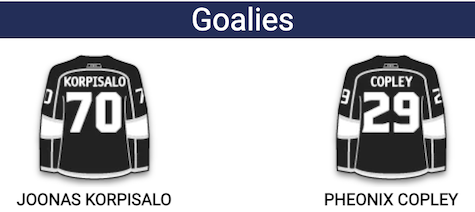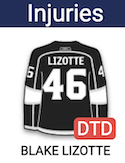 __________________________________________________
__________________________________________________
Oilers Probable Lineup
courtesy of dailyfaceoff.com
FORWARDS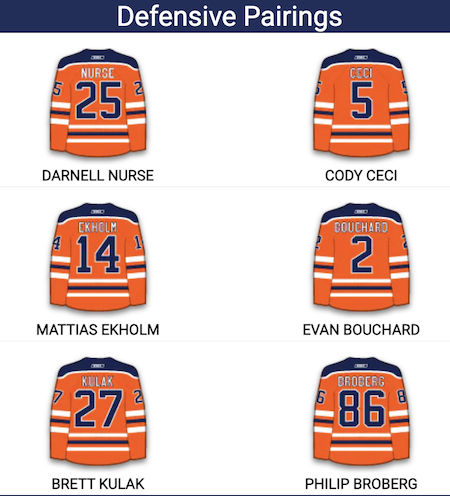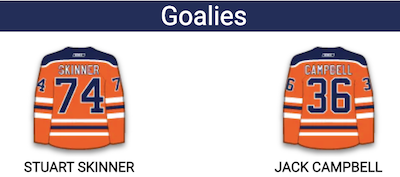 Former King
Jack Campbell

___________________________________________
________________________________________________
_________________________________________________
GOALIE STATS


PLAYER STATS
Click Here For More Stats & Rosters
***Give, Get & Bet your karma in geogirl's KARMA BETTING THREAD HERE***
There are also betting threads for all the other series in Home Ice
________________________________________________
​
Last edited: