jammer's overlord
Staff member
TEAM LGK
Joined

May 10, 2012
Messages

12,809
LGKash:

$450.00
PRESEASON GAME #3
WEDNESDAY 9/28
San Jose Sharks vs. LA Kings
at Toyota Arena in Ontario, CA
7:00pm on iHeartRadio ONLY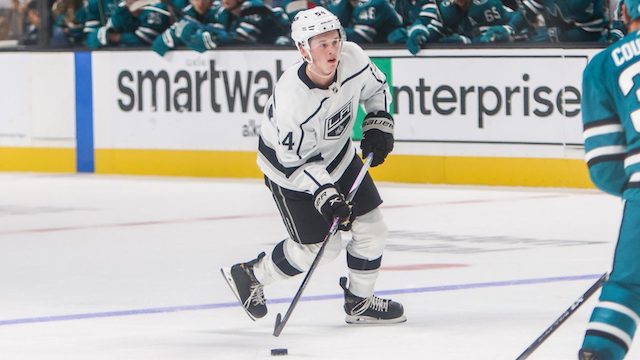 Here's a link to team rosters and goalie comparisons
https://www.nhl.com/gamecenter/sjs-vs-lak/2022/09/28/2022010041
_____________________________________________________________​
and here are some post-game quotes from 9/26 game vs. VGK
Todd McLellan on evaluating tonight's game versus last night in San Jose
I think tonight was an easier game for us to evaluate. We got to see more players in common situations. Penalty kill and power play, those are situations where the bench gets shortened and we haven't had any work on them yet. 5-on-5, we did some good things, we did some things that we've actually worked on poorly, so we have to fix some areas of our game. Still, it's back-to-back in the exhibition season, game two, there's things we can be happy with and then there's part of the game that we have to fix.
MacLellan on evaluating Kevin Fiala in a game setting tonight for the first time
Well, he doesn't need many opportunities, I don't think, to score. He had very few chances, yet he scored a goal and set up a nice one in overtime. Obviously the offensive instincts are there. I think it's going to take them some time to gel as a line and figure each other out, figure out how we're going to play the game as a group. It won't be any different than Phil Danault when he arrived last year, it took him four or five games just to figure everything out, but we're excited about having him here and he seems to be fitting in real well.
MacLellan on the approach to special teams this early in preseason
Well, you draw a few things on the board, you show a few video clips and you hope that it works. That's why training camp is two weeks long and then you get some practice time to begin the season. We've got a practice, then we play on Wednesday again, so we'll try and add an element to our game tomorrow that skate. That could very well be a piece of either the power play or the penalty kill and see if we can implement it on Wednesday.
On Pheonix Copley's play tonight, coming in for the final 40 minutes
Phoenix knew he was going in today, we were going to split the night as it was and after the first, Cal didn't feel real good. He went in and knowing you're going in at that point may give you a better chance to prepare even. He loosened up, he got ready between periods and when he went in, I thought he played very well in the last 40 minutes
.
Lines from previous game

22 Fiala – 11 Kopitar – 9 Kempe
13 Vilardi – 89 Kupari – 37 Madden
17 Andersson – 28 Anderson-Dolan – 41 Thomas
10 Quine – 79 Helenius – 45 Doty

44 Anderson – 53 Spence
2 Edler – 54 Clarke
57 Moverare – 58 Allard

40 Petersen / 29 Copely​
Last edited: