jammer's overlord
Staff member
TEAM LGK
Joined

May 10, 2012
Messages

12,809
LGKash:

$450.00

Game Day Thread
Game #45/82 -- 01/11/23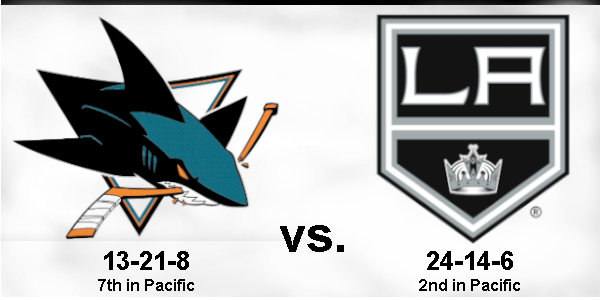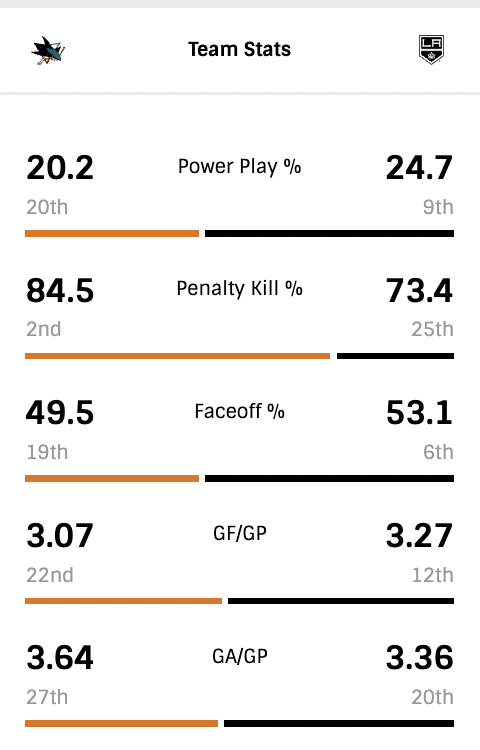 San Jose Sharks vs. Los Angeles Kings
at

| Los Angeles, CA
Previous Meeting
12/17/22 - Sharks 2,
Kings 3

TV:

TNT @ 7:00pm



Radio: LA Kings iHeartRadio app
Please remember,
DO NOT
post links to Live Game Streams in the GDT or anywhere else on LGK

Check out articles on LA Kings Insider Here
Kevin Fiala, Drew Doughty, & Todd McLellan 1/9 Post Game Quotes


Kevin Fiala on what's gone so well for him over the last two games
I mean, I'm just trying to play hockey. I've had a lot of chances before and it's not like I didn't play good before, the last two games especially they've just gone in. It's really nice to see that.
Fiala on if there was any added intensity in tonight's game
I think it was like a playoff game. A lot of emotion, physical, a lot of penalties and the special teams I feel like won the game for us. I'm very proud of the team overall.
Fiala on getting the job done on special teams tonight
Yeah, for sure. Especially against them, I think they're first in the league on the power play, so very well done from our PK guys, staying with it and doing the job.
Fiala on if he feels like the playoff push has begun for the Kings
I mean, playoff push or no playoff push, we want to get better every day no matter where we are. Right now, we're pretty good, we've played pretty good, we're climbing the ladder in the standings, so it's kind of a bonus. For sure, we're in a playoff push.

Drew Doughty on the evolution of the team's penalty kill and the performance tonight

We're just doing all the little things right. PK is a lot about will, and it's not that we weren't using it at the beginning, we were trying our hardest, but I think we have more of a willingness to block shots, battle harder for loose pucks to get them 200 feet. I don't think we've changed too much, just a little more aggressive at times when we need to be and guys are just paying the price, that's the difference.
Doughty on what he feels the Kings did well in playing against McDavid and Draisaitl tonight
It's a whole unit job, all five of us on the ice and obviously the goalie too, but through the neutral zone, trying to slow them down as much as we can and then in the d-zone, I'm basically just following them around if I can, when I'm on the ice. It's unfortunate [McDavid] got that goal, I wish I got a stick on it, but he's a good player, he's going to get his chances. Really, I think we did as good a job as we could do.
Doughty on the importance of games right now as the Kings push towards the postseason
We knew how important this stretch was, we definitely saw that we had this stretch against Boston, Dallas, Edmonton, Vegas, a lot of good teams, we knew how important it was. We did give up a couple of games to some teams lower in the conferences, but we stepped up against these big teams. This is, I wouldn't say fully say feeling like playoff hockey, but the urgency is there and the team game is there, players are stepping up to the plate. I think everyone is playing well over this stretch, that's the main thing is every single player in the locker room was playing really good hockey. That's why we're winning these games.

Todd McLellan on what he felt was more impressive tonight, the PP or the PK
Well, one we wanted the other we didn't, but we'll take both. We obviously wanted to win the special teams battle and when you do against that team, we give ourselves a much better chance at success. If you would have told me at the beginning of the night it would have been 4-0 in our favor, I'm not sure I would have agreed with you, considering we had 12 minutes on the penalty kill. It's not a recipe for success against that team. Rarely are they going to be shut out in that type of situation, so we were fortunate to come through it tonight but yet our penalty killers I thought did a really good job, from the goaltender on out. We'll play them again and we've got to find a way not to tax the team as much. With all that being said, it was really strange, awkward, lack of rhythm in the game because of all the calls, for both teams. I'm not sure if it affected the quality of play or not, it felt scrambley at the end, but sometimes that happens.
McLellan on if he felt the Kings were able to beat Edmonton at their own game tonight
I don't know if we beat them at their own game, we have a pretty good game too. Our power play has improved immensely from where it was. We have two units that are dangerous on any given night and one of them seems to be clicking for different reasons and tonight it was Kopis unit. That's a good sign for us, leave Edmonton out of it, it's a really good sign for us. Again, the penalty kill part of it, we've worked hard on our penalty kill lately. Number still isn't great, but I think it's improving and it showed tonight.
McLellan on where he feels the penalty-kill unit has improved the most as of late
Two things – I think there's pressure and predictability. We lacked a little bit of both of those earlier in the year. If we did pressure, it wasn't predictable, we didn't direct things into our favor and we fixed that a little bit. That would be the difference in my opinion.
McLellan on the Kings being willing to do the necessary things to get victories
There are good teams that never go anywhere because they don't quite get everybody willing to do things that they don't want to do. Sometimes average teams go a little bit further along because they do get players to do things they don't want to do. That could be giving up ice time, that could be blocking a shot, that could be a scrap, a fight, taking care of a teammate, sacrificing offense to check at a certain time, game management. All those things that you throw in a bucket and you just take for granted, players don't always want to do that. They want to go bardown and make sweet plays, all the adjectives that they use, but sometimes just getting them to do the things they don't want to do can point you in the right direction at least
McLellan on Kevin Fiala's game-breaking ability
We've been poking Kevin a little bit about some defensive responsibilities and put together some video for him after the the Vegas game and the number of defensive plays that he made that led to offense, to some of his goals, it was pretty impressive. Tonight was different, because he scored on the power play, but he's getting very committed in that area and he fits the team really well that way. He's playing to win. I thought at the beginning of the year, our whole team played to score, now we're playing to win and we're finally getting it. That doesn't mean it just stays with you, it can leave quite quickly.​

Subject To Change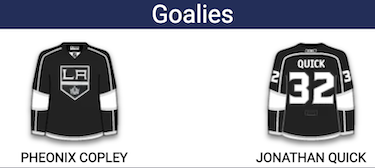 Kings Injuries
Arthur Kaliyev (IR)
Trevor Moore (IR)
___________________________________
___________________________________________
Sharks Probable Lineup
courtesy of dailyfaceoff.com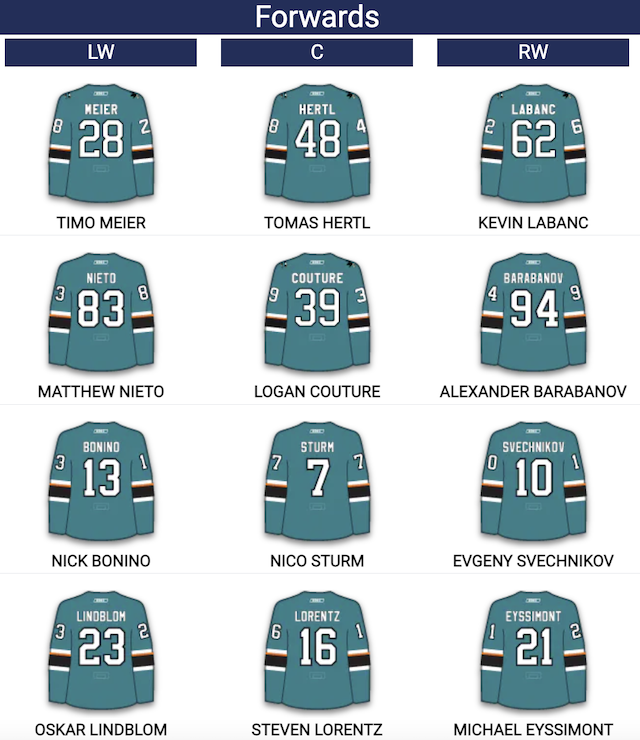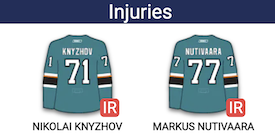 Former King/Reign
Michael Eyssimont

____________________________________________
____________________________________________
GOALIE STATS

PLAYER STATS
Click Here For More Stats & Rosters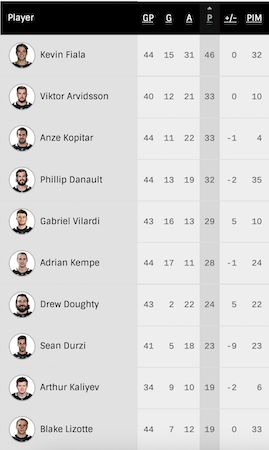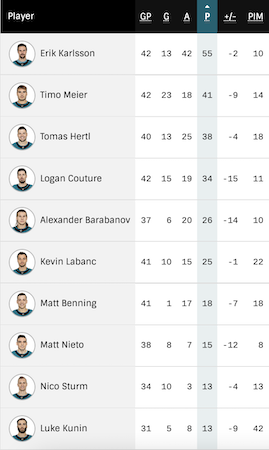 PACIFIC DIVISION STANDINGS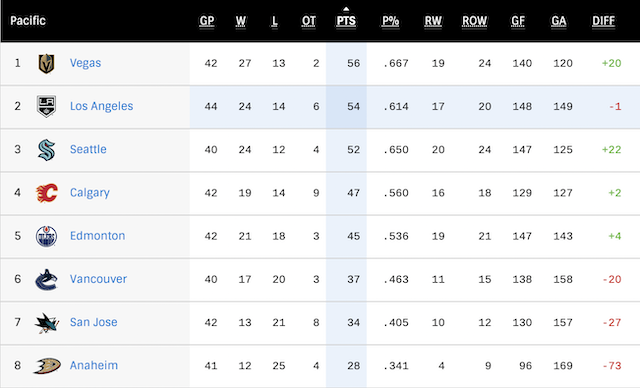 Tonight's Poll Question:
The Kings are finally at only a -1 goal differential on the season!
Part 1 - What will be the goal differential in tonight's game?
Part 2 - What will be the score of tonight's game? (doesn't matter who wins, just the numbers)

only ONE GUESS per part

Previous Game's Winners
Congratulations to the following posters who correctly guessed within +/- 1 of 22 and/or 9 blocked shots by the Kings and Oilers:

Kings dead on 22 Blocks (2 points):
Clif
kingrussell
Kings 21,23 Blocks (1 point):
Sevenhole
Liz4LA
Oilers 9 Blocks (2 Points):
Dr. Tran
beady eye
TooCool
Oilers 8, 10 Blocks (1 Point):
Rusty
CrossTraffic
DRGinLBC
Poll Win Totals
King Of The Mountain
with

36

points:
VegasHockey
32 Points
Rusty
31 Points
Kurisu
30 Points
Bill Hicks
LeftyKing
randdog
29 Points
28 Points
beady eye
DRGinLBC
hornman
sonnyboy11
srm1105
27 Points
John a90
Liz4LA
26 Points
SirJW
25 Points
DRice
Helvetica
pray4mojo
24 Points
AngelEyes
Clif
forum gold
23 Points
22 Points
Nyssa42
TooCool
21 Points
20 Points
Chateau Bow Wow
19 Points
empire
jammer 06
18 Points
hihocarp
RoS
17 Points
Sevenhole
16 Points
JETS GARAGE
15 Points
CIrvine
Dr. Tran
KHenry14
14 Points
13 Points
dannybuoy1
notbob
Rogie-Vachon
waynet
12 Points
11 Points
kingsmen93
10 Points
Busted Chops
Shackleford
9 Points
Dirtweazle
kingrussell
kopinator
8 Points
Byron
7 Points
6 Points
beedee
JayWells24
5 Points
4 Points
3 Points
Cross Traffic
Dexter
HTK
salami
STONE
2 Points
05/29/93
PuckMaster
1 Point
RagBone
Rinkrat
***Get, Give, & Bet your karma in geogirl's KARMA BETTING THREAD HERE***
________________________________________________
​
Last edited: