jammer's overlord
Staff member
TEAM LGK
Joined

May 10, 2012
Messages

12,768
LGKash:

$450.00

Game Day Thread
Game #81/82 -- 04/10/23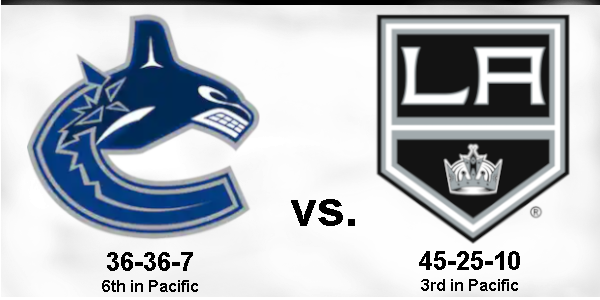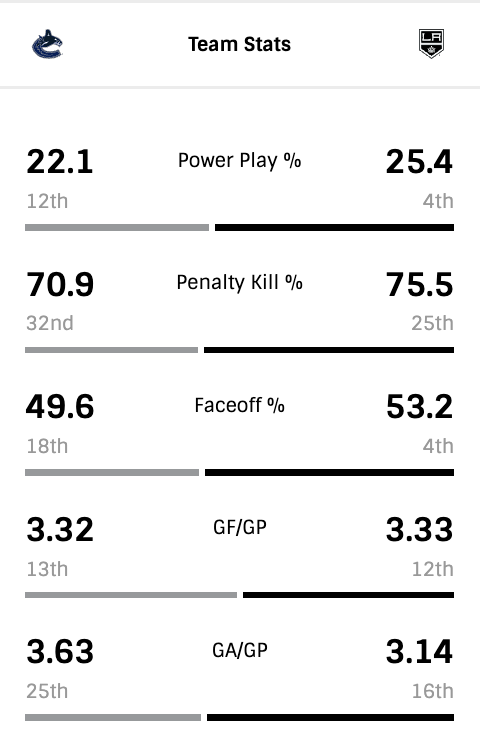 Vancouver Canucks vs. Los Angeles Kings
at

| Los Angeles, CA
Fan Appreciation Night
Tonight's Giveaway: First 10,000 fans in attendance will receive an LA Kings Slap Koozie!
Previous Meetings
03/18/23 —
Kings 4
, Canucks 1
03/18/23 —
Canucks 3
, Kings 2
11/18/22 — Kings 1,
Canucks 4

TV:

***BSW***



Radio: LA Kings iHeartRadio app
Please remember,
DO NOT
post links to Live Game Streams in the GDT or anywhere else on LGK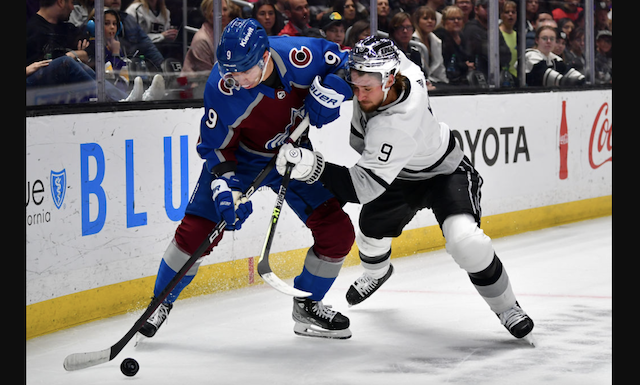 Check out articles on LA Kings Insider Here
Adrian Kempe (video), Quinton Byfield, & Todd McLellan 4/8 Post Game Quotes
Watch Adrian Kempe's Post Game Interview Here
Quinton Byfield on his takeaways from the 60 minutes tonight
Yeah, it was a good game. I thought all four lines played some solid hockey and I think we deserved a better outcome, but that's how it goes sometimes.
Byfield on what he felt the Kings did better compared to the start in Vegas
Kopi said some words after the Vegas game, we've got to have a better start and compete a little bit better as well. You want every puck battle and you want the puck on your stick. I think we started off good this game and as I said, just not the outcome we wanted.
Byfield on dropping three straight games after clinching a playoff spot
We're not happy about it at all. We clinched, which is a good thing, but you definitely want to go into playoffs with some wins. We've had a lot of big games that we've lost so we're definitely upset with that.
Byfield on the dynamic play of his linemate, Kempe, tonight
His first goal there was really nice, he used his speed, the shot and just placed it low blocker there. The second goal, he used his patience and went upstairs. His shot and speed are a lethal combination.
Byfield on Andrew Cogliano's hit on Kempe in the final stages of the game
Yeah. I think it's a little bit dirty. I think he's gone after some of our players before, so there's not much else I can say about that, but it's not good.

Todd McLellan on his takeaways from the 60 minutes tonight
My opinion, I thought a really good effort. A little bit of bad luck, obviously on the first one. Some opportunities to bury pucks early in the game, some really good looks at the goaltender and some guys have been snake bitten for a while and maybe there's a reason for that, but you've got to bear down and finish on those opportunities, get the lead and not play from behind against this team. We never did do that. I thought we were a little bit slow out of the gate in the third period, but even then we found our legs and started to play again. Pretty evenly played game, disappointing that we lost. Offense from Kopi's line, not enough from other lines and if you're not scoring, you've got to end up at least on the even side of the ledger and we had a couple of lines that didn't.
McLellan on if he believes good play can create momentum going into the playoffs, or if it needs to result in wins to do that
What do we have, two games left, we're going to have to continue to play hard and fix a few of the things that might be broken and we continue to work at that. Then, when the playoffs start, it's a brand new year. You're going to hear everybody say that, anything's up for grabs and that's where we're at. We'll see if we can get some bodies back, because that would certainly help as well, but we have what we have and that's what we're dealing with and we've got to get the best out of them.
McLellan on if the efforts and performances against Colorado and Edmonton are good enough to win in the playoffs
No, if it's not good enough to win right now, it won't be good enough in the postseason. Now, there's two different things, there's the effort that goes into the game and the outcome of the game. I think we can do a better job of affecting the outcome of the game. I think the effort is there. The effort in Vegas, maybe not so much, but the last month or the two months we've played, I haven't had many complaints about work ethic or effort. We're making some mistakes right now that are costing us, some of them are reads and reacts, sometimes we're getting pushed off a puck or whatever, but that's not effort based in my opinion.
McLellan on Kempe's offensive mentality in driving a game at this time of the season
We obviously want him on our team, that's for sure. It's a mentality, but he also has the skill set and the drive to go with it. You know, there are others that have that mentality, but they're not gifted that skillset and they have to provide input into the game in different ways. Everybody has something they do well, they've got to bring it.
McLellan on the chances tonight for Rasmus Kupari and other younger players
Well, you've got to be in the right spot to get those chances, so that's the first step, but you got to finish some of them. We need some of our players to evolve into that. You can't go 40 games without a goal in the NHL and we've had some good, young prospects, some players that we're counting on to do that and they have to take some of the pressure away from Kempe, Kopitar and some of those other players. Now, Phil Danault has to score a goal too, don't get me wrong, I'm not just laying it on the hands of some of the younger players, but those guys have had a lot of opportunities and it's got to go in eventually. That's what you're here for.
McLellan on his reaction to Andrew Cogliano's hit on Adrian Kempe
There's people at the league that look at that stuff, not me.

​

Subject To Change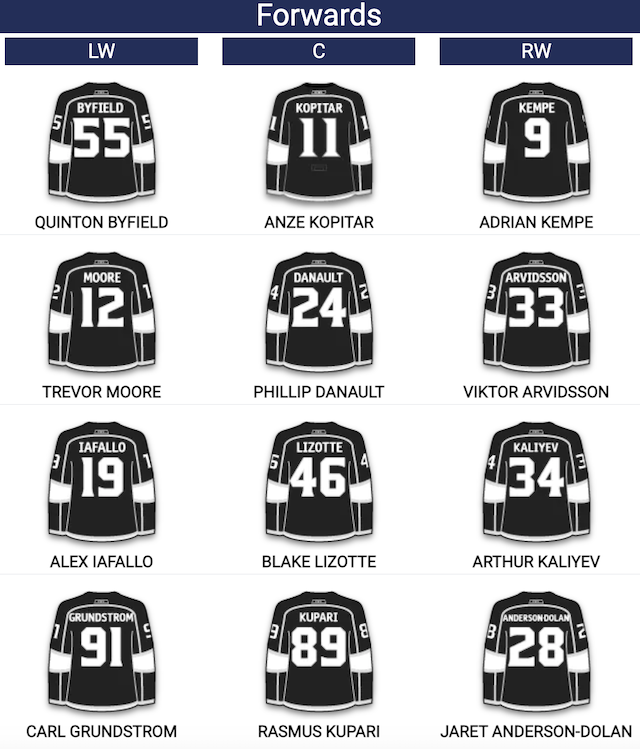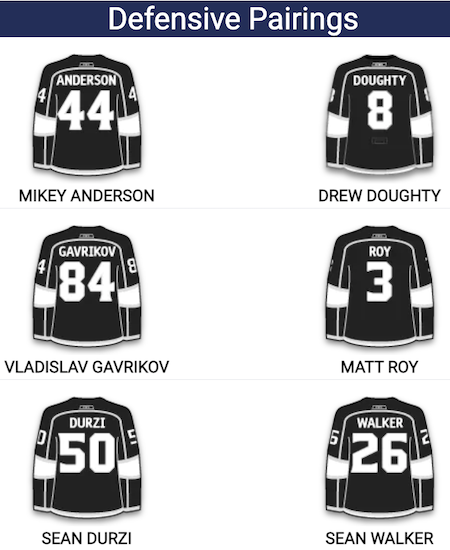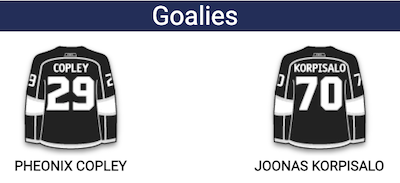 Kings Injuries
Alexander Edler
Kevin Fiala
Gabe Vilardi (D2D)
___________________________________
___________________________________________
Canucks Probable Lineup
courtesy of dailyfaceoff.com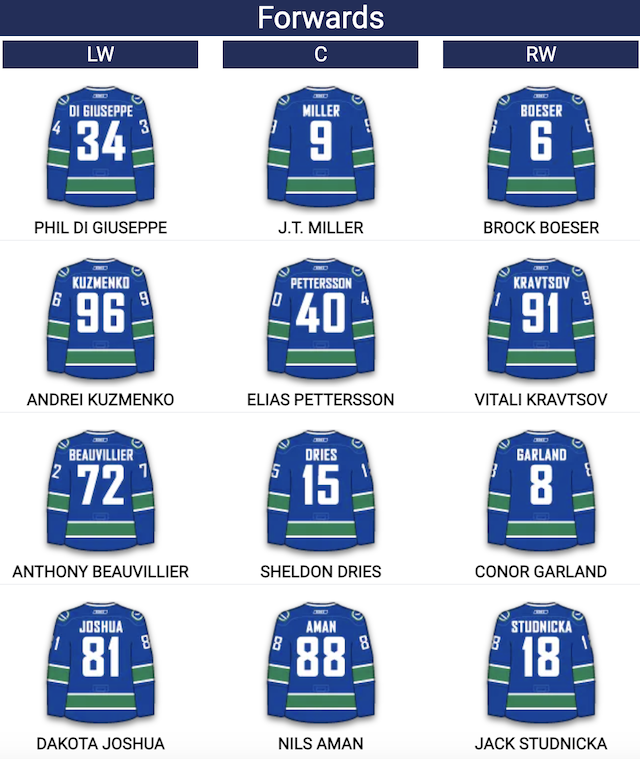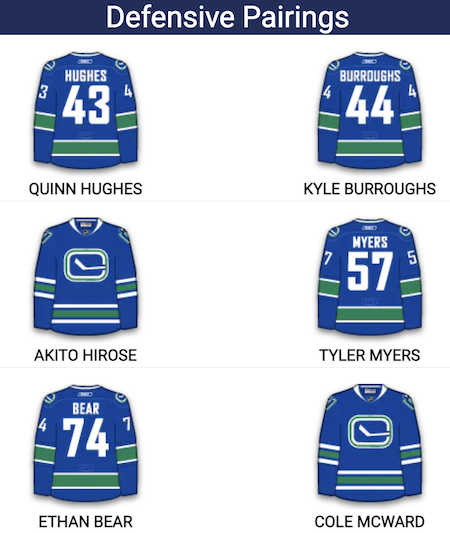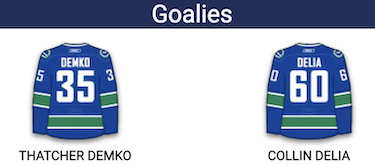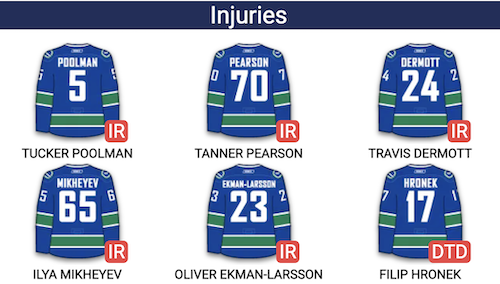 Former Kings
Tanner Pearson (IR)

Christian Wolanin

___________________________________________
___________________________________________
GOALIE STATS

PLAYER STATS
Click Here For More Stats & Rosters
WESTERN CONFERENCE STANDINGS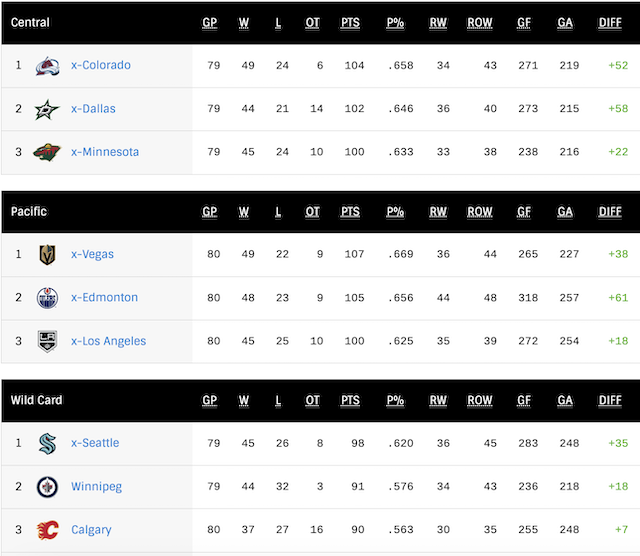 Tonight's Poll Question:
Thanks to everyone who has played this season! I'll still do questions for Thursday's game, with results posted in the 1st playoff GDT. It seems like VegasHockey is unbeatable, but I'm having a little fun with these tonight with the "available points"
Part 1 - Who is going to score the LAST KINGS HOME GOAL of the regular season?

Part 2 - Who is going to take the LAST KINGS HOME PENALTY of the regular season?

IF YOU ONLY MAKE ONE GUESS PER QUESTION AND GET IT CORRECT, I WILL GIVE YOU 4 POINTS (per correct question)
Otherwise, you can TAKE UP TO 4 GUESSES for each part
(you can also guess "no goals" or "no penalties"-LOL-as one of your 4 guesses)

2 or more guesses per question will make you eligible for only 1 point for that question.
Previous Game's Winners
Congratulations to the following posters who correctly guessed within +/- 2 mins of 7:34 of the 2nd period for first Kings goal and/or 6:18 of the 3rd period for Game Winning Goal. Nobody guessed within 1:28 of the 2nd period for Avs first goal, although, of course, VegasHockey missed the cutoff by 2 seconds - I hope some of you have contacted VegasHockey to place bets for you this season!!

Congrats to VegasHockey & dannybuoy1 for getting 6 points each.

7:04-8:04 (3points):
VegasHockey
dannybuoy1
6:34-8:34 (2 points):
jammer06
pray4mojo
Liz4LA
5:34-9:34 (1 point):
Chateau Bow Wow
5:48-6:48 third (3 points):
VegasHockey
empire
sonnyboy11
dannybuoy1
5:18-7:18 (2 points):
Joe Laviguer
pray4mojo
4:18-8:18 (1 point):
srm1105
Rogie-Vachon
DRGinLBC
Cross Traffic
randdog
Chateau Bow Wow
Poll Win Totals
King Of The Mountain
with

68

points:
VegasHockey
61 Points
srm1105
57 Points
LeftyKing
55 Points
Kurisu
Rusty
sonnyboy11
52 Points
DRGinLBC
hornman
51 Points
AngelEyes
DRice
pray4mojo
50 Points
49 Points
randdog
48 Points
Bill Hicks
47 Points
John a90
46 Points
Chateau Bow Wow
Helvetica
45 Points
jammer 06
Liz4LA
44 Points
forum gold
43 Points
beady eye
SirJW
TooCool
42 Points
CIrvine
41 Points
39 Points
dannybuoy1
36 Points
Nyssa42
35 Points
JETS GARAGE
34 Points
empire
33 Points
Rogie-Vachon
32 Points
hihocarp
notbob
28 Points
JayWells24
KHenry14
kingsmen93
27 Points
26 Points
Clif
25 Points
kingrussell
Shackleford
24 Points
23 Points
Dr. Tran
Sevenhole
waynet
22 Points
Cross Traffic
21 Points
Byron
18 Points
RoS
11 Points
beedee
Busted Chops
10 Points
kopinator
9 Points
Dirtweazle
8 Points
Joe Laviguer
5 Points
Dexter
SaltyPuck
3 Points
HTK
puckoff
salami
STONE
2 Points
05/29/93
Ice24
jneol67
KingzLA
PuckMaster
1 Point
cokingsfan
HiFi
mugs
RagBone
Rinkrat
twistedwrister
***Get, Give, & Bet your karma in geogirl's KARMA BETTING THREAD HERE***
________________________________________________
​
Last edited: