jammer's overlord
Staff member
TEAM LGK
Joined

May 10, 2012
Messages

13,085
LGKash:

$1,350.00
\

Game Day Thread
Preseason Game #9
10/07/23
**Game Time 1:00pm**

Vegas Golden Knights vs. LA Kings

at

| Los Angeles, CA
Pre-Season Results
09/22/23 Kings 3, Coyotes 5
09/23/23 Coyotes 2, Kings 3
09/24/23 Kings 2, Ducks 3 (OT)
09/27/23 Kings 4, Golden Knights 3 (OT)
09/29/23 Kings 4, Ducks 3
09/30/23 Kings 2, Sharks 1 (OT)
10/03/23 Ducks 1, Kings 4
10/05/23 Sharks 3, Kings 4 (OT)


2022-23 Season Stats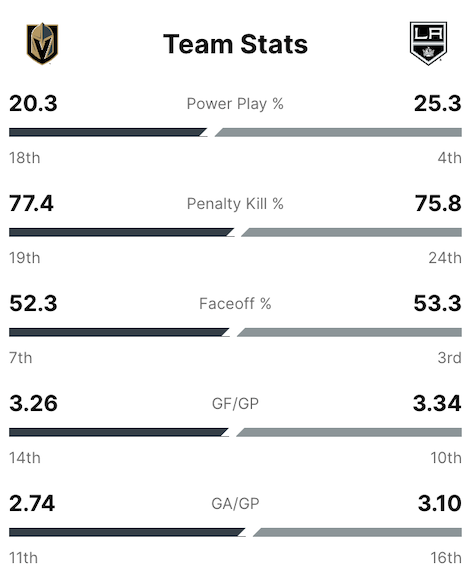 **Game Time 1:00pm**

TV
:
**NHL Network & Bally Sports West**



Radio
:
LA Kings iHeartRadio app
Please remember, DO NOT post links to Live Game Streams in the GDT or anywhere else on LGK
Check out articles on LA Kings Insider Here
10/05/23 Post-Game Quotes:
​
Adrian Kempe

On where he feels the team is at, with one preseason game remaining
I feel like we're in a good spot. I think tonight maybe wasn't our best game of the preseason. I think we tried to do good things, we had some lucky bounces and I think it wasn't maybe the prettiest game to watch for for [either] team but I think we're in a good spot. We have some practice and one more game to go to work on the last couple of things but I feel like all the lines and D are playing well. The flow is back in the game and you get that game ritual back and all that kind of stuff, which is nice.
On where he feels the power play is at, and if it's getting close to where it needs to be
Yeah, I think so. I think we're starting to figure out ourselves, maybe we didn't have the best game tonight but I think we're all on the same page. We're all on the same page we were at, at the end of last year, when we were playing our best game on the power play, so I think it's feeling pretty good. Maybe it didn't look that great tonight, but I think we all are pretty confident.
On seeing a special night for Trevor Lewis, playing at home
I think he's probably really excited to be here and I would too, if this was my hometown. You have so many family, friends and all that kind of stuff in there and everybody's happy to see him back in LA and coming here and play these these games. I think we're all excited for him.
Todd McLellan
On what he saw from his team tonight in the second-to-last preseason game
I'm glad it's the second last one. It's time for us to get going and play. Tough game to play in, quite frankly, it doesn't compare to what we went through in Australia with the emotion or anything like that, but I thought we did some things well, I thought we did some things poorly. Again, we have some evidence, if you will, for us to work with the players. Now granted, some of the mistakes that we made, a lot of them were below the goal line, where the conditions weren't real favorable for any type of puck movement, so I don't know if that's our execution or what we were dealing with.
On if veteran players had the option to play tonight, or if it was team-mandated
We didn't give them that option, we brought them. Again, strange training camp. The first two games that we played, some individuals played back-to-back, Kopi only played one and that was a good two and a half weeks ago now. So, it's almost like we've been through two training camps and we felt like everybody needed to play in this one. In hindsight, I think we're better off bringing a bunch of younger players, young kids that are maybe more accustomed to this type of day, but both teams had to go through it. We'll see if we have to do this again, we may adjust.
On Alex Laferriere's game tonight, slotting in with the main group for the first time
Well, this has been the first time that we've been able to be on the actual bench with him and I think you learn a lot when you're that close to him. The instincts he has on the ice fit our team real well. He has some physicality, we've talked about his pace of play, which has been real good. I think he's got a lot of the tools that he needs and that we need of him to play in the National Hockey League. He may need a little more experience, just to to gain it and get the ice time that he needs, but I think he's got a real bright future.
On giving Trevor Lewis the "A" tonight, playing in his home state
Absolutely. It was the human element. Trevor has been a real proud King for a lot of years, he had to go away and then came back and this is his home. He had a lot of people here, you don't have to wear an "A" all the time to be a leader and he is that for us all the time, so it's nice to recognize them. Nice of Phil Danault to be willing to give it up for a night, it's just a sign of a pretty close team and those kinds of things can happen.
.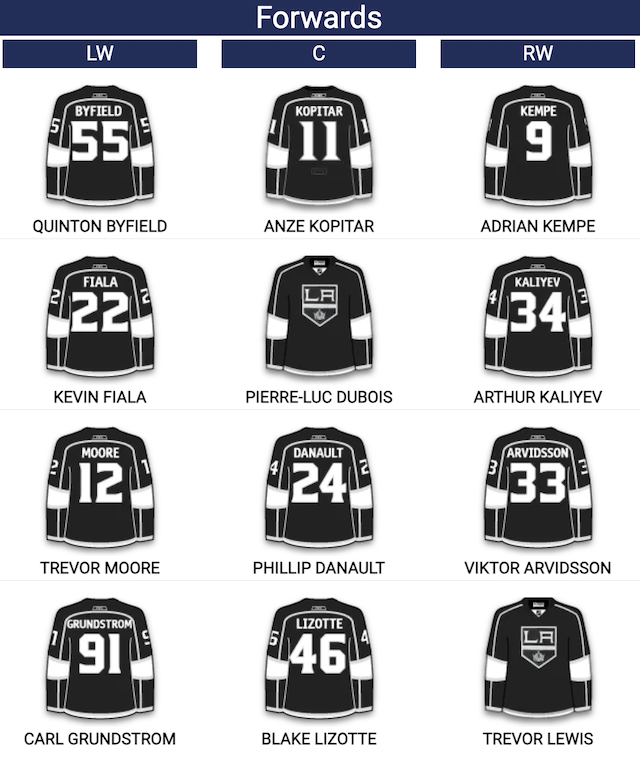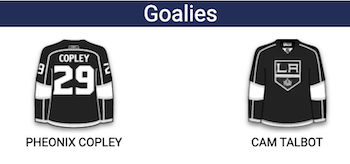 __________________________________________________________________
__________________________________________________________________

GOLDEN KNIGHTS POSSIBLE LINEUP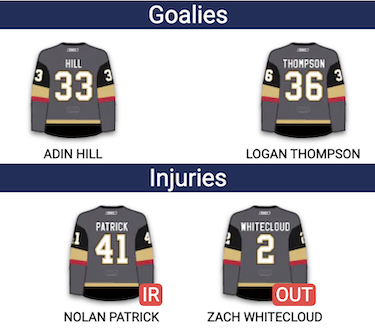 Former Kings

Michael Amadio



Ben Hutton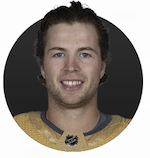 Alec Martinez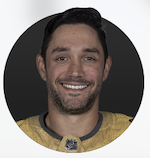 Brayden McNabb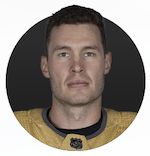 ​