jammer's overlord
Staff member
TEAM LGK
Joined

May 10, 2012
Messages

12,830
LGKash:

$550.00

Game Day Thread
Game #38/82 -- 12/27/22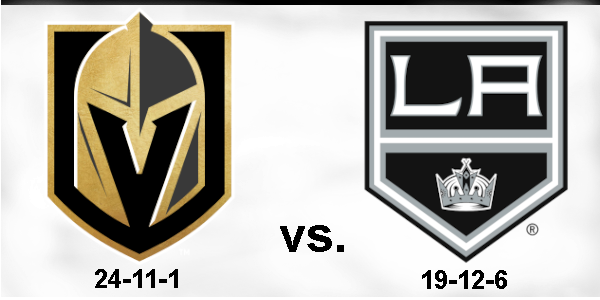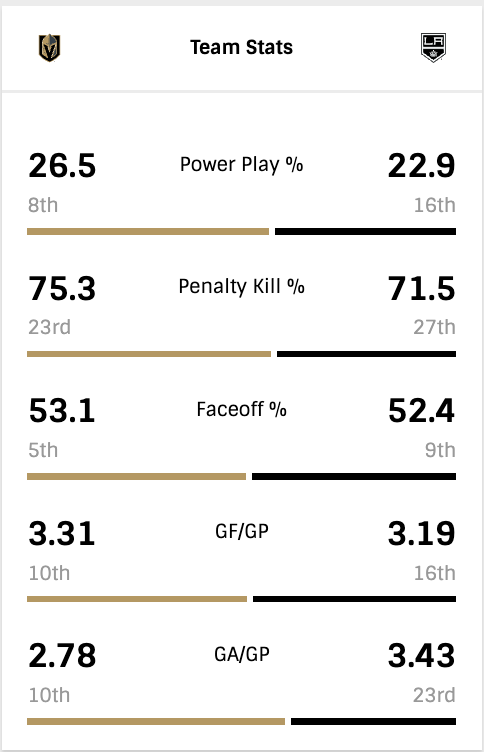 Vegas Golden Knights vs. Los Angeles Kings
at

| Los Angeles, CA
Previous Meeting
10/11/22 -
Golden Knights 4
, Kings 3

TV:

BSW



Radio: LA Kings iHeartRadio app
Please remember,
DO NOT
post links to Live Game Streams in the GDT or anywhere else on LGK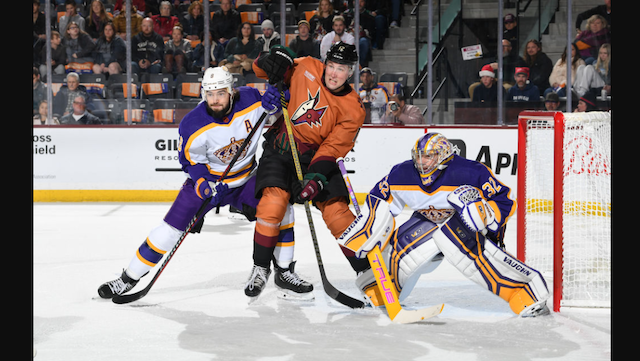 Check out articles on LA Kings Insider Here
Alex Iafallo, Brendan Lemieux, & Todd McLellan 12/23 Post Game Quotes

Alex Iafallo on finding a way to get a point going into the holiday break
For sure, definitely, you know it was a good point that we needed. Obviously wanted the two points, to get a win, but looking at positive, we did get a point going into the break, so halfway. It's good for us to look up.
Iafallo on if he viewed tonight as a "special teams" kind of game
Yeah, definitely, a lot of kills and a lot of power plays. At that point, you've got to try to get momentum from either one, either the PK or the power play. We tried to do that and it was pretty even throughout the whole match.
Iafallo on his one-timer goal on the man advantage
I was just trying to shoot the puck to be honest, a good screen. We just talked about it before, Durzi made a nice pass and I just had to shoot in there. Just trying to get shots to the net………[I've been] working on getting the shot off quicker, not such a high slap shot, just more of a lower shot, get the puck to the net faster.
Iafallo on playing the right way in front of Jonathan Quick tonight
Yeah, for sure. He had a hell of a game, he made a lot of huge saves for us. We gave him a lot of chances that we shouldn't have and he made some huge saves. We owed it to him and it was a huge point for us.

Brendan Lemieux on his thoughts from tonight's game and getting back into the lineup for the first time since November
As a team, we started off slow and had some penalty issues, which doesn't set our game and style up well. I thought we got our footing under us and just couldn't capitalize. Personally, it's obviously tough coming back after being away for the last little bit. Nice to be on the bench instead of watching and rehabbing and hope to build off this after the break.

Todd McLellan on finding a way to get a point tonight in Arizona
I thought it was a gutsy point or by our team. Gas tanks were running low and they checked very well, it was a gutsy, gutsy [effort] by our team. Quickie played well, there's a lot of clogging up of the neutral zone by both teams, wasn't a lot of free play. Penalties affected our start, or at least our first period, the last thing we needed to do after basically playing three lines yesterday was play six players for five minutes straight and that's what happened today, but penalties played a big part. I thought in the second and third, we settled in. It's a lot of things we wanted to do, but just couldn't find the net.
McLellan on getting the right kind of performance in front of Jonathan Quick
It all goes together. Our group owed Quickie a good, honest effort, a checking effort, an effort with a conscience and I thought we got that today. In return, I thought he paid back the guys with some pretty big and timely saves. Not a lot of them, but timely ones when we needed them.
McLellan on hearing about having only one referee in tonight's game
Travel. There's so many games and a lot of referees couldn't get where they were going. I thought Kyle Bremen did a good job, it's a hard thing for officials to do, is to change their routine and their positioning. We're always going whine and [complain] about calls here and there, but he did an admirable job.
McLellan on the penalty kill tonight
On the 5-on-3, I think we can adjust a little bit and even do a better job there, but they scored quite quickly and still had a full minute and 45 or whatever it was left, so that kill in itself was important not to go down two in that situation. The succession that the penalty kill had to go to work in the first period really got tested and they did a good job.
McLellan on Alex Iafallo getting the power-play goal via a one-timer
Without Arthur here that hole needs to be filled and I've seen Alex one time a lot of pucks in practice, I think he's got that skill set, he fits that spot pretty good. Tough go for him over the last few months, trying to get his game back, but he's starting to finally look polished up and I'm sure it's starting to feel better. We're lucky to have him.
McLellan on the importance of taking a point into the holiday break
It's important to get something from a game any time you can. Three games in four nights, we overplayed probably some players, fell behind. The fact that we came back, I think it was a character [performance], I keep going back to that. These games, pre and post All-Star break, Christmas, they're hard ones to play. A lot of times they can be blowouts, one team just takes off and the other team is done. I was happy the way the guys dug in.
​

Subject To Change
FORWARDS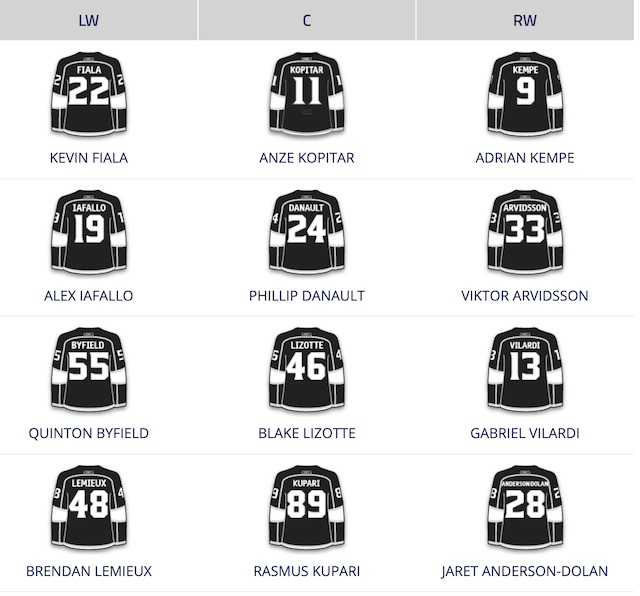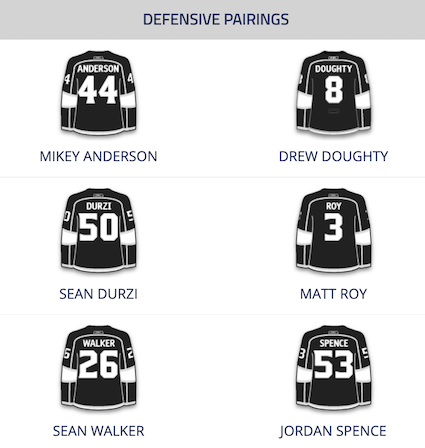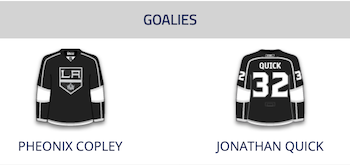 Kings Injuries
Arthur Kaliyev (IR)
Trevor Moore (DtD)
___________________________________
___________________________________________
Golden Knights Probable Lineup
courtesy of dailyfaceoff.com
FORWARDS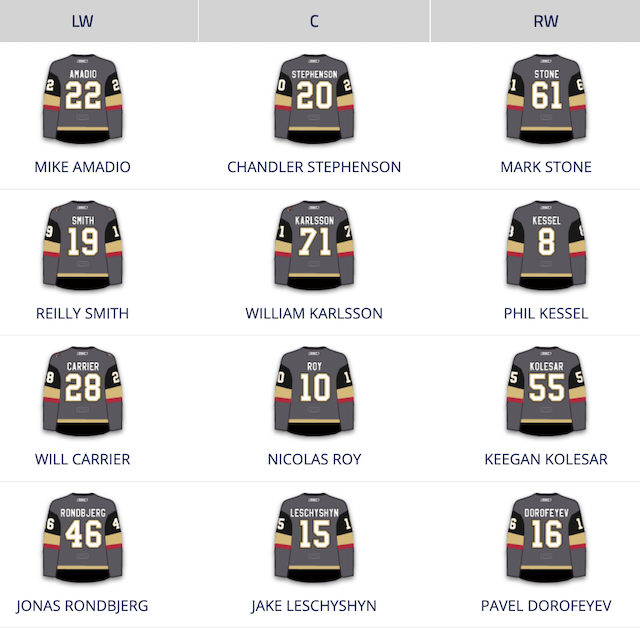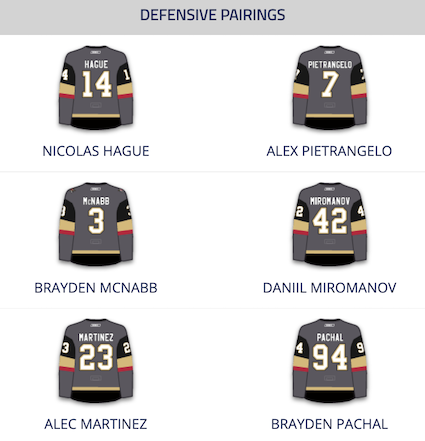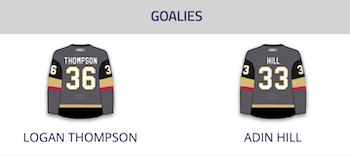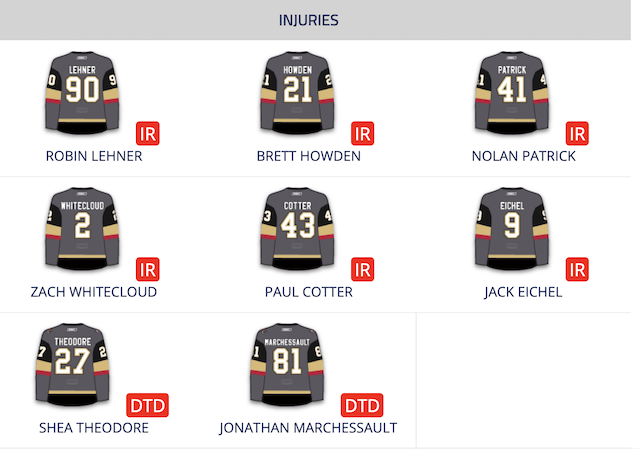 Former Kings
Michael Amadio

Ben Hutton

Alec Martinez
Brayden McNabb

____________________________________________
____________________________________________
GOALIE STATS

PLAYER STATS
Click Here For More Stats & Rosters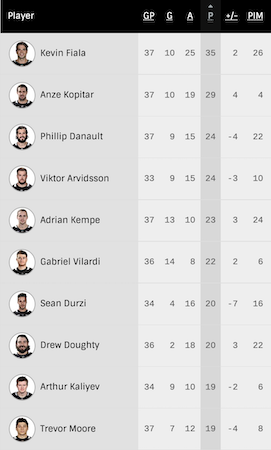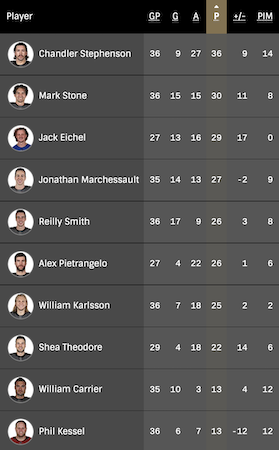 PACIFIC DIVISION STANDINGS
Tonight's Poll Question:
I'm going FULL JINX with tonight's questions because my Friend Who Always Sees A Kings Win will be at the game
Part 1 - Which GOLDEN KNIGHTS player will score the first VGK goal of the game?
You can take 4 guesses - one can be "no VGK goals"
If it goes to a 0-0 shootout, that will count as "No VGK Goals"

Part 2 - How many SAVES will the Kings goalie make in tonight's game?
You can take 2 guesses
+/-1 = 1 point, dead on = 2 points
Previous Game's Winners
Congratulations to the following posters who correctly guessed within +/-1 of a shot differential of 3 and/or that Lemieux would take the first Kings penalty of the game:

Shot Differential 3 (2 points):
TooCool
Shot Differential 2,4 (1 point):
DRice
AngelEyes
Rusty
dannybuoy1
empire
Nyssa42
Lemieux first penalty (1 point):
kingsmen93
jammer06
DRice*
2 point winner
Dirtweazle
Poll Win Totals
King Of The Mountain
with

29

points:
VegasHockey
27 Points
Kurisu
srm1105
26 Points
25 Points
Bill Hicks
DRGinLBC
LeftyKing
24 Points
Rusty
23 Points
randdog
sonnyboy11
22 Points
AngelEyes
beady eye
hornman
John a90
Liz4LA
21 Points
SirJW
20 Points
DRice
forum gold
Helvetica
pray4mojo
19 Points
18 Points
RoS
17 Points
Clif
16 Points
Chateau Bow Wow
empire
jammer 06
Nyssa42
TooCool
15 Points
KHenry14
14 Points
13 Points
dannybuoy1
hihocarp
Sevenhole
12 Points
JETS GARAGE
11 Points
CIrvine
10 Points
Busted Chops
Dr. Tran
kingsmen93
notbob
waynet
9 Points
8 Points
kopinator
Rogie-Vachon
Shackleford
7 Points
6 Points
beedee
Byron
5 Points
Dirtweazle
kingrussell
4 Points
JayWells24
3 Points
HTK
salami
STONE
2 Points
05/29/93
Dexter
PuckMaster
1 Point
Rinkrat
***Get, Give, & Bet your karma in geogirl's KARMA BETTING THREAD HERE***
________________________________________________
​
Last edited: