jammer's overlord
Staff member
TEAM LGK
Joined

May 10, 2012
Messages

12,848
LGKash:

$550.00

PLAYOFFS Game Day Thread
Playoffs Round 1, Game #5 -- 5/10/22
TONIGHT'S GAME IS ON BALLY SPORTS SOCAL & ESPN2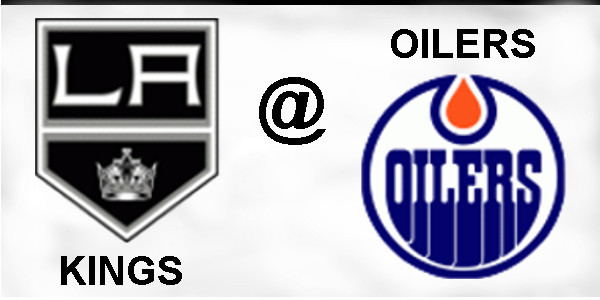 Los Angeles Kings @ Edmonton Oilers
Rogers Place | Edmonton, AB
SERIES TIED 2-2
Round 1 Scores
05/08/22 - Oilers 0,
Kings 4
05/06/22 -
Oilers 8
, Kings 2
05/04/22 - Kings 0,
Oilers 6
05/02/22 -
Kings 4
, Oilers 3
Playoff Series Stats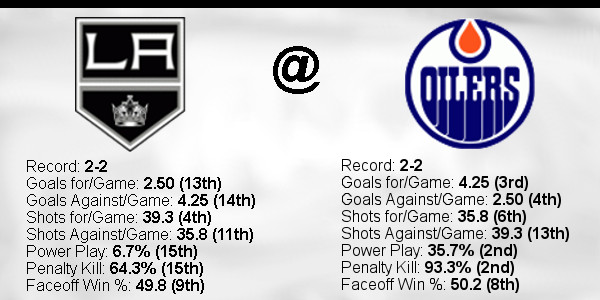 These start times are for the pregame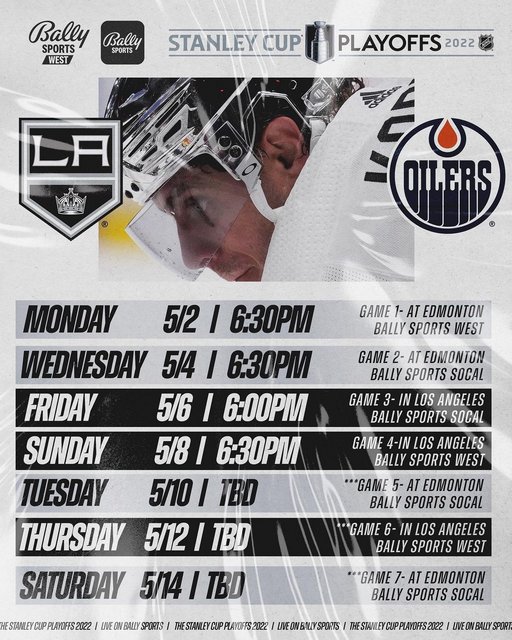 TV:

**BSSC & ESPN2**



Radio: LA Kings iHeartRadio app
Please remember,
DO NOT
post links to Live Game Streams in the GDT or anywhere else on LGK
Check out articles on LA Kings Insider Here
Mikey Anderson (video), Jonathan Quick & Todd MacLellan 5/8 Post Game Quotes
Link to Mikey Anderson Post-Game Video
https://twitter.com/i/status/1523533722276057089
Jonathan Quick
On the Kings playing to their identity tonight
I mean, we played the game that got us to the playoffs. We got pucks deep, we forechecked, blocked shots, pucks to the net and rebounds. We play that way, we can be successful.
On having Carl Grundstrom and Troy Stecher step in with big goals
It's huge and we've been getting that all year. Guys in, injuries, whatever happens, guys have jumped in and it's a next-man up mentality. They did that well tonight.
On the team getting a complete effort tonight
It was everyone as a group, everyone chips in. We've played a lot of good games. Just because the last two didn't go our way, we've played a lot of good games like that.
On making the save without the glove on
You see the puck and you try to get something on it.

Todd McLellan
On the difference between Games 2 and 3 and tonight's win
I could tell you that we didn't play very well for two games and I could tell you that we played better tonight to a man. It wasn't 100 percent better, it was only like five percent better per player, but we did some of the things we needed to do to win the game and we hadn't been doing that since Game 1.
On the team's rally back tonight after the defeats in Games 2 and 3
Well, our team believes in themselves and what we stand for. We just had to get them back to playing that way and believing in it. We can't go to the table, if you will, and put all of our chips in on one play, we have to manage them all night and we did a better job of that tonight.
On the penalty kill tonight, and its improvements
Well, let's face it, they had at least one power-play goal in every game, so it's 1-0 when the night starts. They were that good and they are that good. Odds of going without a penalty throughout the night are slim to none, so our group had to step up. It starts with the goaltender, he made some outstanding saves when he needed to and then some of the players around him did what they needed to do, so that was a good sign. I thought our power play began to show a little sign of life, so we're improving. Our team still has to improve in the playoffs. The question I'm going to ask our guys is have we learned our lesson yet, because we won Game 1 and then we did nothing in Games 2 or 3 that even remotely looked close to us, so we have to continue with it, so have we learned anything throughout the series. It doesn't mean it's going to be easy and it doesn't mean we're going to win, but we need to do certain things to have a chance. We'll see if we've learned.
On if there was a moment when he felt he knew the Kings were playing their brand of hockey
Our starts haven't been bad, so I can't tell you it's the first period, but there were situations in the game that we played differently. It can't explain the X's and O's, but by the eye, some of the things that we needed to do, but didn't do, while we were getting drilled we did tonight and it helped us
On Jonathan Quick's play tonight
There were some questions that I answered about goaltender decision and it wasn't a hard one for us. That's not a comment to demean Cal Petersen, because he's a hell of a goaltender, but if there was ever a night we needed somebody that's been there and done it, it was tonight.
On Mikey Anderson's game tonight
He's had a pretty young career so far, but we talk about Mikey like he's a ten-year veteran. The way he carries himself, the minutes that he's hauled and played, he missed a month, two months almost and he's getting his legs underneath him. I think he's gaining confidence, night after night and that has to be one of his better outings, I think that's a good, accurate observation.​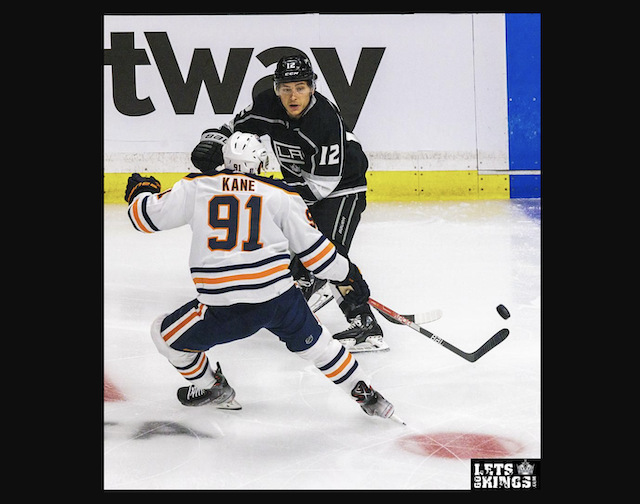 Subject To Change
FORWARDS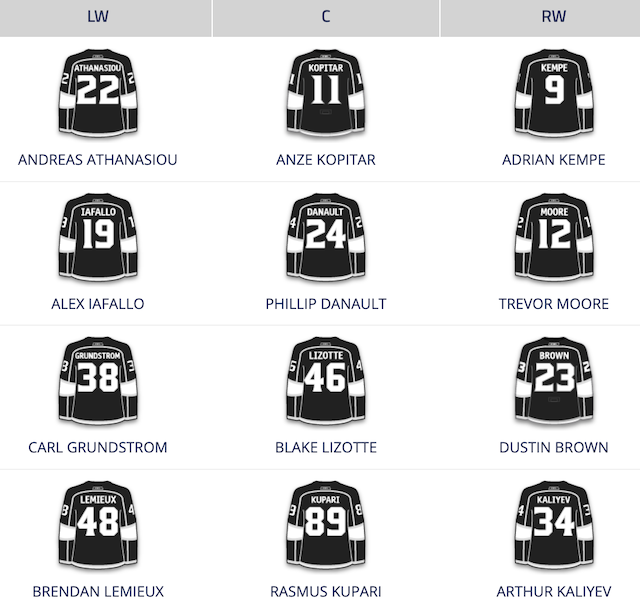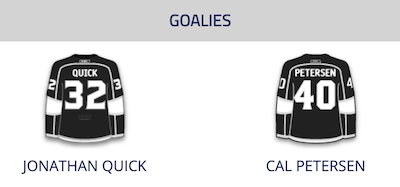 Kings Injuries
Viktor Arvidsson
Drew Doughty (IR)
Sean Walker (LTIR)
__________________________________________________
__________________________________________________
Oilers Probable Lineup
courtesy of dailyfaceoff.com
FORWARDS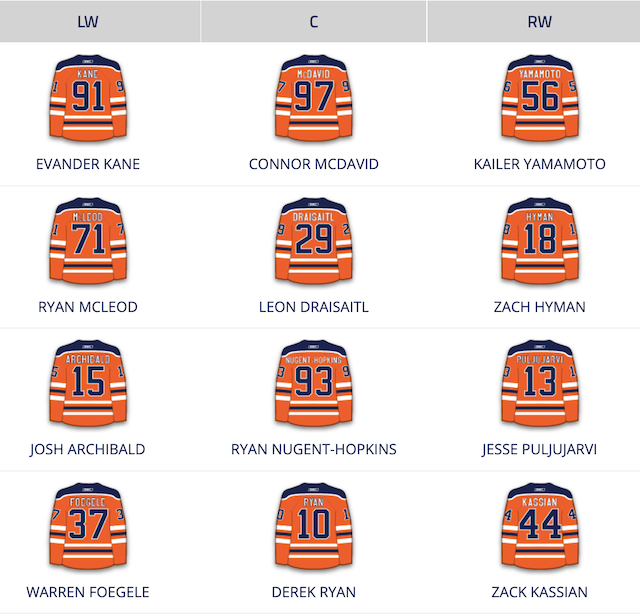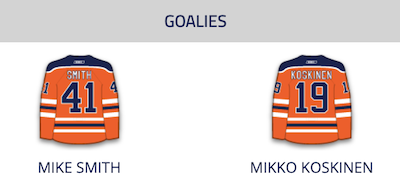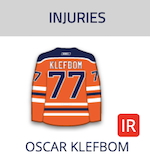 NO Former Kings
________________________________________________
_________________________________________________
GOALIE STATS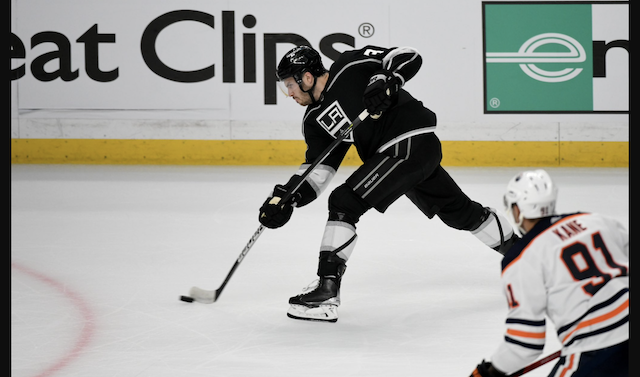 PLAYER STATS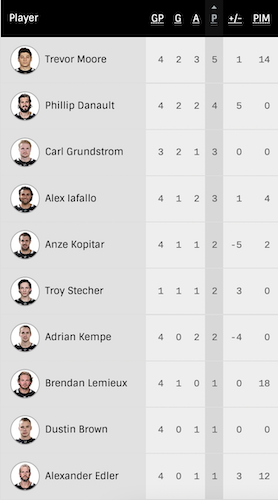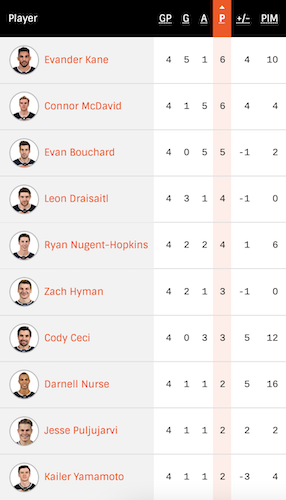 ***Bet your karma in geogirl's KARMA BETTING THREAD HERE***
There are also betting threads for all the other series in Home Ice
________________________________________________
​
Last edited: