jammer's overlord
Staff member
TEAM LGK
Joined

May 10, 2012
Messages

12,768
LGKash:

$450.00

Game Day Thread
Game #59/82 -- 3/10/22
San Jose Sharks vs. LA Kings
at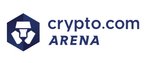 | Los Angeles, CA
Previous Meeting
01/17/22 - Kings 2,
Sharks 6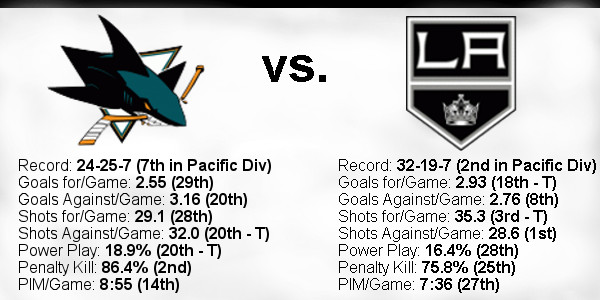 TV:

**BSW**



Radio: LA Kings iHeartRadio app
Please remember,
DO NOT
post links to Live Game Streams in the GDT or anywhere else on LGK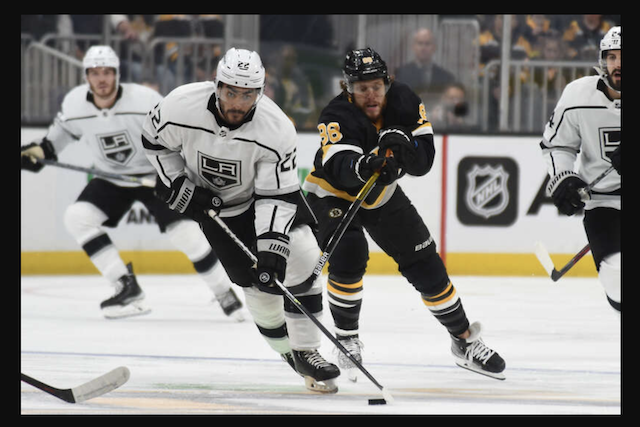 Check out articles on LA Kings Insider Here
Cal Peterson & Todd MacLellan 3/7/22 Post Game Quotes & Andreas Athanasiou video link
Andreas Athanasiou's Post Game Video Interview
https://twitter.com/i/status/1501028167632490500
Cal Petersen
On the team's ability to come back in just about any situation this season
Yeah, 100 percent. We're putting a lot of different tricks in our bag to find ways to win and I think that's only going to help us down the road. Now that we've figured out how to win in these situations, or need to comeback in the third period, I don't think anybody panics. Everyone know what their job is, what we need to do and it all comes down to execution. I think there's a lot of belief in each other right now.
On starting on back-to-back nights
I felt great. I've played a lot of back-to-backs in my life, I was comfortable in the situation, but it was also a little bit different because there were more than 24 hours between games, a little bit of extra rest. I felt fine, I enjoy playing back-to-back, it's nice to kind of carry over a good game into another one. I was happy I got the nod.
On if the team had any extra motivation, considering the loss to Boston last week
That was a huge thing coming into the game for us. We got embarrassed at home, against a team that is a phenomenal hockey team, one of the best in the league, and we feel like we should be right there. I think for us to put in an effort like that, where we got blown out, wasn't acceptable for us and we came in with something to prove, to show that we can play with the big boys. We want to be one of those top teams at the end of the year, it's huge for our confidence, but we were looking for some revenge.
On Todd McLellan coming back behind the bench tonight
It was great. I think it was seamless when he left and Yawns came in, and he did a phenomenal job. I think the guys are very comfortable with the coaching staff, so he did a phenomenal job. When Todd came back, it went seamlessly back to how it was. We have a lot of confidence in our coaching staff, regardless of who needs to step up, it's the same with guys who are out, it's that next person up mentality. It was great to have him back and I'm glad he's healthy now.
On if he feels he's finding a groove over this last extended stretch of play
Yeah, I mean I'm just taking things day-by-day. For me, I don't really feel like anything has drastically changed from the beginning of the year, just getting some better results, I'm playing a few more games and I'm more confident. I think, when I wasn't getting the results I wanted, it was just little adjustments that were going to be the difference, that was something that I focused on. It's a day-to-day thing, I think Quickie and I, whoever is in the net, the team has a lot of confidence in.

Todd McLellan
On re-joining the team for such a competitive game
It was a competitive game, right from the drop of the puck to the bitter end. It was contested very hard by both teams, a lot of board work, wall work, heavy lifting for both teams. It's good for our team to play in that, really good for our team to play in it, stick with it and we found a way to get two in the last few minutes of the game. We used every minute we had, which was important.
On if he felt there was a point the Kings responded to the game's physicality
I thought the first maybe seven, ten minutes of the game was a bit of a feeling-out process and we were maybe receiving a little bit. Dumps, retrievals, spending a little bit more time on our heels than on our toes. I thought the Lizotte/Grundstrom line started to grind a little bit, get the forecheck going, then we settled in after that. From there on, there wasn't a lot of space in that game. Two pretty good defensive teams that committed to playing that way, good goaltending at both ends. It was a typical playoff game in my opinion.
On having the full group contribute tonight
Everybody was important tonight. All four lines, it didn't matter if somebody played 12 minutes and somebody else played 20, everybody was important. At the backend of a road trip, 4-in-6, we've done that two weeks in a row, you need the full team. That's one thing that we've got going for us right now, everybody does play an important role, most guys are accepting of their role and it's working well for us.
On the team's response when going down
Like I said, we used every minute. We gave up a goal in the last minute of a period again, which isn't great, but they forced us into a mistake and took advantage of it. It gave us a chance to regroup a little bit, we stuck to a game plan, we knew we couldn't open it up. Finally, it took an extra player, Boston checked that well, and it took an extra player to find a loose puck in and around the net and in overtime, anything can happen.
On Cal Petersen's play on the second half of a back-to-back
The one thing [with Boston] is they shoot the puck a lot, there's a lot of similarities between the two teams in my opinion. They have volume shooting and they crash the net well, the shoot and get it back, so not only did Cal have to make the first save, but he had to be quick to react to the second ones that may be coming from a bad angle. He did a good job back-to-back.
​

Subject To Change
FORWARDS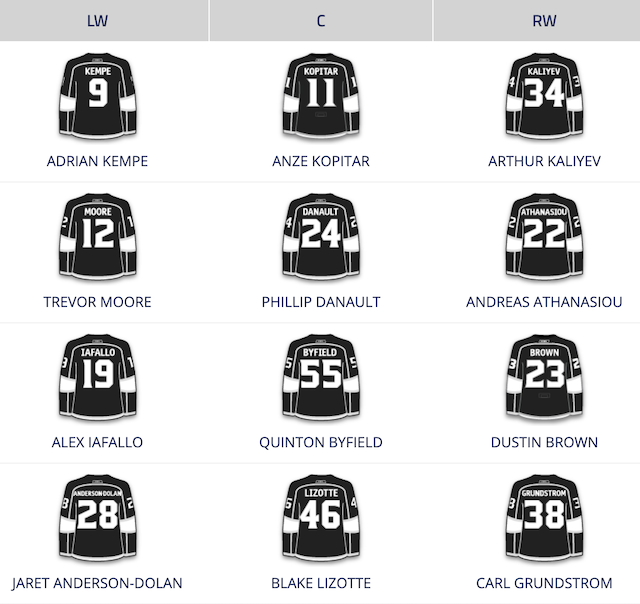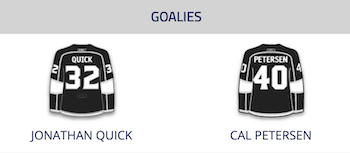 Kings Injuries
Viktor Arvidsson (IR)
MIkey Anderson (IR)
Drew Doughty (DtD)
Alexander Edler (LTIR)
Brendan Lemieux (IR)
Sean Walker (LTIR)
__________________________________________________
__________________________________________________
Sharks Probable Lineup
courtesy of dailyfaceoff.com
FORWARDS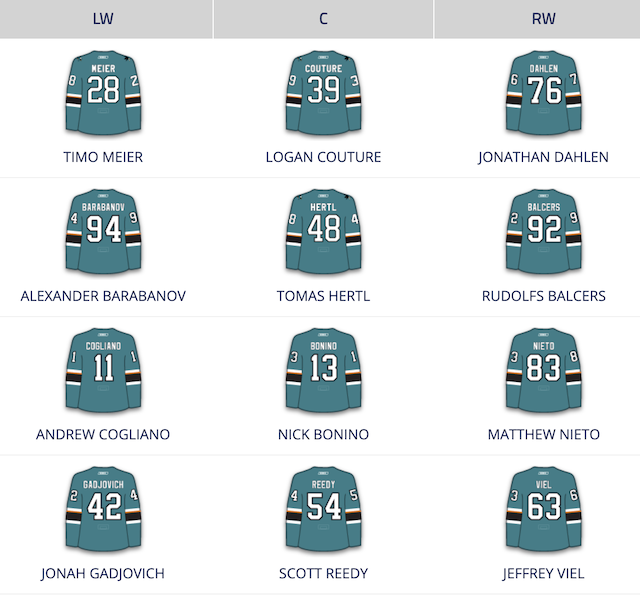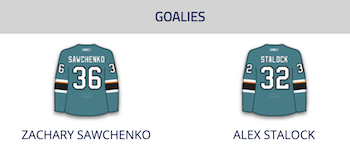 NO Former Kings
________________________________________________
_________________________________________________
GOALIE STATS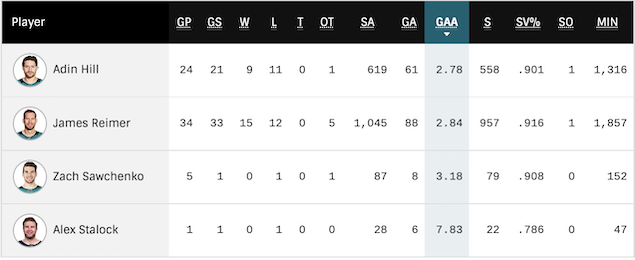 PLAYER STATS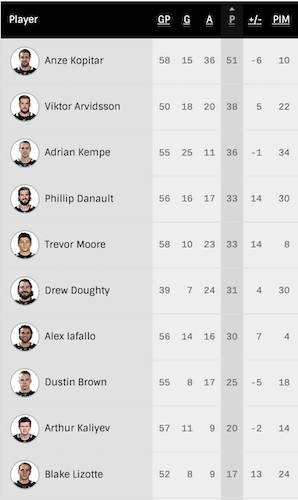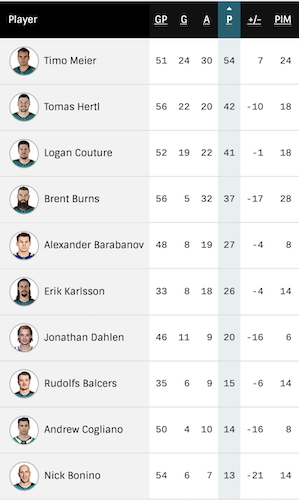 PACIFIC DIVISION STANDINGS
Tonight's Poll Question:
How many TOTAL PENALTIES will be assessed in tonight's game? (NOT the number of minutes, just how many times will players be sent to the box/dressing room.) A double minor will count as ONE penalty since it's to the same player in one call, same with a major penalty assessed at the same time as a fighting or other penalty.

You can take 3 guesses.

Take your best guesses in your post below.
The only prize is the glory of seeing your name in the next GDT if you get it right.
Previous Game's Winners
Congratulations to the following posters who correctly guessed within +/- 2 mins or less of 15:11 of the first would be the recorded time for the Kings first goal. One person guessed within +/- 2 mins of the second for the first penalty by either team
13:11-17:11 (1 point):
Busted Chops
Bill Hicks
John a90
hokiecat
forum gold
LeftyKing
kingsmen93
14:11-16:11 (2 points):
AngelEyes
14:41-15:41 (3 points):
srm1105
JayWell24
JETS GARAGE
First penalty
4:00-8:00 (1 point)
Bill Hicks
Poll Win Totals
King Of The Mountain
with

45

points:
srm1105
40 Points
Reg or Rog?
36 Points
LeftyKing
VegasHockey
35 Points
AngelEyes
John a90
Rusty
34 Points
pray4mojo
Sonnyboy11
33 Points
notbob
32 Points
Chateau Bow Wow
DRice
Helvetica
Kurisu
31 Points
hokiecat
Liz4LA
30 Points
Bill Hicks
Dr. Tran
hornman
29 Points
jammer06
28 Points
Busted Chops
JayWells24
27 Points
kingrussell
26 Points
25 Points
KHenry14
Nyssa42
24 Points
Byron
23 Points
dannybuoy1
STONE
22 Points
21 Points
CIrvine
Shackleford
SirJW
20 Points
empire
19 Points
Sevenhole
18 Points
TooCool
17 Points
forum gold
Rogie-Vachon
16 Points
Clif
JETS GARAGE
15 Points
14 Points
cokingsfan
13 Points
Dirtweazle
DRGinLBC
PuckMaster
randdog
12 Points
11 Points
Greg33
kopinator
10 Points
beady eye
beedee
9 Points
8 Points
7 Points
MaxwellSmart
6 Points
Joe Laviguer
5 Points
kingsmen93
waynet
4 Points
3 Points
2 Points
Ice24
rinkrat
1 Point
lurker
MBreeden
RoS
Salami
Stormy2213
***Bet your karma in geogirl's KARMA BETTING THREAD HERE***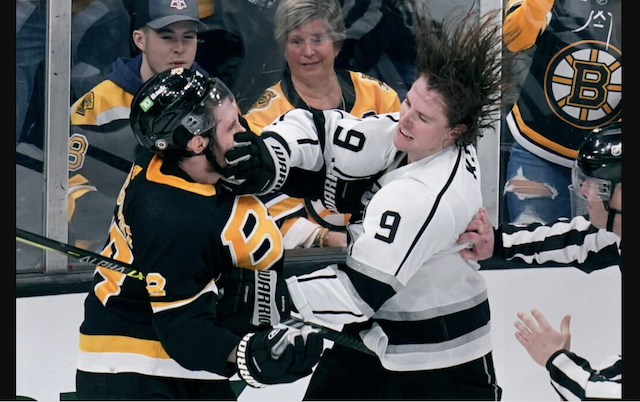 ________________________________________________
Photos courtesy of NHL.com/Getty Images​
Last edited: