jammer's overlord
Staff member
TEAM LGK
Joined

May 10, 2012
Messages

12,815
LGKash:

$450.00
***Toronto Maple Leafs vs. LA Kings GDT 10/29/22 >>4:00pm<< on BSW & NHL Net***

Game Day Thread
Game #10/82 -- 10/29/22
**4:00pm START**

Toronto Maple Leafs vs. Los Angeles Kings
at

| Los Angeles, CA
Dia De Los Muertos
- presented by Delta Airlines
All fans in attendance will receive a LA Kings sugar skull T-shirt
Last Season?s Meetings
11/24/21 ?
Jets 6
, Kings 2
11/08/21 ?
Kings 5
, Jets 1
**Game Time 4:00pm Pacific**
​

TV:

**BSW & NHL Network**



Radio: LA Kings iHeartRadio app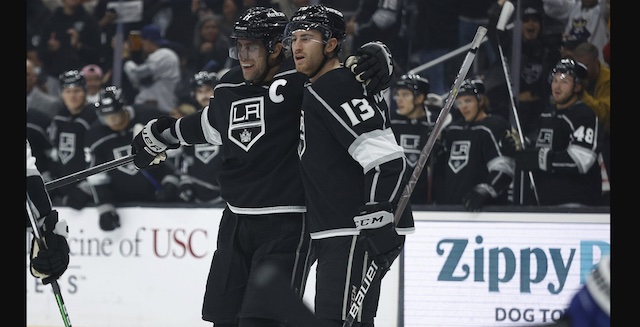 Please remember,
DO NOT
post links to Live Game Streams in the GDT or anywhere else on LGK
Check out articles on LA Kings Insider Here
Anze Kopitar & Todd McLellan 10/27 Post Game Quotes
Anze Kopitar
 on how the Kings stop the mistakes defensively
We can?t expect to win many games with giving up six goals. Whether we can blame it on the PK, not scoring on the power play, bad changes, turnovers, whatever, the bottom line is we can?t give up six and think we have a chance to win.
Kopitar
 on how the Kings stop the mistakes defensively
The first one, stuff like that happens and we were still going, we scored three goals and then we proceeded to give up a shorthanded goal. That should not happen.
Kopitar
 on if he felt the shorthanded goal was a momentum changing play
You?re still up one, but you certainly don?t want to give one up there. In that moment, we should have been extending our lead instead of giving up shorties.
Kopitar
 on what he feels the team needs to do to turn around the goals against
It?s just playing more responsible.

Todd McLellan
 on how the Kings stop the mistakes defensively
It?s 29, 30 of us because I?m including us as coaches and we?ve got to decide again and I?ve been saying this for 10 games. 12% of our schedule is gone and we still don?t know how we want to play. I would think the experiment of run and gun that we?re trying to play, like how much more evidence do we need that it doesn?t work. There are simple hockey principles, you don?t turn pucks over at the line, you get pucks in deep, you forecheck, short shifts. The penalties that we?re taking are unacceptable, so there?s a lot of game management situations that go into it and unless the group decides as a whole, we?ll experiment for another 10 games. Maybe we will become the run and gun team. I don?t like our chances, but if that?s how we want to play and that?s what we?re going to keep trying, we?re probably going to keep getting the same results.
McLellan
 on the first period tonight, with the puck possession but also the goals conceded
Power play. We?re on the power play and our only thought process on the power play is offense. There are times where there?s risk involved in it, but we don?t play risk at all, we just assume everything?s going work out fine and it comes back the other way, what, three times on two power plays. So, you?re in a situation where you have a really good period, you should be up and close to putting a team away early in the game and they?re right back in it, but you want to run and gun, you don?t understand risk, you don?t play risk and you?re not responsible for risk. That?s what happens.
McLellan
 on moving Gabe Vilardi up to the top line late in the game
Gabe has been probably our best offensive player. There are some things going on with Kopi?s line that I?m not happy with and I thought that that Gabe needed an opportunity there. [Would it be considered in future games?] Maybe. What we have right now isn?t working so we?ll have to address it tomorrow.
McLellan
 on what he felt he needed more of tonight
We could use a better coaching staff, we could use some forwards that committed, we needed D that move the puck and we needed goaltending. There isn?t one area. I told the guys between the second and third, we all own a piece of this. So, dig yourselves out and we didn?t do it.

​

Subject To Change
FORWARDS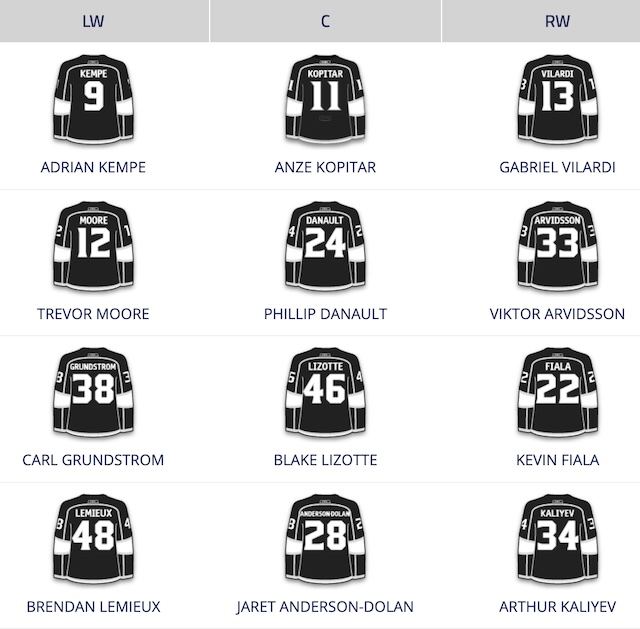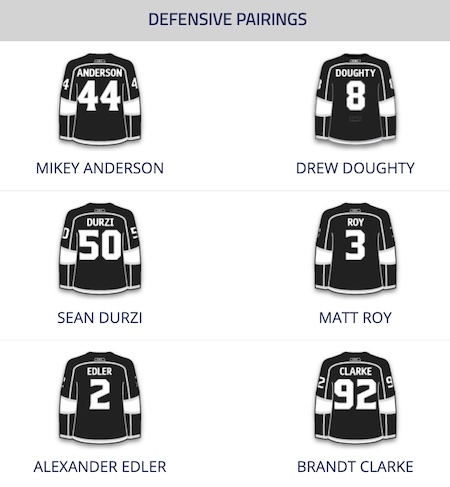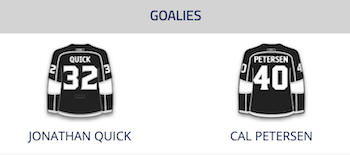 Kings Injuries
Alex Iafallo (LTIR)
___________________________________________
___________________________________________
Maple Leafs Probable Lineup
courtesy of dailyfaceoff.com
FORWARDS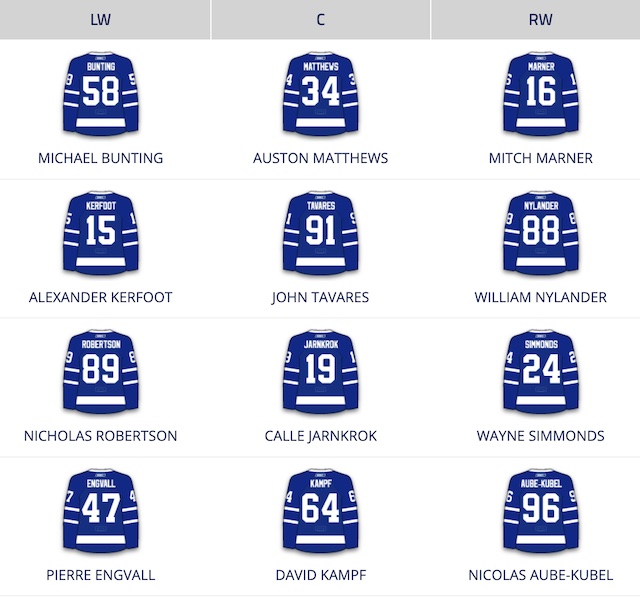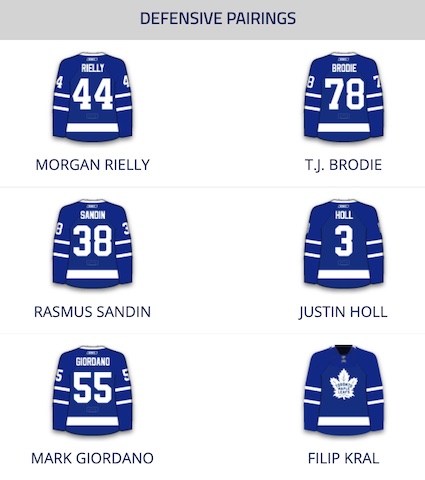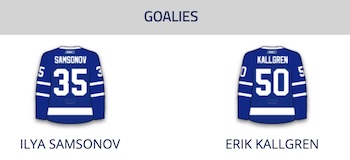 Former Kings
Kyle Clifford (IR)

Jake Muzzin (IR)

Wayne Simmonds

____________________________________________
____________________________________________
GOALIE STATS


PLAYER STATS
Click Here For More Stats & Rosters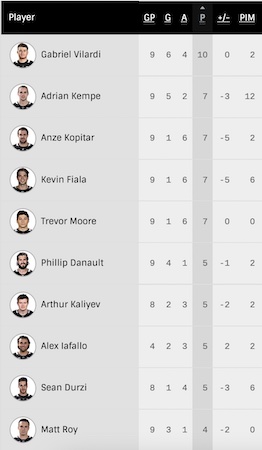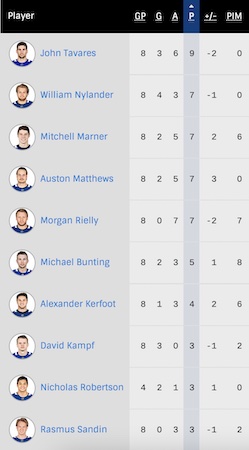 PACIFIC DIVISION STANDINGS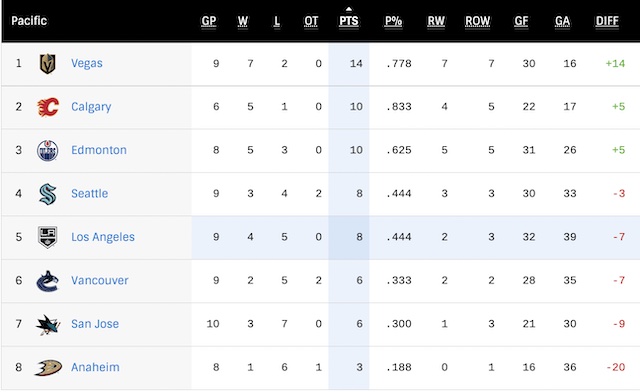 Tonight?s Poll Question:
Part 1 - How many TOTAL POINTS will be scored by ALL KINGS DEFENSEMEN in today?s game?
You can take 2 guesses for this part

Part 2 - Who will score the GAME WINNING GOAL today?
You can take 3 guesses per team
Take your best guesses in your post below.
The only prize is the glory of seeing your name in the next GDT if you get it right.
Previous Game?s Winners
Congratulations to all of the following posters who correctly guessed the goal differential in the previous game would be 2 goals:
beady eye
DRGinLBC
srm1105
Helvetica
jammer06
Rusty
Clif
VegasHockey
RoS
sonnyboy11
dannybuoy1
John a90
Chateau Bow Wow
LeftyKing
Kurisu
kingsmen93
forum gold
JETS GARAGE
Sevenhole
Liz4LA
Dr. Tran
CIrvine
Poll Win Totals
***Not Updated***
Top 3 stay the same
King Of The Mountain
with

7

points:
VegasHockey
6 Points
LeftyKing
RoS
5 Points
Bill Hicks
Clif
hornman
John a90
Liz4LA
Rusty
4 Points
AngelEyes
dannybuoy1
DRGinLBC
Kurisu
3 Points
randdog
Sevenhole
SirJW
srm1105
2 Points
05/29/93
beady eye
beedee
Chateau Bow Wow
CIrvine
Dexter
Drice
empire
forum gold
Helvetica
Nyssa42
pray4mojo
salami
TooCool
waynet
1 Point
Busted Chops
Dr. Tran
HTK
jammer 06
JETS GARAGE
KHenry14
kingrussell
kingsmen93
kopinator
notbob
PuckMaster
Rinkrat
sonnyboy11
STONE
***Bet your karma in geogirl?s KARMA BETTING THREAD HERE***
________________________________________________