jammer's overlord
Staff member
TEAM LGK
Joined

May 10, 2012
Messages

12,768
LGKash:

$450.00
***Playoffs Rd 1, GM 2 GDT - Kings @ Oilers 4/19/23 on >>BSSC<< & ESPN***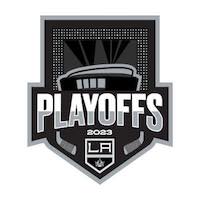 PLAYOFFS Game Day Thread
Round 1, Game 2
4/19/23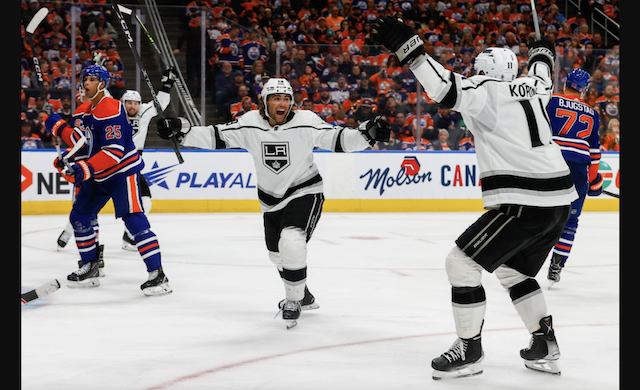 TONIGHT'S GAME IS ON BALLY SPORTS SOCAL & ESPN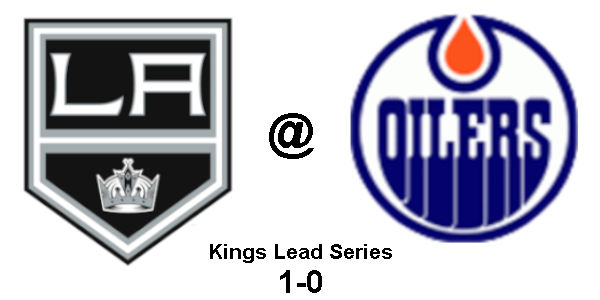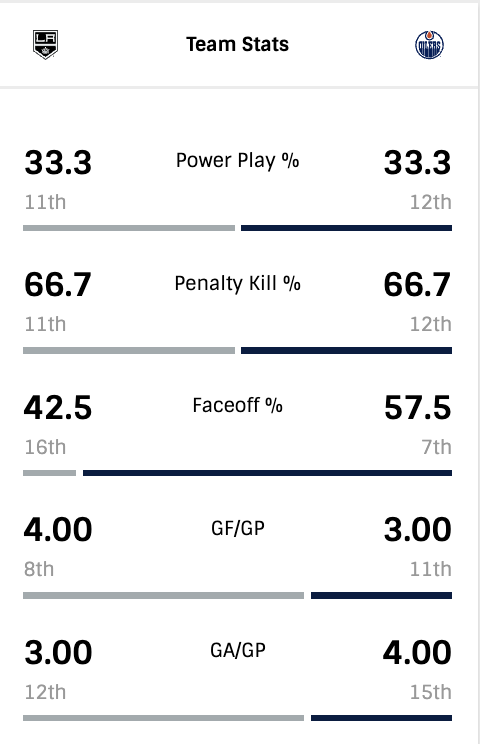 Los Angeles Kings @ Edmonton Oilers
Rogers Place | Edmonton, AB
KINGS LEAD SERIES 1-0
Previous Meeting
04/17/23 —
Kings 4
, Oilers 3 (OT)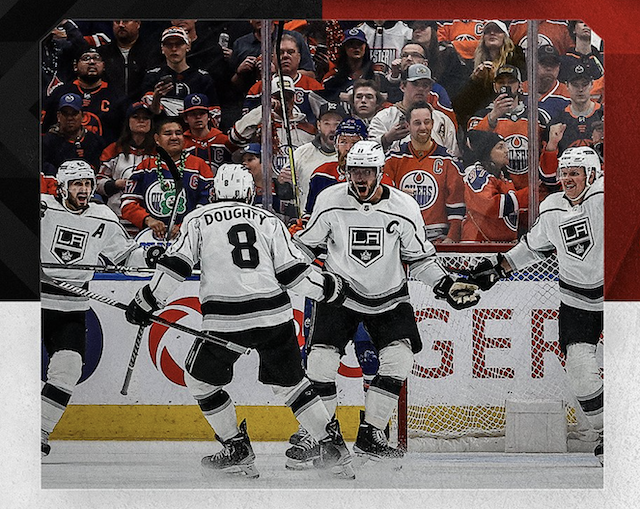 TV:

**BSSC & ESPN**



Radio: LA Kings iHeartRadio app
Please remember,
DO NOT
post links to Live Game Streams in the GDT or anywhere else on LGK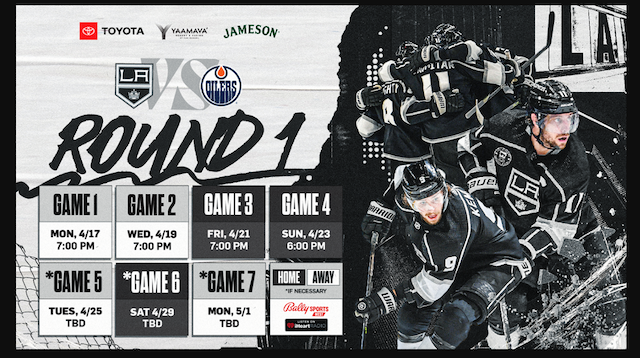 Check out articles on LA Kings Insider Here
Kempe & Iafallo (video), Anze Kopitar, Vladislav Gavrikov & Todd MacLellan 4/17 Post Game Quotes
Watch Adrian Kempe & Alex Iafallo's Post Game Interview Here

Anze Kopitar on the team's mentality going into the third period down two goals
I mean you're down two going into the third and you feel like you're very much in reach of the game and you've just got to break through. We got it going and tonight it worked out for us.
Kopitar on the team's power play coming up with two goals tonight
Throughout the season, yes we had a good power play, the percentage shows that, but I feel like it was more timely goals versus just relying on the power play. Tonight was no different, getting the tying goal very late and the winning goal in OT.
Kopitar on the thought process overturning a deficit in a tight-checking playoff game
You're trying to chip away, it's going to be within the series like that, you're just trying to chip away. To build whatever game, whatever momentum you can build, it worked out for us.

Vladislav Gavrikov on the team's resiliency in finding a way to come back tonight
That kind of comeback and overtime win, it's a perfect feeling, but it's just Game 1. We've got to be better, we know they're coming and we've got to be all about us.
Gavrikov on the team's effort tonight against Connor McDavid
It's always difficult. We're playing against the top players in the league, in the world, I would say, so it's always hard, but on the other side, it's challenging and exciting. Everybody knows what they can do if they have time and space, so we've got to eliminate that.
Gavrikov on the team sticking to its gameplan, despite trailing almost all night
It's got to be all about us, how we're playing, it's really important what we're doing on the ice. We've just got to be better sometimes in the details and we will.

Todd McLellan on the emotions on winning Game 1 in that fashion
We're all in it together, the players, coaches, training staff, management, we have 50 or 60 people traveling with us, everybody's part of the team. It's emotional for everybody, that's what happens in playoffs. There's a lot of highs, there's some lows and you get excited but we've already got to turn the page and move on.
McLellan on the team's power play tonight
I think sometimes, maybe for both teams, we'd have a pretty good power play and you start to look for stuff and it's not there and then you don't have a backup plan and it just gets in disarray. At that point, you've just got to simplify things. We weren't quite there early in the game, we had to talk about a little bit and it ended up working out for us in the end.
McLellan on Joonas Korpisalo's play tonight
He gave us the game we anticipated he would. It's expected of him and from him, he expects a lot from his teammates out in front of of him, but when push came to shove and he had to make a big save, he was there. Again, we're lucky to have him and Pheonix as a tandem right now, we feel fortunate.
McLellan on Anze Kopitar leading the way with four points tonight
Expected. Expected and delivered, two words that have probably described Kopi pretty well for the past 16 years, 17 years, however long he's played. He's got a lot left.
McLellan on his team's play against Edmonton's big guns tonight
Well, one of their superstars had two goals tonight and the other drew two penalties to make it 5-on-3, so they left their mark on the game. You're not going to stop them, but the fact that we played hard, we got production from different areas, different situations, I think it was important. The lesson we learned last year, that we weren't prepared for, is the level of play is going up immensely in game two. We can talk about Game 1, we have to right now, as much as we want to, but we've got to move on.
​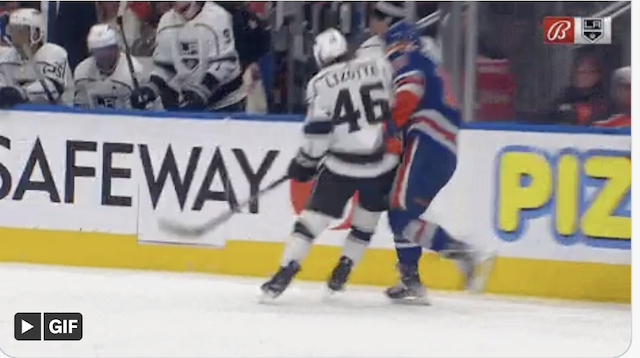 Subject To Change
FORWARDS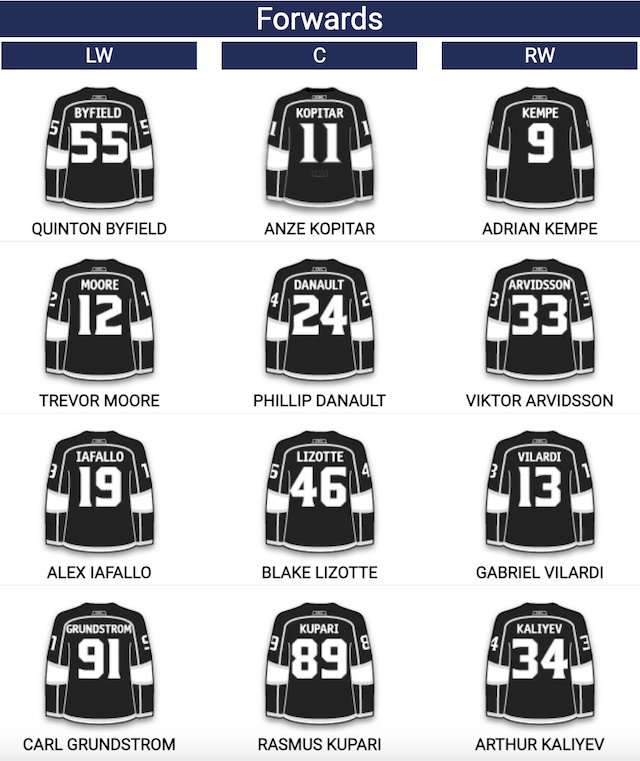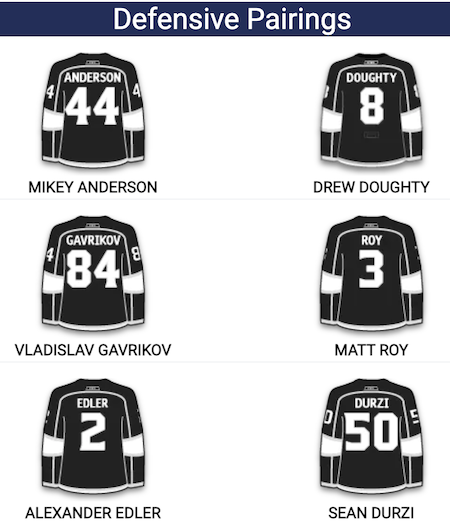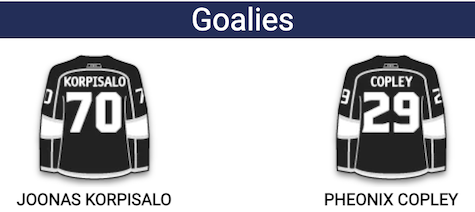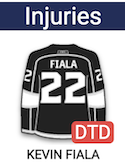 __________________________________________________
__________________________________________________
Oilers Probable Lineup
courtesy of dailyfaceoff.com
FORWARDS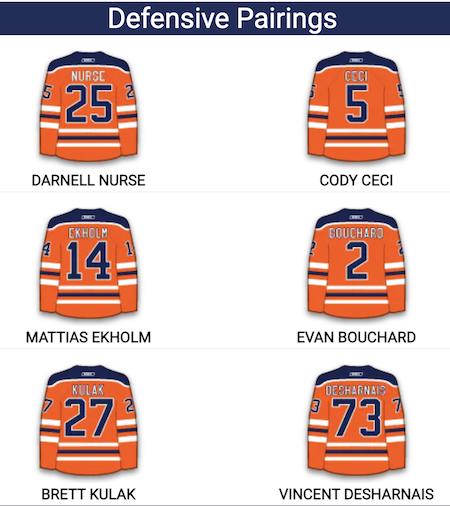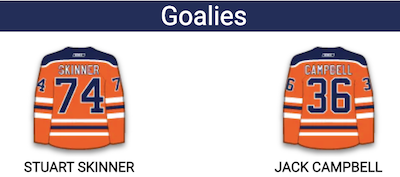 Former King
Jack Campbell

___________________________________________
________________________________________________
_________________________________________________
GOALIE STATS

PLAYER STATS
Click Here For More Stats & Rosters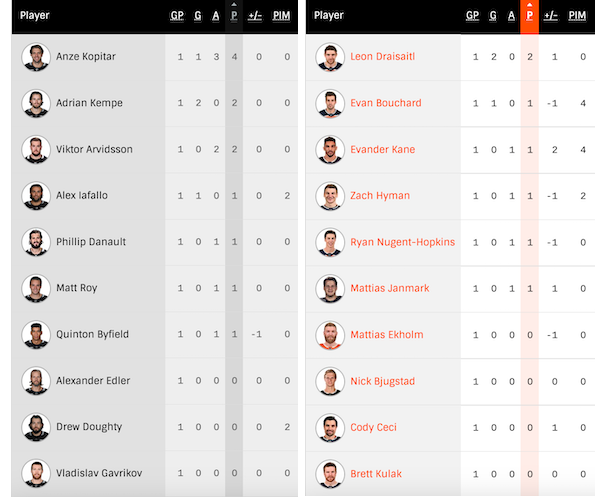 ***Bet your karma in geogirl's KARMA BETTING THREAD HERE***
There are also betting threads for all the other series in Home Ice
________________________________________________
​
Last edited: